Please note: As an Amazon Associate I earn from qualifying purchases. I also work with other affiliate partners and may be compensated from the links below. Details here.
April 10, 2022
GoPro Action Cameras: 30 FAQs Answered!
---
Let's face it:
Every day people shoot thousands of videos about hobbies, family, work, and everything else that excites them. GoPro is the persistent and tenacious brand on the market that's helping them achieve their filming goals.
This is not only cameras, tripods, mounts, filters and software. GoPro is a community of like-minded people scattered around the planet.
In this article, we'll answer some of the most frequently asked questions about this brand's products.
Without further ado, let's get started.
---
Is GoPro good for beginners?
GoPro is a great action camera.
It has a user-friendly physical control layout that you can easily operate even for first-time users. However, fully maximizing the potential of your gear could take more than just a few hours of fiddling with the device.
The thing about these tiny gear is that they are very expensive. If your main goal in getting a camera is to take a casual everyday photo, then your smartphone is the best alternative for that.
Most phone cameras now have superb photo-taking capabilities and built-in image stabilizers, so there's really no need to spend on an action camera for that purpose.
But if you are serious about photography and would like to explore a more creative way to present your images, then GoPro is definitely a recommended gadget to invest in. It offers both convenience and functionality, which not every point-and-shoot device can match up.
Here are the top 3 models worth checking out:
| | | | |
| --- | --- | --- | --- |
| | | | |
| One of the latest & greatest models | | dual screens (front & rear) | |
| | | robust build (land & water) | |
| The 360º camera that vloggers love | | unbreakable stabilization | |
Which leads us to the next question…
---
Which GoPro is best cheap? 
GoPro cameras are known to be among the most expensive ones on the market. For a tiny device, the price ranges from $150 to $499 on average. Of course, the newer the model, the pricier it gets.
Right now, the best value for money is Hero 7. The current price point of this beauty is around $200 – $250, depending on the retailer you can find. Despite being an older model, it's still a good gadget to invest in, given its wonderful features.
It comes with the first-ever HyperSmooth image stabilization technology, making your footage more steady under various circumstances. Not only that, but it also allows you to record in 4K with extremely crisp color and detail.
That's too much power in a tiny shell.
Moreover, the gear features voice command which is very handy when taking shots alone. The manufacturer also did great in improving the audio from its predecessor model and Hero 7 now has a Time-Lapse feature as well.
---
What is a GoPro used for? 
GoPro is a very versatile gear. You can use it for a variety of functions – shooting underwater, time-lapse, action shots, and many more.
(Check out this full discussion on GoPro uses.)
What's so good about these tiny devices is that they act as a middle ground for people who don't settle for compacts and are not too fond of bringing chunky DSLRs. It offers both functionality and convenience in an extremely compact body.
The brand markets this device as an action camera. It means that it is mainly used in recording or capturing fast-paced actions such as sports. But today, it has become a great travel companion due to its size and rugged build.
Many people are now using these little gadgets to make lifestyle and travel vlogs. Why? Simply because they are easier to carry around; literally everywhere and anywhere. It can fit in your pocket and it's even wearable.
Another note-worthy selling point of this product is its capability to record/capture videos and images underwater.
I know the bigger pro-grade cams can also do that, and certainly some waterproof compacts, but GoPros don't even need a separate housing to achieve that. It can go normally as deep as 10ft without a case.
---
Can GoPro take (good) pictures? Or Is GoPro video only?
When you hear the word GoPro, what do you automatically think of? I bet you'd say awesome action and adventure videos or cool underwater footage.
I really don't blame you because they really do an amazing job in this department. 4K resolution is a staple for these products, especially from models Hero 7 and above. And that sounds really fantastic for videographers.
But what about photos? Can it take good images?
Quick answer: Yes!
GoPro has great imaging capabilities as well. Hero 8 may only have a 12MP resolution, but images aren't all about pixels. This much resolution will give you much more detail than a standard point and shoot could produce.
On the other hand, the latest model H10 now has a 23MP resolution and it even comes with the brand's popular SuperPhoto with HDR feature. The color, tones, details are so on point.
Now, are these devices any better than smartphones? Well, for this discussion, you can check out our GoPro vs iPhone article.
---
How long does a GoPro record for?
Even the best products have their own setbacks, and GoPro isn't exempted from that.
One of the downsides of using this for travel and lifestyle is that it limits your capacity to shoot, not because of its resolution or overall performance, but because of its battery life.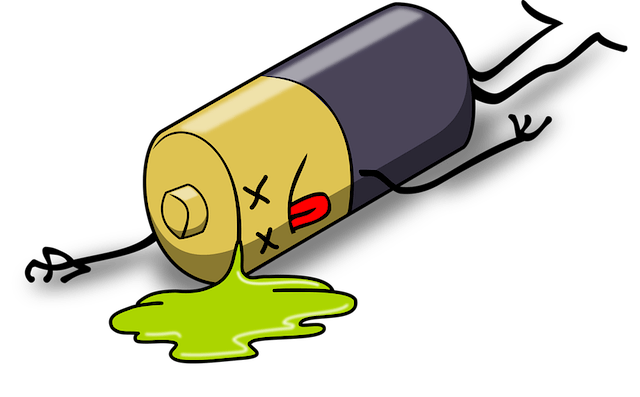 For a device with this price point, you'll expect more. However, its operating time runs on an average of 2 hours, and that still depends on the resolution and all the other features used in recording.
Say for example, on a Hero 8, recording in 4K (16:9 format) at 60fps at the highest bitrate will only give you a run time of about 1 hour and 15 minutes tops. If you record with a low bitrate, it can extend up to 2 hours and 6 minutes tops.
But if you ever decide to compromise resolution for additional operating time, that can work as well. If you settle for a 1080p video, then you'll get a run time of around 4 hours max at a low bit rate.
However, if the footage is only for recreational/personal use, a 1080p resolution isn't that bad and you will even hardly notice the difference.
By the way, I'll let you in on a secret. There are several ways how you can record longer videos such as an 8-hour time-lapse on a GoPro. Read my discussion on how to extend the battery life of your action camera.
---
Are GoPro waterproof?
Lots of people have been raving about GoPros mainly because they are being marketed as waterproof action cams. But, just how much water can it tolerate before it gets broken? And, do all models have the same feature?
Well, newer models are capable of shooting underwater even without a separate waterproof casing. For units as early as Hero 5, submerging the gear in deep waters will no longer be a problem.
The outer case is made of materials that can withstand water and pressure, allowing you to carry the device with you deep down under. According to the manufacturer, those tiny cameras can go as deep as 10 meters without a case.
Older GoPro models don't have this capability, though. However, they come with a separate waterproof casing so you can still use them underwater. But that's just good as it gets.
When you are using older versions, you need to make sure your external housing is tight enough to secure the gear, or else, you'll end up with a broken action cam.
==> Here's a detailed guide on using GoPro cameras underwater.
---
Why is GoPro so popular?
Let's face it…
GoPro is the leading brand when it comes to action cameras. Sure, there is a handful of good competition, but there's definitely something that draws people to this company.
Is it just about good marketing strategy? Maybe. Or are the products really that good? Probably.
One of the main reasons why they have become so popular is that it allows you to record your experience from your own point of view.
| | | | |
| --- | --- | --- | --- |
| | | | |
| One of the latest & greatest models | | dual screens (front & rear) | |
| | | robust build (land & water) | |
| The 360º camera that vloggers love | | unbreakable stabilization | |
Due to its size and build, you can easily strap it onto your helmets, bike handles, skateboards, and other things just so it can capture what you're doing at the moment.
This allows you to creatively tell the story behind your activity. It gives the footage a more "personal" feel. It's almost as if the viewers can see and experience what you were doing with your own eyes.
Another good reason why they are popular is that they live up to expectations, especially about photo/recording quality. They have superb recording/shooting capabilities and are packed with awesome features you can't see in a basic compact.
Plus, it's extremely convenient to carry around.
---
Which GoPro is best for photography?
There's always a camera that goes well for each type of photography. If you're talking about sports shots, then a GoPro definitely has a higher chance of ranking as one of the best gears for photography.
But, is there really a superior model that overshadows the other in general? That depends on your set of criteria.
Right now, the overall best GoPro you can find is the Hero 9. You're probably wondering why not the latest H10, right? So let me just get this out of the way first.
Hero 10 still has some overheating issues that make it less favorable than its predecessor. So while that issue remains unfixed, the best thing you can get is the H9.
This is perfect not only for those who love taking photos of the scenery before them but also for those of you who love taking selfies. Why? It comes with a front preview screen, making it more convenient to compose shots even without seeing the bigger rear screen.
It also comes with an excellent horizon leveling feature, making your shots more steady and presentable. Plus, it has a 20MP camera which makes details look clearer and crisper.
---
Does GoPro record sound (well)?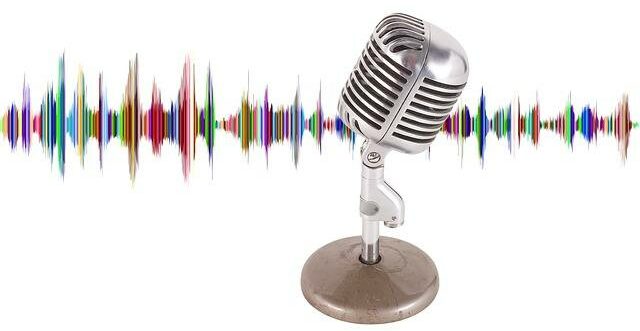 The thing about most photography devices is that they are not built to capture great audio. Well, that's especially true for gears that are marketed for stills. Oftentimes, you need to invest in a separate external microphone to pick up decent sound.
But what about GoPro? Does it have the capacity to record great sound quality as well?
The answer: Yes!
Despite their tiny sizes, they include built-in microphones to ensure that your videos will have audible sound as well. But, it's understandable that older models have lower audio-recording capabilities. Nonetheless, they are able to capture sound.
However, a few years back, the brand has managed to create one of the best models in terms of sound quality – the GoPro Max. 
It has 6 different in-body microphones at strategic locations to ensure you can hear sounds coming everywhere around your subject while cancelling out the background noise.
The downside is that its sensitivity reacts too much with wind, letting you hear the gushes whenever the wind blows. But that can be easily fixed in post.
(Read my discussion on how to improve GoPro audio.)
---
Can GoPros zoom?
There are times when your subject isn't as close as you want them to be. So, it's always good to have a gear that has the ability to zoom – whether optical or digital.
In the case of action cameras, they have fixed lenses so they are not able to optically zoom in on the subject. But, they do come with a digital zoom so you can still make sure that you can capture the subject as close as you can.
But there's still this debate on which is better – the digital or optical zoom?
In most cases, the optical zoom is so much better. It involves physically moving/zooming the lens so that it magnifies the subject and fills up the sensor entirely.
On the other hand, digital zoom doesn't involve the physical movement of the lenses. What it does is crop the photo in order to zoom in on the subject, thereby losing some of the backgrounds sometimes.
However, the digital zoom will have to do for GoPros. Since it has a wide-angle lens, using the zoom will still be great for stills, and even videos.
---
What is the difference between GoPro and DSLR?
Aside from the obvious fact that they differ in size, there are a lot more differences between these two types of photography equipment.
Of course, one of the most noticeable ones is the lens. Action cameras have fixed lenses and DSLRs have interchangeable zoom lenses, generally speaking.
With this, DSLRs are preferred by professionals in shooting various genres like landscape photography, portraits and headshots, weddings, and so much more. Whereas GoPros are limited to using digital zoom. Just about right for casual daily use.
Another difference is the price point.
The tiny gears can cost $150 to $500, while the price of the pro-grade DSLR counterpart starts at around $600 for the body alone. Add up some lenses, your entire kit might be very well around $1000.
Video capability is another aspect worth mentioning.
Action cameras are designed to capture fast-paced sports action, so the manufacturer made it a point to improve image stabilization and video resolution. On the other hand, most DSLRs focus on the quality of stills, and rarely match the videography capabilities.
I'm not saying professional cameras are not good for videography; they are.
It's just that they are more geared towards shooting still images than they are used in recording videos for a variety of reasons – one of which is that you will need a tripod to improve stabilization because the weight of the camera and lenses will produce camera shakes when being handheld.
---
How much does a GoPro camera cost?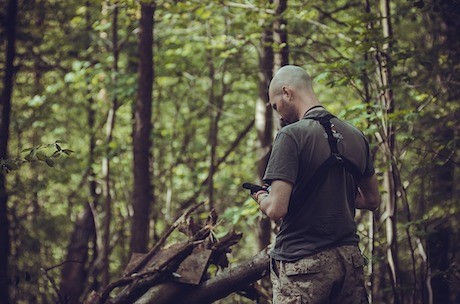 One of the major considerations you will need to think about when buying GoPro is its price. Let's admit it. These babies are not that affordable compared to other rivals. Well, if you look at the set of features, you can tell why they cost like that.
Anyway, the latest Hero 10 has an average price of roughly around $450 to $500. That's just for a standard unit. But, if you know where to buy, you'll find some suppliers with this price point who include SD cards, spare batteries, and other accessories in the package.
Since it's the latest model, you'll expect that its predecessors are a bit cheaper.  H9 now only costs around $300 to $350, a few years after its release. Whereas the best value for money model, the Hero 7, will only cost you about $150 to $200.
Pro-tip: If you want to get a hold of Hero 10, wait for the announcement of the release of a newer model, probably H11, and you'll find a decent price drop. If you're not the kind to always chase the latest devices, then a marked-down H10 or H9 will be more affordable by that time.
But always remember, that the prices are subject to change without prior notice. It's always good to check out various deals and updates from the manufacturer from time to time.
---
How long do GoPro batteries last?
Just like any other electronic device that runs on batteries, the operating time will vary from user to user. There are times when a GoPro could last for 4 hours tops, while most times it can only run for a maximum of 2 hours.
Several factors could affect the battery runtime – resolution, storage space, features used, etc. For instance, if you use the gear to shoot 4K videos, the juice will drain faster than it would if you have recorded using a 1080p resolution.
Of course, the smaller the storage space, the longer you can use the device. Why? Low-memory SD cards run out of space faster.
This means you will have to use a lower resolution when shooting to conserve space. Or if you record in Ultra-HD mode, you'll only have a few minutes until it becomes full, saving up on battery.
Moreover, the more features you turn on, the faster the power drains.
For example, Livestreaming with a GoPro would consume more power than shooting regular videos. Also, if you're not using Bluetooth or WiFi at the moment, it's best to turn them off to conserve some energy.
Though they are considered background features, they still use power.
---
How many GoPro batteries can I take on a plane?
Airline companies have strict regulations when it comes to bringing electronic devices in the aircraft. One main reason for this is for security purposes. You can only bring 2 spare batteries for your action camera inside the plane.
Here's an in-depth guide on flying with GoPro and lithium batteries.
The TSA has implemented this stringent regulation after a series of explosions concerning smartphones with li-ion batteries. Since GoPro uses this kind of battery, you can only bring spares as carry-on baggage, not for checking in.
If the power is less than 100 watts, you may bring as many as you want as long as they are properly stored inside your carry-on bag. If the battery exceeds the 100 watts threshold, you can only bring two of those without exceeding the max limit of 160 watts.
(This is according to TSA rules.)
The aviation industry doesn't want to risk any sudden explosions inside the aircraft. The thing with lithium-ion batteries is that it is made of two compartments separated by a thin layer of plastic. Once this plastic is compromised, the two chemicals will create a reaction that results in an explosion.
But according to studies, this rarely happens. However, the aviation industry still believes it will be best to take precautionary measures to ensure the safety of every passenger on board.
---
Does GoPro shoot RAW?
Quick answer: Yes.
The latest GoPro models have the ability to shoot RAW. Here are the top 3 that are worth considering:
| | | | |
| --- | --- | --- | --- |
| | | | |
| One of the latest & greatest models | | dual screens (front & rear) | |
| | | robust build (land & water) | |
| The 360º camera that vloggers love | | unbreakable stabilization | |
For the sake of newbies, RAW is preferred by most professional photographers because it's easier to play with during the post-processing stage without losing too much detail in the photo.
Going back, Hero units from models 5 and above, use the .gpr extension to distinguish RAW shots from the normal .jpg formats. But, take note that not all still modes have the luxury of storing the shots in RAW mode. In fact, there are only a few instances when you can shoot using this mode.
For instance, there are product versions that will only allow you to use GPR format when shooting normal stills, not burst. Also, most units will allow you to use the same format in recording time-lapses at very specific intervals of 5s.
The good thing about shooting RAW is that it gives you so much flexibility when it comes to editing. Since it captures and stores everything that was picked by the camera sensor, you'll have more details to bring life to your work.
---
How many SD cards do I need for GoPro?
Running out of storage space during a shoot can be frustrating, so bringing spare SD cards is a top priority. But, just how many do you need in order to cover the entire trip?
The truth is, there's no definite answer to that. It will be on a case-to-case basis depending on your usage.
Generally speaking, the higher your resolution and the longer the footage, the bigger memory would be used. This is quite understandable since you are talking about photo and recording quality right here.
To give you a slight idea, a standard 128Gb SD card can record at least 73-76 3-minute videos at 4K resolution. This is of course at 60fps. In total, you will approximately have almost 4 hours of video time combined.
Now, if your GoPro unit has the capacity to shoot in 5K, then that's a totally different story. You can expect fewer videos on your memory card at that.
But if you're planning to do long time-lapses with a GoPro, you're probably gonna need more than 1 SD card. It would be best to prepare at least 3 or 4 spares of 64Gb SD cards to make sure you got everything covered for the day.
---
Does the GoPro have night vision?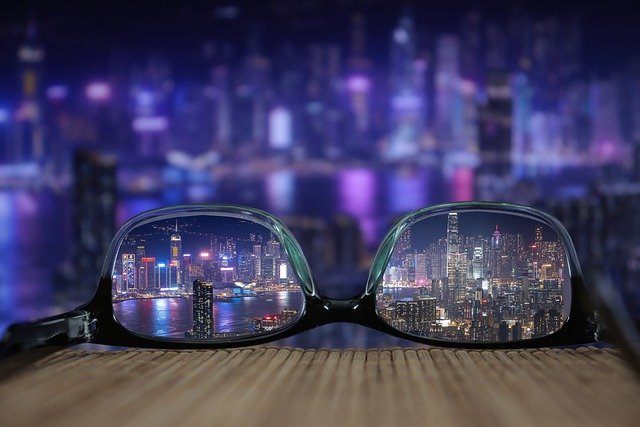 For a device that costs almost half a thousand bucks, you'd expect it to have a lot of features. While it's true that a GoPro has amazing specs, there's just so much that it can do.
How about night vision? Does it have that?
Well, that depends on what kind of night vision you are looking for. If you are expecting those green-like creepy night footage, then you're better off with an infrared camera.
But, the good news is that GoPro does have Night Mode. It helps when you are shooting during the night or in a dim environment. Though it's not at par with pro-grade DSLRs, it still does its job in allowing to take decent low light photos and videos.
To get the most out of your action camera at night, make sure to use the proper settings because the post-processing work can only do so much.
Pro tip: Set your shutter speed to twice as much as the frame rate. This way, you will get amazing low light captures without too much problem.
---
Can you dive or snorkel with a GoPro?
Almost always, GoPros are linked to underwater activities, more than it is thought of as action gear for use on land. The reason? They have great waterproofing capabilities. It gives you more freedom in shooting your videos and stills.
These tiny cams don't need an external case to protect them from water (at least for models Hero 5 and up). It's the staple gear used by divers for a variety of reasons.
The first one is quite obvious.  It can go as deep as 10 meters on its own without getting damaged. This is perfect for snorkeling and for quick dives.
Another reason why divers love them is that they are very compact and lightweight, plus wearable.
Imagine having to fiddle with a bulky camera underwater just to capture the mesmerizing scene. That's just downright off-putting. But if it isn't, then here is the list of the best underwater cameras for diving and snorkeling for you.
With a GoPro, you can mount it on your goggles, tanks, or wear it on you.
Lastly, it takes awesome videos underwater. I mean, the resolution is superior compared to other rivals.
---
How is GoPro sound quality?
We all know GoPro's main selling point is its ability to record awesome videos. But what about the sound quality? Is it good enough to produce really great output?
The truth is, newer models already have upgraded microphones and audio input capabilities. Though they produce decent sound, it's not really the same as when using pro-grade audio recording devices.
However, there are ways how you can improve the sound quality of your action camera. The best thing you can do is invest in an external microphone.
Don't get me wrong. GoPro's audio quality is good. But if you need to have a clearer and crisper audio recording, you're better off with a good-quality external mic.
Another thing you can do to improve the sound quality is to use a windscreen. This really helps out a lot in filtering wind gush and other unnecessary background noise, especially when shooting outdoors.
Read my full discussion on how to improve GoPro's sound quality.
---
Can I use GoPro while charging?
Having unlimited battery life is the dream of many photographers and videographers. Imagine being able to record without worrying about the runtime. Isn't that epic?
That's only possible when you plug your device into a charger while using it, just like smartphones. But with GoPro, can you really do this?
Answer: YES! That's right, you can extend the runtime of your gear by plugging it into a direct power supply instead of using the battery pack. For the latest Hero units, you can now use them while charging, extending the operating time to your desired length.
There are several ways how you can do this. One is by using a combination of a direct power supply and the battery. What happens here is that the gear will consume power directly from the outlet. The battery may not charge while you do this, or if it does, it will be at a slower pace.
As a result, after unplugging from the direct power source, the battery might not still be fully charged. Find out other ways to extend GoPro's battery life.
Check out our video below:
---
Is GoPro good for low light?
You don't always get to take photos and videos during the daytime or in well-lit venues.
One of the most important things to consider when doing shoots is proper lighting. But if you don't have one, then it's best to choose a device that performs well in low light conditions.
Hero cameras have night mode available anytime you shoot in low light. Here are the top 3 models we recommend:
| | | | |
| --- | --- | --- | --- |
| | | | |
| One of the latest & greatest models | | dual screens (front & rear) | |
| | | robust build (land & water) | |
| The 360º camera that vloggers love | | unbreakable stabilization | |
It helps you get decent shots even during the night. The best thing about this is that you don't need to manually set the camera. All you need to do is select the Night Mode feature and it will do the job for you.
Unlike DSLRs, the action cam will automatically find the best settings for you.
But the downside is that you don't have the freedom to set the exposure, aperture, or ISO values on them. So if the night photo mode isn't up to standards, you will have to look for other ways to illuminate your subject.
It is still best to invest in external lighting equipment if you plan on shooting with your action cam during nighttime or in low-light venues.
---
How do I charge my GoPro battery?
Running out of camera battery during an adventure is downright frustrating. So, it's best to know how you can properly charge your GoPro batt to ensure you can keep recording your best moments.
There are two ways how you can actually put some juice into your gear's power pack. The first method is by directly plugging your device into a wall charger, with the battery still inside the gear. This is the most common way to go.
When doing this, you can either choose to use the device or wait until it gets fully charged. Just take note that if you want to use it at the same time, the charging time gets extended since the power used is usually more than the power input.
Another method, which is the best way in my personal opinion, is using an external charger. Here, you need to physically take out the battery from your hero and charge it alone.
The good thing about this method is that you can continue using the gear without attaching it to a wall charger. But of course, you will need to invest in a spare battery pack so you can do this.
---
How deep can a GoPro go?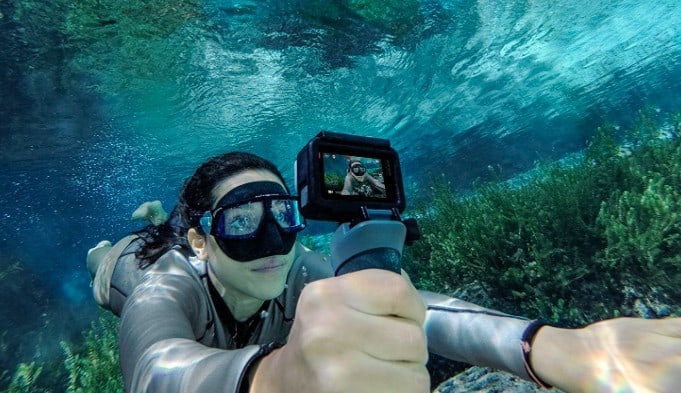 ---
Being a GoPro owner means you have the ability to shoot underwater without a case. But, just how deep can this tiny beauty really go?
Well, the brand says you can submerge it as deep as 33ft or 10m. For the casual adventure seekers out there, this is more than enough to capture a scenic underwater world. 10m is the size of approximately 5 full sofas. Just imagine how deep that is.
But if you really need more coverage than that, say for instance you want to go free-diving, then you'll now need an external waterproof housing. If you plan on doing this, make sure you invest in a high-quality case so that your action camera stays in good working condition afterward.
Take note that not all protective housing available is compatible with your unit. So it's best to shop around for the one that fits your gadget before the actual activity begins.
---
Can you YouTube with a GoPro?

There are several reasons why a lot of people love bringing smartphones on trips. One of the most popular reasons is the ability of mobile phones to do Livestreaming.
Now, can your GoPro do this? Certainly, YES!
You can do a live broadcast of your activities when using your Hero cam with the help of the GoPro app. You may choose which audience base you want to share your Livestream. You only need to provide them with your private link.
The good thing about this feature is that it lets you directly stream to Twitch, YouTube, Facebook, and other social media platforms accepting RTMP URLs.
But, did you know that there's another simple way to share your content on YouTube? This is for those of you who don't mind sharing the GoPro video after post-processing, not live.
You can create cool vlogs by using your recordings and later upload them to YouTube or other social media platforms.
---
How much is the cheapest GoPro?
| | | | |
| --- | --- | --- | --- |
| | | | |
| One of the latest & greatest models | | dual screens (front & rear) | |
| | | robust build (land & water) | |
| The 360º camera that vloggers love | | unbreakable stabilization | |
Let's face it.
GoPros are on the extreme edge of the price range when it comes to action cameras. But, don't get too discouraged. There are still affordable products from the brand if you're not so particular with the year it was released.
You are probably aware that if a manufacturer releases a new model, older units get marked down almost drastically. So, if you're out trying to buy the cheapest GoPro today, you're probably better off with an old but still functional Hero.
Probably, the cheapest Hero you can find today is the H5 model. It now only costs below $200. For an action camera from this brand, that's pretty much cheap compared to the latest model that can cost up to half a thousand dollars.
There are still so many things you can do with a Hero 5.
This device is very popular for its well-functioning wide-angle lens. So if you're planning to take casual nature shots without bringing bulky cameras, this might just be the right gadget for you.
But if you want to find the best value for your money, you're better of with the newer model Hero 7. With a little over $200, you'll have an upgraded version of the H5 plus a lot more advanced features.
---
Who are GoPro's biggest competitors?
Although it seems like GoPro dominates the action camera industry, they also have very tough competitors. There are a variety of reasons why people choose the rivals such as price point, features, and functionality.
If you are one of those who are looking for alternatives, then I've got some good news. There are actually a lot of other products out there that you can substitute a Hero unit for.
DJI is probably the strongest competitor in terms of specs. They are also one of the leading manufacturers of action cameras and they specialize in drones as well. They are very capable and durable.
There's also AKASO EK7000 Pro which is a bit cheaper but equally functional as well.
And who would ever forget Sony gears? They may not look like your typical action cam, but they also work well underwater which is the main selling point of a GoPro.Other brands such as Garmin, Yi, and OCLU are pretty decent substitutes as well.
Find out the best alternatives to GoPro today!
---
How can you tell a fake GoPro?
With great popularity, products often get faked and with today's technology, it's hard to spot a counterfeit at a glance. Even for the biggest brand like GoPro, this is a bit of a normal occurrence. So, there are several tell-tale signs that your gear is authentic.
One of the first things you need to check is the logo. The brand has a very distinct font for its unit name/logo. If you feel something is off, or if the spelling is wrong, then that's clearly a fake.
Another way to check the authenticity of your device is to look up its serial number. Now, every unit has its unique SN. You can check this in two different ways.
One is by accessing it in-camera. You just need to go to the Menu then launch Preferences then head to "About" and then click Camera Info.
A much simpler approach is to find it somewhere on the bottom part of the original box it came from. Then once you have the SN, you can compare it to the brand's official list of serial number codes.
Just a friendly reminder. To avoid being scammed, make sure you check customer reviews and verify the seller's credibility, especially when buying gear online.
---
How long is the GoPro warranty?
Digital devices always have warranties, and your Hero isn't an exception. If you are unsatisfied with the product, you have 30 days to return it to them and ask for a refund, without any questions asked.
This could change depending on where you buy the product.
If it's from GoPro's official store, then you get the 30 days return period. If it's from Amazon, they might have another return period you need to be aware of. However, you need to make sure that the product is good as new when returning it so you can get a refund.
They also offer a 1-year warranty covering manufacturing defects. Despite having this warranty period, the manufacturer cannot replace the entire unit. They can only offer a free repair/replacement service for the damaged part, so you won't be getting a brand new unit.
By the way, the warranty doesn't cover damages caused by accidents, improper care, or negligence. You might need to contact their customer support first before availing of the after-sale service.
---
Does GoPro Quik cost money?
Quik is GoPro's editing app. It's available for both IOS and Android devices.
You can install this for free, but in order to unlock the full features, you will need to pay a subscription price. For as low as $10 a year, you can do more with GoPro and your mobile device.
The free version will only let you access 22 filters, 11 themes, and a few selected free music. Whereas the premium subscription will let you experience the following:
unlimited editing

over 100 free music

47 filters (22 basics, 25 additional)

13 themes

Speed adjustment feature
With this, you will be able to do the editing on your phone instead of waiting to get home to a PC. It's much more convenient.
---
Is GoPro Quik any good?
If you have a good camera and amazing photography skills, half of the work is done.
The other half is accomplished in post-processing. This is also true when it comes to videos. If you want to create a compelling story through the footage, then you need to think seriously about the editing process.
There are several apps that will let you edit your recordings, but GoPro Quik is one of the fastest and easiest ways to go. Why? Simply because you can do the post on your smartphone.
If you're not sure how to create an awesome video, there's even no need to worry about that. The app can create recording highlights for you automatically. All that's left to do is add in some filters and other effects to make it more pleasing for your audience.
---
GoPro Action Cameras FAQs: Conclusion
---
Could Nick Woodman ever imagine in 2002 that the 35mm wetsuit strap camera—the first working prototype of an action camera—would be the start of the company's journey? Unlikely.
He wanted to shoot videos of himself and his friends while surfing, and he came up with ways to prevent the camera from being knocked out by a strong wave. Woodman followed an idea, a dream, gradually developing the company.
He created a name and made it synonymous with quality: GoPro is the best in the action camera industry. Here are the top 3 right now:
| | | | |
| --- | --- | --- | --- |
| | | | |
| One of the latest & greatest models | | dual screens (front & rear) | |
| | | robust build (land & water) | |
| The 360º camera that vloggers love | | unbreakable stabilization | |
With their help, people inspire others and inspire themselves, share bright moments, leave a mark. And everyone feels that he is important, and the story is heard.
These gadgets are intuitive to operate, do not require hours of study, as is the case with professional equipment. It is enough to buy a GoPro camera, mounts, a couple of high-speed SD cards, batteries – and you are "charged" for the whole vacation.
Shoot waves, sunsets, sunrises, snowy peaks, dense forests, steep cliffs. Ride bikes, mopeds, boards of any length and width, skydive or rope jump, swim with dolphins… and be sure to share it!
Not for nothing that in 2019 GoPro received two awards at the Shorty competition: "Best Brand Presence" and "Best User Content".
(By the way, here's how to stitch GoPro video clips together.)
The second nomination came thanks to the owners of GoPro cameras. They filmed and sent videos, the company chose 22 of the best and edited one two-minute video. And the winners shared $1 million among themselves.
Action cameras offer different shooting options: Full HD and 4K, classic to wide angle, burst or slow motion. Control shooting the way you want: manually on the camera itself, using the remote control or the Quik app for your mobile phone.
Gadgets are attached to almost any plane and surface: a helmet, a steering wheel, a hood, a wall, a pipe, a board… And all thanks to sets of mounts, the number of which is growing every year.
One of the most important features in the latest models is water resistance at a depth of up to 10 meters. So filming with GoPro can be done on land and underwater.
Don't waste time, make videos about everything that excites you and share your impressions to excite others.