Please note: As an Amazon Associate I earn from qualifying purchases. I also work with other affiliate partners and may be compensated from the links below. Details here.
November 2, 2021
Does a GoPro Record Audio? How to Improve Its Sound Quality? (Complete Guide)
---
Does GoPro record sound? This is a guide that answers this questions with some tips on how to improve audio in the action cameras of this brand.
Contrary to popular belief, GoPro cameras do allow you to record audio. Most models, if not all, have built-in microphones which let you capture sound. But if you ask about the recording quality, well that's another story (that we'll also discuss here).
In this complete guide you'll learn:
how does a GoPro work

if it records audio effectively

how to improve the sound quality of your action cam

and so much more
If you are excited to step up your GoPro audio recording capabilities, then this guide is for you. Let's begin.
---
What Does A GoPro Do?
---
Digital photography has opened an entirely new world for people who love doing adventures and taking photos, videos, time lapses, slow motions etc.
Action cameras are now available to keep up with your active lifestyle, less the burden of carrying bulky gears. And if you haven't heard about GoPro yet, well, they're just one of the biggest manufacturers of these tiny devices.
Basically, it does what a normal photography device would – take photos and videos!
But what sets it apart from other products you are most familiar with is its ultra-compact design. It's one of the reasons why many people don't carry around chunky DSLRs during travels/leisure activities.
==> Related reading: What is a GoPro and what is it used for?
==> Related reading: The 17 voice commands to control your GoPro.
As amazing as it seems, GoPros have their own setbacks – audio quality is among the most notorious ones. Well, it's not totally that bad, but many users wished it was better. 
---
Does GoPro Let You Record Sound?
---
---
Quick answer: YES!
Just like most cameras that have video recording capabilities, GoPro products can record audio as well.
Most of the models have built-in microphones to help you capture the sound. However, with that alone, you can't expect it to have a studio-grade quality, which is quite understandable. 
While it's true that older versions have lower audio input quality, the brand keeps improving this aspect which is very evident in their GoPro Max model.
This gear is now equipped with 6 mics to ensure better sound recording. The catch though is it's extra sensitive. Every wind gush from your fast movement gets captured, and this could really be annoying.
Now, let's find out how you can step-up your action cam's sound quality.
---
GoPro Audio Quality – How to Improve It?
---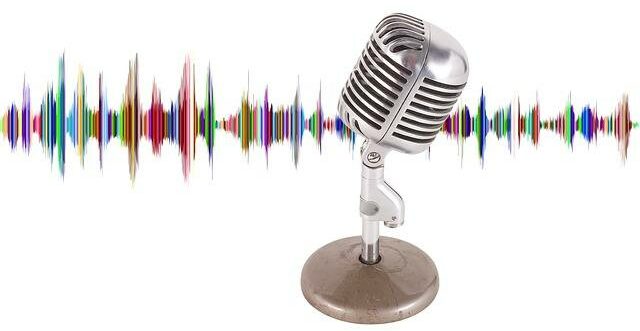 ---
We all know these tiny gears are designed to capture fast-paced moments in vivid colors, but what about the sound? Isn't it just a bit frustrating how sometimes you have that extremely beautiful footage yet end up having the worst audio quality ever?
Like, you could be surfing or paragliding,  and expect your shots to be flawless, only to find out during review that you captured nothing but the gushing wind and water plops. That's just downright annoying, especially if you love vlogging. 
But don't you worry! I'll share some techniques on how you can have a decent and audible sound that matches your HD videos.
Invest in external microphones
Many of you are probably wondering why you need to invest in an external microphone when the device itself has some built-in. The truth is, they are not as reliable. So if you focus more on vlogging your adventures, then you would definitely benefit more when you spend a few bucks for a good quality mic. 
But hey! Don't forget that there are several types of external microphones available today. If you want one for general use, there's this thing called Media Mod for Hero models. This has a directional mic that allows the gear to focus not only on video quality, but sound as well.
There's also a Lavalier mic, or a lapel-type, which gives you more flexibility. The good thing about this is that they are wireless, so you get to move around without worries. 
You can also use condenser microphones, which, I believe are perfect for voice-over works done inside a studio. 
Oh, by the way. Don't forget to buy an adapter as well. *wink*
Most of the time, the noisy breeze can be really annoying. But, there's an easy way to reduce that – a windscreen!
It's a foam that you attach to the mic in order to at least filter some unwanted sound waves or background noise. This will help you have a better recording and it will act as a noise reduction device.
==> The Ultimate Guide to Your GoPro: Beginner to Expert (Video)
Sometimes, it pays to have a separate audio recorder at hand. Though newer Hero models have improved in terms of sound capabilities, there will be projects wherein you want to get the most out of the conversations, background chatter, sound effects, and all the other auditory essentials. 
You can use this hand in hand with your action cam so that if all else fails, you still have a different source for your audio. Or better yet, you can use some clips to cover up a certain portion of the inaudible noise in the original recording, whichever you feel like doing. 
Use a good sound editing software
Of course, you should never underestimate the power of good editing software. It's inevitable to have footages that won't have the expected audio quality you wanted. Having reliable software to help refine and improve your recording is very handy. 
Through this, you can filter background noise that just went through your windscreen. Or, you may even edit out some unwanted comments from the conversation, or from the background – absolutely anything you think will make the video more pleasing. 
---
Can You Use a GoPro to Record Audio ONLY?
---
You may wonder…
Can you use a GoPro to record audio ONLY?
First, you're probably better off using your smartphone for this purpose.
But you can do that with your action camera as well, there are just a few tips I'd like to share. Just film whatever it is you want to film with your GoPro and then split audio and video in post production using Adobe Premiere software.
When you do record with the action cam, just make sure to do at the lowest video settings possible such as 720p, 30fps and then proceed to unlinking with the Premiere tool.
The reason behind it is because you don't want to fill up your space with useless video, yet you'd get the best audio quality. (You can still use the recommended mics for better GoPro sound quality.)
---
Is A GoPro Worth It?
---
Having this action camera will take your photography skills to higher grounds.
It's never easy recording spontaneous and fast-paced moments. And though regular cameras can do this too, nothing beats the convenience of carrying an extra small gear packed with so much power in it. 
But, I understand that this brand's products are not for everyone. I mean, it has a premium price tag and there are several good alternatives you can find at a cheaper offer. 
The truth of the matter is, whether it is worth it or not, depends on why you need the device. If it's solely for leisure purposes, then you'd be better off with a more affordable GoPro substitute.
But if you are tech-savvy and really serious about your action photography journey, then investing in a GoPro model isn't so bad at all. With all its wonderful features and promised durability, any photographer wouldn't ask for more (or maybe a higher battery life? LOL).
READ ALSO: GoPro Action Cams: 30 FAQs Answered
Below is the list of top 3 popular models right now:
| | | | |
| --- | --- | --- | --- |
| | | | |
| One of the latest & greatest models | | dual screens (front & rear) | |
| Best cheapest alternative today | | robust build (land & water) | |
| The 360º camera that vloggers love | | unbreakable stabilization | |
---
 Final Thoughts 
---
Adventure seekers seem to never run out of adrenaline. Having a good action camera lets you record all your precious moments without missing a beat. 
With GoPro models not only capturing amazing videos but also decent audio quality, you will have one less problem to worry about. You can focus on your trip, plan your sports activities, and let your Hero device witness how much fun you will be having. 
Now, I'd like to hear from YOU:
Have you ever tried recording videos on GoPro with sound?

How was the sound quality of your model?

Did you buy an external microphone to improve your action camera recordings? 
Share your experiences below!