Please note: As an Amazon Associate I earn from qualifying purchases. I also work with other affiliate partners and may be compensated from the links below. Details here.
September 10, 2022
iPhone Food Photography Course: The Best Secrets for Mouthwatering Results! (Review)
---
Welcome to my review of iPhone Food Photography course!
---
Photography is all about telling a story. Regardless of your subject, your photograph conveys a message to the target audience.
It's no longer about portraits of people; you can now transform just about any subject into a wonderful message through photos – just like FOOD.
So, just how do you tell a story about food? Is there a technique that can showcase the flavors without needing captions? Say no more!
In fall 2022, iPhone Photography School launched a brand new course for iPhone food photographers. Your instructor, Andrew Scrivani, shares his best techniques and secrets to achieve the mouthwatering "foodgasm" results that will wow your audience and clients. Is it be worth the investment for you? Definitely, YES!
In this post, we will talk about:
what is food photography about

what you'll get when enrolling in an iPhone Food Photography course

how you can use this in your day-to-day life or business
… and so much more.
Without further ado, let's begin!
---
iPhone Food Photography Course (Summary)
---
---
The iPhone's camera has great capabilities that many of you might be missing out on.
You might not know it, but some professionals only use an iPhone to take different visual content of anything they post on social media, and they still look incredible.
As a foodtographer, you will need to develop the skill of making your audience hungry after having one look at your images.
And that's exactly what you will get when you enroll in the new IPS course.
You'll unleash the full potential of your mobile device, especially if you love taking photos of food. You will discover the amazing techniques that will make them look not only delicious, but also satisfying to the eyes.
Specifically:
how to fix the light with simple homemade tools (for cheap),

how to properly style your food,

how to use simple props to make all the difference in composition,

the 4 essential food photography angles,

how to use the right composition to improve your photos,
… and all these combined will help you achieve the mouthwatering food photos!
Scrivani has done it all. So you don't have to.
So, be ready to recreate those amazingly beautiful food images you can only see on social media or in magazines. (And potentially land high-profile clients!)
==> Click here for further details.

---
---
Andrew Scrivani: Short Background
---
---
Before we get into the details of the course, it would be best to get to know your instructor – Andrew Scrivani.
Andrew is a popular food photographer.
Since 2002, he regularly contributed to the New York Times magazine. His amazing works are featured there and you can only guess how much skill and expertise that requires.
Here's a quick list of his high-profile clients:

Not only that, but he also shot for The Wall Street Journal, Food Arts, and Edible Manhattan. He even has spearheaded some popular shows like The Chew cookbook series for ABC Network, and many others. 
Plus, he also has a book entitled "That Photo Makes Me Hungry" which has become a major hit and is sold on a global scale. If it's anything about food, Andrew is the main guy. 
If that didn't amaze you yet, know that he has a variety of big-time clientele such as Disney, Nestle, Kraft, Adobe, Wix, and many other popular brands.
So in this course, you get to meet this genius and see how he transforms food into a story without saying the words. And you get to learn his best secrets at the best price.
---
iPhone Food Photography: Course Structure
---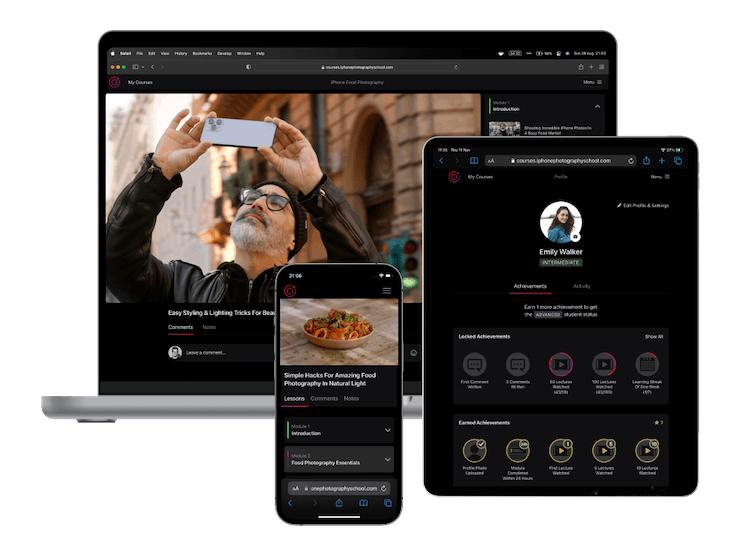 ---
You've probably come across other sites offering tutorials on how to shoot food. Some might even offer free video guides on YouTube you can easily follow.
But, with the iPhone Food Photography course, you can indulge in the amazing journey with Andrew in Sicily as he takes you to various places virtually to showcase his expertise. 
This class is divided into 3 main modules and contains 3 other bonus segments which are equally useful.  (Which is 23 videos in total of easily consumable content packed with value.)
Let's check them out one by one.
The course begins with Andrew strolling through the busy markets of Catania, a wonderful city at the foot of Mount Etna (an active volcano).
It's a good spot to take photos of people, food, and culture. Here, you get to see various elements you can use to create stunning and captivating photos like Scrivani does. 
The location is a perfect setting for those who want to get the rawest reaction from people; to tell the most compelling stories, and to convey a message about how these locals live. 
Aside from taking pictures on scene, Andrew buys some good stuff from the market ready for use in the studio sessions, which you will be seeing in the later parts of the training. 
Module 2: Food Photography Essentials
This section contains 9 different videos focusing on food photography. Scrivani will teach you the best way to take a photo of your subject in various scenarios.
You should know by now that there is no one-size-fits all setting for all types of photo sessions, so this will help you get an idea how to take on different challenging shoots next time. 
In this segment, you will learn how to master using light to produce beautiful photos of food, making it look nothing less but perfection. If you originally thought you can't control natural light, then you probably haven't tried manipulating it to your advantage.
But don't worry! Andrew will share some of his personal techniques with you. 
Included in the module are lessons on the best angling techniques for this genre, using props to improve context, composition strategies to make your story more compelling, and so many other things that will make your images look nothing shot from a mobile device.
Plus, there is a dedicated video where you will discuss different techniques on how to isolate your subject from the rest of the background. This will change the way you take pictures, not only for food, but for any subject for that matter. 
Module 3: Implementing Your Food Photography
Here, it gets even more interesting. Scrivani will take you to a bar where you explore various techniques in photographing beverages.
At some point, I know you've tried taking photos of food and drinks separately, but haven't really thought how different angles can affect the result. 
In this section, you will learn how to properly shoot beverages to make them look more enticing and flavorful than they already are. 
But before we get into more details, a quick side story first…
Andrew and his team wanted to have a book deal with this bar, so they are trying to promote the products. He will share with you how they do their work, so you will have an idea what happens in the real-life setting.
Okay, so back to the topic…
The most important part of this module is the discussion on the importance of getting the right inspiration for your shoot. Your mentor will teach you how this affects the overall quality of your images. 
And, there is a segment dedicated to teaching you how to grow your Instagram following through your pictures and some final advices from the man himself to take pretty shots using your iPhone only. 
There's just a lot of good stuff inside this course. For example, you will learn about effective iPhone editing to make your images look more stunning and pro-grade.
There are also some videos discussing how to go "Pro-mode".
It's natural to rely on automatic camera settings, but your entire photography game will change once you master the art of shooting in manual mode. This gives you more freedom and flexibility during the session, allowing you to have more creative results.
Lastly, there's a discussion on low light photography.
It's a very important topic since mobile phones have lower low-light shooting capabilities compared to professional cameras. But there's no need to worry! Andrew will share with you the most effective tips to make the most out of that situation.
And of course, as with all iPhone Photography School courses, you'll have access to the private community.
==> Grab your spot at a discounted price here!
---
Why Choose iPhone Food Photography Course
---
---
Various online educational platforms may offer the same courses, but there's just some things only iPhone Photography School can offer. Let's check them out!
There are professional photographers who are good at taking pictures, but it's another story to have someone who is expert in his field and at the same time good at being an educator.
Andrew Scrivani is just one of the best mentors for this genre, and there are other really good teachers in the IPS team like Emil Pakarklis and Clifford Pickett (for iPhone travel photography).
Designed for iPhone users
There aren't many photography courses that focus on using a mobile device, much less an iPhone.
This is a great way for you to fully discover what power your phone camera has. From being a casual shooter, you might end up wanting to become a pro iPhoneographer in the future.
Easily Consumable Lessons
The course is short, yet very comprehensive and engaging. Although the videos are short, they are filled with so much information, you'll think you were taking a month-long class.
I've mentioned bonuses by the IPS team, but another one from ME directly is the Creative Photography Cookbook for 80% OFF. Enter your email below to get the discount.
---
Final Thoughts
---
iPhone photography has grown significantly popular over the years.
The brand's efforts in making the camera for each new model better than the predecessor is finally showing off.
With the continuous advancement of technology, it's only a matter of time when you prefer bringing your mobile camera to events than stuffing bulky DLSRs into your luggage.
The thing is…
iPhone Food Photography course is a game changer.
Whether you just want to take cool photos of your dinner, want to promote your food business, or land high-profile clients it can help. Your time and financial investment won't go to waste.
==> Click here to check it out.
So now, I'd like to hear from YOU:
Have you seen other courses like iPhone Food Photography?

Do they offer the same engaging experience?
Share your thoughts in the comments section below!