Please note: As an Amazon Associate I earn from qualifying purchases. I also work with other affiliate partners and may be compensated from the links below. Details here.
July 29, 2022
Capture It All Review: One-Of-A-Kind Online Course by iPhone Photography School!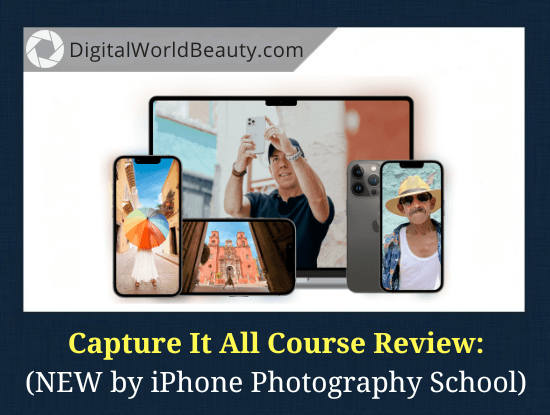 ---
Welcome to my review on the Capture It All online course!
---
Look:
Some of us like to learn in a "spoon-fed" kind of way. I'm certainly one of them.
And what I mean by that is that they'd rather invest in quality online courses than spend countless hours searching for free stuff and piecing all the info together.
Truth is, while some are born with the talent of taking good photos, most of us need the right teacher and guidance when mastering something new.
When it comes to iPhoneography, the iPhone Photography School courses by Emil Pakarklis and Clifford Pickett are by far one of the best ones on the market.
Now, in summer 2022, the IPS has launched a brand new course called "Capture It All". I have access to the course, and here, we'll discuss if CIA is worth your time and money.
Here's a quick summary:
Capture It All Course (Summary)
---
Company Name: iPhone Photography School
Course Name: Capture It All
Instructor: Clifford Pickett
Product Type: Digital course
Best For: Beginner-intermediate iPhoneographers
Price: $99 ==> Get the current discount here!
Money-Back Guarantee: 30 days
Recommended: Yes!
---
Did you know that most people less than 10% of their iOS cameras? (I was shocked too.)
Truth is, there are so many things you can do with your iPhone, such as:
time-lapse and hyper-lapse,

motion blurs and long exposures,

loop and bounce clips,

video editing,

night mode photos,

even aerial photography/video if you have the drone pilot license,
… yet most people still use it as a film camera.
In this unique Capture It All course, you'll learn how to use your smartphone to its full potential. 
Clifford Pickett will take you on an amazing journey in Mexico where he'll teach you the 3 main pillars of what makes a good photo, introduce you to the concept of timing and element of motion, and simply show how to literally CAPTURE IT ALL.
It's probably a one-of-a-kind iPhone Photography course on the market right now, but even if you happen to dislike it, you'll have 30 days to get your money back.
==> Click here for further details.

---
---
iPhone Photography School: Background
---
---
IPS is a very well-known platform in this niche with hundreds of articles, free YouTube videos, and several premium iPhone Photography courses. Right now there are two main instructors for those, Emil Pakarklis and Clifford Picket.
Emil Pakarklis is the founder of this company, as well as the instructor for some of the digital bestsellers:
He is a self-taught iPhoneographer, and then has successfully taught people how to create (and edit) stunning photos with your iOS camera, step-by-step.
Clifford Pickett, on the other hand, joined the company as a new instructor fairly recently, and he's also a great one to learn from. So far, he's now created 2 courses with the iPhone Photography School team:
Your instructor has years of experience and brands like British Airways, Clinique, and National Geographic would hire him for high-budget projects where he would use nothing but his smartphone!
How incredible is that?
Fall 2022 UPDATE:
There's also a new instructor in the IPS team, Andrew Scrivani, who specializes in food photography.
Together they created a brand new course for food photographers where you can learn Andrew's best secrets to achieve "foodgasm" photo results.
Now, let's get into the details and the format of the course in question.
---
The Course Structure
---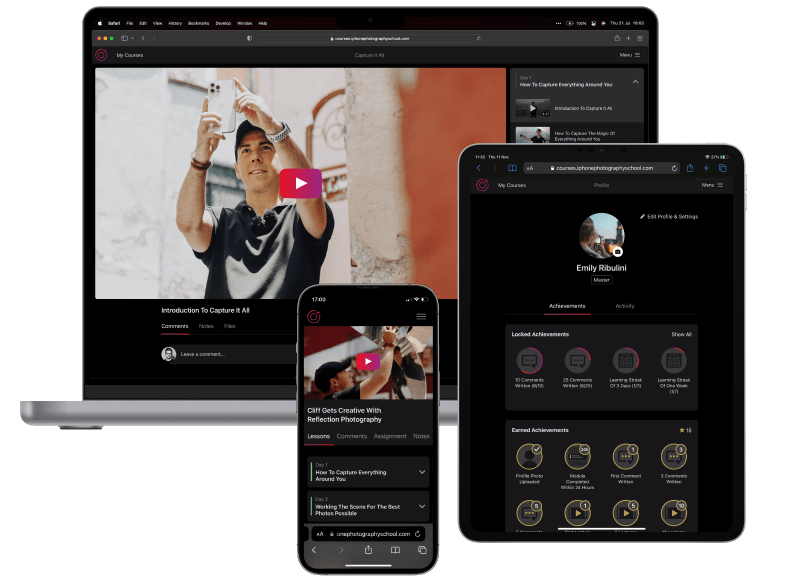 ---
This training consists of 9 daily modules plus 3 bonus lessons on a platform that is easy to learn from and follow.Each segment is subdivided into different topics so they are easily consumable and you can stop/start in the middle of the course.
Here's a sneak peek of the entire course:
Module 1: How to Capture Everything Around You
This part is divided into 8 videos of about 5-15 minutes long on average. Here, you will be welcomed by none other than Clifford as he introduces the lesson plan to you.
What makes it better than most resources online is that you are not only seeing the four walls of the studio. Rather, you'll get to journey with him through various scenic spots in Mexico.
During the first part of the module, Cliff will take you to the topmost part of Guanajuato. The first activity's goal is to learn how to capture the wonderful sunrise alongside the picturesque village underneath it.
Your instructor will guide you on how you can present your shots so that the viewers will have an idea of how exactly it feels to be in that very moment.
Here, you will also learn how to take amazing photos of strangers in the street, how to add drama to your photos through silhouettes, the proper use of artificial lights, and many others.
Plus, Pickett will let you in his personal secret to the perfect iPhone camera settings for different types of subjects.
Module 2: Working the Scene for the Best Photo Possible
Although Guanajuato generally has good weather for all seasons, there are just days when clouds roll in and cast dark sky over the beautiful scenery.
In this part of the training, Clifford gets the opportunity to show you how you can overcome this by knowing the best settings and mobile photography techniques for the situation.
By the end of this segment, you'll be able to easily remove unwanted objects from your images mainly by using the app called TouchRetouch.
It's not every day you get a picturesque scene right in front of you. But, it doesn't mean you have to stop taking photos of the things that spike up your interest. Sometimes, post-processing could be your best friend too.
In addition, Pickett will also teach you how to overcome low-light situations, which can happen very often in photography. So rest easy there.
And let me just highlight that there is a video dedicated to taking awesome photos of buildings, and learning how to use symmetry to capture the wonderful architectural structures this place has to offer.
Module 3: Shooting From Sunrise to Sunset in Guanajuato
There's a reason why many people are obsessed with taking pictures of sunsets and sunrise. During this time of the day, the sky bursts into wonderful colors that are so mesmerizing and pleasing even to the naked eye.
Also, Cliff will introduce some tools you can use to ensure better-quality shots; like the iPhone gimbal for more stabilization. This is definitely a game-changer.
In addition to all that, you will learn about several angling techniques to make your pictures look extraordinary. There are also videos where you see him play with reflections which you can easily follow later for a more dramatic capture.
The best part about this module?
You will realize how important it is to go to the same location twice at a different time and situation. If you initially didn't get the best lighting condition the first time, your second time might just be better.
Module 4: Simple Tricks to Elevate Your Photography
Ever wondered how some mobile photographers manage to take great images of moving subjects without fancy DSLRs? Aside from good-quality camera, it takes a few tricks and techniques to produce excellent results in this situation.
In this module, you will learn how to do just that. Plus, you get the chance to step-up your game and make your subject pop out effortlessly.
Included in this segment are some techniques on how to do back-lit headshots so your photo come out even more aesthetically pleasing.
You will also encounter the superb editing app popular not only with iPhoneographers, but also with professional photographers – the Lightroom app. At first, you might find it confusing, but with Pickett's teaching style, you will definitely master it in no time.
RELEVANT: iPhone Editing Academy – Learn How to Edit Your Photos.
Module 5: Creative iPhone Photography Techniques
Apple has made so much effort in making iPhone cameras the best they can be. On its own, there are several features you can play with. But if you think you already know everything about your device's capabilities, you might want to think again.
In this segment, Clifford will discuss the hidden tricks you can use with an iPhone so you can effortlessly take gram-worthy images.
Though you may be aware that your phone has a slow motion feature, you will never think of it the same way again after finishing this part. Once you master this technique, your videos will look more cinematic.
There are also resources about other editing apps you can use to make your photos stand out like MirrorArt App. You will also enjoy playing with the hyper-lapse function which is tantamount to a time-lapse feature in DSLRs.
Module 6: Mastering Photo Composition
As much as it is important to have a good iOS camera for great results, composing your photos is equally significant. Sometimes, it only takes proper angling to get the best picture out of a difficult situation.
For most beginner courses, this is always emphasized, but not many resources out there will teach you how to do it step by step. In this section, Pickett will share with you effective tips in mastering composition easily.
Here, the importance of using lines and symmetry will be discussed seriously. Sometimes, what makes a great photo are the small details like these.
And as an added information to this module, there is a discussion on how to take long exposure shots, especially during night time.
After watching this section, you will be able to recreate some of the most wonderful light trail long exposure images you often see on the Internet.
Module 7: Capturing The Unique Character of A Place
Having a quiet and peaceful venue for the shoot guarantees a smooth-sailing session. But what happens when you are not lucky enough to be in this situation? What if you are out in the streets yet you still want to capture the moment?
Street photography is one of the most raw and realistic genre. You are given the chance to take photos of people with the most genuine emotions at that particular moment.
With this module, you will see how you can portray these feelings with your pictures. The master will teach you how to make your subject stand out among the crowd despite the chaos.
Other videos will show you awesome techniques about street portraits and even let you create a mini-movie with motion timelapse video.
Module 8: Exploring Isla de Janitzio
In the previous segments, Cliff showcased the beauty of Guanajuato. This time, he's taking you to the majestic Isla de Janitzio where you see both amazing architectural structures surrounded by a large body of water.
This section focuses more on using hyperlapse to capture everything in the frame. Even going at fast speed on boat, you can still take in as much details into the video without additional settings.
Moreover, Clifford will show you how to make the most out of the built-in video modes you can find in your iPhone. After finishing the module, you will never take videos the same way again.
Module 9: Finding Unique Perspectives In A Beautiful Landscape
Landscape photography takes some mastering to produce compelling photos. You need to know the right perspectives in order to showcase the scenery to its finest.
Here, you will gain knowledge on how to look for a vantage point so the subject is positioned in the best manner possible. Plus, the proper use of reflections is more emphasized here.
Now, if you're interested in strictly this genre, consider another product: iPhone Landscape Mastery by Clifford Pickett.
As if the 9 modules are not informational enough, IPS still included some bonus videos and resources that will complete your experience.
They have prepared an e-book guide for taking iPhone photos when travelling, and you can see videos of aerial shots using drones. Plus, another in-depth discussion on how to make awesome videos on your mobile await you as well.
==> Grab your spot with a 90% discount here!
Another bonus from ME directly is to get the Creative Photography Cookbook for 80% OFF. Enter your email below to get the discount.
---
Capture It All Review: Final Thoughts
---
The market for mobile photography increases on a daily basis.
Thanks to technology, cellphones now come with awesome camera features that will let you think twice about buying a separate point-and-shoot device for casual daily use. With an iPhone, you can basically capture moments when they happen.
Your device, together with the knowledge you acquire from Capture It All course will definitely change your photos drastically, but in a good way. Knowing the techniques by heart will let you take pictures effortlessly next time.
NOW, I'd like to hear from YOU:
Let us know your thoughts in the comments section below!