Please note: As an Amazon Associate I earn from qualifying purchases. I also work with other affiliate partners and may be compensated from the links below. Details here.
August 20, 2022
Drone Pilot Ground School: The #1 Online Test Prep and Training Course (Review)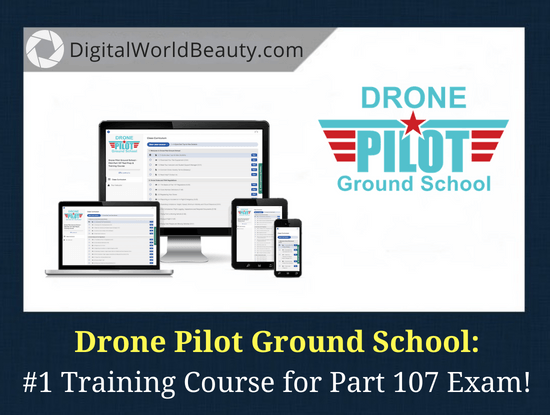 ---
What if you could finally understand all the FAA drone rules that are there?
What if there was a good and affordable step-by-step training that could help you pass the Part 107 exam and become an FAA-certified pilot to fly for commercial use?
Well, there is. It's Drone Pilot Ground School by UAV Coach, Alan Perlman.
DPGS is an online course for commercial drone pilots. It's designed to prepare and help you pass the FAA Aeronautical Knowledge Test for a Remote Pilot Certificate. Now, is Drone Pilot Ground School worth it? YES! In fact, they have a success rate of 99%+, meaning that their students pass the FAA Part 107 exam on their first attempt (even if had zero aviation experience before).
Today, we will be answering some of your most asked questions:
What does it take to become a certified drone pilot?

Who needs the license to operate a drone (professionally)?

Why is the Drone Pilot Ground School course worth it?
Without further ado, let's get started.
---
Drone Pilot Ground School Review: Summary
---
Company: Drone Pilot Ground School
Website: https://www.dronepilotgroundschool.com/
Founder: Alan Perlman, aka UAV Coach
Product type: Drone training online course
Best for: Commercial drone operators

Price: 

$199-299/person ==>

compare the pricing

Money-Back: If you don't pass FAA test
Recommended: YES!
---
This training platform was founded by Alan Perlman, to help you get proper education and prepare you for the FAA exam for drone pilots called Part 107.
In case you didn't know, if you wish to fly your awesome device for commercial use in the U.S., you MUST obtain a Remote Pilot Certificate from the Federal Aviation Administration.
According to the FAA, drone pilots (including commercial ones) "operating under Part 107 may fly at night, over people and moving vehicles without a waiver as long as they meet the requirements defined in the rule."
And this is exactly what the Drone Pilot Ground School prepares you for. They will help you understand all the rules, all the nuances, and basically everything you need to know to pass this exam.
They are so amazing that they have a success rate of 99%+.
Even if you have ZERO experience with the drone aviation, with DPGS training you'll most likely be able to pass the FAA test from your first attempt. Or your money back. (They'll even cover your $175 test center fee.)
It says a lot about this company, doesn't it!?
Oh, and one more thing:
Some of you might also enjoy the fact that 1% of the sales they make are donated to organizations that make a difference (like Freedom Service Dogs, Kids in Need, National Forest foundations, just to name a few).
==> Try the Drone Pilot Ground School with peace of mind. Highly recommend!

---
---
Drone Pilot Ground School: Short Background
---
DPGS is an online institution offering a comprehensive drone pilot course.
This is made especially for people who wish to pass the FAA Part 107 exam for flying the device (and using it for commercial purposes).
Alan Perlman founded this school in 2016 and is situated in the state of Tennessee. This platform is of a global scale with students coming from all around the world.
If you think the name of the founder rings a bell, then you've probably heard of UAV Coach. Alan was also the one who spearheaded the foundation of that platform.
He offered several related pieces of training like flight safety, the commercial aspects of flying drones, and many other interesting topics, which we'll discuss below.
With the DPGS you can enjoy the hands-on drone flight training classes throughout the US. Although, with the Part 107 prep test course, you can learn it online, at your own pace.
Here's a quick recap of their accomplishments:
45,000+ students trained

#1 online Part 107 test prep course

3,000+ of 4 & 5-star reviews (impressive)

pass the FAA exam on your first try, or your money back

great learning center/knowledge base
Now, let's have a look at the course structure.
---
The Course Structure
---
==> Click here to check it out <==
---
This online training is on Teachable platform and is divided into 7 main modules plus 3 other equally useful sections. The lessons are then subdivided into several videos to make them easier to consume.
Now, for the most interesting part, we'll talk about what's really inside this course. After all, that is what this Drone Pilot Ground School review is for.
Without further ado, let's dive into the details!
---
Module 1: Welcome to Drone Pilot Ground School
Remember how every online class begins with introductory videos? It's this part, but so much more.
There are 3 videos in this section: one contains tips for every student before they begin the course, another has instructions on how you can download your test supplements, and the last one is a video introducing your coach – Alan Perlman.
It also has 3 text-based contents for auxiliary materials that you will need for the entire class – common terms used (glossary), support contacts, and their knowledge base.
This segment is really short so you get warmed up as you go along.
---
Module 2: Drone Rules and FAA Regulations
This is the core of the course. Here, you will learn about all the important rules of flying a drone.
In any case, you will need to learn the basics and the rules in order to properly understand how a device works. That's going to be your very foundation.
The module is subdivided into 11 different segments where each segment contains detailed text-based lessons plus video guides.
It's in this part where you learn the basic requirements of acquiring a Remote Pilot Certificate (Small UAS Rating). And of course, Alan will share with you some tips on how you can keep that certification.
You also get to know here about various crew members, how to properly register your gear, operating limits, how to report accidents/incidents during flight, etc.
Basically, every rule you need to know is in here.
---
---
Module 2.5: Night Operations Training
You're not gonna be flying the drone just when it's daytime. Some occasions call for operating the gear during the night as well.
Just like commercial plane pilots, or any other pilot for that matter, flying at night is way different than doing it in broad daylight. You just can't have a strong light beam guide the way like you have in cars.
In this segment, you'll learn what are the best practices and conditions you can fly the drone up at night. You will also get a deeper understanding of how the eyes work during nighttime.
---
Module 3: National Airspace System
This part will teach you the different classes of airspace you need to know as a drone pilot.
You probably laughed at someone making a joke about air traffic causing flight delays, but this is a reality.
Since there is less visibility above due to clouds and other atmospheric substance, you really need to know when and where it is safest to fly that little guy.
There is also a discussion on the military training routes. It's perfect for low-altitude flying.
---
Module 4: Reading Sectional Charts
Just like there is a map on ground, the sky also has one of its own. You will learn how to read the sky map, how to interpret them, and how you can navigate through the sky safely in this module.
In this part, you will also be taught about the various airports and radio frequencies so you can properly communicate to the control tower when flying the drone.
---
Module 5: Airport Operations
You might think this portion is a bit too serious for casual drone operators, but it is an integral part in getting the certification to become a professional.
You need to understand how manned aircrafts operate and adhere to airport rules in order to get the bigger picture. Remember, you may be flying the little monster in low-altitude, but it's still airspace we are talking about.
This is a very short module but there's so much information packed in it.
---
Module 6: Weather and Micrometeorology
At all times, before flying, you must know the weather conditions of your specific location. Not only will it make your flying easier, but it will also ensure the safety of both the device and the operator.
Alan will discuss different wind patterns, currents, atmospheric moisture, mists, and everything a pilot needs to know about the weather and the sky. You will study how to properly read METAR and TAF reports.
---
Module 7: Drone Flight Operations
---
---
This section is subdivided into 13 lessons.
It's a bit lengthy because there are discussions on various operational scenarios you need to be aware of as a drone pilot. Accidents can happen, so it's best for you to know how to prevent them, or at least how to react to it when it inevitably happens.
You will learn about hazardous operations and dangerous actions that can jeopardize the entire flight operation. Knowing them will let you decide which things to avoid and which to focus on.
---
Module 8: Practice Tests, Cram Sheet, and FAA Exam
Although this is an online course, there are still practice tests to help you access your level of understanding when it comes to the lesson in general. Not only that, DPGS also provides cram sheets and assistance in applying for the FAA exam.
---
Bonus Materials
One of the best things about this course is that you get some bonus resources to make your entire drone flying experience better.
You will have the chance to get basic flight proficiency training, you'll be taught how to properly put a price on your services, how to do airspace research, and a whole lot more.
Plus, there is a dedicated section that will guide you on how you can renew your license/certification.
---
Is Drone Pilot Ground School Worth It?
---

---
So, now…
You already have an idea of what the platform is all about.
But, let's face it. Apart from the lessons themselves, there are so much more factors to consider when deciding if the class is worth enrolling in or not.
So, is Drone Pilot Ground School worth it?
I honestly think that yes, and here are some of the best points you can expect from DPGS if you're not yet convinced:
Money-back (and passing) guarantee
I know I've been repeating this like a broken record, but what sets this apart from the rest is that if you fail the FAA exam (which is basically what this course is for), they'll give back your money and even reimburse you for the exam fee worth $175.
This just goes to show that they are positive you'll pass the exam once you complete the course.
According to their data, they have over 99% success rate, and their students almost always pass on the first take. This is one of the reasons why they have such a generous money-back guarantee as mentioned above.
Of course, nothing beats having an access to educational information forever. You can always come back and revisit the lessons if you feel like you need a refresher.
And the good news is that the DPGS team regularly updates the platform to keep up with the changes in the industry.
This would also be helpful when you renew your drone license online.
Actual FAA questions from past exams
The FAA exam is not the same for every batch. However, through DPGS, you will have an idea of what to expect during the test since they have compiled actual questions from the previous exams. 
Not all online courses have great backend support. But here, they will offer one-on-one support to those who need it. You can contact them through email, chat, or call.
==> Try the Drone Pilot Ground School with peace of mind. Highly recommend!
---
Final Thoughts
---
Drone Pilot Ground School has given many aspiring drone operators a chance to get a professional certification.
Although some say it's a bit expensive to enrol in the class individually, they have cheaper group rates as well in case you want to enrol as a team.
All in all, the experience and the lessons shared by Alan Perlman are good investments for your future career as a drone pilot.
It's a very comprehensive training that will not only prepare you for the certification test, but also for the real-world flying scene.
So now, I'd like to hear from YOU:
Do you plan on taking the Drone Pilot Ground School soon?

Do you think it's worth your time and money?

Have you tried enrolling in other similar drone training courses?
Let us know your thoughts in the comments section below!