Please note: As an Amazon Associate I earn from qualifying purchases. I also work with other affiliate partners and may be compensated from the links below. Details here.
June 25, 2020
iPhone Photo Academy Review: Can This iPhone Photography School Course Help You?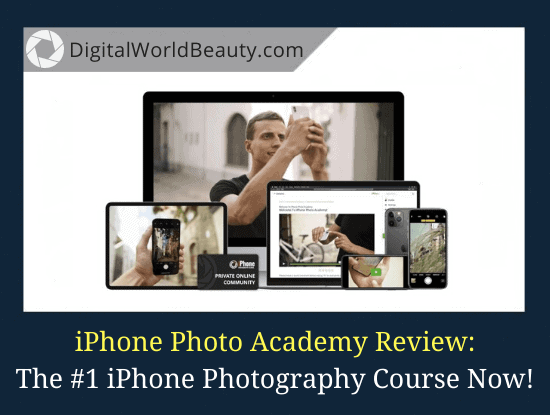 ---
Is IPA really the best iPhone photography course on the market today?
---
Look:
When I bought and reviewed Digital Camera Mastery course (as per your request), I also bought its sister course, the iPhone Photo Academy.
The thing is that smartphone is the kind of camera that's always there for you, so I thought you'd be interested in this review as well.
(And I myself learn new stuff too.)
Anyway, my quick opinion?
if you're a total newbie in photography,

want to never miss that moment with your smartphone,

need to understand all the tips and tricks of iPhoneography,

want to learn from someone with years of experience,
… then you should consider this course.
Emil Pakarklis provides great explanations in every video and doesn't ignore the details that are trivial for many iPhone users.
And guess what:
You don't need to spend thousands of dollars on expensive gear. Believe it or not, but you CAN create stunning photos with just your smartphone. 
Anyway, here's my truth…
iPhone Photo Academy Course (Summary)
---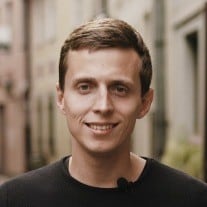 Course Name: iPhone Photo Academy
Website: https://iphonephotographyschool.com
Instructor: Emil Pakarklis
Product Type: All things iPhoneography
Best For: Beginner-intermediate
Price: $99

==>

Click here for current DISCOUNTS!
Money-Back Guarantee: 30 days
My Rating: 94/100
Recommended: Yes!
---
Truth is…
Before I bought the course, I carefully analyzed Emil's website and the content he sent to his email subscribers.
I'm an iPhone user since 2015 and I was certainly impressed. I thought that if he shares so much great info for free, then his paid course(s) must be even better.
And I was right.
This iPhone Photography School course literally has every possible aspect covered in a very compact amount of time (about 10-15 mins on average per lesson).
Emil talks about everything:
From the most basic stuff like how to hold your camera all the way up to more advanced topics like HDR, histogram and exposure line.
Even as a total newbie you'll be able to understand the topics thanks to Emil's easy-to-understand explanations AND it'll benefit you even if you consider yourself a seasoned photographer.
So…
If you can't/don't want to invest in bulky, expensive photography gear but still want to pursue your interest in photography, start with your smartphone!
IPS offers 5 bestselling courses that you can check out:
Best of all?
There's no waitlist, you can work at your own pace, there's life-time access and it's totally affordable. And you get a lot of value for your buck.
(Believe me, you'll be shocked at what your iPhone can do.)

---
---
iPhone Photo Academy (My Video Review)
---
This year I started a YouTube channel, so I decided to record a short video review as well. Click below to watch it:
==> Click here to subscribe for more videos!
---
About Emil Pakarklis (Biography)
---
Before moving to the review, I'd like to provide some background info on iPhone Photo Academy instructor.
So…
Emil Pakarklis is a professional iPhoneographer and a blogger with 7+ years of experience.
He's always had a passion for photography but couldn't pursue it because DSLRs were expensive and point-and-shoot cameras were disappointing back then.
(By the way, these days they make killer compact cameras!)
It all changed when he got his iPhone 4s and realized that it took decent photos. That's how his iPhone photography journey started.
Emil also launched a helpful website called iPhone Photography School, that was the first blog of this kind at the time with valuable tips and how-to tutorials.
Years later, an IPA course was born where he teaches how to use your smartphone to get stunning photos, step-by-step.
(And it's being constantly updated which considers newer iPhone models that have extra features.)
Bottom line:
If you're hungry to start your photography journey using your smartphone, and want to learn from one of the best instructors on this topic, then you're going to love Emil's bestseller course.
==> Click here to get started today.
---
iPhone Photo Academy Course (Review)
---
Now that we've established who the instructor is, let's talk about the course itself.
First of all:
You don't have to have a fancy, newer iPhone model to join the course, nor do you need to have previous experience in photography.
In fact, the less you know about it, the better.
The course is aimed at beginners or enthusiast photographers who need how to use their iPhones for the purpose of shooting great photos.
And guess what?
Even professional photographers with years of experience learn something new.
Mark from Shotkit said the following:
"… the more I watched, the more I realised that this is a course for all standards – yes, even professionals like myself.

It's a little embarrassing to admit this, but I found myself taking notes at multiple times when watching the course!

Now I think about it though, even with 10+ years of pro photography experience under my belt, this doesn't mean I know everything about using a device normally reserved for making phone calls to take a great photo."

How crazy is that?
You'll learn about basic concepts that'll help you improve your iPhoneography skills. Add to this dedication and practice, and you won't believe what kind of photos you'll start to take.
---
---
Like I mentioned before, Emil gives very down to earth explanation of things and his lessons usually 10-15 mins on average.
Which is awesome in my opinion since you don't get overwhelmed by the amount of info on a particular topic.
Don't get me wrong, the lessons may be short but a LOT of topics are covered in IPA course.
You'll learn the stuff that all photo courses should cover which include the following:
the essentials of iOS camera

the principles of great photography

creative photography techniques 
Not only that but Emil also talks about covers the artistic principles of photographic composition such as the rule of thirds, exposure lines, shooting from creative angles and so forth.
It gets better…
In his course, Emil also covered the common iPhone photography scenarios (genres), such as:
scenery/landscapes

portrait and family photos

travel moments

documenting street (candid) life

night photography
And remember:
You get a lifetime access to the course which means that you can study at your own pace.
==> Click here to join IPA today.
---
The Structure of This Photography Course
---
So…
How is IPA course structured?
There are 7 main modules plus the additional bonuses that you get at a discounted price.
Play the screenshot video below to see what exactly to expect. SUMMER 2022 UPDATE: Now they've updated the learning platform for an even better user experience!

Let's break it down here by modules.
---
Module 1: The Essentials Of iPhone Camera
---
In the first module you'll be introduced to the very basics of iOS cameras and photography.
You will learn:
how to hold your camera to make sure there are no shakes/blurs

the quick ways you can open the iPhone camera app

5 unique ways to release the shutter (I was impressed!)

the secret features to use to get a perfect focus

setting the correct exposure in well-lit photographs
So…
Even if you've never had any experience with iPhoneography before, this week will help you understand the basics.
(And if you feel that this is too basic for you, then you can move to the next module right away.)
Also you don't have to get an iPhone X to get the best shots, the current model you're using now will be enough!
---
Module 2: Additional iOS Camera Features
---
In the second module, you'll be learning about additional camera features that you would probably never find on your own.
You'll learn:
how to pick the right camera settings on your iPhone

how to capture action shots

using the Burst Mode feature

how to use the HDR mode for taking evenly exposed photos

how to take outstanding panoramic photos with your smartphone
Now…
I believe this section is constantly being updated because you'll also have videos that talk about certain features available in certain Apple models.
For example:
how to expand your creativity with Live Photos on iPhone 6s and newer

using the dual lens camera on iPhone 7 plus, 8 plus, X, Xs, XS Max, 11 Pro etc.

how to use the portrait mode in iPhone Xs, XS Max, XR, 11 etc.

using the portrait mode on older models such as iPhone 7 plus, 8 plus and X

and the portrait lighting effects on iPhone 8 plus and X
As you can see, Emil takes the time to update his course whenever newer models come out.
So whatever model you're currently using, you'll have a video to watch!
---
Module 3: Editing Techniques For Color And Exposure
---
In this module, you'll learn about simple editing techniques that you'll need to know about.
Specifically:
how to get perfect color and exposure with tune image

how to further improve your color with white balance and histogram

creating sharp and clear photos with tune image

how to bring out strong textures with details
Each of this lesson is 10-20 mins long and to the point.
Tip: If you like to learn at a faster pace, you can always use the playback speed button to play the video faster (that's what I do sometimes).
---
Module 4: The Principles Of Great Photography
---
In this section Emil talks about the right mindset, as well as principles and secrets to great photography.
For example…
He talks about how you should choose the perfect angle or how to find the subject to great awesome iPhone photos.
He will also talk about how light affects photos, the essential principles of composition, as well as using the creative composition techniques.
Now:
To experienced photographers this module might be a bit "boring" since they know it all, but as a beginner you'll definitely benefit from it!
---
Module 5: Creative Photography Techniques
---
This certainly was an interesting module.
It is where you'll learn how to:
tell powerful stories with your photos

take sweet silhouette images with your smartphone

use shadows to improve your iPhone photos
I believe this is where you'll get your creative juices flowing and I have no doubt you'll enjoy it.
---
Module 6: Common iPhoneography Genres
---
This is where you'll be learning the common photography scenarios, with tips and tricks for every genre.
I already mentioned this earlier but I'll repeat again – in this section you'll learn:
great tips for taking portraits

how to crush it with candid street photography

the secrets to taking incredible photos during your travels

how to make sure you take sharp images in night time/low-light conditions
Very cool.
Each lesson is 15 mins on average and it's packed with useful information.
---
Module 7: Technical iPhone Photography
---
Lastly, you'll learn about the technical aspects of iPhoneography, such as balancing ISO and shutter speed.
But Emil also talks about how to use the Camera+ dedicated camera app.
Specifically:
how to master the manual controls of Camera+

how to take long exposures using this app

and how to use Pro HDR X to create a stronger HDR effect
The app is paid (less than $3) but if you decide to invest it, you'll have lessons on how to use it.
Now…
While there are 7 modules, depending on what deal you got, you also get a few additional bonuses.
In my case, I got bonus videos on how to preserve the quality of smartphone photos, photo analysis, and the secrets for managing a huge photo library.
Oh and I forgot to mention that there's a private Facebook group, where you can ask questions, share photos and get feedback on your work.
Bottom line:
IPA is perhaps the best online iPhone photography course available on the market right now and it offers a lot of value for your buck.
In general, iPhone Photography School knows how to create high quality content that are worth checking out. Here's the list:
Remember:
Due to chaos that's going in the world right now, I encourage you to use this time to learn something new. The skills you gain today will stay with you forever and it can potentially turn into a side or full time income stream.

---
Frequently Asked Questions
---
---
Q: Is iPhone Photo Academy legitimate?
I'd understand if you have this question. I myself was a bit put off by Emil's sales page that looked like some sort of a get-rich-quick scheme course from someone based in Latvia. So, is iPhone Photo Academy a scam? No, it's not! When you actually join and go through the lessons, you'll see the value.
Q: How to get started with iPhoneography?
If you're wondering how you can get better at mobile photography, then iPhone Photo Academy certainly is the right choice for you. I don't think I found any better course specifically focused on this genre.
Q: Can you do real photography with iPhone?
I know, many people will be skeptical but it turns out you really can crush it as an iPhoneographer! Emil likes to say that your smartphone is just a tool but you need to know how to use that tool properly if you want to get awesome photos. And I've seen a lot of great ones inside the private FB group.
==> Check out the images done by Emil and iPhone photography school grads here.
Q: Are there any iPhone Photo Academy complaints?
No, I haven't heard of any complaints associated with iPhone photography school. Truth is, I myself was a bit skeptical in the beginning, but when I actually bought the course I saw for myself that there's a lot of value and iPhone Photo Academy course is totally legit.
Q: Should I buy a new iPhone before joining?
No! While it's true that newer iPhones have better cameras but even if you have an older model you can still fully participate in the classrooms. And Emil constantly updates the videos, so you're all good.
Q: How much is Emil worth today?
I've written a separate article on Emil Pakarklis net worth and bio here.
Q: Can/should Android users benefit from iPhone photography school?
I'd say about 20-30% of this course could be related to non-iPhone users but since I've never had an Android smartphone, it's hard to honestly answer this question to the best of my ability.
Q: Is there an iPhone Photography School app?
No, there's no actual app. However, you can definitely play the videos once inside because the courses' interface is optimized for mobile users.
Q: Are there iPhone photo editing lessons included?
While there are some videos that talk about editing in the iPhone Photo Academy course, you'll benefit more if you buy its sister iPhone Editing Academy course as well. 
Any other questions?
Let me know in the comments and I'll get back to you as soon as I can!
---
iPhone Photo Academy Reviews: Your Thoughts?
---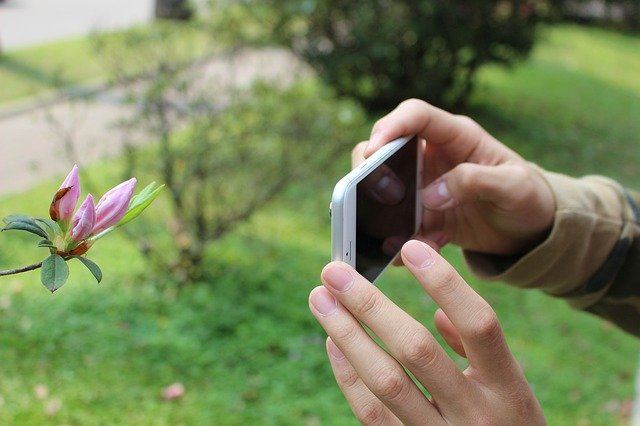 ---
Let's face it:
One of the most common misconceptions is that smartphones cannot be used for "serious" photography.
But hey, that's the kind of camera that's always there for you, so why not learn how to use it properly, right?  
Truth is, while DSLR cameras are technically advanced, how awesome the photo is mostly depends on the photographer's intent and creative vision.
What you need to understand is that an iOS camera, like any other, is just a tool – but you need to know HOW to use it. And that's what makes you a great photographer.
Lastly, you CAN be a successful iPhone photographer regardless of which model you currently use.
Now…
I'd like to hear from YOU:
What do you think of this iPhone Photo Academy review?

Do you have any other iPhoneography courses you'd like me to look at?

Any other thoughts, questions, suggestions?
Let us know in the comments!
---