Please note: As an Amazon Associate I earn from qualifying purchases. I also work with other affiliate partners and may be compensated from the links below. Details here.
January 26, 2020
EXPOSED! Don't Buy the Expert Photography Courses. Don't Support Content Thieves.
---
Looking for Expert Photography (course) reviews?
Beware: If you are Josh Dunlop's fan, this post might disappoint you…
---
Truth is:
Joshua Dunlop's Expert Photography website is a pretty popular resource on the Internet.
But how exactly did he gain this success? 
In this post, I'd like to talk about Expert Photography founder/team, whether you should invest in their products, the content theft scandal, and what better alternatives are available for beginners.
Here's the UGLY TRUTH…
Expert Photography Reviews Summary
---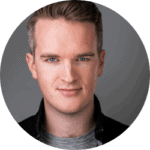 Company Name: Expert Photography
Website: https://expertphotography.com
Instructor: Joshua Dunlop
Product Type: All things photography
Best For: Beginner-intermediate
Price: $297 (all courses)
Money-Back Guarantee: 3 months?
My Rating: 10/100
Recommended: No… Unless you support plagiarists.
---
I'll be honest…
It's hard to be objective considering Expert Photography has been stealing other people's content to achieve success online (more on this later), but I'll try.
Joshua Dunlop offers the following courses online:
Photography for Beginners

Effortless Editing with Lightroom

Wow Factor Photography

Total Time Lapse 
(Just to name a few.)
So…
Are Expert Photography courses by Joshua Dunlop really worth it?
While the quality of the courses might be OK, today, I wouldn't invest because:
all of them are pretty pricey if sold at $297 each,

they seem to ignore their paying customers (based on my own experience),

Josh and the EP team are content thieves. 
Of course, it's totally up to you how you want to spend your money, but I've shared my position and wouldn't want to support this site.
Listen:
I personally have nothing against taking paid online classes, and only encourage continuous learning but I'd rather support people who really deserve to be paid for their hard work. Wouldn't you too?
For example, I'd recommend  Mark Hemmings' online photography courses instead, who's a great and honest instructor with years of experience.
(I've written a post on those, in case you're interested.)

---
---
What Is Expert Photography?
---
So…
What is ExpertPhotography.com about? And who is behind the website?
Expert Photography is an internet resource, the aim of which was to share tips and tutorials, and help its visitors learn more about photography.
It's been around since 2011 and because of that, in Google eyes they became an authority website.
If we check Expert Photography's SEO ranking in SimilarWeb.com, we'll see that this website pulled a consistent 1 million of traffic… MONTHLY.
---
---
Note:
I believe the last couple months it was less than 1M because of:
the corona situation that affected many websites (including mine),

more people finding out EP being a copy-cat and refusing to visit the site.
But it's a fact.
In the end of 2019, this website was bringing over 1.3M in traffic.
Pretty insane considering they were caught with stealing content from respectable photography websites and publishing them as their own. (More on this later.)
Who is behind ExpertPhotography.com?
Joshua Dunlop and his brother, Michael Dunlop, are the founders of this site with the team of 13 people (and 50 freelancers).
Here's the funny part:
Joshua mentions in his About page how he was frustrated about the photography education online and that there was a lot of "thin content, distracting ads, and minimal photos". 
Ppppplleeeeeaase.
Nasim Mansurov with Photography Life found it very entertaining too and, not only exposed Joshua, but also was clearly making fun him:
---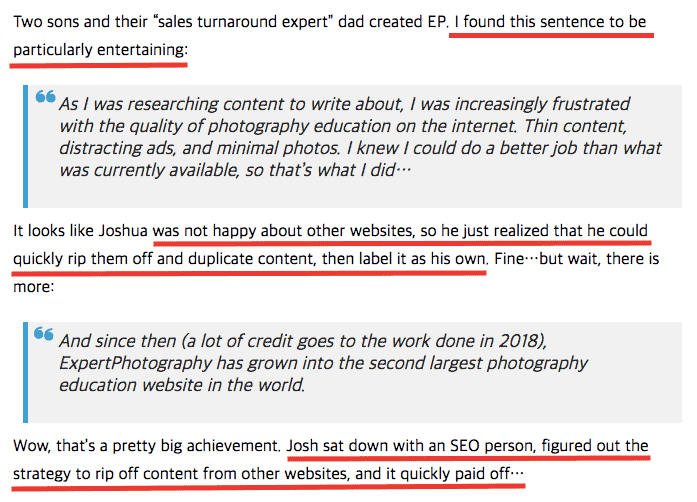 ---
True that!
Someone asked on Quora forum how come Expert Photography managed to outrank everyone with their duplicate content?
To which I responded that they likely just had excellent SEO (search engine optimization) specialists to increase their chances of getting ranked.
Plus, back when the website was launched, Google wasn't as 'smart' and a lot of people managed to get away with re-writing other people's content.
I'm sure that now they are more conscious about their content but Nasim really did DEEP research and found out a LOT of stolen content in the past. Here's his post.
I personally was shocked.
When I was just starting to learn about photography, EP was one of the 'authority' resources that I visited.
(Although I stopped frequenting it as much because I didn't like being ignored by their team, especially considering that I was a paid customer.)
---
 My Negative Experience (And Observation)
---
So…
Some time ago, I bought Joshua's Shuffle & Shoot Card and Quick Capture Cheat Sheets (and was considering to join their courses and reviewing them).
I recall trying to reach out via email and the private FaceBook group, to both Joshua and other team members, MULTIPLE times and I was totally ignored.
And looks like I wasn't the only one facing this.
Here's what one of the reviews of Expert Photography (published on TrustPilot) said:
"Thought I was safe in trying the Milky Way Mastery course as Josh at Expert Photography offers a 90 day money back guarantee…
I couldn't access one of the videos because it was set to private. I tried to get help via email but had no response to several emails over the space of a couple of weeks while my in box filled up with Expert Photography spam. I eventually took it up with PayPal where Josh still wouldn't respond.
After a month and a half I escalated the claim and magically a refund appeared. No explanation or apology. Don't waste your money on budget bs."

Clearly, that's NOT how you should treat your (paying) customers.
(Because of that, when I review any course/product I personally bought, I also add a note on customer service – that's how much emphasis I put on this now.)
Hey…
Wanna hear something funny?
In my attempt to reach them, I disclosed my website URL end of 2019 and soon after I noticed they started posting articles on the same low-competition topics and outranking me on the first page of Google.
Example below:
---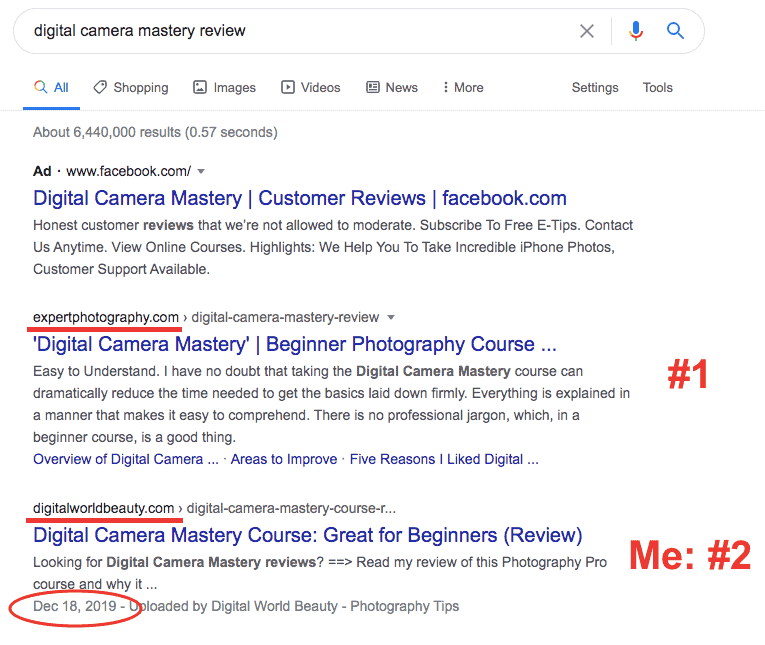 ---
At the time when I wrote the review, NO ONE else had a review on Digital Camera Mastery photography course.
And, obviously, I was in the #1 position for this keyword for a while.
I know you cannot see the date in the screenshot above and you could argue I'm just making this up, so I went ahead to manually find out when EP's article was originally published…
End of January!
(1.5 months after I've published mine.)
---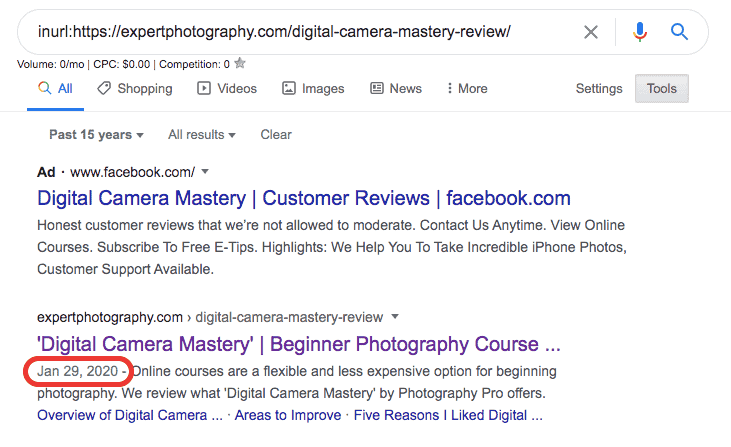 ---
And it's not the first time I noticed them using my most successful keywords after I disclosed my baby website URL.
I know… it might be just a freaky coincidence.
But I DO remember telling my fellow colleagues about this possibility, MONTHS before I learned about them stealing content.
So, it is possible that even though ignored, they DID see my email.
Think about it:
Using a small site's successful keywords is definitely another way to make to the top. I started DigitalWorldBeauty.com only in November 2017 and ExpertPhotography.com has been around for years to gain authority.
What does that mean?
This means that my website is a baby compared to them and if I have articles that are ranking on the first page of Google, then any other big website targeting the same keywords is likely to make it there too…
…AND outrank me as well. (And that's exactly what happened in most cases, by the way.)
Oh well. It is what it is.
Competition is everywhere and I can't be upset about this really, right?
Just to be clear:
I'm not complaining, just stating a fact! 🙂 
By the way guys, let me know in the comments if you think it's JUST A COINCIDENCE or not? I'm curious to hear your thoughts.
---
Expert Photography Courses
---
Like I mentioned before, I didn't end up actually investing in his courses, nor will I pay for them even for the sake of writing objective reviews.
Instead, I've found Expert Photography's most popular YouTube video and you can just his teaching style yourself:
Interestingly enough, out of the few comments, 2 of them said the following:
"Even more confused now"

"I watched this three times and still don't find much of use here. All your example photos are deathly dull – wouldn't it be better to use examples which are actually interesting to illustrate your point?"
These didn't sound like your typical troll/hater comments.
Are Expert Photography courses worth it?
Well, now that Josh has ruined his reputation, I certainly wouldn't invest my time and money in his lessons, whether text-based, video-based, free or paid.
Would you?
---
Alternative Photography Courses
---
First, there are a lot of free photography resources on the Internet.
With YouTube it's even more easy.
But if you're anything like me and like to be 'spoon-fed', Joshua's courses aren't the only ones out there, believe me.
There are PLENTY of great photography courses available on the market right now. These include, but not limited to…
And that's just to name a few.
You can also consider big photography training platforms like KelbyOne or Phlearn.
I encourage you to share your favourite course (free or paid) in the comments below!
---
Expert Photography Reviews
---
---
If you check the reviews of Expert Photography on TrustPilot, you'll see that more people are becoming aware of the issue and exposing the website and its team of plagiarist practices.
(Or simply having a negative personal experience, like I did.)
Now…
I have a favour to ask you:
Could you please share in the comments your own experience/review of Expert Photography courses/website?
Let's spread the word!
---