Please note: As an Amazon Associate I earn from qualifying purchases. I also work with other affiliate partners and may be compensated from the links below. Details here.
October 3, 2020
11 Cool Gifts for Teenage Photographers in 2021 (Cameras, Accessories and eCourses)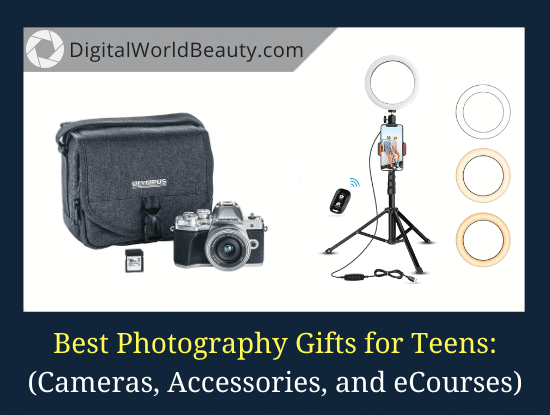 ---
My top 11 list of the best gift ideas for teenage photographers in 2021!
---
Look:
Many youngsters are now becoming more and more interested in photography. Whether they do it as a pastime or in preparation for a professional career, it can be quite an expensive hobby.
Since holiday season is just around the corner, you might want to help them out a bit by giving them gifts that will inspire them to pursue what they love doing.
I also encourage you to share this post to your teenage kid where they can learn about the best ways to make money with photography, regardless what age they are right now.
Here are the most useful and cool gift ideas for teenage photographers this year. Check the list and make your aspiring photographer happiest this fall/winter season!
An overview of what to expect:
Best Gifts for Teenage Photographers 2021
---

And by the way…
If you have children under 10 y/o, who you'd like to inspire with photography, then you may consider reading this post too: 5 Best Cameras for Kids.
---
Serious Starter Camera for Adolescents
---
Olympus OM-D E-M10 Mark III
Gift Type: Mirrorless camera
Price: Under $700
Best For: 13-19 year olds (adolescents)
---
Young aspiring photographers will be totally wowed when you give them this Olympus. Although it's an entry level camera, it looks like the pro counterparts which will make your kids feel like a professional. This certainly would inspire them to become a better shooter.
Truth is…
Most teens start off photography using their smartphones. However, these devices can only do so much. If you want them to take their hobby to the next level, giving them a reliable and compact camera like Olympus OM-D E-M10 would be a smart move.
It's packed with awesome features that will help beginners create more refined and stunning images. It has 5-axis optical image stabilization that helps reduce shakes and unintended motion blurs. This also helps capture better images even in low light conditions and makes a good option for video shoots.
Aside from that, it also comes with 14-42mm pancake lens. This is ideal for travel and every day use since it's handy and smaller compared to typical prime lenses. Because of it's small size, it also reduces camera shakes which is totally normal for beginners.
It gets better:
E-M10 III also has WiFi connectivity. This means you can easily transfer files from the camera to your smartphones. With this feature, sharing photos to the different social media platforms will be much easier and a whole lot faster.
And did I mention that this camera costs less than most modern high-end smartphones?
Now, that's just a great gift idea you might want to consider. 
---
Best Camera for YouTube (Under $1000)
---
Canon M50
Gift Type: Mirrorless camera
Price: Under $1000
Best For: 13-19 year olds (adolescents)
---
In this modern day and age, a lot of kids and teenagers want to be YouTube famous.
And I would only encourage their dreams. Essentially, growing a YouTube channel is building and growing an online business.
(I speak from personal experience, and the experience of my friends.)
Really, anyone could start with just a smartphone but if you want to really get a great equipment under $1000 for your future online star, then Canon M50 is the right choice.
It's a budget-friendly option that performs really well for that purpose. Right now, it is considered as the best mirrorless for making hit YouTube videos.
In fact:
This is a camera I personally own and use for travel and YouTube purposes and I totally stand by it. Here's my full review of Canon M50.
M50 has many features that makes it a wonderful gear for shooting videos.
It has a 3″ fully articulated LCD screen perfect for YouTubers. Being able to flip the touch screen towards the front allows the kid to shoot scenes including him/herself. It's like having a live preview of what the lens is currently capturing.
Another feature your aspiring photographer would definitely love is the 4K video capture function. With this, they can totally shoot exciting scenes at full HD.
And certainly, their subscribers are gonna love that as well. 
---
Best Action Cam for Adventurous Photographers
---
GoPro Hero 9
Gift Type: Action camera
Price: Under $500
Best For: 13-19 year olds (adolescents)
---
Of course, this list wouldn't be complete without mentioning one of the most coveted cameras not only by teens, but by every travel photographer.
GoPro Hero 9 is another cool gift you can give to an aspiring photo shooter.
The thing is:
Action cameras like Hero 9 is more popular to teenagers than DSLRs for a number of reasons.
Firstly, it's ultra handy. With the size not even bigger than a child's palm, it's the ultimate to-go photo gear you just want to have. It easily fits the pocket so you can literally bring it anywhere you go.
GoPro 9 can also be used underwater, including diving and snorkeling.
This means your teenage photographer can capture awesome water adventures without a problem. Since travel is one of the most watched genre among young YouTube subscribers, this would be a magnificent option you can consider for your young influencer.
READ ALSO: Best GoPro for Kids & Teenagers (With Cheap Alternatives)
READ ALSO: Are GoPro Action Cameras Easy for Kids to Use?

Just a little reminder…
Hero 9 is the latest addition to the GoPro family, and it has the best set of features yet. However, there are older and cheaper Hero models that still have great functionality. 
---
Cool Photography Gift for Tweens
---
Fujifilm Instax Mini 9
Gift Type: Instant camera
Price: Under $100 (incl. film sheet packs)
Best For: 10-13 year olds (tweens)
---
If you think instant camera is a thing of the past, then you thought wrong.
Instant cameras are now becoming popular again, thanks to the many social media influencers who constantly use it.
From what I've gathered, Fujifilm Instax Mini 9 is among the top 10 wish-list of youngsters. Having this camera allows them to have a taste of the past, minus the extra bulky design of old Polariod cams.
You might be wondering: What is so good about having an instant cam?
Well, there's a lot of good things you can get from having this type of camera.
One is that it's easy to use which is perfect for young aspiring photographers. Unlike DSLRs, this one doesn't have complex settings that will confuse beginners. With just one click of a button, you can have a nice snap of your best memories.
Basically, it's a camera with a built-in printer and it'll print the photos instantly. This gives it a wow factor and most "Digital Age" kids will be thrilled by it. 
==> List of the best cameras for kids 3 to 10 years old.
---
For Aspiring Photographers & Graphic Designers
---
Graphics Drawing Tablet
Gift Type: Photography/graphic design gear
Price: Under $100
Best For: 13-19 year olds (adolescents)
---
Graphics drawing tablet is another unique gift you can give to aspiring photographers.
This may not be the main tool they will need in pursuing the craft, but it will certainly help them improve in other aspects of photography such as editing.
XP-Pen Deco 01 lets your teenage snappers retouch and add details to their images as if they're doing it by hand. We all know that the editing process is not an easy task. 
With this product, they can easily practice editing their images to make it look as fascinating as they want it to be AND trains them to be more creative.
This tablet comes with an electronic drawing pad and stylus. To use this XP-Pen model, you need to connect it to the computer or even on a smartphone. It is also compatible with many photo editing softwares, including Photoshop. 
FYI: It is designed for both right and left handers. There are 8 customizable hot keys on one side of the tablet and your tween can decide which functions to assign to them.
Best of all?
It costs under $100 and offers a lot for your buck. 
---
Wide Angle Lenses for Phones (Under $50)
---
Wide Angle/Fisheye Lenses
Gift Type: Camera lens
Price: Under $50
Best For: 10-19 year olds (teens and tweens)
---
If you're unsure what to get a tween for the holiday season, then you should consider wide angle or fisheye lenses for smartphones.
(That you can get for under $50 and under $100, respectively.)
I believe this kind of budget-friendly gift that will inspire your kids to take more photos of various sceneries.
Xenvo Pro lens for smartphones are really popular among aspiring teen photographers right now, especially if they are interested in macro, food or product photography.
It's a tiny gear that they can attach to their phone cameras and turn their images into better ones. This product is compatible to all iPhone models and some Android phones as well.
Now, Xenvo produces "TruView" wide angle lenses but there are ones called "fisheye" that you can consider if you want to further inspire your kids' creativity. 
What's so special about a fisheye?
Like I mentioned, this type of lens promotes limitless creativity. Unlike normal ones, fisheye lenses have the ability to distort an image or make it look "surreal".
It's an ultra-wide angle lens that gives you a panoramic image, except that the edges are curved. In simpler terms, this lens make your photos look like they are viewed from a peephole.
With this rather awesome gift, your young photographer will certainly create more eye-catching images and explore more photography genres in the process.
For fisheye lenses for smartphones, consider this brand. 
---
Best Gift for Creative Photography
---
Lens Balls
Gift Type: Photography accessories
Price: Under $50
Best For: 13-19 year olds (adolescents)
---
Have you heard about lensball photography?
It's a current trend among creative photographers right now.
Even non-pros are getting into this hype, much more teenage enthusiasts. It's basically taking photos using a crystal ball as your lens extension.
With that said, lens ball is a cool gift for photographers (of all levels) you might want to consider.
It costs under $50, so it's really affordable, neutral and greatly inspires creativity.
Even beginners will have a lot of fun experimenting with different landscapes and sceneries using this crystal ball. (But of course they will have to take precaution since it's a crystal ball.)
Although they all look the same, these balls come in various sizes.
The most common ones are 60mm, 80mm, and 100mm. Regardless of which you choose, it would still give your tween the same opportunity to view the world from various perspective. 
---
Useful Gift for Vloggers (Under $50)
---
Selfie Ring Light for Phones
Gift Type: Photography accessories
Price: Under $50
Best For: 13-19 year olds (adolescents)
---
It's a common thing for vloggers and influencers to use phone ring lights today.
Instead of buying expensive lighting equipment, this device can get the job done.
The good thing about phone ring lights is that they are lightweight and very easy to use. You just need to clip it at the top of your phone and turn it on. This is a very effective tool in making videos and doing close up portraitures.
Another reason why youngsters absolutely love this product is that they give the subject a beautiful, yet different kind of glow while filming or shooting. That's the effect you get when LED lights are properly diffused.
So…
If you don't plan on getting the Canon M50, then you could get the ring light and encourage your future YouTube and Instagram influencers to use a smartphone first to create video-based content.
If your aspiring photographer and Instagrammer still hasn't got one, then giving them this gift would definitely make their day (that's for sure!) 
---
Flexible Tripod For Cameras & Smartphones
---
FotoPro Tripod
Gift Type: Photography accessories
Price: Under $50
Best For: 10-19 year olds (teens and tweens)
---
If you're looking for a useful yet affordable gift for a young photographer, this might be the right present for them.
You see…
Vlogging is now a social trend among the younger generation. They often post videos of themselves travelling, eating, or even doing the most mundane activities in their day to day lives.
Now, just imagine doing all those stuff alone without someone to hold the camera for you. Isn't that just tiring? That is why they need tripods and selfie sticks to make the job easier for solo travels and getaways.
Or better yet, get them something that can serve both purposes like this Fotopro flexible tripod.
I myself had it for over 2 years now and I think it's the best cheap tripod for cameras and smartphones.
(Hence why I included it in this gift ideas list.) 
---
Camera Cleaning Kit
---
Altura Cleaning Kit
Gift Type: Photography accessories
Price: Under $25
Best For: 13-19 year olds (adolescents)
---
Let's admit it.
This may not be the most interesting gift on the list, but it's definitely the most practical choice.
We all know how expensive photography hobby can be. A good camera alone costs several hundred of dollars. Plus, there are still necessary accessories to deal with. It is imperative to take extra care of these equipment if you want them to last for a long time.
This camera cleaning kit will help remind your adolescent photographer to clean their gadgets regularly.
Though most camera cleaning is done by professionals, you can teach them to do it on their own. That way, they'll be able to explore and appreciate the different parts of their cameras as well.
Indeed, this is the simplest yet most thoughtful present you can give them. 
---
Photo Fix Course For Teens (and Preteens)
---
Photo Fix For Teens
Gift Type: Online course
Price: $159-399 ==>

GET 50% DISCOUNT NOW

Best For: 10-17 year olds (teens and preteens)
---
Here's the truth:
Teens and preteens are difficult to shop for. It's one thing that pretty much all parents would agree on.
But there's ONE thing that ticks all the following boxes:
it involves actively learning a new skill
the skill is one that they'll use almost daily for the rest of their life
it's a skill that's in high demand (creates opportunities) and is FUN
it's a skill that they'll cherish for a lifetime, and bless future generations
it's a skill that will help them slow down and be in the moment
it's taught 100% online, either self-paced or alongside others
If taken alongside other students, it leads to

meaningful social connection

,

encouragement

, and new friends!
As you've already guessed it…
PHOTOGRAPHY is the single gift that ticks all the aforementioned boxes. 
Specifically, the Photo Fix For Teens: the #1 online course for young students to learn photography!
Shultz is popular for his courses for parents but he decided to create a course for teens as well, by far everyone is thrilled with the results, the photo school team, the parents AND their children.
Important note:
At the time of writing this, the course is now OPEN for enrollment again and you can get 50% off with the code "SANTA" – Limited Time Only!!

---
Smartphone Photography Online Courses
---

Smartphone Photography Training
Gift Type: Online course
Price: Depends (free online tutorial also available)
Best For: 13-19 year olds (adolescents)
---
Now…
There are also mobile photography courses that are worth checking out.
One thing I noticed about beginners is that they are very eager to learn anything related to their craft. It somewhat gives them a sense of direction.
And to be honest, that's quite a good trait you have to take advantage of.
If you want your aspiring photographer to do better, you can try enrolling them to various online photography workshops and courses like Smartphone Photography Training. (I wrote a separate review on it.)
This will help build their skill set and make their photography journey easier later on.
They have several photo editing courses that are beginner friendly. They are also offering free lessons about phone editing right now and you can directly check it out on their website.
(There's also iPhone Photo Academy, specifically for iPhone users.)

---
Best Gifts for Teenage Photographers (2021)
---
---
So, have you chosen a photography gift for your child(ren)?
All the things listed here will surely make them extra happy this holiday season (well, Christmas, birthdays, or simply just because).
Just be sure to consider what their interests are, whether they prefer shooting with a smartphone or would love to have a "serious" camera. Whether they are interested in photography, or videography.
Whether they would like to become Instagram influencers and/or YouTube stars or simply enjoy the hobby of capturing the world around them.
Now… I'd like to hear from YOU:
Share your thoughts in the comments below!