Please note: As an Amazon Associate I earn from qualifying purchases. I also work with other affiliate partners and may be compensated from the links below. Details here.
December 5, 2020
Start Your Photography Journey: The 11 Best Cameras for Amateur Photographers (2021)
---
My updated list of the 11 best cameras for amateur photographers in 2021.
---
Let's face it:
Finding that "good, quality camera" isn't an easy job, so I'd like to make it easier for you.
How?
Well, in this buying guide I'll list my top 11 starter cameras for 2021 (across 4 different brands), and what key parameters to look for in a camera, especially as an amateur. 
To speed your research up:
So…
What is the best camera for a beginner photographer? Let's find out!
---
Best Canon Camera for Beginners (My Top Pick)
---
Canon Rebel T6i (750D)
Type:

 Compact SLR

Weight:

 555 g

Resolution:

 24 MP

Sensor:

 APS-C (22.3 x 14.9 mm)

LCD screen:

 Fully articulated

Touchscreen:

 Yes

Weather sealed:

 No

ISO:

 Auto, 100-12800 (can expand to 25600)
---
Look:
If you've ever read my other articles on cameras, you'll probably see that I often recommend T6i for people just starting in photography.
Why do I recommend it the most?
Because it offers a great price/quality ratio and it's pretty versatile and can be used for different photography genres, which include but not limited to:
vacation/travel photos,

sports photography,

nature/landscapes,

portrait shots,

blogs, Instagram and other social media platforms.
Point is…
The camera's 24MP sensor, fast autofocus system, tilting touchscreen, WiFi/NFC connection and other great features will help you realize your photography potential.
Very cool.
---
---
Best All-Around Mirrorless Compact Under $1000
---

Canon M50
Type:

SLR-like mirrorless

Weight:

390 

g

Resolution:

 24 MP

Sensor size:

APS-C (22.3 x 14.9 mm)

ISO:

Auto, 100-25600 (expands to 51200)

LCD screen:

Fully articulated

Touchscreen:

 Yes

Weather-sealed:

No 
---
Look:
I personally own this baby and I love it. Just like many other (video) content creators do. Truth is, it's one of the best mirrorless compact cameras that you can get under $1000.
There are several things you'll love about it:
it's compact and stylish,

it has an amazing dual pixel autofocus system,

it has a high burst rate,

high quality video shooting,

it has a very to use interface (which is important for newbies),
Just to name a few.
One of the downsides is that it has a fairly short battery life when video recording, so I recommend you buy extra couple of batteries. That's exactly what I did and I just change the batteries after I'm done shooting a video for my YouTube channel.
Speaking of, check out this review done by Matt Ballard:
A LOT of video content creators actually love, use and highly recommend this little beauty and for good reasons.
I strongly encourage you check Canon M50 out, especially if you're a YouTube/traveller yourself.
---
---
Cheap Canon Camera for Photography Beginners
---
Canon EOS Rebel SL1 (100D)
Type:

 Compact SLR

Weight:

 407 g

Resolution:

 18 MP

Sensor:

APS-C (22.3 x 14.9 mm)

LCD screen:

 Fixed

Touchscreen:

 Yes

Weather sealed:

 No

ISO:

 Auto, 100-12800 (can expand to 25600)
---
Now…
If you think that the previously mentioned T6i is too advanced, or you don't want it for whatever reasons, then have a look at Canon EOS SL1 (also known as EOS 100D outside the US).
Today, it's considered to be one of the most budget-friendly entry-level DSLRs on the market.
In my opinion, SL1 is also one of the best Canon cameras overall.
Here's why:
excellent price,

offers great quality images that corresponds to the level of an amateur DSLR,

FULL HD video shooting (1920 x 1080 at 25/30 frames per second)

a wide range of convenient auto-modes,

advanced

autofocus in Live View mode

and video shooting.
… just to name a few.
Even a professional photographer will be glad to work with this camera as the true potential of the camera outshines many of the competitive models.
Why?
First of all, it's light and compact (407 grams without the lens), which, in comparison with the older models is a good result.
Secondly, the ergonomic parameters turned out to be successful: the SL1 focuses quickly, has a convenient grip, and the control can be done via the touch screen.
Anyway…
If you don't take into account the noise starting from about ISO 6400, then, in my opinion, Canon EOS 100D can safely be attributed in the category of the best cameras for beginners.
---
---
Great Semi-Pro DSLR for Amateur Photographers
---
Canon EOS 80D
Type:

 Mid-size SLR

Weight:

 730 g

Resolution:

 24 MP

Sensor:

APS-C (22.5 x 15 mm)

LCD screen:

 Fully articulated

Touchscreen:

 Yes

Weather sealed:

 Yes 

ISO:

 Auto, 100-16000 (boost to 25600)
---
I think Canon EOS 80D is a mid-level DSLR that can become an excellent "educational device" for beginners.
I'll be straight:
Studying this camera with all the possible modes and functions (especially if there is an extended set of lenses) may take several days for a novice.
However, the result of such "harsh" studying can exceed all expectations: talented beginner photographers will see impressive results from the very first works.
Now…
The ergonomics of EOS 80D is a successful compromise between size and convenience.
It doesn't take up much space compared to its full-frame counterparts and it's comfortable to shooting with. It is also convenient to operate the camera using the touch interface and a fully articulated LCD screen.
Video shooting is possible in Full HD resolution with a frequency of up to 50/60 frames per second. The videographer is offered an excellent autofocus, the manual exposure control, and an input for headphones and a microphone.
For fans of time-lapse shooting: there's a built-in interval timer.
Very cool.
---
---
Good Cameras for Amateur Photographers 2021
---
Canon EOS 70D Body
Type:

 Mid-size SLR

Weight:

 755 g

Resolution:

 20 MP

Sensor:

APS-C (22.5 x 15 mm)

LCD screen:

 Fully articulated

Touchscreen:

 Yes

Weather sealed:

 Yes 

ISO:

 Auto, 100-12800 (can expand to 25600)
---
Here's the deal:
This universal camera has conquered many professionals and certainly is capable of becoming a reliable gadget in the hands of talented beginner photographers.
What stands this camera out is the Dual Pixel CMOS AF sensor, which provides smooth and accurate auto focus adjustment for video recording in Full HD format, as well as fast autofocusing when taking photos in Live View mode.
The sensitivity range of ISO 100-12800 allows you to shoot in low light and use lower ISO values without compromising image quality.
That's important!
As for video fans, they will truly enjoy the stereo sound recording using the built-in microphone, as well as the ability to improve the sound quality with a plugged-in external microphone.
Other features worth mentioning:
Being dust and water resistant and having fully articulated touchscreen really helps with shooting from uncomfortable angles and in different weather conditions. Also, 70D allows you to work remotely with just your smartphone. 
In manual mode, it is possible to fully control such parameters as ISO sensitivity and aperture.
This freedom of action helps the beginning photographer to improve their skills.
Now…
While the interface is friendly interface, you'll still have to spend some time with the camera settings but over time you'll have no issues with it.
==> Learn how to set up a camera if you're a new DSLR owner.
Note:
Many experienced people point out that it's even better if you have had at least some sort of experience with DSLRs before getting the Canon 70D.
In any case, if you do decide to go for it, there are no reasons for discontent and disappointment: the camera is just as good as its (rather average) price tag.
---
---
Best Entry-Level Nikon DSLR for 2021
---
Nikon D3400
Type:

Compact SLR

Weight:

445 g

Resolution:

 24 MP

Sensor:

APS-C (23.5 x 15.6 mm)

LCD screen:

 Fixed

Touchscreen:

 None

Weather sealed:

 No 

ISO:

Auto, 100-25600
---
Here's the deal:
The ergonomic parameters of this camera is exactly what you'll need as a beginner on your photography journey.
Not only is the D3400 lightweight and has good design/structure, but also in this camera, the Guide Mode is implemented.
(Meaning you won't need to read the manual to understand the settings.)
And it's not just a set of tips, rather it's an interactive guide to action!
Here's how to access it:
Choose "Shoot", then "Advanced functions". Now select the scene or effect that you want to use in the picture.
It itself will explain which settings you need to apply for this and helps install them with its understandable graphical interface.
With one stone you end up killing two birds: choosing optimal settings for the scene, as well as understanding what this or that setting is responsible for.

Anyway…
The main things I love, and you will too, about this DSLR:
low price tag (usually under $500 but prices on Amazon often change!)

color rendering, saturation and contrast

guide mode

very easy to learn, even as a total newbie
In terms of shortcomings, I'll mention the small memory buffer, as well as a digital noise at certain ISO values. You still get quality photos though.
(And honestly, with the price that you pay for Nikon D3400, you can simply close your eyes to such insignificant shortcomings.)
---
---
Best Nikon Cameras for Beginners 2021
---
Nikon D5300
Type: Compact SLR
Weight: 480 g

Resolution:

 24 MP
Sensor: APS-C (23.5 x 15.6 mm)

LCD screen:

 Fully articulated

Touchscreen:

 None

Weather sealed:

 No
ISO: Auto, 100 – 12800 (25600 with boost)
---
Without a doubt:
D5300 sure is one of the Nikon's best entry-level SLRs.
This camera was created similarly to D3400 camera model. Despite the already brilliant ergonomics of the camera, the Nikon D5300 body presents new improvements.
The main changes have to do with the internal filling and related technical characteristics.
The resolution of the new sensor is 24.78 megapixels, which clearly points to the "intra-corporate" struggle for every one hundredth of a pixel in order to improve the final result of the photo.
A lot of work was done on the balance of settings in order to enhance the color rendition and the relevant aspects.
Another qualitative leap was made in the field of the "weak link" of all average-budget DSLRs from Nikon: good sensitivity finally allows shooting at ISO 1600, bypassing the noise and loss in quality.
What you might like about it:
the possibility of shooting at ISO 1600 without noise

presence of the time-lapse function

high quality photos
… just to name a few.
Considering the features it offers, purchasing Nikon D5300 would be an excellent investment.
One more thing:
It's easy to take photos in different genres, from landscapes to portraits. A great autofocus allows you to even try yourself in a reportage shooting.
This being said, I do recommend D5300 as a first DSLR in 2021 and I encourage you to read my full review + samples here.
Definitely have a look at it.
---
---
Another Nikon for Starting Photography Journey
---

Nikon D7100
Type: Mid-size SLR
Weight: 765 g

Resolution:

 24 MP
Sensor: APS-C (23.5 x 15.6 mm)

LCD screen:

 Fixed

Touchscreen:

 None

Weather sealed:

 Yes
ISO: ISO 100 – 6400, Lo-1 (ISO 50), Hi-1 (ISO 12,800), Hi-2 (ISO 25,600)
---
Look:
Nikon D7100 is a classic SLR camera.
It's a great camera in terms of price-quality ratio, suitable for those who already had worked with cameras at least from a low-price range.
In the heart of the camera is a 24-megapixel CMOS sensor with a physical size of 23.5 x 15.6 mm.
Why photographers like it:
the ergonomics aspect is at its best

truly great for landscape photography

good color rendition
Its main feature is the absence of a low-pass filter, which traditionally serves to suppress the moiré effect by forcibly reducing the detail of the image.
Since this filter is not available on Nikon D7100, nothing gets in the way of obtaining maximum image detail.
Now…
I have to note that this Nikon will be very harsh to complete beginners, as the learning each button and the meaning of all the icons on the monochrome display can take more than just a day.
(Therefore, switching from point-and-shoot cameras to this camera will not be as easy as it seems.)
This is the only reason why this model is not recommended to aspiring photographers as their first DSLR.
Of course, if anything, there is a fully auto mode available.
On the other hand, if you have basic photography skills, the set of settings available on this SLR can't but make you smile. As for the technical equipment, the camera outshines most of its competitors, including from its own line.
And like I've already mentioned earlier…
Nikon D7100 kit works well when shooting landscapes.
---
---
Best Pentax Camera for Amateur Photographers
---

Pentax K-3
Type: Mid-size SLR
Weight: 800g

Resolution:

 24 MP
Sensor: APS-C (23.5 x 15.6 mm)

LCD screen:

 Fixed

Touchscreen:

 None

Weather sealed:

 Yes
ISO: Auto, 100 – 51200
---
If you don't really want Canon or Nikon, there's also another great Japanese mid-range camera that you can get: Pentax K-3 (Mark I or II whatever your current budget is).
So…
The filling of this device really looks decent: a 24.71 Mp sensor allows you to take photos with a resolution of 6016 x 4000, and instantaneous stabilization is achieved due to the use of optics and the shift of the sensor.  
It also has:
improved autofocus

two-level image stabilization system

high speed shooting

awesome quality photos for the crop

super comfortable grip
The manufacturer also improved the phase focusing compared to its earlier camera models, which is a bonus.
How does it stand out?
The main feature of this is a phenomenally good image quality, even despite the installed kit lens.
Usually kit lenses aren't THAT great but Pentax makes images taken with Canon kit lenses seem very mediocre. K-3 is that good.
(If you're primarily into landscapes, check out Pentax K-1 on Amazon).
---
---
Best Translucent Mirror DSLR for Amateurs
---

Sony SLT-A68 (a68)
Type: Mid-size SLR
Weight: 610 g

Resolution:

 24 MP
Sensor: APS-C (23.5 x 15.6 mm)

LCD screen:

 Tilting

Touchscreen:

 None

Weather sealed:

 No
ISO: Auto, 100-25600
---
Sony a68 (also known as ILCA-68) is an amateur level camera, endowed with a number of abilities of more serious models.
In its essence, this is a simplified version of the semi-professional model ILCA-77M2, from which the a68 has borrowed many strengths.
The first one is autofocus.
The 79-point phase AF module works clearly, quickly and steadily in all conditions. Face recognition function and focusing on the eyes only adds convenience.
Its ergonomics deserves a special praise: it's thoughtful and has a finely tuned control. The tilting LCD screen is an additional sweet bonus.
With Sony a68 you can shoot great panoramic photos, and enjoy the HDR photography.
Video shooting is also at its best:
Full HD with a frequency of up to 50/60 frames per second,

a high bit rate,

phase autofocus is enabled during video shooting.
As for the quality of the image, the camera confidently shoots at ISO 1600, though with the ISO 3200 being already a "border line".
Considering this camera has a 24 MP sensor resolution, with the correct settings, you can achieve an excellent balance of color depth and naturalness, something that lacks in many of its competitor counterparts.
Check out the video review of Sony Alpha-68 (ILCA-68):

What you might like about it:
high speed of continuous shooting

effective built-in stabilizer

good image quality up to ISO 3200

high-quality video with autofocus and stabilization
What you might not like about it:
plastic camera body

average screen

small buffer
Also, it has slightly reduced detail compared to camera models that are equipped with anti-moire filter sensors.
---
---
Good Sony DSLRs for Amateur Photographers
---

Sony Alpha SLT-A58 Kit
Type: Compact SLR
Weight: 492 g

Resolution:

 20 MP
Sensor: CMOS

LCD screen:

 Fully articulated

Touchscreen:

 None

Weather sealed:

 No
ISO: Auto, 100-16000 (25600 with boost)
---
Sony SLT-A58 represents a compromise between price and quality.
Since it's the simplest camera in the lineup, so minor drawbacks such as small buffer size, average kit lens and noise at high ISO values are quite expected (and forgivable).
It has some advantages though.
First of all, it's the price. Sony a58 is pretty cheap.
Add to this a convenient camera body, thoughtful management, the ability to build a frame on a tilting display with the preservation of fast phase autofocus, a capacious battery…
And in the end we will get a very good camera for a beginner photographer.
Check out John Sison's video-review of Sony SLT-A58:

What you might like about it:
low cost of the kit

low weight

a lot of filters and auto shooting modes

high rate of continuous shooting

tilting LCD

high-quality electronic viewfinder
What you might not like about it:
high noise level at ISO above 1600 units

average kit lens
Pretty good deal, IMHO.
---
---
Best Mirrorless Superzoom Bridge Camera
---

Canon PowerShot SX60
Type: SLR-like (bridge camera)
Weight: 650 g

Resolution:

 16 MP
Sensor: 1/2.3″ (6.17 x 4.55 mm)

LCD screen:

 Fully articulated

Touchscreen:

 None

Weather sealed:

 No
ISO: Auto, ISO 100-3200 (6400 in low light mode at low resolution)
---
Look:
Arguably, out of all camera kinds the mirrorless compact cameras are the most suitable for beginners in terms of acquiring photography skills and developing as a photographer.
So…
One of the most worthy candidates for the title of the best mirrorless camera for beginners is Canon PowerShot SX60 HS, which has quite great technical characteristics and ergonomic parameters.
As with many Canon products, this camera has the Connect function, which is necessary for remote shooting and fast transfer of multimedia data via Wi-Fi.
Among the technical parameters the sensor of 16.8 megapixels should be noted, as well as a large range of focal lengths (the camera is suitable for macro photography, portraits, panoramas, etc.)

Its main advantage is a lens with an amazingly high optical zoom of 35x.
It will be appreciated by travel lovers who will like taking photos of things in distance that they can't physically come close to.
For most buyers, this superzoom is likely to be the first digital camera, so its ability to work in auto mode plays a very important role.

Of course, the auto mode option of this camera can be relied upon.
It does a good job of determining the exposure in most complex scenes, and, if necessary, it is ready to receive corrections from the user.
(Fun fact: In 2017, it was Sony RX10 III that won the official EISA Award as the best superzoom camera.) 
Check out how incredible the zoom of this camera is:

What you might like about it:
65x zoom

built-in Wi-Fi

tilting screen

convenient grip

high rate of continuous shooting
What you might not like about it:
difficulties shooting in low light conditions

large physical dimensions
And it's yet another great budget camera.
---
---
How to Choose A Camera for Photography Beginners
---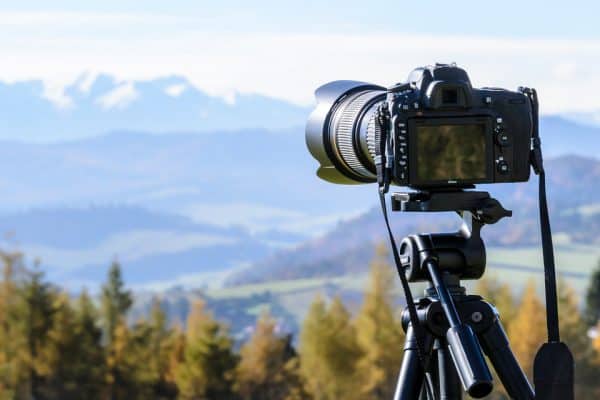 ---
So…
What is the best camera to buy for amateur use?
Here's the thing:
Professional photographers who have made a hobby their main job need expensive equipment that not only has high key parameters, but also includes a number of subtle, and often completely redundant functions and settings. 
However, if you are a beginner photographer, I recommend that you pay attention to the following key parameters of the camera:
---
1) Camera Type:
---
Many photography masters say that compact digital cameras are ideal for beginners, the mastering of which is much simpler than studying DSLRs.
However, the reverse is also true:
If one learns how to work with SLR cameras, the beginning photographer will have a device with a large set of functions and settings that are inaccessible to digital analogues.
---
2) Camera Cost:
---
 Don't overlook this factor, because the better is the camera the greater is its the price.
It so happened that compact digital cameras are much cheaper than DSLRs, even under comparable (or superior) parameters.
However, the latter give greater freedom of creativity, which is the decisive factor in determining the type and price range.
---
3) Guide Mode Availability:
---
Recently, some of the DSLRs are equipped with a built-in Guide Mode, thereby making life easier for beginners in the photography world. 
If you are one of those – look for a model with the presence of such a function.
(Nikon D3400 is one example.)
---
4) Physical Dimensions of the Sensor: 
---
Do not pay much attention to the clever advertising trick about megapixels, since in DSLR cameras this function is not so important. 
It is much more important to know the size of the sensor – the more its dimensions are, the better is the color rendering, the higher is sensitivity and less noise even at high ISO values.
---
5) Camera Zoom: 
---
The camera for an amateur should have at least a 3x zoom, as well as come with interchangeable lenses. 
These factors significantly expand the your possibilities as a photographer.
---
6) Battery Life: 
---
Even professionals sometimes need to make several shots in order to achieve the desired effect from photography.
Newbies often face the problems of the first-try frame, so autonomy, which determines the number of possible shots with one full charge of the battery, is one of the key parameters.
---
7) Presence of Auto Mode Settings: 
---
At the very beginning of using a DSLR, it will be very difficult for the user to navigate in the settings.
Therefore, you should give preference to cameras with ready-made parameters for different types of shooting, whether it's landscape, portrait or sport.
---
8) Autofocus and Optimal Exposure Detection: 
---
The implementation of these two functions in the auto mode will significantly simplify the process of photographing for the beginner.
So, here are my 8 tips for choosing a good starter camera in 2021 (and beyond).
Having the aforementioned features in your camera will greatly aid you as a beginner photographer.
Let's do a quick recap:
I will be updating this content as time goes on, but right now this is my list of top cameras for beginner photographers right now. 
---
Frequently Asked Questions
---
1) Is it okay to buy inexpensive camera for beginners who want to take photography seriously?
Here's the thing:
The price isn't the only thing that defines the quality of a product. Although admittedly most times more expensive products equal to better specs, you can still find some good products at a reasonably inexpensive price.
In my opinion, it's not so bad to start off with a decent inexpensive camera as a beginner. In fact, you should start with cheaper options. Having the more expensive gear doesn't mean you'll automatically take awesome shot.
There are a handful of decent beginner cameras that are budget-friendly. For example, there's a Nikon D5300 that performs really well but is not as expensive as it seems. It's a great value for your money, IMHO.
You see…
What matters more is having a camera that you feel good with. Something that you are comfortable using. Plus you can have more freedom taking photos if it's easier to use, right?
2) Which is better for amateurs, mirrorless or DSLR?
There are different kinds of cameras you can choose from, and among the most popular picks are DSLRs and mirrorless.
But what really is the difference between these two and which performs better?
Most professional photographers use DSLRs for a variety of reasons. It has a lot of features that are quite complicated for beginners. But don't get me wrong, there are cameras like these that are super beginner-friendly and has easy-to-use interface.
In comparison to mirrorless, DSLRs are bulkier and heavier. The reason for this is because the latter have more glass components that help the photographer see what the lens is actually seeing in real time. It's called an optical viewfinder.
On the other hand, mirrorless cameras don't have these "mirrors" (or the additional glass parts that reflects images to the viewfinder), hence being more lightweight. But this doesn't mean mirrorless ones don't have viewfinders. Actually, most have Electronic Viewfinders. Though it may not be as accurate as an OV, it does it's job in letting you see what your lens is seeing.
Now, on the question about which one is better between the two.
Honestly, that depends on your personal preference. If you are more of a travelling photographer, then you might appreciate the reduced baggage of mirrorless ones.
3) How do beginners start with photography?
The first thing you should do if you want to start your photography journey is to find inspiration. Look around you and see what sparks your interest. There are different photography genres and you might want to take this time to think about what you want to focus on.
The next step should be getting yourself a decent camera. When you are looking for a camera, keep in mind the tips mentioned above so you stay guided and make the best out of your buying decision.
Then, you can invest in great photography courses online.
The rest of the steps depends on you. Take your time exploring different sceneries and subjects. And practice your skills. Do some research about your craft, and learn more about it. And most importantly, don't forget to have fun while you are doing all these things. That's what matters the most.
4) Do Megapixels Matter?
For those who don't know, a megapixel is a graphic measurement unit that is equivalent to one million pixels, or 1,048,576 (220) to be exact. You also need to know that a megapixel is not just used to describe the number of pixels on an image but also to tell the number of image sensor elements in a digital camera.
Let's imagine that you have a digital camera with 12 megapixels and another with 48 megapixels. This means that one of these cameras can display roughly 12 million pixels. The other can display approximately 48 million pixels; the more pixels a camera has, the better the overall image quality.
So, in short, yes, megapixels do matter. However, on an important side note, the image sensor's quality will make a difference. You could have a 10 MP camera and a 12 MP camera, but if the 10 MP camera has much better sensors, the image quality can still turn out better than on the 12 MP camera.
5) Why Not Just Buy a Mirrorless Camera?
Not much work and effort are going into developing more functional and higher-end mirrorless cameras. However, they aren't perfect. There are a few significant disadvantages associated with mirrorless cameras when compared to DSLR cameras.
Due to the way mirrorless cameras work, they often have much worse battery life than comparable DSLR cameras, up to 25% less, or even worse.
Some people also don't like how mirrorless cameras have electronic viewfinders because they don't always perform well in low-light conditions.
There's also the fact that the lens selection for mirrorless cameras is limited compared to the vast selection available for DSLR cameras.
Although most like the small and compact nature of mirrorless cameras, people with larger hands may not find them comfortable or ergonomically friendly.
6) What Counts as an Entry-Level DSLR?
Some of the cameras that we would consider to be great entry-level models include the Canon Rebel SL3, the Nikon D3500, the Pentax K-70, the Nikon D5600, the Canon Rebel T7i / EOS 800D, the Canon Rebel T6i / 750D, the Canon 77D / EOS 9000D, and the Canon Rebel T7 / EOS 2000D.
When looking for a beginner-friendly DSLR, look for a small and light camera with a good burst speed, a decent viewfinder, a good display. It should be easy to navigate and is compatible with many basic lenses. If you want to start with a photography hobby, an excellent entry-level DSLR is a perfect place to start.
7) What are the Best DSLR Camera Brands?
There are some really great camera brands as far as DSLR cameras go. Some of the best and most popular brands include Canon, Nikon, Sony, Fujifilm, Panasonic, Olympus, and Leica.
---
Get the Right Camera for Amateur Photography
---
You decided to get into the world of photography because you are not satisfied with point-and-shoot cameras anymore.
Now what?
Since the professional cameras can be too expensive and difficult to master for beginners, and the simplest models will not allow you to seriously improve your photography skills, you might have a look at the cameras that were mentioned in this article.
All the aforementioned cameras have a large sensor and auto modes, and almost all of them have the possibility of using interchangeable lenses, which will allow you to shoot in any situations. 
Now, I'd like to hear from YOU:
Which brand you prefer, Canon or Nikon, for starting photography journey?

Mirrorless or DSLRs?
Let me know in the comments below.
I hope you enjoyed my list of the top rated digital cameras for beginners in 2021!
---
Sharing is caring!
About Author
Zarina
Founder & content creator at Digital World Beauty. My main objective here is to create a valuable resource for photography enthusiasts with honest tech reviews, course recommendations, and how-to tutorials.