Please note: As an Amazon Associate I earn from qualifying purchases. I also work with other affiliate partners and may be compensated from the links below. Details here.
March 27, 2023
Nikon D7100 in 2023: Still A Great Tool for Enthusiast Photographers (Review)
---
Welcome to my Nikon D7100 review! (2023 update)

---
You may wonder…
Is Nikon D7100 a good camera by today's standards?

What's so special about this crop sensor (DX) body and who is it for?

Is it still worth buying Nikon D7100 in 2023?
Well, it certainly IS worth considering.
Nikon D7100 is an excellent mid-level crop-sensor DSLR.
It's perfect for those who care about quality, speed, the ability to shoot under adverse weather conditions, AND its incredibly low price.
Reasons why you'll love it:
it is a camera you can grow into,

it's able to autofocus with old Nikon lenses,

great AF system and ergonomics,
(Just to name a few.)
More importantly, you get the best value for your buck.
If you have basic photography skills, the set of features of this body can't but make you smile. As for the technical aspects of it, the camera outshines most of its competitors, including from its own line.
In fact, the D7100/D7200 models were so good that they had to be discontinued because the newer Nikon D7500 model wasn't selling as well.
Bottom line:
Nikon D7100 is a solid choice for photographers who are familiar with the theory and practice of photography. No doubt in skillful hands it can become a great working tool.
---
Nikon D7100 Review 2023 (Summary)
---
Type: Mid-size SLR | Weight: 780 g | How many pixels: 24 MP | Sensor size: APS-C (23.6 x 15.7 mm) | ISO: Auto, 100-6400 (25600 with boost) | Articulated LCD: Fixed | Touchscreen: None | Environmentally sealed: Yes (Weather and dust resistant)

✓

Reasons to Buy
has a screw drive motor (means autofocuses with older Nikon lenses)

ergonomics = at its best

excellent for landscape photography

good color rendition

the sensor is 24.71 Mp

absence of low-pass frequency filter (means higher image detail)
✕

Reasons to Avoid
noise makes itself felt at a modest ISO value of 400-1000

small image buffer (which might be an issue for professionals or 

hybrid shooters)
---
Why Are D7x00 Series a Great Choice?
---
A quick overview of this series lineup: 
D7000 (2010): very cheap
D7100 (2013): crosses the $500 mark, rather small buffer
D7200 (2015): a bit more expensive, but also bigger buffer
D7500 (2017): the most expensive in the line-up, an official EISA Award winner 2017-2018.
A lot of people, myself included, often recommend starting with D3x00 or D5x00 series if you're a beginner photographer.
However:
If you can spend more than $500 on your first DSLR and are looking for the best value, here are the reasons why you should consider D7x000 bodies.
1) You can grow into them.
Basically, some people grow out of their D3400 or D5300 after a few months. D7x00 series gives you more room for growth if you don't plan on becoming a professional right now.
2) They have a screw drive motor.
As I mentioned earlier, the D7x00 series cameras have a screw drive motor, which means you're able to autofocus with a lot of good old Nikon lenses.
(I wrote a separate article on that.)
3) Overall better than their D5x00 and D3x00 counterparts.
For example:
more AF points and frames per second,

better autofocus system,

bigger buffer, and,

more dedicated dials and buttons on the body itself.
If we compare the cameras, D7x00 bodies are a bit better in everything.
---
A Few General Points about Nikon D7100
---
So, what's the big deal with this camera model?
In general, it was very successful given: 
its highest quality of the image (especially with good lenses and at low ISO), 

convenience and fast control, 

as well as an impressive set of characteristics.
Only a relatively little image buffer can limit in the serious professional application of D7100.
Either way…
Many experienced photographers will agree that D7100 is one of the good cameras out of the crop sensor ones. 
And despite the fact that it was declared (by the manufacturer) as an average solution, the DSLR inherited a lot of great features from older models.
Most people may never take advantage of certain features, but for an advanced enthusiast, it's exactly what's needed.
In many ways it's similar to its predecessor D7000, which was and remains a great body. If you already have a D7000, then upgrading to D7100 doesn't really make sense. 
In any case, do upgrade if you feel your current camera restricts you.
So…
What can we say about this DSLR?
First of all, D7100 has a 24-megapixel resolution sensor, which sets quite high demands on lenses. In terms of its physical parameters, it's a bit heavier and bigger than Nikon D5300.
However, it's not the 24 MP sensor that stood out but the fact that Nikon engineers decided to remove the low-pass frequency filter in front of the sensor. 
Basically, it adds sharpness to the image, with a risk of moiré on some periodic textures.
However, a moiré pattern is more hypothetical because in real life you are unlikely to encounter this effect.
An experiment without a filter was first carried out on Nikon D800E. The manufacturers realized that no one was experiencing any special problems and the sensor without the filter went to the masses in the form of D7100.
Another thing worth mentioning is the speed. 
Despite its impressive resolution, this DSLR works pretty fast by today's standards: its burst rate is 6 frames per second, which allows you to shoot sports related events.
---
What About Its Autofocusing System?
---
The autofocus system has also been slightly improved in this Nikon model.
Now there are more focus points, which in theory should improve the focus accuracy on fast-moving children.
In reality, you can't really tell the difference since there were no problems with autofocus in D7000.
The autofocus zone occupies a significant area of the frame, and the autofocus itself works instantly. The older mirrorless cameras look like sleepy snails in comparison with the D7100.
It's also worth mentioning that just like in the previous model, the autofocus control is very convenient. 
The switch modes AF-A, AF-S, AF-C make it easy to switch from a dynamic scene to a static one. 
Just like with most Nikon digital cameras, this model also has a great ability to focus in low light conditions.
---
Image Quality and Color Rendition
---
It gets better:
The color rendition in Nikon DSLRs has historically been the object of envy for owners of other camera brands. 
Even in the Canoner camp, there are ones who use a software/function called "Picture Style" to simulate Nikon into their cameras.
Anyway, I am positive that you will get excellent results on the D7100 in auto-white balance mode.
If you shoot at sunset, you may want to move the cold tones (B) to the side so that the picture is not too yellow or red.
In general, if the lighting is complex and you are unhappy with the operation of the DSLR (which will be extremely rare), then adjust the white balance manually.
When shooting on a bright, sunny day, don't forget to use a polarizing filter to get a better contrast of the sky with the clouds. 
I assure you, you will want to shoot the sky with clouds because of the stunning colors that the D7100 gives out. They are bright, saturated, but at the same time natural.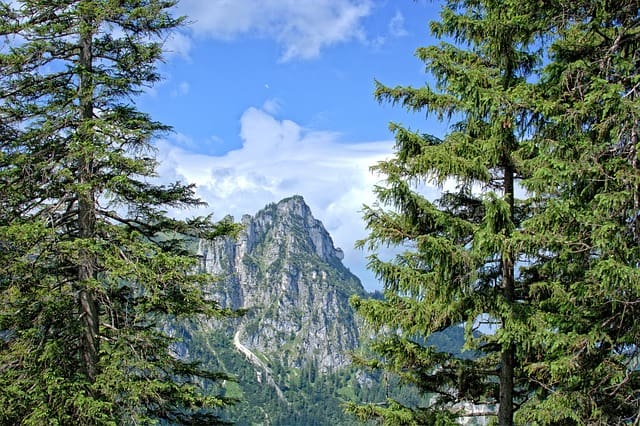 Now…
I prefer to shoot landscapes with the following settings: 
Picture Control Vivid (Vi), 

Saturation +1 or +2, 

Sharpening +3.
For portrait photography shooting, it's recommended to use the Neutral (NL) or Portrait (PT) mode because in Vivid mode faces can give off a few red colors.
In any case, work on portraits with further processing on the computer to add a bit of drama/romanticism.
Auto ISO now takes into account the focal length of the lens, which is very good. (Though, the presence of the stabilizer is for some reason ignored.)
In the auto-select settings for the minimum threshold, you can make a correction from -2 to +2 steps. That is, if by default on 105mm the Auto ISO considers the switching threshold 1/160s to be normal, then with the correction -1, it will be 1/80sec.
Normally, you can shoot on D7100 up to ISO 6400. At this value, you start to see the noise but not to a point that it bothers you significantly.
---
A Few Other Features Worth Mentioning
---
Here are a few features that I feel are worth mentioning here :
1) You will like that there are 2 SD memory cards.
It will be useful if you have not decided yet whether you want to shoot in JPEG or RAW, because the camera can use different formats on different cards.
For all regular people who shoot in JPEG, the second card can be adapted either as a backup card, recording in parallel, or simply to increase the available buffer volume by recording sequentially.
Memory cards are very convenient to take out.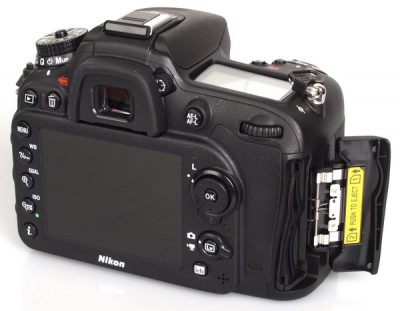 2) Presence of user modes U1 and U2, which together with the usual, is like having three cameras in one.
Piece of advice: you can set U1 to photograph landscapes, U2 for portrait photography, and use the rest when you're experimenting.
3) Photographing lightning and fireworks with its interval shooting will be a complete pleasure.
Also, in the timer, you can set the number of frames and the interval between them. This is very convenient when you are taking a group photo with a tripod, and someone blinked.
Adjusting the Settings in This DSLR
Fortunately, you can start using D7100 right out of the box, but here are a few adjustments that you can make.
Active D-Lighting – AUTO
Auto distortion control – ON
a7 Built-in AF illuminator – OFF

ISO sensitivity settings for P, S, A, M:

The sensitivity of ISO – 100
Auto ISO sensitivity control – ON
Max ISO – 6400
Max shutter speed – Auto (remember to select the correction: press the right arrow)

d3 Display and adjustment ISO – ISO
This setup should help if you're fairly new to photography.
---
Lens Recommendations for Nikon D7100
---
1. Nikon 35mm f/1.8G The AF-S DX
In our opinion, it's the cheapest and best option for the Nikon crop. The lens that everyone should have.
2. Nikon 18-55mm f/3.5-5.6G The AF-S VR II
The latest version of the kit 18-55mm lens. A good choice for fans of universality and budget options.
3. Nikon 18-200mm f/3.5-5.6G ED AF-S VR II
A universal travel zoom, if you were to take only one lens.
The most affordable autofocus version for portraits.
5. Nikon 55-300mm f/4.5-5.6G ED VR DX
The best budget telephoto lens for sports, action, and wildlife photography. (The photo below was taken with this lens.)
---
Nikon D7000 vs D7100: Which One to Choose?
---
I'm not sure if in 2023 people are still asking this question but a few years ago, a lot of folks couldn't decide between D7000 and D7100.
Back then, the difference in price was about $400 (if I recall correctly), right now the difference is about $100-150 for the body.
While D7000 is still pretty good, D7100 is a bit better. I mean it has a better focus system, it's faster, less noise at high ISO values.
I'd go with D7100 but if you're on a tight budget, it'd be logical that you consider a cheaper D7000 body and a better lens than a newer D7100 body and a cheaper lens.
If you are on a bigger budget, then you can even consider the D7200 model which is a bit better. 
But of course, the choice is yours!
Like I said earlier, this was the burning question a few years ago — nowadays, people compare the D7100 vs D7500, so I've got it covered in the next section. 
---
Nikon D7100 or D7500 in 2023?
---
Considering that the Nikon D7500 is available, is it still worth keeping your good old D7100 body?
The truth is that there are indeed several upgrades on the D7500 model such as having a higher burst rate, faster AF system, higher dynamic range (ISO capabilities), and being slightly more lightweight. 
With this in mind, the question is if it's worth to upgrade by someone who already uses the older model.
It depends on what type of photography you mostly do.
If you're a casual shooter and don't need the extra speed, then you can definitely stick with the D7100 if it's still serving its purpose.
However, if you are into sports photography or if you are someone who often shoots in low light settings, then upgrading to a D7500 will certainly do wonders to your resulting images. 
If you think you need the upgrades, then it will be a good investment to pick up the newer model. But if you're still achieving the results you want from the D7100, then you can stick with it.
Now…
What if you are deciding between D7100/D7200 and the newer D7500 model as a new user?
In that case I think it's worth considering the latest model.
Here are the things that will lean you towards the Nikon D7500:
tilting LCD touchscreen

max ISO is 51,200 compared to 6,400

continuous shooting is 8 fps compared to 6 fps
You can also control it remotely, it has better video capabilities, and it's 45 g lighter. Great choice especially since you can buy it with 2 lenses under $1500.
---
Frequently Asked Questions
---
Q: Does D7100 shoot 4k?
Shooting in 4k has a lot of good points. This is probably the reason why a lot of people prefer buying cameras with this feature.
In 4k mode, you get to have more flexibility in closing in on a subject. You can also use this to create a pan-zoom effect in your stills. And there are a whole lot more other great things about it.
So, is the Nikon D7100 capable of shooting 4k??
Unfortunately, it can't. The highest video resolution it has is 1920 x 1080p. But this is more than enough even for professional photographers. It will give you great-quality videos and even stills.
Q: Does this camera have WiFi?
This camera doesn't have built-in WiFi connectivity. However, there is a way that makes it function like it has one.
With the help of a WU-1a Wireless Mobile Adapter, your Nikon DSLR will now have this connectivity feature. This accessory is optional, so if you think there's no need for it (but I guess you will want this, for sure) then you can simply not get one.
But tell you what:
WiFi is a feature that's very useful for faster file transfers. There's no need to physically connect your gear to a computer. In fact, with this feature, you can directly receive photos from your DSLR to your phone.
Q: How do I transfer photos from D7100 to my phone?
There are several ways how you can transfer photos from this cam to your phone, and I'll discuss each briefly.
As mentioned earlier, if you have a wireless mobile adapter for the D7100, then transferring files will be easy peasy. But first, you need to download an app called Wireless Mobile Adapter Utility.
The next thing you need to do is insert the WU-1A adapter into the port on your camera and turn it on. Once it is on, open your phone's WIFI and connect to Nikon. Once connected, open the app previously installed and from there you can transfer photos to your phone easily.
Using OTG + transfer cables
This is another good alternative if you don't want to purchase a wireless adapter. Instead, you will only need an OTG to transfer your files easily.
What you should do is connect the OTG to the device's port and connect your phone's transfer cable to the other end of the USB on-the-go cord. After this, you will be able to see the photos on your phone and decide whether you want to move or just copy them. And it works for both Android and iPhones.
The traditional way (slowest)
If you can't use the first two methods, then you might want to resort to this traditional file transfer.
Here, you need to take your memory card and insert it in your laptop. You could also use USB cord to transfer files from gear to computer, whichever you prefer.
When you are done copying files, get your phone's transfer cable and connect it to the PC then copy what you got earlier. It's a bit of a hassle but works still fine if you really don't have any other means of transferring photos to your mobile.
---
A Great DSLR for Enthusiast Photographers
---
Without a doubt:
Nikon D7100 is an excellent crop sensor DSLR for all occasions with great ergonomics and excellent image quality.
Nikon D7100 is great in terms of price-quality ratio, especially suitable for those who already had worked with cameras at least from a low-price range.
Its main feature is the absence of a low-frequency filter, which traditionally serves to suppress the moiré effect by forcibly reducing the detail of the image.
Since this filter is removed from this model, nothing gets in the way of obtaining maximum image detail.
Bottom line:
Getting Nikon D7100 in 2023 will be a great investment, especially if you're on a budget.
Now…
I'd like to hear YOU:
What is your main photography genre?

What do you think of this Nikon D7100 review?

If you've had experience with D7100, do you think it's worth buying in 2023?
Anything else to add to this article?
Let us know your thoughts in the comments below

!