December 23, 2017
Best Nikon Cameras for 2018: The Top 9 Cameras Rated & Reviewed
---
We rated & reviewed the 9 best Nikon cameras across various budgets & camera types. 
---
In this 2018 camera buying guide, we will cover the following:
(1) what to look for in a camera before making a purchase;
(2) what are the best Nikon SLR cameras for beginners & professionals;
(3) what are the best Nikon compact cameras to buy in 2018.
---
I think that you'll agree with me when I say that Nikon point-and-shooters and DSLRs are one of the most popular cameras on the market of photography equipment.
This brand pays a lot of attention to the quality of the pictures and any details, thus managed to win the love of professional and enthusiast photographers.
On a number of characteristics, Nikon wins against its main competitors – Canon and Sony.
For example, according to users' reviews, Nikon DSLRs provide the best quality of images in low-light situations.
Also, Nikon holds the 1st place in terms of the number of focus points and flash capabilities in comparison with analogues.
Experts often prefer this brand due to the larger size of the sensor, which is responsible for creating the clearest image at low pixel values.
---
Now, when choosing a camera model we recommend you pay attention to the following parameters:
Sensor Type:
DSLR cameras are traditionally considered to be more advanced than compact cameras.
The # of Megapixels:
Accordingly, the higher is this #, the higher is the quality of the images.
Weight & Dimensions:
The shooting can take several hours, and therefore the lightness and compactness of the camera will do you a truly great service.
Functionality:
Before buying, you need to carefully study the list of modes and options provided by the camera – does it have GPS, Guide Mode, time-lapse, zoom and so forth.
---
Here is the rating of the best Nikon cameras.
When choosing which cameras to put in our top-9 list, the following things were taken into account:
user reviews

experts' recommendations

price
Before I go into details, I wanted to categorize the cameras to make it easier for everyone to follow up.
(Feel free to ask your questions in the comments!)
Table Of Contents:
(click on the link to jump to the section you want to read)
---
Official EISA Award Winner for 2018
---
Best Nikon SLR Cameras for Beginners
---
Best Nikon SLR Cameras for Professionals
---
Best Nikon Compact Cameras

I will also include video-reviews from YouTube to enhance your knowledge of each camera mentioned in this list.
Let's dive in.
---
Official EISA Award Winner for 2018
Every year, European Image and Sound Association (EISA) members magazine experts get together for an EISA Awards event and celebrate the products that combine the most advanced technology and desirable features with class-leading performance.
Based on the results of the independent reviews of the participating EISA Awards members, the following Nikon camera was recognized as the best prosumer DSLR camera for 2017-2018… ↓
Nikon D7500
Quick Specs:

Type: Mid-size SLR
Weight: 720 g
Sensor: CMOS
ISO sensitivity: ISO 100 – 51200 (expandable to 50 – 1640000)
Category: Official EISA Award Winner 2017-2018
Subcategory: Best Prosumer DSLR Camera
My (2018) Rating: 4.9/5
In summer 2017, Nikon has released a new representative in the category of semi-professional APS-C-cameras – Nikon D7500.
Why they skipped D7300 and D7400 and called the new model as D7500 we don't know, but that's not really important to us.
The functionality of Nikon D7500 really did increase compared to its predecessor.


It has the same CMOS APS-C sensor with a resolution of 21 megapixels and an Expeed 5 image processor.
The sensor has a sensitivity range of 100 to 51200 ISO, but it can be expanded from 50 to 1640000 ISO. And it has improved dust and waterproof design.
Old users of the Nikon 7000th series can complain that the camera has lost some external features of its predecessors such as a magnesium-alloy body, two memory card slots, ring belt and a large monochrome LCD.
And all these features stressed its semi-professional character.
On the other hand, the new Nikon D7500 became lighter, has a powerful sensor, EXPEED 5 image-processor and 180K-pixel RGB sensor used in Nikon's "top-dog" D500.
As a result, these features provided the D7500 camera with excellent characteristics of its class.
This camera is able to record 4K video at 30, 25 and 24 frames per second and a bitrate of 144 Mbps.
But in this mode, video is not recorded from the entire matrix, you get a 1.5x crop. This should be taken into account when choosing a lens.
The burst rate increased to 8 frames per second.
Also, increased is the memory buffer, now it contains 50 14-bit uncompressed Raw-files or 100+ JPEGs bring camera closer to the speed characteristics of professional camera models.
Some of you may know that the Nikon D7200 had two SD memory card slots. In this camera, only one was installed.
In terms of wireless connections, Wi-Fi and Bluetooth are available, and there is also SnapBridge function in the camera for constant connection to your smartphone.
51-point AF system from the previous generation of professional cameras D750, D810, D4s is a good acquisition for cameras of this level.
And the touch-sensitive inclined display made it even more convenient.
Check out Chris Nicholls' awesome video-review of Nikon D7500:
Final Thoughts on D7500 As One of the Best Nikon Cameras for 2018
I think that the D7500 will appeal to many photography enthusiasts who can appreciate and use all the technical abilities of the camera.
Like the previous models of the Nikon 7000th series, it brings a number of new opportunities, approaching its characteristics to the ones of professional camera models.
Click below to take a closer look at Nikon D7500 ↓
---
Best Nikon SLR Cameras for Beginners
For beginner photographers, Nikon cameras with simple control are preferable. Affordable price also plays an important role. Check out the current best cameras for beginners with the newbie-friendly set of functions.

Nikon D3300 Kit
Quick Specs:

Type: Compact SLR
Weight: 430 g
Sensor: CMOS
ISO sensitivity: Auto, ISO 100-12800, 25600 (with boost)
Category: Best Nikon SLR Cameras for Beginners
Subcategory: The best amateur Nikon camera. Quality focusing
My (2018) Rating: 4.8/5
Nikon D3300 is a great camera not only because it's a cheap digital camera under the $500 price tag but also because it's the leader among cameras for beginner photographers.
The reason why it's a great first DSLR camera for beginner photographers is because in this camera, the Guide Mode is implemented. And it's not just a set of tips, it's an interactive guide to action!
Choose "Shoot", then "Advanced functions". Now select the scene or effect that you want to use in the picture.
It itself will explain which settings you need to apply for this and helps install them with its understandable graphical interface.
With one stone you end up killing two birds: choosing optimal settings for the scene, as well as understanding what this or that setting is responsible for.
Now more of technical stuff.
The maximum resolution of the photo is 6000 x 4000 pixels, it is also possible to choose the average size – 4495 x 3000 pixels and small – 2992 x 2000 pixels. The burst rate speed reaches 5 frames per second under the condition of manual focusing.
The autofocus system consists of 11 points, and the shutter speed range is from 1/4000 to 30 seconds. Pictures are saved in JPG and RAW format.
Video recording takes place in the format Full HD (1920 x 1080 pixels) with a frequency of 50p, 30p, 25p and 24p. There is also the possibility of shooting with a lower resolution – 1280 x 720 pixels or 640 x 424 pixels. The video format is MOV.
In terms of quality of the images, Nikon D3300 is able to make bright, color-rich and detailed pictures.
It might take a long time listing this camera's awesome quality features.
Always remember that the quality of the photo depends on the photographer himself. If you are new to photography, consider these 5 simple tips to improve your skills.
Of course, you can shoot in auto mode, but you can do that not only with your point-and-shoot camera, but also a smartphone.
Below I am attaching another video-review done by Chris Nicholls:
Final Thoughts: D3300 Is A Sweet Entry-Level Camera for Beginners
Nikon D3300 is yet another interesting model from Nikon, which will certainly will suit someone who is not yet sure about their skills in photography.
This camera is good both for beginners and for those who don't want to spend too much money on expensive cameras.
It is able to create surprisingly beautiful pictures, and the excellent characteristics of the device helped it to occupy an honorable place in my top-9 list of the best Nikon cameras in 2018.
Click below to take a closer look at Nikon D3300 Kit ↓
---
Best Nikon SLR Cameras for Beginners
Nikon D5300 Kit
Quick Specs:

Type: Compact SLR
Weight: 480 g
Sensor: CMOS
ISO sensitivity: Auto, 100 – 12800 (25600 with boost)
Category: Best Nikon SLR Cameras for Beginners
Subcategory: The best kit. Silent shutter
My (2018) Rating: 4.8/5
Nikon D5300 is the first entry-level DSLR without a low-pass filter and wireless Wi-Fi and GPS modules.
(A low-pass filter, also known as anti-aliasing or "blur" filter, is designed for the purpose of eliminating the problem of moiré).
If you ever held a camera of the 5000th series before, you will hardly notice any difference in appearance – most of the buttons are in the same place.
The main changes have to do with the internal filling and related technical characteristics.
The resolution of the new matrix was 24.78 Mp, which clearly points to the intracorporate struggle for every one hundredth of a pixel in order to improve the final result of the photo.
The screen size increase in the size of the screen finally allowed to make the aspect ratio of 3: 2.
"What does this mean?" – You ask.
This means that horizontally-positioned photos can be viewed without boring black stripes, stretching them to the full screen. The latter, by the way, is quite bright and has good contrast, so that on a sunny day it will be easy to view the pics.
Another great feature is its fully articulated screen.
You can take a picture from the bottom or top camera angles, which you will definitely find convenient. Not only that but you can turn the screen to your side and see yourself as you take a selfie.
As mentioned before, the main feature of the Nikon D5300 is the absence of low-pass filter.
In theory, this allows you to get sharper pictures.
In practice – the sharpness of the images taken by this budget DSLR camera really cannot be complained about.
The second significant update compared to previous models is the Expeed 4. It is responsible for the quick work of the camera.
And it does the job well – Nikon D5300 really responds quickly and works well.
Its autofocus, which has 39 focus points in its arsenal, with 9 cross-points in the center, captures the subject reliably and without further questions.
Burst rate is up to 5 frames per second, which is more than enough for everyday purposes.
Check out the video-review of Nikon D5300 attached below:
Final Thoughts: Nikon D5300 Is A Great Budget Camera to Start With 
Nikon D5300 rightfully occupies a place among the best entry-level SLR cameras.
Even despite the release of the next model in its line, this camera did not give up its position.
In its arsenal is an articulated screen and wireless Wi-Fi and GPS, it has fast and tenacious autofocus, draws a sharp picture, does not make much noise even at high ISO values, and generally does everything that you require of it.
No more, no less.
No need to change the Nikon D5300 for earlier versions of 3000 and 5000 camera lines.
It definitely is a great start in the photo world and you get a balanced camera version for reasonable money.
Click below to take a closer look at Nikon D5300 Kit ↓
---
Best Nikon SLR Cameras for Professionals
Professional Nikon SLR cameras are full of all kinds of photo and video modes.
This category presents the most popular cameras among professionals, which received the most positive feedback from experts.

Nikon D7100 Kit
Quick Specs:

Type: Mid-size SLR
Weight: 765 g
Sensor: CMOS
ISO: 100 – 6400, Lo-1 (ISO 50), Hi-1 (ISO 12,800), Hi-2 (ISO 25,600)
Category: Best Nikon SLR Cameras for Professionals
Subcategory: Optimal price-performance ratio. The lightest & compact Nikon DSLR
My (2018) Rating: 4.7/5
Nikon D7100 is a classic SLR camera.
Many manufacturers, unable to withstand competition, switched to the development of alternative camera options – mirrorless cameras, translucent mirror technology cameras, or compact cameras.
However, Nikon is still loyal to the traditions and continues to produce some of the world's best SLR cameras.
The heart of this camera is a 24-megapixel CMOS-matrix of APS-C format. We saw such a sensor in the D3200 and D5200, but for the first time the manufacturer removed the smoothing OLPF (low-pass filter) in its camera.
Once again, the purpose of this filter is to reduce the level of moiré while photographing homogeneous structures, such as cloth or hair, but at the same time reducing resolution and detailing.
This way the image will be extremely sharp.
As the brain of the camera a new generation of processor Expeed 3 is installed, which allows you to forget about the "brakes". The camera works really fast and doesn't blunt even when shooting series or recording video on a memory card.
The range of photosensitivity is from 100 to 25600 in ISO units.
Logically, in order to fully use the full potential of the sensor, you will need to buy additional optics.
If you are willing to pay extra money, I recommend Nikkor 35mm f/1.8G or Nikkor 50mm f/1.8G lens (an Amazon bestseller too).
But don't rush to get upset. In the beginning, the kit zoom 18-105mm will be enough.
To get a good picture, just cover the diaphragm for a couple of stops.
A piece of advice in terms of ISO.
At the basic values of sensitivity, the picture is sharp and clear.
ISO 1600 is completely working for JPEG, although the first signs of noise still appear.
At ISO 3200 you can shoot for a family album, for example, and at ISO 6400 you need to use only RAW with the subsequent competent processing of the picture.
Below I am attaching yet another Chris Nicholls' video-review of Nikon D7100:
Final Thoughts on D7100 As One Of the Best Nikon Cameras in 2018
Nikon D7100 is an excellent mid-level SLR camera, which is perfect for those who care about quality, speed, and the ability to shoot under adverse weather conditions.
Despite the fact that the device is declared by the manufacturer as an average solution, the D7100 inherited a lot of great features from older models. Fast autofocus, good sensor, user-friendly controls make it an excellent option for purchase.
Minor disadvantages are present, but in time you stop paying attention to them.
In the skillful hands, the Nikon D7100 is able to become an excellent working tool for creating masterpieces.
Click below to take a closer look at Nikon D7100 Kit ↓
---
Best Nikon SLR Cameras for Professionals
Nikon D610 Body
Quick Specs:

Type: Mid-size SLR
Weight: 850 g
Sensor: CMOS
ISO sensitivity: 100 – 6400 in 1, 1/2 or 1/3 EV steps (50 – 25600 with boost)
Category: Best Nikon SLR Cameras for Professionals
Subcategory: Best functionality.
My (2018) Rating: 4.8/5
Nikon D610 is a budget full-frame DSLR camera that's definitely worth getting.
Originally, full-frame cameras were intended for more professional use or for advanced enthusiasts, and bear in mind that such professional tools simply cannot be cheap.
However, now the camera manufacturers are breaking all the boundaries and are starting to release cameras that you will not only just want, but you can actually afford. And one of those cameras is Nikon D610.
The main advantage of this camera is a full-frame 24-megapixel sensor.
The range of photosensitivity is from 100 to 6400 units, and with boost the interval from 50 to 25600 ISO becomes available.
If you shoot in RAW with the subsequent competent development, 12800 is quite useful not only for the web, but also for printing in small sizes. The falling of details and color noise ceases to strike the eye from a distance of one meter.

The burst rate of this camera is 6 fps at full resolution in RAW. The buffer is enough for a series of 15 frames, then the camera will shoot endlessly with a frame rate of almost 1 fps. With JPEG, you can practically not worry about the buffer – more than 30 frames will suffice in 99% of cases.


Bear in mind that the measurements were made with a fast memory card Transcend 64GB SDXC Class 10 UHS-1.
With slower cards, the results may differ for the worse.
One of the interesting capabilities of the camera is shooting a time-lapse video.
Before, to obtain such an effect, it was necessary to spend a lot of time and effort, but now we simply select the necessary item in the menu, the interval and the time of shooting. Then, we press "OK" – and get the output video in the *.mov format.
Below I am attaching a video of Jared Polin's opinion on Nikon D610:
Final Thoughts on Nikon D610: If You Can Afford It, You'll Likely Love It
I'm sure that Nikon D610 camera will easily win the love of many photographers.
This is the most compact and most affordable full-frame SLR camera produced by Nikon, in which the best developments were realized: excellent detailing, low noise level, wide dynamic range.
And, if you belong to a Nikon camp and can afford such a camera, take it.
You are unlikely to be disappointed. The camera will perform the entire range of tasks quickly and efficiently.
However, if you have a Nikon D600, then you definitely do not need to upgrade.
Click below to take a closer look at Nikon D610 Body ↓
---
Best Nikon SLR Cameras for Professionals

Nikon D750 Body
Quick Specs:

Type: Mid-size SLR
Weight: 750 g
Sensor: CMOS
ISO sensitivity: Auto, 100-12800, expandable to 50-51200
Category: Best Nikon SLR Cameras for Professionals
Subcategory: The best professional Nikon camera
My (2018) Rating: 4.9/5
Nikon D750 is not a replacement for the legendary Nikon D700, rather it is a completely new camera, focusing on the needs of modern photographers.
To date, this is the most successful compromise in the DSLR camera market.
The creators of this model managed to find a delicate balance between a variety of characteristics and price. In other words, the camera has a wide set of functions, but at the same time isn't too expensive.
The D750 received an operational and finely tuned control, which became much clearer to beginners. A new design with a flip-up display will make it convenient for you to use the camera.
Speed characteristics D750 and its buffer size, albeit somewhat inferior to more expensive models, don't limit the use of the camera in most commercial genres.
This camera is perfect for wedding photography and other events shooting.
The resolution of the matrix is high enough for printing photos in large format, and at the same time a successful compromise with noise level at high ISO is found.
To the indisputable advantages of the Nikon D750 is the excellent autofocus, suitable for any dynamic shooting, perfected video mode, a wide range of additional functions.
For example, you can actively use the built-in Wi-Fi in the camera, record video clips on intervals, take HDR shots.
The most noticeable external innovation was the use of an inclined display.
The Nikon developers from year to year avoided using such a design solution in professional and semi-professional SLRs.
And finally added this feature to Nikon D750!
Perhaps the creators of the camera simply managed to create a design to which we will not have any complaints.
Below I am attaching a video-review of the camera:
Final Thoughts on Nikon D750 – Amazing Camera for Professional Photographers
Nikon D750 is equally good for an advanced amateur who decided to switch to a full frame, and for a commercial professional photographer who makes income off the events and other scenes of shooting.
The camera presents excellent value for money, has a clear management interface, good autofocus and a great burst rate.
In other words, it is the best professional Nikon camera.
Click below to take a closer look at Nikon D750 Body ↓
---
Best Nikon Compact Cameras
Compacts, also called point-and-shoot cameras, are easy to use and are generally a lot cheaper.
Experts assess the quality of photo and video shooting of the cameras presented below as high, however, they are still slightly inferior to their SLR analogues.

Nikon Coolpix W100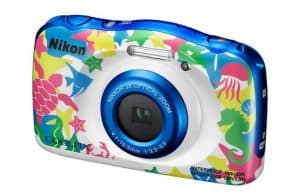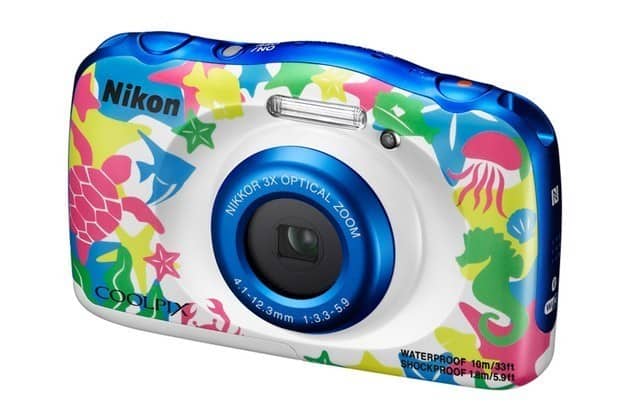 Quick Specs:

Type: Compact digital camera
Weight: 177 g
Sensor: 1/3.1-in. type CMOS
ISO sensitivity: ISO 125 to 1600
Durability: Waterproof, Shockproof
Category: Best Nikon Compact Cameras
Subcategory: Best price. The most optimal camera for travel
My (2018) Rating: 4.5/5
Nikon Coolpix W100 is designed to help its owners capture the brightest moments of their travels.
This camera can withstand a drop from a height of up to 1.8 meters and dive to a depth of 10 meters. It's also capable to handle a cold weather of up to -10 °C, while retaining all its technical capabilities. Being able to work in difficult conditions is a distinctive feature of the Coolpix W100.
It is a family camera which implies the ease and convenience of management by any family member, including a child.
Coolpix W100 camera has children's and adult menu.
The children's menu allows your kids to take pictures in a game form, with animated characters on the screen, and they can put colorful stamps on already-taken shots.
There are different colors available of the body of this camera. The most original is with a bright drawing of marine subjects on a white background.
For little photographers additional accessories are available – designer backpacks and a floating camera strap.
The image quality of the Nikon Coolpix W100 is quite decent for its price category.
It is equipped with a 3x NIKKOR zoom lens with the option of electronic magnification up to 6x, and a CMOS sensor with a resolution of 13.2 million pixels.
In other words, this is quite enough to adequately capture your vacation trip moments or any other important event in your life.
Shooting in Full HD format with stereo sound is a definite plus of this camera!
This camera has an HDMI output, which means you can view your captures images and videos on the big screen.
However, Nikon's SnapBridge App provides a better opportunity.
With this application, available for Android and iOS devices, your camera automatically syncs with various mobile devices. Wi-Fi connection allows you to view pictures and manage the camera in real time.
Very convenient!
Final Thoughts: Nikon W100 Is A Great Family Camera for Vacation (With Kids)
The cost of Nikon Coolpix W100 is less than $200 and it is worth reminding you again that the camera for this money cannot shoot the same footage as the camera for $3,000.
This product was NOT created for ideal shots or high-quality video.
Instead the gadget implies that you will shoot the video in those conditions where other cameras give up.
We swim underwater, we parachute, we ski, and "vacation" in the mountains and all this remains in digital form thanks to Nikon Coolpix W100.
For those who love adrenaline and extreme travel, this camera is gorgeous.
Click below to take a closer look at Nikon Coolpix W100 ↓
---
Best
Nikon Compact Cameras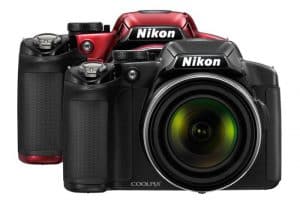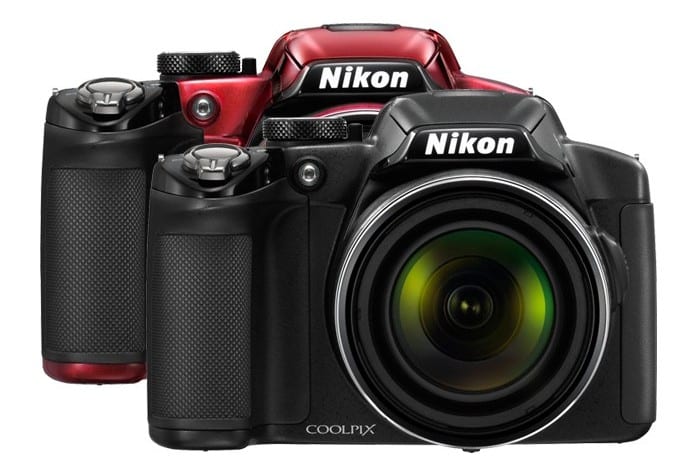 Nikon Coolpix P510
Quick Specs:

Type: SLR-like (bridge) camera
Weight: 555 g
Sensor: BSI-CMOS
ISO sensitivity: Auto, 100-3200
Category: Best Nikon Compact Cameras
Subcategory: The best set of options. GPS and tilting screen available
My (2018) Rating: 4.6/5
So, what do you need for a good superzoom camera?
A lens with a high zoom, a comfortable durable body, a tilting screen… Add to the taste a viewfinder and a video shooting in Full HD… Oh, yes, add the cherry to the cake – a GPS receiver.
Done!
Meet Nikon Coolpix P510 bridge camera which combined all these features in 1.
This camera is equipped with a NIKKOR lens with a 42x optical zoom (equivalent to a 24-1000mm 35mm lens), which is great for shooting outdoors. It is also accurate when shooting indoors, however focusing does take a bit longer.


To create dynamic panoramas with vertical or horizontal panning, a simple 360 °/180 ° panorama mode is provided, and for 3D images, there is a 3D shooting mode.
Not only that but you also start recording movies in Full HD (1080p) format with stereo sound.
For what it's worth, autofocus and zoom does work when video shooting.
Generally talking, this camera is easy to use, especially for those people who aren't comfortable adjusting ISO and shutter speed manually. Yet, these can be adjusted by those who are more familiar with camera features.
And did I mention this is one of the digital cameras that cost less than $500?
Check out the video-review below of the Nikon Coolpix P510 for more information:
Final Thoughts on Nikon P510 Bridge Camera
What can be said about this camera in few words?
You will enjoy the live, natural color rendition and high detail in the macro (!) on the wide end.

Fast autofocus on the wide end.

The biggest zoom among all competitors in the market.

Convenient 3-inch tilting screen.

2 programmable buttons at the discretion of the user.

GPS tags.
And of course, it has the best price among its competitors.
Sure you may find a Canon or Olympus that has slightly better reviews in one feature or another, but let's be real, no camera has it all.
Click below to take a closer look at Nikon Coolpix P510 ↓
---
Best Nikon Compact Cameras
Nikon Coolpix B700
Quick Specs:

Type: SLR-like (bridge) camera
Weight: 565 g
Sensor: BSI-CMOS
ISO sensitivity: Auto, 100-3200
Category: Best Nikon Compact Cameras
Subcategory: Best combination of price and features. 60x zoom
My (2018) Rating: 4.7/5
The characteristics of the Nikon Coolpix B700 sound promising.
A huge zoom in combination with a high-resolution sensor and the possibility of UHD-shooting at a smooth 30 frames per second can lure numerous amateur photographers in.
After all, with the above combination of features, the Nikon Coolpix B700 is very similar to the ideal camera for everyday use.
First of all, this impression is created thanks to the lens.
With a focal length of 24 to 1440 mm in a small format the camera is suitable for both landscape shooting and for detailed images of distant objects. The optical stabilizer works well – even at long focal lengths it makes the image pleasantly "calm".
You will enjoy a fully articulated display, and the wheel for selecting modes will serve well both novice photographers and professionals alike.
Like other new models, Nikon Coolpix B700 is released with the support of SnapBridge technology – it is the manufacturer's own interface that combines the work of WLAN, NFC and Bluetooth and, if desired, transfers pictures to your smartphone.
Since the transfer of images in full resolution takes from 20 to 30 seconds, I recommend limiting yourself to smaller versions with a resolution of 2 megapixels.
Now, there are a couple of minor disadvantages to the camera.
For the most part, you get quality images in daylight conditions. And even in daylight situations, the noise can be seen very clearly on the images that are enlarged to 100%.
Generally speaking, the 565 g Nikon Coolpix B700 with good performance makes a solid impression.
Check out the video-review below done by Alex Nilson:
Final Thoughts on Nikon B700 Bridge Camera in 2018
A compact camera with a superzoom from Nikon earned recognition of customers thanks to the outstanding characteristics of the camera.
Images taken with Nikon Coolpix B700 are clear and live.
This digital camera is successful in all aspects: cost, functionality, and ease of use.
Click below to take a closer look at Nikon Coolpix B700 ↓
---
Conclusion: The 9 Best Nikon Cameras for 2018
Without doubt, along with Canon, Nikon is the world's leader in the market of photo and video equipment.
Such a long history of Nikon being the leader often becomes the decisive factor when choosing a camera.
The Nikon logo can found both on budget compact digital cameras and professional SLRs.
It is said that the world of photographers has divided into "Canoners" and "Nikonians", but I think this is due more to the force of habit than to significant differences between Canon and Nikon.
I am still curious though, are a Canoner or a Nikonian?
And why?
Whichever you are, I still hope you liked this list of the best Nikon cameras to buy in 2018.
Happy shooting!
---
Have you made your decision? Which camera did you decide to buy? 
If you still have doubts, questions or comments about the best Nikon cameras for 2018, let me know in the comment section below!
About Author
Zarina
Founder of Digital World Beauty website. My purpose here is to provide easy-to-understand guides and reviews on digital technology to make YOUR life easier and help YOU make as informed of a decision as possible. If you want to learn more about me, please visit my profile page.