Please note: As an Amazon Associate I earn from qualifying purchases. I also work with other affiliate partners and may be compensated from the links below. Details here.
January 15, 2019
9 Best Cameras for Vacation in 2019: Enjoy Your Holiday Photos! (Updated)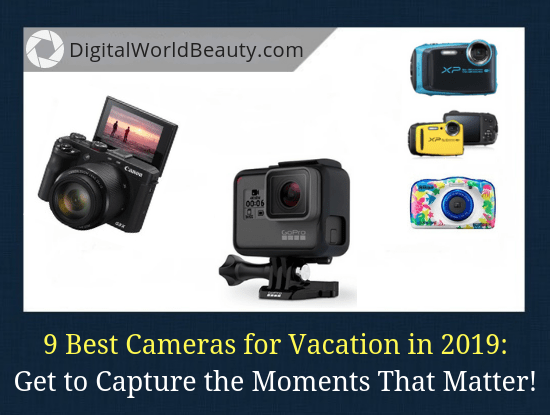 ---
What is the best camera for (family) vacation photos right now? (2019)
---
Truth is:
To many, choosing the right camera for vacation isn't easy. 
You may wonder what you should go with…
Cheap waterproof compacts? 

Action cameras? 

Perhaps small budget DSLRs?
(And of course, it's important that your final choice produces good quality images.)
So:
My job here is to help you make an educated buying decision based on your budget and trip situation, with pros and cons of each product mentioned in this list.
A quick overview of what to expect in this post.
*** Please note that Amazon prices are subject to change!! ***
9 Best Cameras for Vacation in 2019
---
As you can see, there are products from various categories, as in:
which cameras are best for family vacation,
what DSLRs and compacts are great for travel,
waterproof vacation cameras, and,
awesome camera options for kids as well.
Helpful, isn't it?
---
My Top 9 Picks This Year (Comparison Chart)
---
Product

Quick Overview

Category

Fuji FinePix XP120

Cheap ultracompact camera

Shockproof and waterproof

Sporty camera design

Kids won't easily break it

Family Vacation

(With Kids)

Nikon COOLPIX W100

Very low price tag

Shockproof, waterproof

Has children's menu too

Ideal for family vacations with kids

Family Vacation

(With Kids)

Canon Powershot SX610 HS

Good everyday companion

Light, pocket-sized

Optical image stabilizer

Easy to create a video digest

Compact Camera

for Vacation

GoPro HERO6 Action Camera

Budget action camera

Waterproof

Great dynamic range

Has software protection from the wind

Action Camera

for Vacation

Sony DSC-RX100 V

Large sensor compact

Modern focusing system

A bit pricey

Excellent for selfie-lovers and vloggers

Premium Compact

Camera

Canon Powershot G3 X

Dustproof, waterproof

Excellent ergonomics

Tilting touch screen

Good choice as a travel zoom DSLR

Best Bridge Camera

for Vacation

Canon EOS Rebel T6i

Read the Full Review

Budget-friendly SLR

Good work in Auto mode

Articulated touch screen

Great camera to improve your skills

Best Budget DSLR

for Any Trip

Nikon D5500
Read the Full Review

Budget-friendly SLR

Fast autofocus

High image detail

A real godsend for beginners

Best Nikon SLR

in Any Journey

Sony a6000

Fast and accurate focusing

High image quality

Multi-frame noise reduction

Remote shooting with a smartphone

Best Mirrorless

Camera for Vacation

PopSockets

You'll travel super light

Easy to take selfies

Great for vlogging

All you need is your smartphone/tablet

THE

Cheapest Option

for Vacation
When choosing which products to include in my top 9 list, the following things were taken into account:
personal experience

user reviews

experts' recommendations

what type of vacation you are planning to have (e.g. with kids)

price
Alright, let's get into details.
---
Best Waterproof Cameras (For Kids)
---
Vacation time sure is awesome.
Now…
What if you are going on vacation with super active kids?
In this situation, you might want to get a pretty cheap, yet good, camera with waterproof and shockproof durability.
---
Fujifilm FinePix XP120
Type: Ultracompact
Weight: 203 g
Sensor: BSI-CMOS
ISO: Auto, 100-3200 (6400 at lower resolutions)
Durability: Waterproof, shockproof, freezeproof
Best For: Family vacations with kids
Price Tag: Under $150 (subject to change)
---
Look:
This is one of my top 2 products for family vacations with kids due to its durability feature.
Fujifilm FinePix XP120 camera is equipped with BSI-CMOS sensor with a resolution of 16.4 megapixels and a 28-140mm f/3.9-4.9 lens.
These focal lengths should be enough for the vast majority of scenes that will be during your vacation time.
Keep in mind:
The minimum aperture values and the small size of the sensor don't allow you to shoot quickly and accurately in the dark, so you'll have to use flash.
What about ISO?
The maximum ISO is 6400 (only at lower resolution/small image sizes). If I'm completely honest, you wouldn't want to go above 1600 anyway. 
If you want to avoid image noise.
Battery life:
It's enough for an average of 200 pictures in auto mode.
If this is not enough for you, you can safely buy another NP-45S battery and increase the number of frames.
Note: This camera can be charged by USB and you can recharge it in a cafe, car, or in a backpack from the power bank.

---
What you may like about this camera:
---
Even though it's a cheap compact, there are a few things you'll like about it.
Specifically:
decent image quality when shot in daylight

suitable for underwater photography

shockproof (1.75m), waterproof (20m) and freeze-proof (-10C/+14F)
And the kids can certainly use it too. 
Note:
What's nice is that even with flash the camera keeps the natural colors of objects under the water, which means that you will have pretty detailed images.
---
What you may not like about this camera:
---
The main thing to highlight is:
image noise in low light shooting
So…
In low-light conditions or indoors, the detail of the image is expected to be worse and getting a clear image becomes more difficult.
What to do?
Using a standard flash paired with the autofocus will help to take a clear shot.
---
Check out a full-video review done by Kevin Breeze:
---
Cheap Camera for Family Vacations (Under $150)
---
I will say this:
Fujifilm Finepix XP120 is a pretty reliable camera for vacation in a sense that it's shockproof and waterproof.
That's why it can be given to children and not be afraid that they accidentally drop it.
The quality of the photo is decent enough for:
posting in social media account,

printing it off,

and/or compiling tourist reports.
Actually, it seems that this camera was made for this particular purpose.
Built-in Wi-Fi definitely makes your life easier.
(For example, if you want to share your pictures on Instagram.)
If you like sports design and need a camera for vacation with kids, Fujifilm Finepix XP120 might be a good choice for you.

---
Best Camera for Family Use
---
Nikon Coolpix W100
Type: Compact digital camera
Weight: 177 g
Sensor: 1/3.1-in. type CMOS
ISO sensitivity: ISO 125 to 1600
Durability: Waterproof, shockproof
Best For: Family vacation with kids
Price Tag: Under $200 (subject to change)
---
Here's the thing:
Nikon Coolpix W100 made my list of the top rated Nikon cameras for 2019, due to its super low price tag and it being an optimal camera for family vacations (especially with the kids).
Why is this compact great?
Because…
it can withstand a drop from a height of up to 1.8 meters,

dive to a depth of 10 meters, and,

capable to handle a cold weather of up to -10 °C,
… while retaining all its technical capabilities.
Without a doubt:
Being able to work in difficult conditions is a distinctive feature of the Coolpix W100.
An important note:
Even though this camera is waterproof, here is what you need to know.
When you turn on the camera, on the screen you will see "waterproofing precautions" greeting.
Basically, it will guide you through that water doesn't get into the camera when you're using it underwater or during bad weather.
Battery compartment requires a two-step unlock process so that you don't accidentally open it underwater, or when anything else that may get inside your battery compartment.
So…
Make sure to follow the guidelines closely to avoid any issues while shooting under the water!
Anyway…
Coolpix W100 is a family camera which implies the ease and convenience of management by any family member, including a child.
I mean it literally has children's and adult menu.
The children's menu allows your kids to take pictures in a game manner, with animated characters on the screen, and they can put colorful stamps on already-taken shots.
How cool is that?
There are different colors available of the body of this camera. The most original is with a bright drawing of marine subjects on a white background.
For kid photographers additional accessories are available:
designer backpacks,

and a floating camera strap.
---
---
How about image quality?
Just because there are cheap options, no one wants to have bad image quality.
I understand that.
And I will say this:
The image quality of the Nikon Coolpix W100 is quite decent for its price category.
It is equipped with:
3x Optical Zoom/6x Dynamic Fine Zoom,

and a CMOS sensor with a resolution of 13.2 million pixels.
In other words, this is quite enough to adequately capture the vacation or any other important event in your life.
I think Chris' video-review will help you understand the camera better:
Other features include:
Shooting in Full HD format with stereo sound is a definite plus of this camera!
Also, this camera has an HDMI output, which means you can view your images and videos on the big screen.
However, Nikon's SnapBridge App provides a better opportunity.
With this application, available for Android and iOS devices, your camera automatically syncs with various mobile devices. Wi-Fi connection allows you to view pictures and manage the camera in real time.
Very convenient!
---
Nikon W100 Is A Great Family Vacation Camera
---
As I mentioned earlier, this camera costs less than $200 and obviously you shouldn't expect the level of quality as if you were to take photos with a DSLR.
Instead, this camera is used in situations where other cameras give up.
Moreover it's best to use as a family camera on vacation with your children.
Your kids will definitely enjoy the children's menu available on Nikon W100 and you will never have to worry to get it broken.
For those of you who often go on vacation as a family and prefer adrenaline-filled trips, this camera is gorgeous.

---
Cheap Point-and-Shoot Camera for Holiday Photos
---
Canon SX610 HS
Quick Specs:
Type: Compact camera
Weight: 191 g
Sensor Type: BSI-CMOS
Lens: Canon Zoom 18x
Autofocus: Contrast Detect 
ISO sensitivity: Auto, ISO 80-3200
Best For: Holiday photos
Price Tag: Under $250 (subject to change)
---
Canon PowerShot SX610 HS is one of the best Canon compact digital cameras overall.
You have an excellent opportunity to diversify your blog or social media page with beautiful pictures taken during your vacation time.
This Canon baby is a good everyday companion.
Being a pocket size with a weight of less than 200 grams, it definitely will not weigh you down.
Now…
Despite its small size and weight, the camera has everything you need for everyday shooting:
18x zoom with stabilization, and

a focal length range of 25-450mm,
…is suitable for both landscape and subject photography.
Surprisingly, it has a decent autofocus at any focal length.
The ZoomPlus function enhances the zoom capability by twice as much, without serious loss in image quality.
It gets better:
PowerShot SX610 HS has an optical image stabilizer, which promises less blurry images made in low-light conditions.
(This is important for a lens with a large zoom level.)
This camera both fully auto and program mode of operation. In addition to automatic and program modes, the camera menu has a hybrid auto mode and a creative shot mode.
Hybrid Auto Mode:
In the hybrid mode, photography produces small video clips, which are then automatically pasted into one large video clip. And at the end of the day, in addition to photos, you can see an interesting video digest of your adventures.
Creative Shot Mode:
In the creative auto mode, after pressing the shutter, the camera automatically selects and applies special creative filters to the finished image.
Here's how to switch shooting modes.
Bottom line:
Both of these modes will appeal to creative photographers, who like creating extraordinary photos and videos.
The shots that you took can later be viewed on a smartphone or a tablet, which then can be downloaded online or stored in the internal memory of the device using Wi-Fi and NFC.
And if you install the Canon Camera Connect application on your gadget, you can also remotely control the camera.
Pretty great, no?
---
Great Point-and-Shoot Camera Under $250
---
Canon PowerShot SX610 HS has a lot of great features to share despite it being around the $200 price tag.
I will say more:
This Canon camera is a kind of Swiss knife in the world of cameras for a price not more expensive than a cheap smartphone.

---
The Best Action Camera for Vacation in 2019 
---
GoPro HERO6
Type: Action camera
Weight: 117 g
Sensor: BSI-CMOS
ISO sensitivity: ISO100-6400
Durability: Waterproof
Best For: Action travel/adrenaline junkies
Price Tag: Under $500 (subject to change)
---
Into 3rd quarter of 2017, GoPro surprised us by releasing a good action camera.
I think this one might be something you won't regret spending money on.
First of all, the main feature to point out is that it's waterproof (up to 10m) without needing to add an external monitor.
Along with the camera, GoPro has released several new attachments.
One of them is "Shorty" which is a sleek and portable mini-extension pole and tripod, ideal for all your on-the-go activities.
If you were off to some Caribbean island for vacation, you will definitely want to take a beautiful selfie underwater!
I know I would.
The good thing is that GoPro company learned their lessons from previous camera releases and improved many things that can be seen in Hero6.
For example, the video quality has improved:
greater dynamic range, and,

less noise when shooting in the dark.
(This is due to its new GP1 processor.)
By the way, my advice would be to use ISO 1600 if you want to avoid too much noise in low-light conditions.
Anyway, this GP1 processor is able to analyze information from the built-in GPS sensor, accelerometer, gyroscopic camera stabilizer and microphones.
Then, it uses this information to help the Quik application create a video content without user intervention.
In terms of its image stabilization it's better than that of Hero5 but you can't still compare it to OIS (optical image stabilization).
What about sound?
The sound is rather average.
There is a RAW sound recording mode, in which a separate wav track is created.
In practice, the quality doesn't undergo any significant changes. Also, in the settings you can turn on software protection from the wind.
Here's Jake's great hands-on test and first impressions of Hero6:
This baby will appeal both to:
amateurs, who want to capture their awesome moments on vacation, and,

serious videographers, for whom it is important to get the best video quality in action.
Now…
Unfortunately you won't be able to save on this camera.
As of today GoPro Hero6 is the most expensive action camera on the market.
(Definitely under the $500 price tag, though).
Is it worth buying still?
Yes.
But if you still need a cheaper alternative, consider Hero5 instead.
---
Waterproof Action Camera for Adrenalin Lovers
---
At first glance, the updated flagship GoPro HERO6 looks like a technical upgrade of its predecessor.
In reality, the sensations of its use are radically different.
What I mean is that thanks to the new stuffing and the powerful GP1 processor, the comfort of using HERO6 Black can be compared to full-frame DSLRs.
One of the main innovations is the mobile application QuikStories for fast editing and processing of clips.
With it the publication of your adventures becomes a matter of minutes.

---
Best Compact Camera for Vacation/Travel 2019
---

Sony DSC-RX100 V
Type: Large sensor compact camera
Weight: 299g
Sensor: BSI-CMOS
ISO: Auto, 125-12800
Best For: Vacation/travel photography
Price Tag: Under $1,000 (subject to change)
---
Look:
This baby, Sony DSC-RX100 V, weighs less than 300 grams, including batteries and a memory card.
But its capabilities are amazing!
This Sony falls into the segment of large sensor compact cameras (that has a 1-inch sensor and 20MP resolution).
It also has an outstanding 24-70 mm f/1.8-2.8 lens.
What does that mean?
This means that you get great image quality.
You'll have an easier time taking photos in low-light conditions and have a nice bokeh (blurry background).
(Here's the full list of the top rated large sensor compacts right now.)
Anyway…
Despite its rather small body, it is comfortable to hold this camera, and have all the necessary settings at hand. Convenient to shoot both in auto and manual modes.
As you can see, Sony DSC-RX100 V has 3-inch tilting LCD.
It'll certainly help with high-angle and low-angle shots.
Now…
Given its flip screen and powerful photo and video capabilities, Sony RX100 V is an excellent choice not only for selfie lovers, but also for vloggers.
A video recording in 4K format with a frequency of up to 30 frames per second is available.
(There are also high-speed shooting modes, which record at a frequency of up to 1000 frames per second. This allows you to make a very slow motion video.)
Last but not least:
Battery can be charged via the micro-USB port (including the power bank). This way you won't need to take a separate charger for your vacation.
---
Sony's Best Pocketable Digital Camera for Travel
---
Sony RX100 V has a high-quality sensor, the most modern focusing system, a high burst rate and outstanding video capabilities.
Not bad for a pocket-size camera!
(Probably best NOT to choose this camera if you are on vacation with the little kids though).
The main disadvantage is the high price.
But be sure that this camera will NOT disappoint.

---
DSLR Cameras to Take on Vacation
---
There are some advantages to taking a DSLR camera instead of a simple point-and-shoot camera.
What are those?
In a nutshell, DSLRs have a better sensor, a faster processor, and have a higher burst rate, which is important, for example, when shooting high waves from the beach.
Finally, it is impossible not to mention the quality of color rendition of DSLRs vs those of point-and-shooters.
That's why I decided to include them in this list.
So let's have a look at the first option.
---
Canon PowerShot G3 X
Type: SLR-like (bridge) camera
Weight: 733g
Sensor: BSI-CMOS
ISO: Auto, 125-12800 (expands to 25600)
Category: Waterproof camera to travel with
Price Tag: Under $900 (subject to change)
---
Even though this category says SLR cameras, Canon PowerShot G3 X really is a bridge (SLR-like) camera.
Look:
Small cameras with a sensor that can provide high quality images are trendy today. The optimal sensor size is 1 inch, which is much more than those of smartphones and simple compacts.
An advanced G3 X has that kind of sensor.
The resolution is 20.9 megapixels and the images are processed by a modern DIGIC 6 processor. These two together provide an ISO sensitivity in the range of 125-12,800 ISO units.
Thanks to its capabilities and convenience of control, this bridge camera can compete with serious bulky DSLRs.
It has both auto-modes and classic semi-automatic and manual modes, the parameters in which it is easy to adjust due to well-thought-out ergonomics.
There is also a convenient dial of exposure correction, with which you can easily make the frame brighter or darker.
Now…
There are a few reasons why I would mention this Canon as one of the best ones for vacation.
It's lightweight (733 g).

With a fully charged battery, you can make about 415 photos.

Dust and moisture protected, which increases its reliability when shooting on a trip.
Generally speaking, the only limitation with compact cameras is the lack of its ability to change lenses.
However, you shouldn't worry about that with Canon PowerShot G3 X.
It is initially equipped with an excellent 24-600 mm lens.
(You can easily shoot landscapes with a wide viewing angle).
Since it has 25x zoom, this mean you can also take images of very distant objects. For mirrorless and DSLRs it's a dream.
And guess what?
In the case of Canon G3 X, this dream camera is small enough to fit in the palm of your hand.
Since we mentioned zoom here, it's also important to mention that this camera's does have an image stabilization built-in.
In case you don't know, stabilizer will insure the photographer from blurry pictures, which is especially useful when shooting at a large zoom and in low light conditions.
As you can see from the image above, Canon G3X has a tilting touch screen.
(Selfie lovers and vloggers will also appreciate the flip up screen.)
Besides that thanks to the Multitouch function, you can zoom in and flip through images, like on a smartphone.
Just like with many modern cameras, G3X is equipped with Wi-Fi and NFC modules, thanks to which you can transfer photos to your smartphone and immediately post them on Instagram.
(Some people use it for travel blogging.)
---
Thoughts: An AWESOME Camera for Vacation!
---
Truth is:
Quality APS-C mirrorless (hybrid) cameras get cheaper, but the "advanced" compact ultra-zoom cameras don't.
That is, the solution itself in the form of Canon G3X is relatively expensive and bulky compared to the usual point-and-shoot camera sizes, but it is completely universal and self-sufficient.
So…
As a travel zoom, I'd say the Canon PowerShot G3X is a great choice.


---
DSLR Cameras for Travel & Vacation Photos
---

Canon EOS Rebel T6i
Type: Compact SLR
Weight: 555 g
Sensor: CMOS
ISO: Auto, 100-12800 (expandable to 25600)
Best For: Many situations/genres
Price Tag: Under $900 with the lens (subject to change)
---
T6i is a great choice for many photography genres. (I have a detailed review here.) 
And it will be good for vacation pics too.
Truth is:
Since the release of the Canon EOS Rebel T2i (EOS 550D) and up to EOS Rebel T5i (700D), there weren't any serious innovations in this camera line. The DSLRs kept inheriting the same sensor and the same AF sensor.
But finally, Canon fans saw an upgrade with the entry level SLR camera EOS Rebel T6i (or EOS 750D outside of the US).
The updated CMOS sensor has a 24 MP resolution. Together with the new sensor works DIGIC 6 processor.
A word on processor:
Even though DIGIC 6 may be well-familiar to photographers from the professional camera models, it was installed in the entry-level DSLR camera for the very first time.
This processor provides good picture clarity and minimizes noise even at high ISO values.
For example:
Images at 6400 ISO are of very good quality. Not over-saturated with noise, eating up the detail.
(I don't advise to go above ISO 6400 unless there is absolutely no other way and pictures will be stored only in your personal album).
With the right sports photography lens, Canon T6i is a great low-end camera for sports photography.
But even greater improvements have been made to the phase detection autofocus used for shooting through the viewfinder.
Instead of the 9 autofocus points that have become accustomed to the amateur camera series, in this camera we will use 19 of them.
All points are cross type and they cover a large area of the frame.
This means that when shooting, you can manually select not only individual points, but entire groups.
In the past, only a camera of Canon EOS 70D level could boast about such autofocus.
Other things you will like about this camera are tilting LCD and the camera having Wi-Fi and NFC to perform remote shooting with your smartphone, as well as transfer the images to your phone.
Here's the deal:
Canon EOS Rebel T6i (EOS 750D) has received a lot of improvements in comparison with its predecessor, which makes it a very tasty purchase.
The camera will be an excellent choice for a beginner photographer.

It will be a great camera not only on vacation.

If you want to

improve your photography skills while on a trip

, T6i is the one to choose.
What else can you ask for?
---
Canon T6i: Perhaps the Best DSLR for Travel in 2019
---
In my opinion, Canon Rebel EOS T6i would be great on any trip of yours.
Such a workhorse with a bunch of advantages included…
the 24-megapixel sensor,

the tenacious autofocus,

and the availability of Wi-Fi and NFC modules, 
… all make the Rebel T6i a very good investment in your photographic future.

==> Read my full review of Canon Rebel T6i.

---
Best Compact DSLR for Travel 2019
---
Nikon D5500 + AF-S DX NIKKOR 18-140mm f/3.5-5.6G ED VR
Type: Compact SLR
Weight: 420g body only; 910g with the lens
Sensor: CMOS
ISO: Auto, 100 – 25600
Category: Best budget camera for travelling
Price: Under $1000 WITH 18-140mm f/3.5-5.6G lens (subject to change)
---
This section will offer a more compact and budget DSLR for travel purposes.
Specifically:
My recommendation here is Nikon D5500 with the 18-140mm f/3.5-5.6G ED lens which together will weigh about 910 grams.
Now, if you want a more compact version, then choose a less heavy lens.
For example, a noticeably more affordable lens is Nikon 18-55mm f/3.5-5.6G with a smaller zoom (see image below).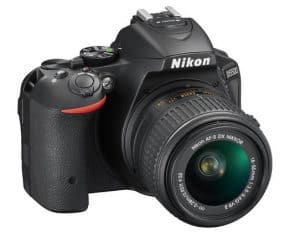 However, I believe Nikon D5500 with Nikon AF-S Nikkor 18-140mm f/3.5-5.6G ED VR lens is more impressive.
As how it's supposed to be with DSLRs, this model is equipped with a large APS-C sensor with a 24MP resolution.
The design of the sensor allowed to remove the low-pass filter, which means that the frames are clearer and even more detailed.
You can assemble your kit yourself, choosing the appropriate lenses and saving (buying a camera and lenses separately will be more expensive).
I will repeat myself:
In my opinion, the most versatile lens is the 18-140mm f/3.5-5.6G lens.


It has almost 8x zoom, which allows it to be used for:
landscape photography with a wide viewing angle,

taking images of images at a distance,

as well as for portrait photography.
The lens has a built-in image stabilization system, which will let you capture sharp still images.
Tilting touch-screen will definitely make your life easier, whether it is to shoot the video, navigating the menus or viewing the shots taken.
What I like about Nikon D550 is that it has all the necessary auto modes and scene programs.
The camera is easy to use, but at the same time it pushes the photographer to be creative and improve his/her photography skills.
Manual settings are easy to set up too thanks to smart ergonomics.
Another huge advantage is camera's long battery life. One fully charged battery will allow you to capture about 820 pictures!
---
Best Budget DSLR For Travel/Vacation Photos
---
Truth is:
For those who are new to photography, the Nikon D5500 will be a real godsend.
Accurate and confident work in auto mode will create high-quality images even in the hands of inexperienced amateurs.
The presence of built-in filters make it possible to process your images without using your computer.
It could be said that this camera is pretty universal.
It is equally suitable for most photographic genres, stably producing a quality picture.
In short, if you appreciate high-quality images and are not afraid of somewhat large-sized photography equipment, then the Nikon D5500 will be your faithful companion in any journey.
==> Read the full review here.

---
Best Mirrorless Camera for Travel 2019
---
Sony A6000
Type: Rangefinder-style mirrorless camera
Weight: 344 g
Sensor: CMOS
ISO: Auto, 100-25600 (51200 with Multi-Frame NR)
Category: Best budget mirrorless camera for vacation pics
Price Tag: Often under $500 with deals (subject to change*)
---
After a long "dialogue" with the camera, you'll realize that Sony A6000 is a mirrorless camera that is absolutely not inferior in functionality to most DSLRs on the market.
Seriously.
Being the representative of the family of cameras with 4D-focus (the standard of quality of autofocus at Sony), this model provides really fast and accurate focusing, including in tracking mode at a shooting speed of up to 11 frames per second.
Now…
Working with autofocus (in particular, with the choice of the focus area) is very different from other cameras: it implies a greater confidence in auto mode shooting.
However, give it some time.
After spending a few days mastering the camera, you'll start to feel free and comfortable: the auto mode forgives you your many mistakes, and allows you to shoot quickly without thinking too much.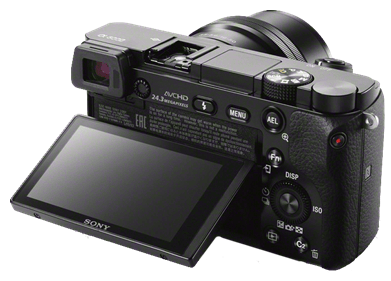 The quality of the images is high both at low and high ISO. You will have no problem shooting at ISO 3200 inclusive.
As for shooting static scenes, multi-frame noise reduction (NR) works great.
Like many other Sony Alpha cameras, the A6000 supports apps.
The apps significantly expand the functionality of the camera, for example, enable you to create photos and videos with interesting effects without using computer and complex processing.
Also, extremely convenient is the remote shooting using a smartphone. The application actually allows you to remotely change all the basic shooting parameters.
Anyway…
Here is a yet another awesome video-review done by Chris Nicholls:
Last thing.
Here are a few drawbacks of this model:
lack of a touch interface,

a pretty small screen,

and the absence of a separate charger in the kit.
(The battery can be charged only in the camera via USB or buy a charger).
Alternatively, you can consider newer version: the a6500.
---
Budget Mirrorless Cameras for Vacation in 2019
---
Just like with Nikon D5500, Sony A6000 is an excellent camera for an enthusiast photographer.
The functionality of this model, despite its extreme compactness, many times exceeds the capabilities of most cameras in this price range.
It's hard to imagine what the Sony A6000 could not do.
Seriously.


---
Use Your Smatphone/Tablet and A PopSockets
---
If you like to travel light and enjoy taking selfies, then this option is definitely for you.
And it will only cost you around 10 bucks!
In this section, I decided to mention something that you already have to take pictures on vacation.
Your smartphones.
But there is a game changer now – popSockets.
Usually, the problem with your phones is that when you are taking images, it's kind of shaky and feels like will fall out of your hands.
When you using a PopSockets, you will have a better grip using your one hand.
Another benefit of using a PopSockets is that it folds down, so whenever you put your phone in the pocket, people wouldn't even notice it.
Smartphones these days have image stabilization built-in and with the PopSockets, you can also walk around and create pretty awesome videos which can later be published on your Instagram or even YouTube channel.

---
What to Look for When Buying a Vacation Camera?
---
Now…
When you are looking for the best camera for vacation/trips (with kids), it is recommended that you pay attention to the following key parameters of the camera.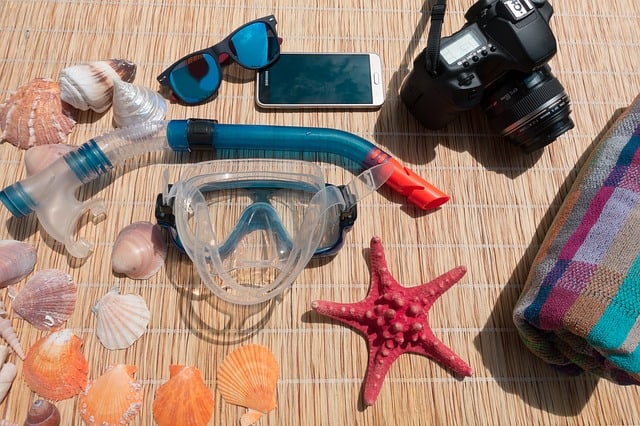 ---
1) Shockproof & Waterproof Capabilities:
---
You don't want your kids to accidentally break an expensive digital camera.
Sometimes, it's worth getting a cheap "family" camera.
---
2) Compactness:
---
Small size and weight allow you to carry your camera everywhere.
This is the case where size matters 😉
---
3) Good Image In Low-Light Conditions:
---
We will be shooting not only on the sunny beach, but also:
in the museum,

on excursions,

during night walks around the city,
… which means that you will have to have a large sensor.
---
4) Quality Kit Zoom Lens:
---
With a good zoom lens you can shoot portraits, landscapes, and distant objects.
---
5) Battery Life:
---
If you like excursions and spend a lot of time away from your vacation "home", then you need to consider having a long battery life.
(Or better yet, keep a spare battery handy.)
---
6) Tilting Screen:
---
It is especially convenient when shooting from non-standard camera angles.
For example, in situations when you need to keep the camera above your head or closer to the ground.
---
7) Viewfinder:
---
On any display it is difficult to see something under the midday sun of tropical islands.
And in the viewfinder you can see your images perfectly.
So…
These parameters are recommended to look for and you should always consider the vacation situations that you usually have before buying a camera.
(In fact, your smartphone/tablet might work just as well!)
---
DSLR vs Compact Cameras: 
The Pros And Cons
---
The Advantages of SLR Cameras on Vacation
---
Of course, an SLR camera shoots better than any point-and-shoot camera.
It's not even about the lens.
It's just that the SLR cameras have a better sensor, a faster processor for processing frames after the shooting, and has a better burst rate, which is important, for example, when shooting high waves from the beach.
With the SLR camera you can take decent pictures indoors without a flash and this quality will be quite enough for you to publish on your travel blog or Instagram.
It'll probably be hard to believe, but it's possible to charge your battery only once during your entire week or two of vacation. Well, depending on how often you shoot of course.
On the other hand, the screen is not used during shooting, the picture is caught through the viewfinder, and this is a tremendous saving of energy.
Finally, it is impossible not to mention the quality of color rendition of DSLRs vs those of point-and-shooters.
After all, your vacation is all sunny and bright.
The sea, the mountains, palm trees and flowers – you will want to capture the natural beauty of life immediately.
And the higher the quality, the better!
---
The Disadvantages of DSLRs on Vacation
---
One of the disadvantages is that you will constantly have to carry your camera with you.
If you are enjoying your vacation in some resort place, it won't be safe to leave it in a hotel room.
Not only will you have to carry it with you everywhere but you will also have to take it out of camera bad and put it back in.
Finally, in order to get a quality image you have to shoot in manual mode, adjusting the shooting parameters.
Now, imagine if you are on vacation with little kids, who require to be constantly watched.
This won't give you much time for adjustments.
In this situation, for vacation trips it's probably wise to get a point-and-shoot camera that may not be too cheap but compact enough to fit your pocket.
---
The Advantages of Compact Cameras on Vacation
---
Any compact camera is way smaller and lighter and will allow you to take more photos overall. You won't even need a camera because most of them are designed to fit your pocket.
Point-and-shooters only have auto mode that's why it will be more of a for fast "cowboy" shooting: took out and took a shot!
Of course, the quality of the images won't be super great but you are not capturing moments for commercial purposes.
In fact, if you are on vacation with the little kids, you won't simply manage to do your photography job properly.
And finally, if your camera ends up being broken or stolen, you'd be sorry less if it was a cheap point-and-shooter than if it was an expensive DSLR.
---
The Disadvantages of Compact Cameras on Vacation
---
What quality of images you can get with DSLRs, you won't get that quality with point-and-shooters.
See, digital compact cameras have less dynamic range of the sensor.
This means that one thing or the other on the images will be expressionless/less vivid.
Often types, the battery of such cameras can let you down when you least expect it.
---
Final Thoughts on DSLRs vs Compact Cameras
---
So…
If you are on vacation with the kids, having a compact camera will be more convenient, and you will be able to take more images, even if they are of lower quality.
However, if you see something amazingly beautiful, you will not have a decent image with a point-and-shoot camera.
For a good photographer this is almost unbearable.
That's what could be said about DSLR vs compact cameras on vacation.
Of course, you decide what camera you want to take. Ideally, you'd want to take both.
But then you will have the advantages and disadvantages of both types of cameras too. 🙂
Anyway, here's each camera in a nutshell:
9 Best Vacation Cameras Right Now (2019)
---
And if you are a beginner in the world of photography, I highly recommend you check out my top 10 list of the best entry-level cameras for 2019.
---
Over To You: Your Thoughts?
---
I hope you enjoyed this list of the best vacation cameras for 2019.
Now I want to hear from you:
What your favourite vacation camera to take on a trip/for holiday photos?

Which camera you liked most out of this list of the cameras for family vacation (with the kids)?
Do you have any questions, concerns and/or suggestions? 
Let me know in the comments below! 
---
Sharing is caring!
About Author
Zarina
Founder & content creator at Digital World Beauty. My main objective here is to create a valuable resource for photography enthusiasts with honest tech reviews, course recommendations, and how-to tutorials.