Please note: As an Amazon Associate I earn from qualifying purchases. I also work with other affiliate partners and may be compensated from the links below. Details here.
August 26, 2023
11 Best Cameras for Vacation Photos (2023)
---
What is the best camera for (family) vacation photos right now?
The truth is:
To many, choosing the right camera for vacation isn't easy. 
You may wonder what you should go with…
Cheap waterproof compacts? 

Action cameras? 

Perhaps small budget DSLRs?
(And of course, it's important that your final choice produces good quality images.)
So, my job here is to help you make an educated buying decision based on your budget and trip situation, with pros and cons of each product mentioned in this list.
Here's a table that'll give you a quick look of my top 11 roundup and the reasons to buy the product. For further details, simply click 'review>' in the respective row.
Created for travel photographers

Best mirrorless camera for travel

for photo & videographers

great in-body stabilization

Light, budget and vlogger-friendly

accurate & predictable AF

Best affordable vacation camera

good AF & color rendition

5-axis image stabilization

Best compact full frame camera

Best zoom camera for vacation photos

5-axis image stabilization

pretty affordable price tag

Best compact fixed lens camera today

incredible images & bokeh


Great large sensor compact for vacation photos

burst rate of up to 8.2 fps

great for everyday & travel

Best cheap & rugged option

Best action cam for adventurous photographers

dual screens (front & rear)

high quality photo & video
As you can see, when finding which cameras are best for family vacation/travel, there are plenty of products from various brands and categories.
(Heck, even the newest iPhone would be great for holiday photos!)
Now, if you wish to find a product that are more geared towards your children, we have other posts dedicated to that:
Without further ado, let's get started.
---
1. OM System OM-5
Top-Tier Mirrorless Camera for Travel Photos
Type:  SLR-style mirrorless | Weight: 414g (0.91 lb) | Resolution: 20MP | Sensor size: Micro four-thirds | LCD Screen:  Fully articulated, 3″| Touchscreen: Yes | Weather-sealed: Yes | ISO: Auto, 200-25600 up to 64-25600
Reasons to Buy
Handheld high-resolution mode

4K videos

The 5-axis in-body image stabilizer

Vertical videos

Easy to use

Weather-sealed with an IP53 rating

Hybrid AF system

10fps burst rate

Can be used as a webcam

Unlimited video recording

Lightweight, compact
Reasons to Avoid
Short battery life than counterparts

Uses the same menu from older Olympus models

Micro-USB charging

Lack of headphone jack
---
OM System OM-5 is produced by OM Digital Solutions.
This is the company that bought Olympus' imaging division. This is the second model they introduced to the market, but the OM-5 is the first to carry the new branding in its name.
This camera is so similar to its predecessor, the Olympus E-M5 III, except that it has newer technology installed within its body. Despite being small, it is packed with so much power for both stills and motion pictures. 
Plus…
It has interchangeable lenses for your specific needs. Finding the best suitable lens will not be a problem since there are several compatible lenses for this device in the market. 
Now, let's have a look at some of its best features! 
High-Resolution Mode
At first glance, you might not be awe-struck by this feature. But what sets it apart from other devices with great pixel count is that it makes optimal use of its IBIS to produce 50MP or 80MP images for you. 
Holding the camera with your hand, while this mode is enabled, will give you crisp and clear 50MP pictures, but if you put it on a tripod, you can render as much as 80MP without breaking a sweat. Both modes are available in either JPEG or RAW formats. 
Autofocus
Having an accurate and fast AF system isn't that much of a requirement for casual travel cameras. But if you're the type to take photos of your subject in a sea of crowds, you'll greatly benefit from this.
If you compare the AF system in OM-5 with the one in OM-1, you might notice the older premium model is faster. However, for a tiny camera like this one, it's got a pretty decent performance when it comes to autofocus.
It is equipped with the usual 121-point phase & contrast-detection feature that allows you to get sharp, crisp images. It also has face & eye detection that lets you track subjects easier.
Weather Sealing
When you look for travel cameras, it's important to choose one with great weather sealing, especially if you love outdoor activities. The OM-5 is rated IP53, which means you don't have to worry when bringing the gear to areas with harsh weather conditions – it's dust/splashproof.
Plus, it is freeze-proof up to -10C, so shooting in the winter season isn't that much of a problem.
Bottom Line
Having OM-5 in your bag during your travels will totally be handy. You can take a lot of great pictures without being too delicate on the gear since it was built rugged despite the posh look.
Although I have to remind you, it's a bit expensive for a travel camera. But if you want to transition from casual to serious photography, this will work for your best interests as well.
---
2. Fujifilm X-S10
Best Mid-range Vacation Camera for Beginners
Type:  SLR-style mirrorless | Weight: 465g (1.03 lb) | Resolution: 26MP | Sensor size: APS-C (23.5 x 15.6mm) | LCD Screen: Fully articulated, 3″ | Touchscreen: Yes | Weather-sealed: No | ISO: Auto, 160-12800 (up to 80-51200)
Reasons to Buy
Great in-body image stabilization

26MP resolution & superb image quality

Small, portable design

Fully articulated LCD

Excellent video capabilities

Decent price for its quality

Good ergonomics
Reasons to Avoid
Not weather-sealed

Short battery life

Limited 4K video recording time

The menu system can be overwhelming for beginners
---
For years, Fujifilm has proved to the photography community that they make some of the most great-looking cameras. Of course, they have a reputation for producing retro-inspired designs making the units stand out among rivals.
However, a lot of the younger-generation photographers are somehow looking for something different – something that doesn't have too overwhelming controls like the typical vintage equipment and Fujifilm heard them.
Instead of the typical manual control layout found in many of the brand's models, the X-S10 now has fewer manual controls, which some intermediate photographers are not happy about. But that's okay because this was intended for beginners.  
All in all, it's a pretty decent travel camera for hybrid shooters that doesn't break the bank.
Let's check some of its features.
Ergonomics
The first thing you'll definitely notice after unboxing the X-S10 is the grip. For small gears like this, you'd expect it to have a tiny grip that makes it so uncomfortable to hold, especially if you have large hands. But surprisingly, the company made sure not to make that a problem. 
If anything, it's one of the best features this model has, at the physical level. You won't have a hard time holding it with one hand. You'll have less time worrying about handling the camera. Instead, you have more moments to take wonderful photos. 
Perfect for Videography
Most mirrorless devices focus on providing superb image quality when taking stills. But it's a bit hard to find gears with an equally-good video capability. Fujifilm knows this and strived to give you the best of both worlds with the X-S10.
It supports 4K video format at 30fps, which is great for cameras of this price point. The downside though is that you are limited to 30 minutes per footage on this device, unlike the OM-5.
Plus, there are 18 film simulation modes you can play around with. This will spice up your recordings and let you be as creative as you want to be without too much sweat.
Ease of Use
Generally speaking, the X-S10 is fairly easy to use for beginners, with the lack of too many manual controls. You can easily pick it up then start shooting even if it's your first time using the gear.
IBIS
Having an in-body image stabilizer really does wonders for your photos. Even when doing handheld shots, camera shakes are nothing to worry about, especially if you set the exposure level to 1 or less.
Because of this, low-light performance is pretty decent. Using moderate ISO levels will still produce wonderful images with less digital noise.
Bottom Line
Fujifilm X-S10 is made with beginners in mind.
With that, the features are simpler than premium siblings like the X-T4 but still offer similar functionality. It's a nice gear to have for family vacations and casual photography.
---
3. Nikon Z FC
Best Mirrorless Camera for Travel Vloggers
Type:  SLR-style mirrorless | Weight: 445g (0.98 lb) | Resolution: 21MP | Sensor size: APS-C (23.5 x 15.7mm) | LCD Screen:  Fully articulated, 3″ | Touchscreen:  Yes | Weather-sealed: N/A | ISO: Auto, 100-51200 (expandable to 100-204800)
Reasons to Buy
Lightweight & compact

Visually pleasing design (Retro-inspired)

Great ISO dynamic range

Quick AF system

Great image quality

USB-C, Bluetooth connectivity

4K videos

11fps burst rate
Reasons to Avoid
The external casing materials are inferior to rivals

Lack of IBIS

No in-body flash

No grip
---
When you see retro-designed cameras, which brand do you usually think of? Fujifilm, right?
Well, Nikon also has a vintage-style camera that is not only good aesthetically speaking but also rather performs well in the field – the Z FC. 
This device is like a digital camera inside an analog body. Except for the digital imaging sensor and EVF, you'll find the Z FC more similar to old film cameras. If you're into classics, this is one of the best choices in the market.
Let's check out some more features you'll probably love about this one. 
Fully articulated screen
One of the many reasons why bloggers prefer this mirrorless gear is the presence of a fully articulated screen. If you often travel alone, or you are just fond of recording self-videos, then you would benefit from having a screen that shows you exactly how you project on camera. 
You can easily use the screen to compose the shot/or properly position yourself in the frame so that you get a shot of yourself. 
USB-C Port
A minor, yet very useful feature of the Z FC is the inclusion of a USB-C port. In this day and age, charging ports are often offered in type C. This makes it easier for you to connect the camera to other gadgets with the same port.
Not only will this be used for charging purposes, but it can also be used for powering the gear. If you are planning to record lengthy timelapse footage, your best bet is to keep the camera plugged into a wall socket via the USB-C port so you have a seamless video. 
Or, you may even use the normal phone power banks to charge the Z FC on the go. 
Subject Tracking
The Nikon Z FC was made for street & travel photography. That's why the company was very eager to put emphasis on subject tracking. They included an Eye Detection and Animal Detection AF mode. That's not only for photos but for videos as well. 
This makes it possible for you to lock the camera's focus to the eyes of your subject, making it easier to follow them through the crowd on the streets. If you'd like to chill in nature and capture some wildlife photos too, then you'd be happy with the Animal Detection feature, that's for sure. 
Bottom Line
Nikon Z Fc mirrorless might just become your go-to travel camera (whether active or beach vacation with family and kids).
With its small size plus great functionality, you don't have to worry about bringing too much stuff and missing a moment. You can easily fit it inside a small bag, or carry it around effortlessly. 
Plus, the design is very unique and posh, making it a perfect accessory to complete your style.
Without a doubt, Z Fc is one of the best mirrorless Nikon cameras today.
---
4. Olympus OM-D E-M10 IV
Best Affordable Mirrorless Camera for Vacation
Type:  SLR-style mirrorless | Weight: 383g (0.84 lb) | Resolution: 20MP | Sensor size: Micro four Thirds (17.4 x 13mm) | LCD Screen: Tilting, 3″ | Touchscreen: Yes | Weather-sealed: No | ISO: Auto, 200-25600 (expandable to 100-25600)
Reasons to Buy
4K videos

Compact & lightweight

20MP resolution

5-axis image stabilization

Comes with an in-body flash

Good autofocus performance
Reasons to Avoid
Battery life needs improvement

The menu system can be confusing

Lack of external mic jack

Not weather sealed
---
Olympus is known for producing good-quality and robust build cameras – Olympus OM-D E-M10 IV being one of them. This was launched in 2020, so not too long ago.
Many people find this device a good value for money despite having newer models in the market. 
A stylish, compact-looking mirrorless device packed with so much power combined with functionality, the Olympus OM-D E-M10 IV boasts several features that any beginner or casual shooter would love. Let's check out some of them below. 
Ergonomics
At first glance, it's easy to conclude that this would feel awkward in the hands, especially for those with large hands. But the truth is that OM-D E-M10 IV generally feels good, despite its small nature. 
Even with its tiny size, it still comes with a really well-designed grip, making it easier for you to hold the camera in one hand. This now allows you to do a one-handed operation without dropping the gear.
Autofocus System
Compared to its predecessors, the Olympus OM-D E-M1o IV now has a better-functioning AF system. It offers fast shooting speeds that will make you capture the moment when it happens.
We all know how many spontaneous things happen when traveling right? One moment everything looks mundane, and the next second, everything looks magical. So a fast AF system will help you put that in the frame without missing anything.
This is also the reason why a lot of serious photographers love the OM-D E-M10 IV even if it's branded as entry-level gear. 
Tilting Screen
Taking photos at eye level is okay, but most often than not, the resulting images will look ordinary. If you want to spice up your casual photography game or want to experiment with angles, a tilting screen will certainly help.
You can easily position the camera at odd angles while still being able to see the shots on the rear tilting screen. This is perfect for beginners and serious creatives alike. 
Bottom Line
Olympus OM-D E-M10 IV might not be a perfect camera, but it definitely does its job well. Made specifically for street & travel photography, you can have fun with this device while on vacation. You get amazing photos without needing to bring heavy pro-grade DSLRs.
---
5. Sony A7C
Best Full Frame Compact Camera for Travel
Type: Rangefinder-style mirrorless  | Weight: 509g (1.12 lb) | Resolution: 24MP | Sensor size: Full frame (35.6 x 23.8mm) | LCD Screen: Fully articulated, 3″ | Touchscreen: Yes | Weather-sealed: Yes | ISO: Auto, 100-51200 (expandable to 50-204800)
Reasons to Buy
Super compact body

Excellent AF system & low-light performance

Accessibility to several lenses

Long battery life

Gyro Data Stabilization

Excellent image quality

No overheating issues
Reasons to Avoid
Limited touchscreen functionality

Might be a little small for people with large hands

Doesn't support in-body RAW processing
---
Over the years, Sony has produced several high-end photography equipments targeting serious and professional photographers.
But with the A7C, the price point has significantly dropped as it designed the model with enthusiasts in mind. 
Let's have a quick look at some of its main selling points. 
Size & Style
The first thing you'll notice when you look at the Sony A7C is definitely its size. For a rangefinder-style device plus with a full-frame sensor, you'd probably think it's too small and there's a tendency to underestimate the capabilities of the gear. 
But, despite the tiny appearance, it's a powerful tool that can capture shots like most bulkier counterparts. 
The A7C is very easy to carry around, you'll not have a problem doing handheld shots for a long period because it's significantly lighter compared to bulky DSLRs. 
No Video Recording Limit
One of the best things about the A7C that is missing in other devices in this class is the video recording limit. If you mainly use this for videography, then you don't have to worry about time limits in videos.
You can continuously record motion pictures for as long as you want and for as long as your SD card permits. 
If you've been a fan of Sony for a while now, you'll know that predecessor cameras have had overheating issues when shooting lengthy videos. But with the A7C, that's no longer an issue. Even if you seamlessly shoot for an hour under warm weather conditions, your device will not overheat.
Customizable AF System
This is one of the most amazing things you can find in Sony cameras, particularly most of the A series product line. With the A7C, you now have more control over the AF system. 
You can pick how fast or how slow the focus should be. There are several focusing modes you can choose from. If you are not familiar with each of these modes, you can play around a bit and see the difference in each of the shots you make. 
Bottom Line
The Sony A7C may be an entry-level camera, but it borrows a lot of great features from its high-end siblings, and even from the A7 III. It doesn't only target still photographers, but also those who are into videography.
It's a nice choice for a travel vlog/photo session. And if you plan beach vacation trips, the compact body comes in handy too.
Plus the articulating screen makes it so much easier to compose photos at odd angles, especially vertical ones for IG or social media posts. It's the go-to gear for newer-generation photographers.
---
6. Panasonic Lumix ZS200/TZ200
Best Zoom Camera for Vacation Photos
Type: Large sensor compact  | Weight: 340g (0.75 lb) | Resolution: 20MP | Sensor size: 1″ (13.2 x 8.8mm) | LCD Screen: Fixed, 3″ | Touchscreen: Yes | Weather-sealed: No  | ISO: Auto, 125-12800 (up to 80-25600)
Reasons to Buy
4K videos

Supports RAW format

5-axis image stabilization

WiFi + Bluetooth connectivity

20MP resolution for stills

Excellent battery life

Remote control via a smartphone

Superb zoom capabilities for its class

Price tag under $1000
Reasons to Avoid
Fixed LCD screen

No weather sealing

Small EVF
---
Panasonic Lumix ZS200/TZ200 was launched in 2018. Despite the camera being 5 years in the market, many beginner travel photographers still choose this one. 
This is the only one in the segment of large sensor compact cameras with the longest zoom capabilities – 15x optical zoom. You can easily take shots of faraway subjects without getting too close.
It's great and all, but you should expect a trade-off between speed and the added range. The lens is much slower, but if you are just looking for a fun camera to play around with during travels, you won't really notice that much of a difference.
Let's now talk about some of its features.
Zoom Range
As mentioned earlier, Lumix ZS200 has a 15x optical zoom lens. This falls short in comparison to the 40x zoom range of the Canon SX520 HSbut you have to take note that the ZS200 is a 1″ large sensor compact. 
This is 5x longer than the predecessor ZS100, and take note that both are almost the same in size (physically). 
The added range gives you more room to photograph distant subjects without losing too many details in the frame. Despite having that amount of zoom, your images will still be crisp and sharp – thanks to its large sensor. 
4K Photos & Videos
Having 4K video resolution in a compact in this day and age is no surprise at all. Even some of the most basic beginner cameras already support this format. 
But what's so amazing about the ZS200 is that it also lets you shoot in 4K.
This is four times better than the usual 1080p format you are accustomed to, especially in high-end smartphones. When viewing the images on a large monitor, you will still see lots of details and the images turn out to be sharper than the UHD (1080p) format. 
Auto Modes
Beginners are often turned off with overwhelming manual controls/settings on a camera, and that's understandable. With the ZS200, that's not so much of an issue.
There are various Auto modes wherein you get to choose default settings based on your preferences (tone, color, AWB, etc.). This will help you find the best effect for your shots without diving too much into technicalities. 
There are also several built-in filters so you can create more drama with your shots. That's an effortless way to skip hours of post-processing!
Bottom Line
The Panasonic Lumix ZS200/TZ200 is a pretty decent camera for vacations. It is easy to use, fun to play with, and very handy/portable as well. 
On top of that, it can also be controlled remotely through a smartphone, so taking selfies wouldn't be a problem. Of course, it has a long battery life compared to rivals, so you'll definitely have more time to enjoy it during your travels. 
---
7. Fujifilm X100V
A Great Compact Travel Companion
Type:  Large sensor compact | Weight: 478g (1.05 lb) | Resolution: 26MP | Sensor size: APS-C (23.5 x 15.6mm) | LCD Screen: Tilting, 3″ | Touchscreen: Yes | Weather-sealed: Yes | ISO: Auto, 160-12800 (80-51200)
Reasons to Buy
Great color rendition & AF system

Excellent video quality

Easy to use, beginner-friendly

Choosing focus points using the touchscreen

Creative film simulations

Supports RAW format

Excellent build, premium materials
Reasons to Avoid
Premium price tag

Inferior performance in low light

No IBIS

Poor battery life
---
This is the second Fujifilm camera on our list.
This is because this brand is a major player when it comes to cameras for street & travel photography.  
Apart from its functionality and awesome features, a lot of photographers are drawn to the X100V compact mirrorless. It has a simple yet posh design that makes it stand out among modern-themed devices. 
This model borrows most of its features from the flagship units X-Pro3  and X-T3, which are the brand's high-end cameras. So it's a compact filled with premium specs. Let's take a look at some of them below.
Premium Build
The materials used for the outer shell of the X100V look and feel premium. The top and bottom portion of the device is made of aluminum. This is a step up from the usual magnesium body used in most cameras. 
In addition to that, the X100V is weather-sealed, making it more robust & outdoor-ready. But, the lens doesn't have weather sealing, though. But you can attach a filter adapter ring and use an external filter for that purpose. 
ND Filter
If you're not familiar with what an ND filter is, just think of it as your gear's "sunglasses". With this feature, you will be able to shoot photos that are not overexposed even if you take them under harsh lighting conditions. This is perfect when using the camera during the daytime, outdoors. A perfect tool for travel photos. 
Ease of Use
Of all the things you need to consider when buying a beginner's camera, this is probably one that tops the list (all technicalities aside). Having a device that's easy to use would save you so much time. This is true especially if you just want to take casual photos. 
Luckily, rookies are the target market for this gear, so the interface and the user menu are pretty straightforward. You can pick it up then shoot right away without thinking too much about manual settings. 
Don't get me wrong. You can customize the settings all you want, but if you don't want to, it can still produce decent images for your vacation. 
Bottom Line
Fujifilm X100V is a great camera for beginners if you consider the ease of use. However, it comes with a hefty price tag which often turns off newbies. 
Although it was marketed as an entry-level camera, the price tag plus advanced features very well likely serve serious and intermediate-level photographers as well. 
But overall, it's a pretty decent and reliable device to bring in the bag for travel and vacation photos.
---
8. Canon Powershot G9 X Mark II
Best Affordable Vacation Camera
Type: Compact | Weight: 206g (0.45 lb) | Resolution: 20MP | Sensor size: 1″ (13.2 x 8.8mm) | LCD Screen: Fixed, 3″ | Touchscreen: Yes | Weather-sealed: No | ISO: Auto, 125-12800
Reasons to Buy
Great image quality

Very compact, lightweight

Touchscreen

DIGIC 7 processor

Comes with an ND filter

No lags on start-up

Color rendition is excellent

WiFi + NFC equipped

Costs under $1000
Reasons to Avoid
Not weather sealed

No 4K video recording

Limited zoom range

Fixed LCD screen

Poor battery life
---
The Canon Powershot G9 X Mark II was announced in January 2017. Even 6 years after it was launched, it still remains a top pick among beginners and enthusiasts, when talking about compacts. 
Equipped with a 1″-inch sensor, you are bound to get amazing photos even in low-lighting conditions.
A regular point-and-shooter wouldn't be able to achieve the same results because of the limitations on both imaging sensors and optics. 
Here are some of the other features you might love about the Canon Powershot G9 X Mark II.
Appearance & Design
This device comes in two variations – black and silver. The black one looks like your typical digital camera, but the silver one has a brown accent which makes it look really classy.
With its ultra-compact design + slim body, it's a perfect device to carry around everywhere you go for casual shooting. You can easily slip it inside a jacket pocket, or simply hold it in your hands and you won't even feel its weight (only 206g). 
DIGIC 7 Processor
This may not be the latest image processor by Canon, but it's definitely one that gives their point and shooters the additional power to produce excellent-quality photos. Introduced first on the G7 X Mark II, the newer model G9 X Mark II uses the same highly functional chip to obtain crisp and sharp pictures. 
Because of this, the device also boasts a faster AF system and burst rates of 8fps, a significantly higher speed compared to point-and-shooters of this class. 
Connectivity
In today's digital era, many people would want to instantaneously upload photos to share moments with loved ones even if they weren't physically together during travels. 
The good thing about Canon Powershot G9 X Mark II is that it is equipped with WiFi that allows you to seamlessly transfer and upload files directly to websites or other devices. This makes it so much easier to connect with others online. 
Bottom Line
If your mobile phone's camera isn't one that can produce decent photos or if its quality is not up to your liking or if you're looking for a compact device for vacation, then the Canon Powershot G9 X Mark II is an excellent choice for you. 
This device takes wonderful photos, even in RAW format, so you don't need too much post-processing stuff to do. Plus, it's very easy to use and has beginner-friendly controls/menus. 
Though it is more expensive than ordinary point-and-shooter, it's still a good-value-for-money choice given the powerful features it has in its tiny body.
---
9. Olympus TG-6
Best Waterproof Travel Camera
Type: Compact  | Weight: 253g (0.56 lb) | Resolution: 12MP | Sensor size: 1/2.3″ (6.17 x 4.55mm) | LCD Screen: Fixed, 3″ | Touchscreen: No | Weather-sealed: Yes | ISO: Auto, 100-12800
Reasons to Buy
Waterproof

Robust, tough build

4K video resolution

Macro/microscope mode

WiFi connectivity

RAW format supported
Reasons to Avoid
Inferior low-light performance

High-end smartphones can take better-quality photos

The rear screen easily gets scratched

The menu can be overwhelming
---
Olympus Tough TG-6 is among the few rigid waterproof cameras that can go underwater without an external casing.
It was made specifically for water adventures, and if you're planning to do one for your travels, this might just be the best compact for you. 
Let's have a peek at some of the best features it has to offer. 
Tough & Rugged Build
If you're living a very active lifestyle and often do extreme adventures, both in water and on land, and you're looking for a piece of photography equipment to keep up with that, the TG-6 is a good option to consider. 
It is freezeproof, crushproof, and you can even drop it without worrying too much about significant damage.
As mentioned earlier, it can go underwater, up to 50ft without housing (but pros still recommend using an external case/housing if you plan on going deeper or have it at max depth). 
This is perfect for those of you who wish to take fun photos of the underwater world. 
Macro Mode
Ever wondered how many divers seem to capture photos of sea creatures up close? Well, that's all thanks to a feature called "macro". Olympus Tough TG-6 has a dedicated macro mode that will help you take really close images of animals, making it a more fun camera to bring during travels. 
You can stay as close as 1cm to the subject, and the lens will be able to focus on it as long as you have this mode turned on. Most smartphones don't have this feature, that's why a lot of people still look for gears like TG-6 for this purpose. 
4K Video Recording
It's not a surprise for cameras launched in the 21st century to have 4K recording capabilities. However, some devices have mediocre outputs for 4K footages. But with the Tough TG-6, the video results in 4K are good, especially in proper lighting conditions. 
This gear can take 4K videos at 30 fps, but if you want a higher frame rate of 60 fps, you can go for the 1080p format, which is also decent. 
Bottom Line
Olympus tough TG-6 is a robust camera you can definitely take anywhere – underwater or on land. With its various advanced features and rugged build, you can have the most fun out of your travels not having to worry about delicate photography equipment whatsoever.
Although many mobile phones can take better stills than the TG-6, you cannot discount the fact that this gear was made to survive even the harshest weather condition and tough handling. This is something the average smartphone cannot compete with.
---
10. GoPro Hero 11 Black
Best Action Camera for Vacation
Type:  Action Camera | Weight: 154g | Resolution: 27MP | Sensor size: 1/1.9″ CMOS | LCD Screen: Rear Fixed, 2.27″ (Front Fixed, 1.4″) | Touchscreen: Yes | Weather-sealed: Yes 
Reasons to Buy
Extremely portable large sensor compact

Excellent image quality

5.3K @ 60 Ultra HD Video

Good battery life

Simple user interface

Robust build

Connectivity and accessibility
Reasons to Avoid
Videos in low light are average

Expensive

Lack of optical zoom

Manual settings are too limited
---
GoPro is the leading brand for action cameras, and all for good reasons. They produce high-quality rigid tiny gears that could take photos and videos really well. 
It's a crowd favorite not only because of its size but also because of its ability to capture fast-paced moments without missing a beat. But, not only adventure-seekers are eyeing the GoPro Hero 11.
Even casual shooters or those planning to go on vacations prefer this over bigger compacts and mirrorless devices, and we can all see why that's the case. 
Let's find out more about this little photography gear below. 
Sensor Size and Resolution
The latest Hero model now has an 8:7 sensor. Although a bit unusual aspect ratio, it provides a much bigger room for you to crop photos without losing too many details. Actually, the people who would benefit most from this new aspect ratio are vloggers and influencers. 
Not only that…
Hero 11 also boasts a max still resolution of 27MP, something way better than your average smartphone. This means crisper and sharper photos for you and your family. 
HyperSmooth 5.0
The brand has been marketing GoPros not only as an action camera lately, but also as your casual beginner-friendly gear. But, we can't deny the fact that its primary purpose is to serve those people with the need for speed. 
However, with speed and fast-paced action also comes lots of camera shakes. It's a good thing there's an in-body image stabilizer in this little device – the HyperSmooth 5.0. 
It helps reduce shakes and unnecessary movements, making your videos and stills more steady than ever. Even if you run across the room holding your GoPro Hero 11, you really won't be able to tell how much you were moving once you view the footage. 
Auto Highlights
This is probably one of the best features any camera could ever have. It lets you save your photos and videos in a cloud-based storage, allowing for easier access anytime, anywhere. Plus, it lets you enjoy more storage space on the physical SD card so you can take more photos without worrying about storage. 
The only catch is that you have to pay a yearly subscription fee. But the good news is that there's definitely no cap on that. You can transfer files to the cloud-based storage as much as you want. 
Then, once your files are in the cloud, it will automatically create highlights for you and will notify you via your phone app that it's ready for viewing. Yes, your files will be collated and you will have your videos ready without doing anything at all. It even has music already. 
This will save you lots of time editing videos for your trips. 
Bottom Line
GoPro Hero 11 may not be the camera for everyone.
But if you're thirsty for adventure, fast-paced action/sports, and outdoor casual activities, then GoPro Hero 11 is one of the best action cameras today. 
Equipped with several shooting modes, you'll have awesome stills and videos to post on your social media accounts, almost instantly. 
However, you have to take note that it's just basically a fast point-and-shoot camera and there is not much to do when it comes to manually setting the gear.
But it might be just the one for your family vacation and solo holiday trips.
---
11. iPhone 14
Premium Smartphone for Vacation & Travel
Type:  Mobile Phone | Weight: 172g | Resolution: 12MP Rear and Front| Sensor size: 1/1.9″ | LCD Screen: Fixed, 6.1″ | Touchscreen: Yes | Weather-sealed: Yes | ISO: N/A
Reasons to Buy
Multifunctional

Seamless file transfers with accessible connectivity

Lightweight and pocketable

Longer battery life compared to point-and-shooters

More storage than most cameras

In-camera editing

4K videos

On-the-go charging
Reasons to Avoid
No optical zoom unlike compacts

Expensive

Cannot outperform pro-grade compacts, mirrorless, or DSLRs

No RAW shooting

Lack of Macro mode
---
You might wonder how a smartphone ended up in our list of the best travel cameras.
The thing is, technology has become so advanced that even mobile phones now have the capacity to take amazing photos more than an average compact can.
There are even iPhone photography courses on how to use your iOS camera to the max!
iPhone 14 is the latest model from Apple that boasts superb camera capabilities which surprised many photographers. Let's see if its features are worth all this hype.
Image Quality and Video Resolution
Without a doubt, iPhone 14's image resolution is by far one of the best in the market. It has two rear cameras and one for selfies in front of the device. The two on the back are a 12MP wide-angle lens (1/1.9″ sensor) and another 12MP ultra-wide-angle lens.
For videography, this allows you to record fast-paced 4K videos at a max frame rate of 60fps. You also get to play around with the Slo-Mo mode with a resolution of up to 1080p. 
Equipped with an in-body image stabilizer, you'll be able to record and take snaps without too many camera shakes and blurs. It's a step up from the average smartphone cam. 
Instant Editing
Since this is a smartphone, you could download editing apps to help with post-processing in an iPhone.
But if you're okay with the built-in editor on the device, then it's a great tool to improve your images without having to transfer files to a computer. This makes it so much easier for you to post and share on your social media accounts. 
Low-light Performance
The truth is, the iPhone 14's cam really does well in low light. There's an automatic night mode option that allows you to just literally point and shoot at the dark skies. 
For a smartphone, you'd expect it to produce a dark photo with lots of digital noise, but with this device, the resulting image is well-balanced – not too dark, not too noisy, and not overexposed. 
Bottom Line
iPhone 14 is a good choice for a smartphone with photographic capabilities. If you're not really looking for a dedicated camera for your travels, then it's best to go for this device. 
But if you're worried about the ruggedness and toughness a mobile phone can't handle, or if you feel the iPhone has too limited manual settings, then you might be well served by other options included in this list. 
---
What to Look for When Buying a Vacation Camera?
---
Now…
When you are looking for the best camera for vacation/trips (with kids), it is recommended that you pay attention to the following key parameters of the camera.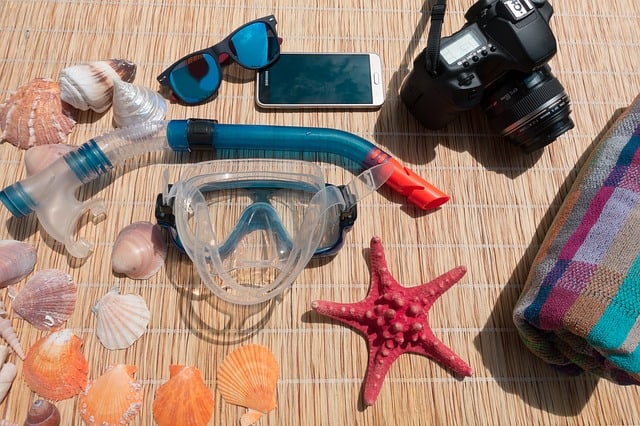 ---
Shockproof & Waterproof Capabilities
You don't want your kids to accidentally break an expensive digital camera.
Sometimes, it's worth getting a cheap "family" camera.
Small size and weight allow you to carry your camera everywhere.
This is the case where size matters 😉
Good Image In Low-Light Conditions
We will be shooting not only on the sunny beach, but also in the museum, on excursions, during night walks around the city, which means that you will have to have a large sensor.
With a good zoom lens you can shoot portraits, landscapes, and distant objects.
If you like excursions and spend a lot of time away from your vacation "home", then you need to consider having a long battery life.
(Or better yet, keep a spare battery handy.)
It is especially convenient when shooting from non-standard camera angles.
For example, in situations when you need to keep the camera above your head or closer to the ground.
On any display it is difficult to see something under the midday sun of tropical islands.
And in the viewfinder you can see your images perfectly.
So…
Look for some of these parameters and you should always consider the vacation situations that you usually have before buying a camera.
(In fact, your smartphone/tablet might work just as well!)
---
Best Vacation Cameras Roundup (2023)
---
So…
If you are on vacation with the kids, having a compact camera will be more convenient, and you will be able to take more images, even if they are of lower quality.
However, if you see something amazingly beautiful, you will not have a decent image with a point-and-shoot camera.
For a good photographer this is almost unbearable. But in this listicle, we covered some of the best cameras for vacation photos across different price ranges and categories.
And if you are a beginner in the world of photography, I highly recommend you check out my top 11 list of the best entry-level cameras.
I hope you enjoyed this updated list of the best vacation cameras for 2023.
Now I want to hear from you:
What your favourite vacation camera to take on a trip/for holiday photos?

Which camera you liked most out of this list of the cameras for family vacation (with the kids)?
Do you have any questions, concerns and/or suggestions? 
Let me know in the comments below! 
---
Sharing is caring!
About Author
Zarina
Founder & content creator at Digital World Beauty. My main objective here is to create a valuable resource for photography enthusiasts with honest tech reviews, course recommendations, and how-to tutorials.