Please note: As an Amazon Associate I earn from qualifying purchases. I also work with other affiliate partners and may be compensated from the links below. Details here.
October 29, 2021
Nikon D3400 in 2023: The Simplest 'Best Value for Money' DSLR Today! (Review)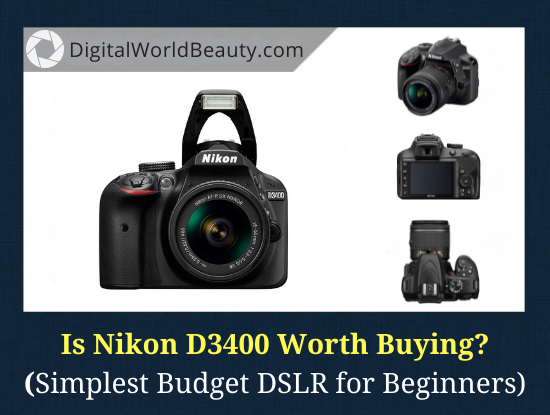 ---
Welcome to my Nikon D3400 Review 2023! (Updated)
---
You may wonder:
Is it worth buying Nikon D3400 in 2023, especially since the new D3500 model is already on the market?
I mention the Nikon D3500 at the bottom of this review but, in a nutshell, there are no major differences between the two. So, if you find that the older model suits your budget better, feel safe buying it.
---
Look:
D3400 is a great option for beginner photographers who don't really know what they want and don't feel comfortable spending too much money on their first gear.
The truth is…
Just because this DSLR is a low-end camera doesn't at all mean that the image quality is inferior to its professional counterparts.
You won't experience image quality loss and you can still create photo masterpieces.
What's important is that it's super easy to use. 
(Even a child can do it with D3400.)
To get quality shots, it is enough to find the shutter button on the camera and set the green Auto mode.
Now…
This camera can fully work in Auto mode, but at the same time, it is ready to grow with you.
What do I mean by that?
Because there is an excellent balance between the ease of mastering the DSLR and the presence of advanced functions, this camera will allow you to learn from scratch and develop your photography skills.
Without a doubt:
Nikon D3400 is a great starter camera for 2023. I'd say it's probably one of the best value-for-money DSLRs for beginners today.
---
Nikon D3400 Field Test (Video Review)
---
Check out this video review before you continue reading the article:
---
Quick specs:
Type:

Compact SLR

Weight:

 445 g

Resolution:

 24 MP

Sensor Size:

APS-C (23.5 x 15.6 mm)

ISO:

Auto, 100-25600

LCD Screen:

Fixed

Touchscreen:

None

Environmentally sealed:

No
✓

Reasons to Buy:
Guide Mode to master all the basic techniques

great image quality

low level of noise at rather high ISO values

very compact and light

excellent ergonomics, each button is in its place

accurate focusing with the optical viewfinder + when shooting through the display

quality implementation of Live View mode
transfer photos to your smartphone with SnapBridge 

advanced work of Auto ISO
✕

Reasons to Avoid:
no HDR mode and bracketing

no Panorama mode

no ultrasonic sensor cleaner (but you can

clean it yourself)

RAW images are not easy to process as seen in the newer Nikon DSLRs

? My Lens Recommendations:
18-55 VR lens (kit lens)

55-200 mm lens (budget-friendly option if you want to zoom in)

standard 50mm prime (for portraits with bokeh effect)
? Where to Buy Online?
I encourage you to compare prices and availability on the aforementioned (trusted) platforms.
---
Is Nikon D3400 Worth Buying?
---
Grab a coffee because in this post we'll cover a lot of details, and discuss whether D3400 is worth buying in 2023.
First things first, Nikon D3400 has a 24-megapixel resolution with a burst rate of 5 frames per second. Which is pretty good for an entry-level DSLR that came out a few years ago.
This camera comes with a pretty good Nikkor 18-55 VR lens (which comes with the kit), which fully realizes the potential of the camera.
Now, this small lens can be used even for macro photography. It's enough to try, and if you decide that macro is something you like, then you can consider buying a specialized macro lens.
Here is one example: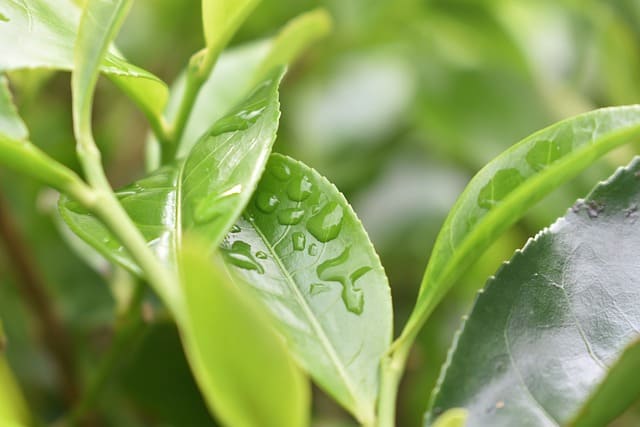 A word on zoom/lenses:
If you need to zoom in, you don't need high resolution, but you need a special zoom lens.
For example, the 55-200mm (from inexpensive options).
You may also consider getting a standard AF-S 50mm with a large aperture of f/1.8G. 
This Nikon lens is ideal for shooting in low light conditions or for shooting portraits with a bokeh effect. A silent ultrasonic motor (USM) provides fast and quiet autofocusing.
Traditionally, Nikon SLRs are with excellent color rendering and characteristic warm tones. 
Each manufacturer has its own peculiarities when it comes to colors and it's not good or bad, but personally, I like their colors.
---
What About ISO in Nikon D3400?
---
Let's talk ISO:
In modern Nikon cameras, high ISO (light sensitivity) is supported, and the D3400 is no exception. 
The maximum declared ISO is 25600, but I didn't shoot at such high values in real life for the entire period of using the camera. Usually, I shoot in Auto ISO mode, when the camera itself chooses photo sensitivity depending on the lighting.
(Basically, you can put it in the max Auto and forget about it.)
The highest ISO of the photos made with D3400 I found is ISO 4500. As a rule, when it gets even darker, there's definitely nothing to shoot there.
Even when shooting any stained-glass windows without a tripod in the dark, the camera understands what you are doing and selects the necessary settings.
Making the changes:
Personally, I prefer not to worry much and I'd suggest you just shoot in P mode.
The camera itself does everything for you and you're likely to be satisfied with the image. If you're not happy with it, then select one of the P, A, S, and M modes and experiment with the settings.
For example…
Let's say you're trying to shoot a flower (macro) and there's a pretty strong wind. 
Then you'd likely have to shoot in M mode, and would need a shorter shutter speed and a smaller aperture to provide an acceptable depth of field.
>> While we're on the topic, if you need guidance in the world of photography, I highly recommend you check out the Digital Camera Mastery course by Mark Hemmings.
---
Nikon D3400: Additional Features to Mention
---
1). Nikon D3400 has a built-in flash.
Unfortunately, it has a very long synchronization time of 1/200, so consider purchasing an external flash.
2). A very important feature of this budget Nikon SLR is the Bluetooth interface.
You will especially appreciate it while on travel. Before, a Wi-Fi interface was used in cameras which would greatly lower the battery life.
(That's why you always had to turn it on and off.)
And now you can do the same at the same speed, yet you don't have to worry about your battery. You just turn on Bluetooth and forget about it.
One more thing:
Besides photos, time and location are also synchronized. So, now there is no need to worry about forgetting to change the time zone in the camera settings.
3). SD format memory cards.
Get a better card with a good recording speed, so that the camera does a good job with serial shooting. (Several thousand frames in JPEG format will fit into your 64GB memory card.)
---
What's Missing in Nikon D3400?
(Info for More Experienced Photographers)
---
You should also keep in mind what you will not find in this SLR.
This is not critical for beginners as you can still create masterpieces without these features, so I will enumerate this for the sophisticated audience:
1). There is no HDR mode and bracketing.
2). The built-in flash doesn't work in command mode.
3). The Fn button can only be programmed for the following functions:
image quality,

white balance,

ISO,

active D-lighting.
4). There is no "screw thread", that is, the built-in motor for old lenses. 
Here is what this website says about lens mount (screw) threads:
"In photography a standardized adaption device for the changing of lenses which works independent from the manufacturer is called screw thread or lens thread. Screw threads are the forerunners of the bayonet connectors…"
A screw thread is a fine spiral on the lens that interlocks with a corresponding fine spiral on the camera body to mount the lens. Like a screw and a nut.
(You might also want to check out this post on Nikkor AF vs AF-S lenses.)
Anyway, what I am trying to say here is that older lenses will work only in the manual autofocus mode.
---
For Beginners: Setting Up Your D3400
---

---
How to set up Nikon D3400? Follow these suggestions:
Image Quality – Fine
Image Size – L

ISO:

ISO 100

Auto control – ON
Maximum ISO – ISO 25,600
Maximum exposure – Auto

White Balance – Auto
Picture control mode – Vi. Use NL or SD for portraits to avoid redness on the skin.
Active D-Lighting – ON
Noise Reduction – OFF
Vignette Control – N
Auto Distortion control – ON
Focus mode – AF-A
Autofocus area mode – Auto AF Point Selection
Built-in AF Assist illuminator – ON
Exposure – Metering
Built-in flash control – TTL
Optical VR – ON
---
Adjusting Your Settings/Modes
---
1) For nature & landscape photography
If you shoot nature and landscapes, I'd recommend setting the camera in Picture Control Vi (saturated), which makes the colors very juicy and bright.
2) For portrait photography
For portraits, a lot of photographers prefer muted colors in the NL mode (neutral), as the portrait photos are still processed and toned anyway.
3) Not sure?
If you don't know which mode to select, just select SD (standard).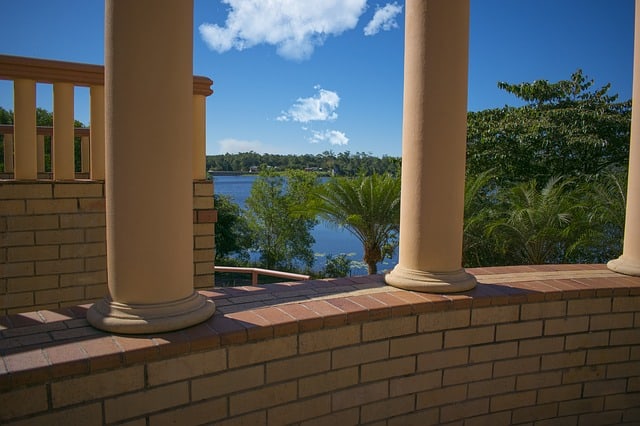 To keep in mind…
In Nikon D3400 there is an auto-correction of distortion. However, by default, this option is turned off for some reason and it should be turned on through the menu.
Why do I mention this?
This is critical for architectural photography because the camera eliminates all kinds of distortions of the lens, making straight lines straight.
A few more things to mention:
In cloudy weather, you will miss the HDR mode. Unfortunately, it's not available on D3400. Panorama mode is also unavailable. You will have to create and edit a panorama manually.
(As a newbie though, this might not be a big deal for you.)
---
Best Lenses to Go With Your Nikon D3400
---
It takes a great camera to be able to shoot good photos (and good photography skills as well!). But, as a photographer, you should never forget that the lens you use plays a crucial role in achieving that "perfect shot".
For beginners, the two kit lens that comes with the gear (NIKKOR 18-55mm f/3.5-5.6G and NIKKOR 70-300mm f/4.56.3G) is good enough to start the journey. However, later, you will need other more genre-specific lenses to help you get the picture you want to portray. 
Here are some of the best lenses recommended for your Nikon D3400 in 2023:
Nikon 18-300mm f/3.5-6.3 DX (Standard Zoom)
If you are looking for great all-around lenses, then you got to get this 18-300mm f/3.5-6.3 DX glass. It's good for all types of photography because of its zoom capacity. 
And guess what? It's not only good for stills but for videos as well. It even has VR (vibration reduction) technology which minimizes camera shakes, allowing you to have smooth footage. 
Nikon 35mm f/1.8G (Everyday prime lens)
Zoom lenses are great. But, pancake lenses can also be handy most of the time. This type of glass has a fixed focal length which will not allow you to digitally zoom in on your subject. 
Because of its wide aperture, it produces great bokeh effects without you even trying so hard. Plus, it doesn't have a lot of parts so it is very portable, a perfect carry-on for an everyday shoot. 
Nikon 18-55mm f/3.5-5.6G (Wide-Angle)
Want to photograph nature and landscapes? Then it's best to have a good wide-angle lens in your bag. The Nikon 8-55mm f/3.5-5.G will give you the versatility that you need when shooting different scenes, especially outdoors. 
The best thing about this is that it also has a VR feature that allows your device to perform well even in low light. And, it has a super fast and accurate AF system with a pulse motor for silent shooting. 
Nikon 85mm f/3.5 DX Micro (Macro)
Getting a really close-up photo of your subject can be challenging with a normal zoom lens. If you want to take pictures of insects, or tiny objects with much clarity and detail, then this macro lens will help you pull that shot. 
Sigma 20mm f/1.4 Art (Portrait)
The best portraits are made with great lens choices. This Sigma 20mm f/1.4 lens will help you create stunning headshots with beautiful bokeh and amazing depth of field. It produces crisp images, allowing you to focus on the features of your subject. 
---
Nikon D3400 Review 2023: Worth Buying?
---
Arguably, the D3400 camera is a great entry-level choice for a beginner photographer, even in 2023.
Why?
Because this baby is cheap, easy to use, and sure does produce quality images.
With this DSLR, you can even do commercial shooting because the quality of the photos is not inferior to those of expensive cameras.
Now…
If you are not a beginner photographer but have a budget limit,

And/or you are suffering with an old camera (where it's better to avoid ISO above 800),
… then the Nikon D3400 will be your salvation for a reasonable price.
---
Nikon D3400 vs D3500: My Opinion
---
You might be aware that in 2018, Nikon released a new camera – D3500. (It's called to be the lightest and friendliest Nikon DSLR yet.)
How does it differ from Nikon D3400 though?
If we look at the technical aspects, the new entry-level Nikon product doesn't show a lot of differences.
I mean D3500 offers…
24 MP on DX/APS sensor,

Full HD at 60 fps,

optical viewfinder,

continuous shooting at 5 fps,
… all packaged in a compact body that weighs about 360 g.
I haven't had the chance to test D3500 yet but from what I hear, there aren't major differences between the two.
Based on that, it's safe to assume that you'll do just fine with D3400. But the choice, of course, is yours. Have a look it for yourself below.
==> Check the exact price and reviews on Amazon.
---
Nikon D3400 in 2023:

Your Thoughts?
---
So…
I'd like to address most people's concerns and say that even though Nikon D3400 was released a few years ago, it is still a popular entry-level camera for 2023. 
I mean it's the best value for the money DSLR today.
Alternatively, if you have a few more bucks to spend, I definitely recommend you check out my review of Nikon D5300. 
The purpose of this website is to provide accurate information but ultimately, it's your decision whether this camera is the right fit for you.
Now, I'd like to hear from YOU:
What are your thoughts on this Nikon D3400 review?

Are you doubting between D3400 vs D3500?
Anything else to add? Let us know your thoughts in the comments below! (Click to jump straight to the comment form).
---