Please note: As an Amazon Associate I earn from qualifying purchases. I also work with other affiliate partners and may be compensated from the links below. Details here.
February 20, 2020
Photography Gear Recommendations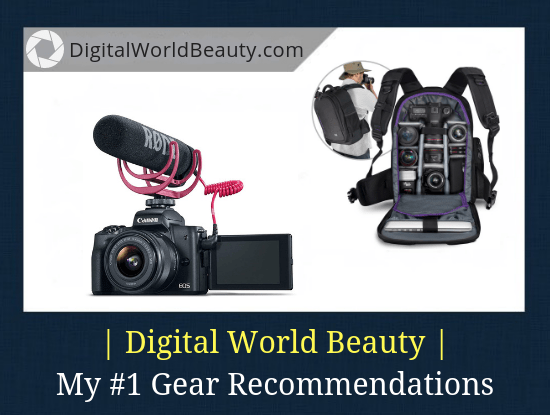 ---
Look:
As a blogger specialized in digital photography, I always get questions in terms of what cameras I (or my team members) recommend, or what accessories I use myself.
So, in this post, I will give my #1 recommendations in terms of:
which camera to get based on your situation/preferable brand,

which couple of lenses are most rated, and,

other photography accessories that I recommend.
But first…
My #1 Recommendation
---

---
Before we move onto gear talk, I encourage you to check out my most recommended courses if you want to CRUSH IT as a photographer this year!
No matter what gear you use.
Seriously.
In fact, I think you won't get better value for money because Mark Hemmings is probably one of the best instructors that you can get when learning about photography.

Anyway…
Back to gear recommendations.
Here's a quick overview of what to expect in this post:

Now:
A few more words before we get to the interesting part.
---
A Piece of Advice When Buying Photography Gear
---
---
I'll say this:
If you have a passion for photography, please don't obsess over the gear.
Too often I see people browsing around, asking "What brand and model should I buy?" …and getting stuck in this vicious cycle.
Your mission of choosing the right photography equipment shouldn't turn into an endless research and comparison process.
Believe me, it can turn into a vice.
Find a camera/photography accessory that you feel suits you best, get it and enjoy it!
The sooner you receive your package, the sooner you can start to enjoy your passion for photography.
Right?
Without further ado, let's get started.
---
Looking for the Best Camera for YouTube?
---
Canon M50 (Creator Kit)
So…
You want to get into YouTube?

Don't have much experience?

Need to get something on a budget?
Look no further.
Canon M50 is arguably the best mirrorless camera for YouTube beginners in 2020.
Because…
it's light and compact,

it's easy to understand and use,

it's super affordable,

it has a fully articulated screen and a hot shoe for mic,

it has 4K video (at 24 fps but still good),
Basically it has all the features that you'll need as a YouTube personality.
(Note: Get a couple of extra batteries, so you can shoot your videos longer.)
If you need a camera for YouTube purposes AND the one that takes top quality images, then this Canon mirrorless camera is a no brainer.
Seriously, go ahead and get Canon M50 now!
(You'll thank me.)
---
---
Popular Nikon DSLR for Beginners (2020)
---
Nikon D3400
In my opinion, as a beginner, D3400 is one of the best DSLRs that you can buy right now.
Why?
Because this baby is cheap, easy to use and sure does produce quality images.
Its features such as:
24 MP sensor,

Wi-Fi and Bluetooth for automatic transfer of photos to your smartphone,

Guide Mode that'll literally teach you how to take photos,
… are the reasons why it's a favorite camera choice by many photographers.
High Amazon ratings speak for themselves.
---
---
If You're a Canoner, Here's What I Recommend
---
​
Canon EOS Rebel T6i
Are you a Canoner?
Want to take advantage of the Canon lenses and accessories that you already have?
Then Rebel T6i (750D) is an indisputable choice.​
T6i has a lot of improvements compared to the previous models, which makes it a great camera choice for beginners. ​
This SLR's features, such as:
24 MP sensor,

fast autofocus,

articulated touch screen,

NFC and Wi-Fi connection,

and, of course, its attractive price tag,
… all make the Rebel T6i a very good investment in your future as a photographer.
---
---
Looking for A Compact Camera Instead of DSLR?
---
​Sony RX100 V
I often say that Sony RX100 V is a pocket-size baby with Ah!-mazing capabilities.​
This camera has:
the most modern focusing system,

the highest burst, and,

outstanding video capabilities.​
It also features a 3-inch tilting LCD, which will help with high-angle and low-angle shots.
Given its flip screen and powerful photo and video capabilities, it is an excellent choice not only for selfie lovers, but also for vloggers.
I mean this one will NOT disappoint.
The only downside is its pretty steep price tag for some; so if you're on a tighter budget, consider Sony RX 100 Mark IV as an alternative.
---
---
My Favourite Lens: Meet The "King of All Lenses"
---
50mm f/1.4
There is a reason why I call it the "King of All Lenses":
When you'll have this lens, your photography will take a new turn.
(It's available for Nikon, Canon, Sony and Pentax cameras).
Of course, its main advantage is a very large aperture​ (f/1.4) and very thin depth-of-field​ (DOF).
In other words, this lens lets in a huge amount of light and results in a large amount of background blur (bokeh).
Bottom line:
This lens will provide you with ultra sharp and full of light photographs.​
---
---
A Cheaper Alternative: The "Prince of All Lenses"
---
​50mm f/1.8
If 50mm f/1.4 lens is too pricey for you, consider 50mm f/1.8 as a more budget option.
These lenses are pretty similar with the difference that the aperture of the latter is smaller.
If you ask me about f/1.4 vs. f/1.8​, I'd recommend f/1.4 (assuming you have the budget).
Why?
Because it lets in an incredible amount of light and gives out an amazing level of image sharpness.
However, if you're on a tighter budget, then absolutely go for f/1.8! These lenses are definitely better than the regular kit lenses​.
---
---
Camera Backpack for Your Photography Gear
---
​

Lowepro Hatchback 22L​

​
You may have tried many options in the past, but the Lowepro Hatchback might become your favourite backpack every time you go out there with your camera.
Advantages worth mentioning:
made of materials that makes it sturdy but at the same time very light to wear,

has a "normal backpack" appearance that doesn't attract much attention,

very easy to use.
Definitely the best camera backpack, at least from my point of view.
There's also an awesome (cheaper) alternative:
==> "The Great Explorer" Backpack.
---
---
Here Is Your Tripod for Image Stabilization
---
​Manfrotto MKBFRA4-BH BeFree​
In the photography world​, Manfrotto is a name that needs no introduction.
Even though this compact travel tripod was released in 2013, it still worth buying in 2020.
If you are looking for something that combines…
robustness,

solidity,

simplicity,

ease of use,

versatility, and,

a compact size of no more than 40 cm when folded,
… then Manfrotto Befree is your go-to tripod.
---
Best Winter Gloves for Photographers
---
Palmyth Flexible Gloves
Even though these gloves were originally made for fishing, they are great for photography as well.
It's a glove that offers:
warmth,

protection, and,

the tactile control you need with a camera,
… but at the same time doesn't compromise on functionality and style.
Truth is, it gained its #1 position in my list of gloves for photographers after I saw a LOT of Digital World Beauty visitors buying this particular product.
(And it seems all of them are highly satisfied.)
Lastly, unlike many other choices, Palmyth have 3 finger caps instead of two AND they attach to the back with metal buttons.
Note:
These gloves are good for mid winter but if you need a pair for EXTREMELY cold weather conditions, then consider Heat 3 Smart instead.
---
Need a Camera Flash?
---
​

Yongnuo YN560 III​​

​ Flash
There are external flashes for all tastes out there​ but here's why I recommend Yongnuo flash:
works with Canon, Nikon and most modern SLR cameras​,

its "head" rotates (vertically and horizontally),

offers zoom function.
More importantly:
This flash is the best bang for your buck.
---
---
Recommended Online Photography Courses
---
Now…
I already mentioned my #1 recommended course, but if you want alternative courses on how to use your camera to its full potential, then check out Nomadic Matt's photography course.
It's a 8-week practical course created by Matt Kepnes aka Nomadic Matt and Laurence Norah from Finding the Universe.
You'll learn how to take better (travel) photos even if your iPhone is ALL you use. 
Without doubt:
It's one of the best resources you'll find on the web.
==> Read my full review of Nomadic Matt photography course.
---
Last Thoughts on Gear Recommendations
---
---
Three more things I'd like to say:
1). All the purchases (photography-related too) I make online, in this case, through Amazon.
Reasons for it:
I tend to find the best prices on Amazon,

fast delivery (try Amazon Prime FREE, if you still haven't!), and,

great customer service.
2). The recommendations listed here are the ones that I personally own, or at least have had first-hand experience with it.
If you check the ratings that buyers leave on Amazon, you will see that each item mentioned has extremely high ratings.
This validates each of the recommendations I leave below.
3). This post includes affiliate links.
When you click on any link from Digital World Beauty to Amazon or other affiliate sites, DWB may receive a small commission on the sale.
It doesn't cost you anything and helps support the site.
THANK YOU!
Anyway…
I hope you found our photography gear recommendations for 2020 useful!
If you have any questions, as always, feel free to leave a comment below (click to jump to comment form).