August 13, 2018
Photography Gear Recommendations (2019)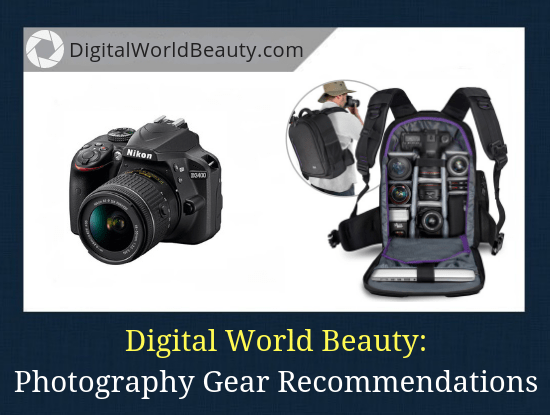 ---
As a blogger specialized in digital photography, I always get questions in terms of what cameras I (or my team members) recommend, or what accessories I use myself.
Look:
Though I believe there's a camera for each photographer, it is true that there are specific models of cameras and accessories that get mentioned in my articles over and over again.
This being said, in this post, I will leave my #1 recommendations in terms of:
which camera I recommend,

which lenses to get, and,

other photography accessories that I recommend.
So…
Here's a quick overview of what to expect in this post:

Now:
A few more words before we get to the interesting part.
---
A Piece of Advice When Buying Photography Gear
---
---
I'll say this:
If you have a passion for photography, please don't obsess over the gear.
Too often I see people browsing around, asking:
"What brand and model should I buy?"…
… and getting stuck in this vicious cycle.
Your mission of choosing the right photography equipment shouldn't turn into an endless research and comparison process.
Believe me, it can turn into a vice.
Find a camera/photography accessory that you feel suits you best, get it and enjoy it!
The sooner you receive your package, the sooner you can start to enjoy your passion for photography.
Right?
Alright, let's get started!
---
My Favourite SLR Camera for Beginners (2019)
---
---
---
If You're a Canoner, Here's What I Recommend
---
---
---
Looking for A Compact Camera Instead of DSLR?
---
---
---
My Favourite Lens: Meet The "King of All Lenses"
---
---
---
A Cheaper Alternative: The "Prince of All Lenses"
---
---
---
Camera Backpack for Your Photography Gear
---
---
---
Here Is Your Tripod for Image Stabilization
---
---
Best Winter Gloves for Photographers
---
---
Need a Camera Flash?
---
---
---
Recommended Online Photography Courses
---
Now:
If you want to learn firsthand how to use your camera to its full potential, then look no further.
Digital Photography School courses to look into:
Know Your Camera, Take Incredible Photos (For Beginners)

Landscape & Nature Photography Course (Intermediate Level)

Portrait Photography Course (Intermediate Level)
Without doubt, it's one of the best resources you'll find on the web.
Best of all?
They all come with a 60-day money back guarantee.

---
Last Thoughts on Gear Recommendations
---
---
Three more things I'd like to say:
1). All the purchases (photography-related too) I make online, in this case, through Amazon.
Reasons for it:
I tend to find the best prices on Amazon,

fast delivery (try Amazon Prime FREE, if you still haven't!), and,

great customer service.
2). The recommendations listed here are the ones that I personally own, or at least have had first-hand experience with it.
If you check the ratings that buyers leave on Amazon, you will see that each item mentioned has extremely high ratings.
This validates each of the recommendations I leave below.
3). This post includes affiliate links.
When you click on any link from Digital World Beauty to Amazon or other affiliate sites, DWB may receive a small commission on the sale.
It doesn't cost you anything and helps support the site.
THANK YOU!
Anyway…
I hope you found our photography gear recommendations for 2019 useful!
If you have any questions, as always, feel free to leave a comment below (click to jump to comment form).