Please note: As an Amazon Associate I earn from qualifying purchases. I also work with other affiliate partners and may be compensated from the links below. Details here.
December 15, 2020
10 Best Cameras for Fishing Photography in 2021 (With the Lenses)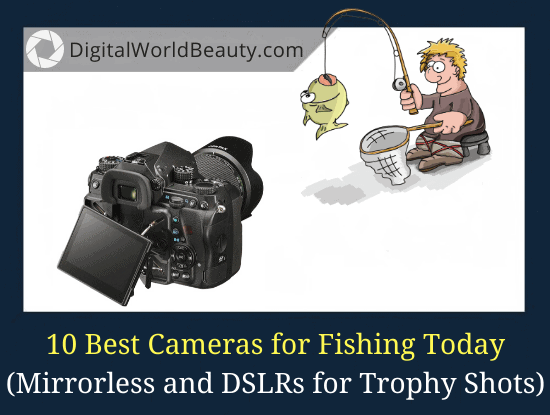 ---
Recently I got the following question:
What is the best camera for carp fishing?
So that's the topic I wanted to cover here today and help you make an educated buying decision.
I may know little about fishing, fly fishing, angling whatsoever, but I do know cameras, lenses and photography in general.
Now…
In 2021, it's probably hard to buy a bad camera but I realize that the constant research and choosing the one among so many options might be intimidating for anglers.
So, I want to make your life easier and answer your question(s) as best as possible.
UPDATE: I've also written a post on the top rated underwater fishing cameras this year.
Here's an overview of what to expect in this post:

Note:
I will start with mirrorless options because lately people prefer them more over bulkier DLSRs.
I'm sure by the end of this article, you'll find a decent camera for fishing stills and scenic shots of your surroundings.
Without further ado, let's get started.
---
---
Budget-Friendly Compact Camera for Fishing
---
Canon EOS M10
Type:

 Rangefinder-style mirrorless

Weight:

301

g

Resolution:

 18 MP

Sensor size:

APS-C (22.3 x 14.9 mm)

LCD screen:

Tilting

Touchscreen:

 Yes

Weather-sealed:

 No

ISO:

Auto, 100-12800 (boost to 25600)
---
Listen:
It's my understanding that most of you are just looking for a non-complicated, decent enough camera to take a few photos while fishing.
If that's the case, I suggest you have a look at Canon M10 mirrorless compact with interchangeable lenses, the design and ergonomics of which are as simple as possible.
Now…
Despite EOS M10 being compact, it has a 18 MP sensor and therefore produces great quality images.
I mean have a look at this image below:
OK, I know it's no fish but still you can acknowledge its pretty awesome image quality, right!? 😉
You may wonder…
Why do I recommend this option if EOS M systems get complaints about its slow focus?
This is because having super fast autofocus only matters if you're heavily into sports or bird photography.
But if you're looking to take stills only of your catch/portraits/trophy shots, then you'll be totally fine.
---
✓ Pros:
compact, even pocketable, body

great image quality for its category

Wi-Fi and NFC function available
✕ Cons:
no viewfinder

not the best battery life (so keep a spare battery handy!)

can't charge it with USB cord
---
---
---
Best Prosumer Compact System Camera
---
Sony a6500
Type:

 Rangefinder-style mirrorless

Weight:

453 g

Resolution:

24 MP

Sensor size:

APS-C (23.5 x 15.6 mm)

LCD screen:

Tilting

Touchscreen:

 Yes

Weather-sealed:

Yes

ISO:

 Auto, 100-25600 (boost to 51200)
---
Here's the deal:
This camera is absolutely great.
Back in 2017, Sony a6500 received a prestigious EISA award as the "best prosumer compact system camera". 
(Which is just a fancy name for "hybrid/mirrorless camera".)
It's also a great choice if you're into both video shooting and still photography.
What's so special about it?
One of the main features worth noting is it's 5-axis image stabilization which will come handy for both photographers and videographers. 
Basically this stabilizer compensates for the camera's shake even when used with lenses without the "Optical SteadyShot" system (which also makes handheld shooting easy).
Sony a6500 also offers fast 425-point phase-detection autofocus and a touchscreen.
Here's the kicker:
When framing through the viewfinder, the LCD screen  has an ability to work like a touch pad, where you can select focus area with your finger…
…while still keeping your eyes on the viewfinder (see image below).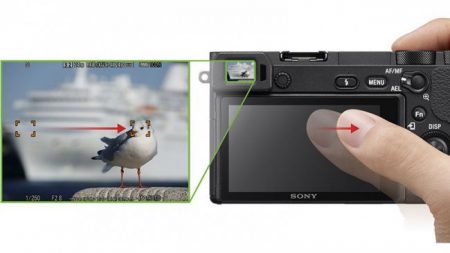 Anyway…
The level of image quality and details that a6500 produces definitely make it one of the best mirrorless models on the APS-C camera market.
(If you prefer light and compact ones, definitely consider it.)
Now, I could go on and on about this baby but I think you're not gonna be interested in hearing all the boring technical characteristics.
---
✓ Pros:
convenient, durable body

truly amazing image quality

extensive videoshooting capabilities in Ultra HD resolution

clear viewfinder and flip-up display

amazing autofocus system

low digital noise at high ISO values
✕ Cons:
SD card fills up fast with 4K (tip: get one that's at least 64GB)

no headphone jack

pretty weak battery life (tip: have a couple extra batteries handy)
---
---
---
Great 4K Mirrorless Under $1000 (With the Lens)
---
Panasonic Lumix G7
Type:

 SLR-style mirrorless

Weight:

 410 g

Resolution:

 16 MP

Sensor size:

 Four Thirds (17.3 x 13 mm)

ISO:

 Auto, 160-25600

LCD screen:

 Fully articulated

Touchscreen:

 Yes

Weather resistant:

 No
---
Truth is:
If you love 4K, you'll likely love Lumix G7.
This particular Panasonic model under $1000 offers great price/quality ratio, especially considering the lens is included in the price.
If you love sharing your fishing trip photos on your blog or social media, then it's another reason to pick this one up.
Why?
Because Lumix G7…
comes with a built-in Wi-Fi to transfer photos,  

has an accurate face and eye detection autofocus,

works well in low-light situations (carp photography at night anyone?),

offers panoramic and time-lapse (interval) shooting,
… Just to name a few.
I'd like you to watch Chris' video-review on this gear.
Note: Chris refers to G7 as the "brand new camera" but the video was shot a couple years ago, so G7 is definitely not brand new in 2021 (but still worth checking out).
---
✓ Pros:
easy to hold and manage

high burst rate and image buffer

best video capabilities in its camera segment

fully articulated LCD screen
✕ Cons:
no headphone jack

plastic construction

lacks in-body IS (image stabilization)
---
---
---
A Brilliant Bit of Kit that Won't Break the Bank
---
Nikon D5300
Type:

 Compact SLR

Weight:

480 g

Resolution:

24 MP

Sensor size:

APS-C (23.5 x 15.6 mm)

LCD:

Fully articulated

Touchscreen:

 None

Weather-sealed:

 No

ISO:

Auto, 100 – 12800 (25600 with boost)
---
Truth is:
If you are a beginner photographer on a budget (whether it's fishing photography, portraits or landscapes), then Nikon D5300 is one of the best investments you can make.
It's one of those brilliant DSLR kits that won't break the bank.
So, what's so special about it?
Well…
it's light and compact,

comes with a fully articulating LCD screen,

produces great image quality even in dim light situations,

has a Wi-Fi function that'll help you sync your camera with your smartphone,

offers a GPS feature which will tie your images to specific locations.
How awesome is that?
Now:
If Nikon D5300 caught your eye and you'd like to learn more about it, I actually wrote a detailed review here (with sample photos).
If you'd like a quick review instead, check out the video below to understand what to expect:
Bottom line…
It really might be an ideal DSLR for beginners, especially if you specialize in portraits (or taking shots of yourself with a catch) and capturing scenic shots of wherever you are.
---
✓ Pros:
low price tag

fully rotating LCD screen

excellent image quality with high detail

great work in Auto mode

built-in Wi-Fi and GPS features

virtually no digital noise at high ISO values

post-processing functions in the camera itself
✕ Cons:
no touchscreen

small image buffer size when shooting in RAW + JPG

not the best video capabilities
---
---
---
Best Canon Entry-Level DSLR (For Fishing Pics Too)
---
Canon Rebel T6i
Type:

 Compact SLR

Weight:

 555 g

Resolution:

 24 MP

Sensor:

 APS-C (22.3 x 14.9 mm)

LCD screen:

 Fully articulated

Touchscreen:

 Yes

Weather sealed:

 No

ISO:

 Auto, 100-12800 (can expand to 25600)
---
Look:
Before I mentioned a Nikon camera, but if you're a Canon fan, then Rebel T6i would be my first choice when choosing a budget entry-level DSLR.
Best of all?
It works for a variety of shooting scenarios:
social media photography,

sporting events,
And you'll certainly be able to use this camera for fly fishing, carp fishing, angling photography.
Note:
If you like to shoot videos on a regular basis, Rebel T6i is worse than Nikon D5300 in terms of video capabilities. Do keep this in mind!
And if you like to share your fishing photos on social media, it'll be easy because T6i has Wi-Fi and NFC features built-in.
As for the image quality, it's pretty awesome.
Compared to Canon's older models, there's an improvement in color rendition (especially with artificial lighting). Check out the image below of an angler holding a tuna fish.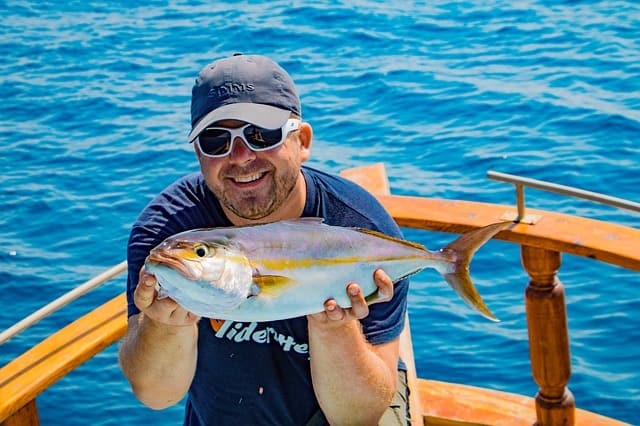 There's also one of him holding a carp, using the same camera body and lens.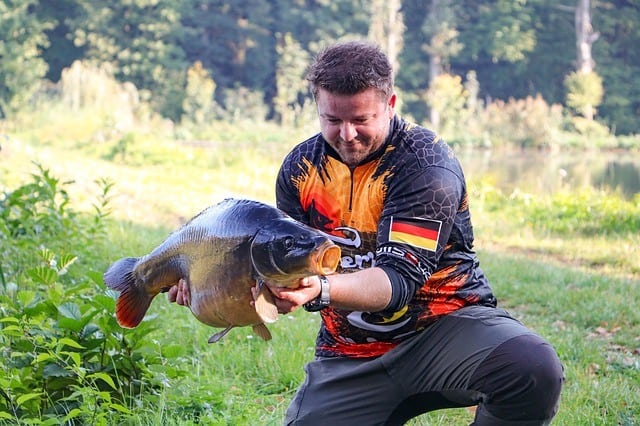 Both of these images were taken with Rebel T6i and EF-S 18-135mm f/3.5-5.6 IS STM lens (link leads to Amazon).
Now…
As you can see, the 18-135mm is one of the best lenses for carp fishing photos that you can get. It's also the one I recommend to Canoners who specialize in sports photography.
(Also, let me know in the comments what you think of these fishing pics!)
---
✓ Pros:
accurate autofocus system

works very well in Auto mode

fully articulated and responsive touch screen

large buffer for JPG photos

great image quality at high ISO values

remote control available
✕ Cons:
no HDR and

interval timer

shooting

not very well optimized Wi-Fi power consumption

not an ideal option for those who prefer creating videos
---
---
---
Popular Nikon Entry-Level DSLR for 2021
---
Nikon D3400
Type:

 Compact SLR

Weight:

 445 g 

Resolution:

 24 MP

Sensor size:

 APS-C (23.5 x 15.6 mm)

LCD:

 Fixed

Touchscreen:

 None

Weather sealed:

 No

ISO:

 Auto, 100-25600
---
If for some reason you don't like Nikon D5300 or Canon Rebel T6i, then have a look at Nikon D3400.
Truth is…
This model and the newer Nikon D3500 are one of the most popular entry-level DSLRs for beginner photographers in 2021. 
There are 3 major reasons why I'd recommend this camera for anglers here:
it has a low price tag (usually under $500),

it's easy to use (especially with the Guide mode available),
Pretty cool.

Keep in mind though:
Unlike the previously mentioned cameras, the LCD on D3400 isn't articulated and isn't a touchscreen.
(One of the reasons why I placed it after D5300 and T6i).
Check out the video review below to understand what exactly to expect:
==> Click here if you'd like to read my own text-based review of Nikon D3400.
---
✓ Pros:
compact and light DSLR with good ergonomics

pretty awesome image quality

its Guide mode will literally teach you how to take pics

 accurate autofocus both through LCD and viewfinder

Full HD video at up to 60 fps

best bang for your buck
✕ Cons:
fixed LCD, no touchscreen

no ultrasonic sensor cleaner

RAW images harder to process compared to newer models
---
---
---
Awesome DSLR for Angling Photography
---
Nikon D750
Type:

 Mid-size SLR

Weight:

 750 g

Resolution:

 24 MP

Sensor size:

 FX (35.9 x 24 mm)

LCD:

 Tilting screen

Touchscreen:

 None

Weather sealed:

 Yes

ISO:

 Auto, 100-12800, expandable to 50-51200
---
I'll say this…
If you're looking for an advanced DSLR for angling photography, then Nikon D750 is a no-brainer!
I mean, as of 2021, this is probably the best full-frame camera under $1500 that you'll find on the market today.
(Or under $2000 with the 24-120mm f/4 lens.)
Without a doubt:
The level of image quality is absolutely stunning. 
One of the things about Nikon cameras is that they have a great colour rendition, meaning that unlike Canon, they have warmer colour effects.
And this means that your fishing photos will be beautiful all year around.
Note:
Don't get me wrong, Canon cameras are great too. In fact, some people prefer colder colours, especially anglers (at least, from what I've seen).
It's probably more a personal taste, but I personally love the images Nikon D750 produces. 
Even in low light it's simply awesome.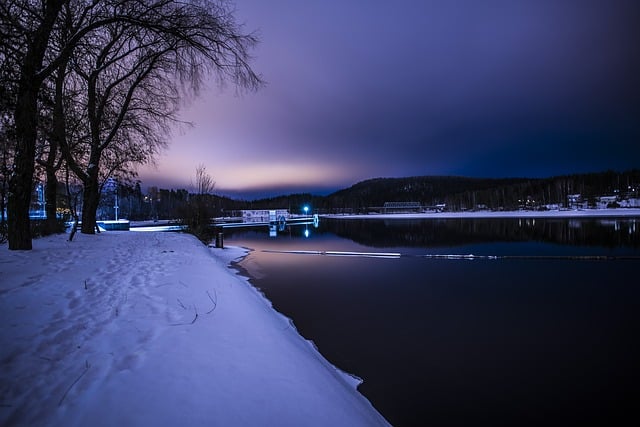 Look…
Nikon D750 is one of the DSLRs that I can talk about forever.
In here though, I try to use as simple language as possible and get straight to the point on features that you'll love as an angler/fishing photographer.
But if this camera caught your eye, I highly recommend you check out my detailed review on D750 here.
I started a YouTube channel this year, so I also decided to record a video of whether Nikon D750 is good to buy in 2021, with some pros and cons:
==> Subscribe to my YouTube channel for more videos!
---
✓ Pros:
fabulous image quality

friendly interface (if you have some experience with DSLRs)

amazing performance in low light situations

fantastic dynamic range

interval mode

Wi-Fi is built-in

tilting LCD screen

Full HD video shooting at 60 fps

you get a lot of value for the money
✕ Cons:
it's not a 4K body

no touchscreen

absence of 1/8000 shutter speed

not a quiet shutter compared to Canon cameras
---
---
---
For Keen Photographers As Well As Anglers
---
Canon 80D
Type:

 Mid-size SLR

Weight:

730

g

Resolution:

 24 MP

Sensor size:

APS-C (22.5 x 15 mm)

LCD screen:

 Fully articulated

Touchscreen:

 Yes

Weather sealed:

 Yes

ISO:

Auto, 100-16000 (expands to 25600)
---
Here's what I noticed:
Canon 80D (and its predecessor) are one of the most common cameras among anglers/carp fishing photographers. 
And to be honest, I'm not surprised.
As someone who knows about cameras, Canon 80D is simply awesome.
Because…
it's a user-friendly semi-professional camera,

it's super sharp, and,

has a very accurate autofocus system,

produces fabulous images,
… just to name a few.
The ergonomics of 80D is a successful compromise between size and convenience.
What I'm trying to say is that this Canon doesn't take up as much space as its full-frame brothers, and it's pretty comfortable to shoot with.
Not to mention that you'll enjoy operating it using the touch interface.
Lastly:
As an angler, you'll likely enjoy shooting remotely using the Canon Camera Connect application.
By connecting your DSLR to your smartphone via the built-in Wi-Fi/NFC, you can send JPEG files to the smart device in full resolution. 
Below you'll see Chris' video-review (which was shot with 80D, by the way):
Note: This episode was shot in 2016, so the camera is not "brand new" as Chris said, but it's certainly worth buying in 2021.
---
✓ Pros:
fully articulated LCD touchscreen

high burst rate of continuous shooting

large image buffer in JPEG

great, detailed image quality up to ISO 3200

fast AF in LiveView and videoshooting

built-in Wi-Fi and NFC
✕ Cons:
doesn't shoot 4K

buffer image size in RAW is limited to 25 frames

no GPS feature available

doesn't support UHS-II memory cards
---
---
---
DSLR for Both Landscape and Angling Photography
---
Pentax K-1
Type:

Mid-size SLR

Weight:

1010 g

Sensor size:

Full frame (35.9 x 24 mm)

Resolution:

 36 MP

LCD:

Tilting

Touchscreen:

 None

Weather resistant:

 Yes

ISO:

Auto, 100-819200
---
Look:
It's my understanding that wherever you're (kayak) fishing, it might be very scenic there.
Then it's logical to assume that some of you anglers might want to take not only prize catches, an odd shot of an animal/bird that you spy, but also landscapes.
And if you want a professional level DSLR, I encourage you to look at Pentax K-1.
This digital camera offers:
lowest level of digital noise,

a very effective image stabilization (for handheld shooting),

fabulous image quality (even in low light),

widest dynamic range,
Just to name a few.
Not to mention that it comes with the most affordable price tag possible in the category of top-performing full-frame cameras (WITH the lens).
So…
What are the drawbacks?
If you've used Canon or Nikon in the past, you'll need time to get used to it.
Pentax has a bunch of so-called "unique technologies" which makes it difficult to master right away. For some the design and interface might seem "damp" with an unusual choice of functions/modes/control buttons.
(This is true for both version I and II.)
Now:
Check out the video below where Mattias shares the 5 reasons why Pentax K-1 is still worth buying in 2021:
---
✓ Pros:
accurate autofocus

unique tilting LCD screen

excellent image quality at high ISO units with no digital noise

built-in Wi-Fi and GPS features

5-axis stabilization

quality handheld shooting in bracketing mode, HDR and even Pixel Shift

you get a lot of value for the price
✕ Cons:
not the fastest autofocus compared to other full-frame DSLRs

pretty low speed of continuous shooting

small image buffer

difficult to master right away for people new to Pentax technology
---
---
---
Best (Fishing) Camera for Advanced Photographers
---
Canon 5D III
Type:

 Mid-size SLR

Weight:

950

g

Resolution:

 22 MP

Sensor size:

Full frame (36 x 24 mm)

LCD screen:

 Fixed

Touchscreen:

 None

Weather sealed:

 Yes

ISO:

Auto, 100 – 25600 in 1/3 stops (50-102400)
---
So…
For those anglers who also have advanced photography skills, I decided to include a full-frame Canon 5D III to my list.
This DSLR is beautiful for a number of reasons.
Specifically:
great autofocus,

fantastic image quality especially when coupled with a right lens,

excellent usability/ergonomics,

weather sealing and high battery life make it possible for harsh conditions,
(Just to name a few.)
By the way…
It's important to emphasize that it's a professional-level camera, so if you're a total beginner consider other options I mentioned above.
To be able to manage Canon 5D III well and produce truly fantastic fishing images, you need to have a prior experience in photography (and DSLRs).
---
✓ Pros:
crisp photos with a creamy background 

magnesium body with moisture protection elements

excellent viewfinder and LCD screen

large coverage of autofocus points

HDR mode available

wide possibilities for videographers

variety of AF settings
✕ Cons:
pretty large and heavy

no peaking focus when shooting videos

should you ever have to repair, the costs will be high
---
---
---
How to Take Good Pictures of Fishing?
---
If you're interested in getting better at (angling) photography, in the video below Troy shares his quick tips for better fish photos.
Check it out:
Solid advice, indeed.
---
Additional Points to Mention
---

In this section, I'd like to provide more tips when it comes to photography.
Choose a good body, but remember that it's the lens that matters more. Sometimes it's better to buy an older camera model, but invest in a stellar lens.
As a rule, most starter cameras come with a kit lens that are good enough. However, if you choose 35mm or 50mm lenses, then they will take your images to a whole new level.
(Keep in mind that with a 35 or 50mm prime lens, you will need a larger distance between you and the camera than when using a zoom lens.)
Lately, many beginners and advanced photographers alike prefer mirrorless options because they are more compact and easier to use. Old-school photographers often prefer classic DSLRs.
If you like warmer colours in the images, consider Nikon over Canon. Nikon cameras are known for their excellent color rendition capabilities.
If you don't want to carry bulky cameras around, consider shooting with your smartphone or choose nice big sensor compacts.
(Some are so compact, they can even fit in your pocket).
Bokeh is a photography term for "background blur". Most photographers absolutely love it. (And I'm sure you will too!)
Consider using an intervalometer as opposed to remotes. They will make your self-take photos effortless.
Alternatively, with some cameras you could just download an app on your smartphone and use it as an intervalometer (seeing yourself on your smartphone). 
If you end up buying a APS-C (crop) sensor camera, it'll likely be better to take a 35mm vs 50mm lens. (The latter might be a bit too much for tighter swims.)
As an example, Canon 80D has an APS-C sensor that has a 1.6x crop factor, meaning that a 50mm lens will behave like an 80mm lens would on a full-frame DSLR.
Whatever camera you end up choosing, make sure to get a couple extra batteries. Especially if you like doing videos or shoot in LiveView mode.
Often photographers have the following setup:
ND filters,

tripod,

lighting/flash,

spare batteries handy,

good memory cards.
Even if carp fishing, fly fishing, angling photography is your primary focus, these things will be handy for you when out in the field.
If you happen to fish on cold weather days, I have a list of amazing gloves with finger caps that will work for anglers as well.
Definitely check them out!
---
Frequently Asked Questions
---
Q: Does a fishing camera need to be waterproof?
Actually, it depends.
If you are only planning to take photos of your fishing activities without going underwater, then there's really no need for your gear to be waterproof. You can just go with normal DSLRs and mirrorless like mentioned above.
But of course, it won't hurt you to be prepared at all times, right? You should at least bring one that is properly weather-sealed. In case there will be incidental water splashes, or worse in case it rains.
On the contrary, you might want to go for an underwater cam if you want to take photos of the fish under the water. Or better yet, if you already have a normal DSLR, mirrorless, or point-and-shooter, you can simply buy an underwater case for your gear. That way, you'll be saving hundreds (or even thousands of $$).
Q: Can you use action cam for fishing?
Definitely.
I mean, why not? Action cameras are very compact yet they can also be very powerful. If you choose top-tier ones from trusted brands, you'll certainly have a great experience with it.
When it comes to versatility, these kinds of products are really outstanding. You can use it on the ground if you want to only take pictures of fish trophy. Plus, you can even take it underwater because these are mostly designed to be waterproof (sometimes even without casing). And that is really awesome if you want to explore the underwater world.
And the best part of it all?
Action cameras are very handy, some even just pocket size. This means you don't have to carry bigger and heavier gears just to capture the moment.
Q: How can you get good "fish trophy" photos?
Okay…
Catching something during a fishing adventure is a victorious feat. It is not everyday you get to capture fish (especially big and rare ones), that's why this kind of hobby requires patience. So, it is normal to want to take photos of your fish trophy to keep a remembrance of that moment.
That being said, here are a few tips to ensure you get a good snap:
Tripods help photographers get better shots, believe it or not. It also helps you get sharper and clearer photos because it reduces motion blurs and shakes that you normally encounter while holding a camera with your hands. With this gear (and proper positioning as well) you certainly will get a clear image.
If you can, always go for manual settings with outdoor shots. While it is true that most top-tier DSLRs have reliable automatic scene modes, nothing beats setting the ISO, shutter speed, and other important elements at your own preference. This way, you can definitely set them to levels that go well with the current location setting.
In short, you don't have to worry about having overly bright photos or extremely contrasted ones when you choose to go manual. It does take a bit of practice with your gear though.
Don't hold your catch flatly
Some people want to take photos of fish while they lay flat on the hands of the person who caught it. While this is a common practice, there is a better way to make your photos look more interesting than that.
The secret is by lifting the fish upwards so that it becomes level with the photographer's line of sight. This will make your composition all better (of course with other things to consider).
And if you want to somehow make your catch look bigger than it actually is, hold it farther away from your body and let it stay closer to the camera lens. This will give the viewers an impression that you just got a huge trophy fish.
---
Best (Fly) Fishing Photography Cameras 2021
---

---
So:
I used my photography knowledge to share my top 10 best cameras that you can use for angling photography in 2021 (and beyond).
The list included mirrorless, compact and DSLR options across various price points.
==> If you're a beginner photographer and want to learn the nuts and bolts of how your camera works, check out one of my greatly recommended photo courses for beginners.
Now…
I'd like to hear from YOU:
Which of the options here you liked the most?

What is your level of photography skills?

Do you have any tips to share for taking good fish photos?
Let me know your thoughts in the comments!
P.S. Would you like me to update this post with some action cams for underwater fishing photography?
Sharing is caring!
About Author
Zarina
Founder & content creator at Digital World Beauty. My main objective here is to create a valuable resource for photography enthusiasts with honest tech reviews, course recommendations, and how-to tutorials.