Please note: As an Amazon Associate I earn from qualifying purchases. I also work with other affiliate partners and may be compensated from the links below. Details here.
December 9, 2020
5 Best Cameras for Instagram & Blog Photos: Step Up Your Photography Game Today!
---
Looking for the best camera to use for Instagram photos in 2021?
Welcome to my top 5 list of the best cameras for Instagram influencers & bloggers!
---
Look:
While you can take images with your smartphones, a lot of Instagrammers actually use mirrorless and DSLRs to get those stunning photos.
And guess what?
You don't have to break the bank to get one for yourself.
In this post, I'll share my top 5 list of the best Instagram cameras under $1000 to use in 2021 (that are common among influencers and bloggers).
I will also include specific budget-friendly lenses you'll need to create awesome IG pictures.
So, what camera do Instagram influencers use? Here's an overview:
5 Best Cameras to Use for Instagram in 2021
---

When I was preparing my list, I was looking for the best price/quality options. So, in here you'll find the options that cost less than $1000 WITH the recommended lenses.
(Also, I have an expert roundup where 17 fashion & beauty bloggers share their favourite camera – check it out!)
But first…
---
Choosing the Right Photography Gear for Social Media
---
Here's something you probably didn't know about:
The body of the camera itself has nothing to do with the amount of blur created in a photo.
In fact:
It plays into image quality only to a certain extent.
All that…
photo crispiness,

sharp foreground, and

amazing background blur
… comes down to the lens. 
And, really you're looking for lens, not camera, recommendations.
So:
For every product on this list I'd recommend a 50mm lens with the ability for the aperture to open up really wide, of at least f/1.8, to create amazing photos.
Two more things:
Don't buy point-and-shooter if you want awesome pics.

If you need gear for social media only​,

you can safely skip full-frame DSLRs that cost thousands of dollars.
Now, my personal dream choice for all purposes would be Leica Q. 
However…
Not every can afford this high-end compact full-frame sensor camera. Instead, today we'll look at the best budget options for your blogs and/or social media posts.
Let's get started, shall we?
---
Best Budget DSLR for Instagram Photos 2021
---
Nikon D3400
Type

: Compact SLR

Weight

: 445 g 

Resolution

: 24 MP

Sensor size

: APS-C (23.5 x 15.6 mm)

ISO

: Auto, 100-25600

Articulated LCD

: Fixed

Touchscreen

: None

Environmentally sealed

: No

Best budget lens for IG

: Yongnuo 50mm f/1.8
---
Let's be honest:
I recommend Nikon D3400 a LOT on this website. 
Why?
Because, in my opinion, D3400 is one of the best budget entry-level DSLRs that you can buy in 2021. (Or you can get the newer D3500 model for a slightly bigger price.)
I mean this baby is: 
easy to use, 

gives great image quality (even in low-light situations),

and costs less than $500.
It also has a feature called Snapbridge which will let you wirelessly transfer your photos straight to your smartphone (and then quickly upload to Instagram).
One more thing:
If you're a total beginner in photography, D3400 has Guide Mode which will literally teach you how to take photos.
How awesome is that?
In other words:
This DSLR will help you get started from scratch and it is ready to grow with you.
It's also one of the cheap cameras for Instagram that you can get right now.
==> Click here to read my full review.
---
Nikon D3400 Video Review: Real Life Field Test
---
Here's the video review with the features, its pros and cons, as well as real life photos​​ taken with D3400:
---
Let's Talk About Image Quality of D3400
---
Here's the thing:
This Japanese DSLR with a weight of 445 g has everything it needs.
The APS-C sensor has a resolution of 24 megapixels and shoots photos with a resolution of 6000 x 4000 pixels.
The sharpness of the images is at its finest. 
Even in rather low-light conditions, D3400 gives out a great level of detail with ISO, let's say, 3200.
To be frank:
The image noise becomes noticeable, starting at ISO 800 when shooting indoors. But good detailization is preserved up to ISO 3200 inclusive.
And, of course, under natural light, the photos are simply fabulous.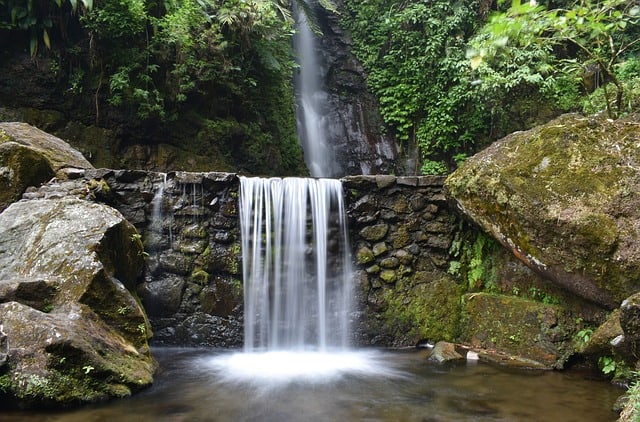 ---
Additional Features to Mention
---
A few more things to add:
Nikon D3400 records video in Full HD at 60 frames per second. 
Now…
I am not much of a video person, but I know that videographers will love this.
In my experience, when shooting a video, it's best to use the sharp 3-inch display on the rear panel.
Keep in mind: 
Unfortunately, the LCD is not articulated and isn't a touchscreen.
Another minor drawback of the display: the autofocus needs about 1.4 seconds, which is too long for snapshots.
Note:
This Nikon focuses much faster when using an optical viewfinder with 11 phase-focusing sensors.
One thing you'll like is its battery life:
2860 frames when shooting with the viewfinder, and, 

237 minutes in the video shooting mode. 
(Here, Nikon D3400 proved to be better than its predecessor.)
A great feature for beginners:
This DSLR has various Scene modes, such as portraits and sports shooting, as well as partially manual P, S, A, and M modes.
What's convenient…
The Guide Mode helps the beginners to correctly adjust focus to the object when shooting.
---
✓

What you might like about it:
amazing image quality for an entry-level DSLR

compact and lightweight

good ergonomics: every button is in its proper place

accurate autofocusing system

Guide mode available (great for beginners)

Full HD video at up to 60 fps

best bang for your buck
✕

What you might not like about it:
pretty slow autofocus in Live View

HDR and bracketing aren't available (for more advanced photographers)

no ultrasonic sensor cleaner (here's how you can

 clean the sensor yourself).
---
What Lens to Use with Nikon D3400?
---
If you pair up D3400 with a nice prime lens, you can get really great #InstaPics.
Generally speaking:
You can get D3400 with a 18-55mm kit lens.
But…
As I mentioned in the introduction, for IG photos ideally you'd want to have 50mm lenses with a wide aperture. 
So, one option to consider is Yongnuo 50mm f/1.8 lens.
Another lens that you might like is Yongnuo 35mm f/2.
I's a bit wider but still can give you that shallow depth-of-field (DOF). 
---
The Simplest Budget DSLR in 2021
---
Whether you want:
to take family vacation pictures,

capture your kids playing around,

or shoot portrait photos for social media,
… Nikon D3400 is a great entry-level camera for you.
I mean if you're a total beginner, this DSLR will help you smooth your photography journey.
What about lenses?
If it's your first DSLR, you might want to get it with kit lens. 
But…
For actual photos that give that awesome background blur, consider getting Yongnuo 35mm f/2 (a good cheap alternative).
Point is, D3400 certainly is one of the best cameras for bloggers on a budget.  
==> Check exact price on Amazon.

---
---
Best Mirrorless Camera for Insta Pics
---
Sony a6300
Type: Rangefinder-style mirrorless
Weight: 404 g
Resolution: 24 MP
Sensor: APS-C CMOS
LCD screen: Tilting
Touchscreen: None
Weather resistant: Yes
ISO: Auto, 100-25600, boost to 51200
Best lens to get

for Instagram pics

: Sony 50mm f/1.8
---
Here's the thing:
While Sony a6500 is already out on the market, it's a bit more expensive.
So…
The best recommendation under $1000 in this case would be the a6300 model.
I mean it's already packed with lots of features that will help you up your photo game.
Specifically:
built-in stabilization

24MP sensor

4K recording, and,

Full HD at 120 fps slow motion
These features alone will make you love it.
---
Sony a6300: Frustratingly Awesome (Video Review)
---
Check out the video review to give you a perspective of what to expect.
---
What Will You Love About Sony a6300?
---
Autofocus system:
Sony's 4D autofocus system has the ability to fix on an object in just 0.05 seconds, setting a new record among APS-C sensor cameras with interchangeable lenses.
Specifically:
It has 425 phase detection points, which cover almost the whole field of the frame (as seen on the image below).
Fact is:
In the tracking autofocus mode the a6300 can work with a new high-density tracking AF algorithm, when at the most important point of the frame smaller focus points are used.
What does that mean?
Basically, it is able to focus quickly and accurately even at a burst rate of 11 frames per second.
(Which really helps in reportage shooting if you're into this photography genre).
Besides that, an advanced tracking and autofocus are compatible with the Sony A-mount lenses, installed through the adapter.
Now…
Just because a6300 is a small and compact mirrorless, don't consider it an amateur one.
Without a doubt, this Sony is capable of a lot of things.
For example: 
When handheld shooting during night time, you will still manage to get high quality images.
(And your followers will appreciate it.)
---
Sony a6300 for Instagram Videos
---
There are good news for videographers too.
A6300 also has ultra-high-resolution 4K video and professional video functions:
4K-record

Full Pixel Readout

S-Gamut/S-Log

Shooting at a speed of up to 120 frames per second.
You can shoot 4K directly on a memory card.
There is more detail than in older, more expensive models, a possibility of super-high-speed shooting of Full HD (120 frames per second) without changing the framing.
Keep in mind:
The camera has an input for a microphone, but there is no headphone jack that allows you to control the sound level.
At first I found this very unfortunate.
Well, because the Sony Alpha 6300 is a very good video camera: the Ultra HD mode at 30 fps guarantees a clear and detailed video image.
But then, I realized that Ryan Grams provided a solution for it. Here it is.
Either way:
With this baby you can easily create a quality clip and post it on IG page to increase your popularity/brand.
---
✓ 
What you might like about it:
a sensor that produces a 14-bit RAW with an excellent dynamic range

confident work at high ISO

perfectly assembled metal body

a large viewfinder with high resolution

high burst rate (11 frames per second)

best in the semi-professional segment

recording video in 4K resolution; Full HD at a rate of 120 fps

advanced video recording capabilities (XAVC S, Log-S)

USB charging
✕ 
What you might not like about it:
no headphone jack

the maximum exposure is only 1/4000 seconds

no built-in stabilizer
---
The Best Lens with a6300 for Great IG Pictures
---
Here is the thing:
If you want that sharp foreground and amazing background blur (also known as bokeh), you really are looking for lens, not camera, recommendations.
And in intro, I mentioned to look for 50mm lens with wide aperture (of at least f/1.8).
So:
I suggest you pair up your Sony a6300 with the prime 50mm f/1.8 lens, which will allow you to create the beautiful bokeh effect.
Your Insta photos will be STUNNING!
---
Sony a6300: Best Budget Mirrorless Choice for Insta
---
In short:
The Sony a6300 performs well in all aspects.
Even at high ISO units, the 24 MP sensor provides a great quality image. 
It gets better:
Its Ultra HD video mode and high speed of work make this camera irresistible for Instagram influencers, fashion bloggers and/or models. 
Perhaps the perfectionists would prefer to have the built-in image stabilizer and touch screen as well…
… But despite the absence of these features, Sony a6300 remains to be one of the best (budget) mirrorless options with an APS-C sensor.
No camera is perfect but this one comes close to it.
==> Check exact price on Amazon.

---
---
Best Cameras for Instagrammers in 2021
---
GoPro Hero5
Type: VR/Action
Weight: 117 g 
Resolution: 12 MP
Sensor size: 1/2.3″ (6.17 x 4.55 mm)
Articulated LCD: Fixed
Touchscreen: Yes
Environmentally sealed: Yes
Durability: Waterproof
---
Before I talk about the camera, I wanted to mention one of the French influencers I've been following for quite some time: JC Pieri.
And his photos are simply amazing, so do check out his IG pictures!
The reason why I am mentioning JC here is because he's a GoPro family member. 
And it was him who inspired me to include one of the GoPro action cams in this top 5 list.
I realized that for adventure lovers (who need a good waterproof camera), GoPro is a great choice.
So…
What's so special about it?
In a nutshell:
GoPro Hero5 is an awesome action camera for everyone and for everyday use. 
I mean it has the easiest, intuitive control. 
The good thing is that Hero5 is pretty durable and waterproof, and so it's a very convenient gear for travel/vacation purposes.
Don't you agree?
Now…
You might ask why I included Hero5 version instead of GoPro Hero6.
There are 2 main reasons:
Most users seem to lean more towards Hero5

Cheaper in price
Alright, let's get into the details.
---
GoPro Action Cam: What is This Baby Capable Of?
---
Without doubt, Hero5 is amazing: 
it's waterproof,

it gives you high quality images, and, 

records great video with one push of a button.
Moreover, "regular" (non-extreme) people find it easy to use for everyday purposes.
Let's cover a few features.
---
1) Resolution
When it comes to resolutions and angles of shooting, you can choose: from standard to ultra-wide, to the mode that removes that "fish eye" effect.
Here is a complete list of supported video resolutions:
4K @ 30 fps;

2.7K @ 60 fps;

2.7K 4:3 @ 30 fps;

1440p @ 80 fps;

1080p @ 120 fps;

960p @ 120 fps;

720p @ 240 fps;

480p @ 240 fps.
---
2) Video Stabilization
It's a very useful addition. Though, it's far from ideal.
Why do I say this?
Because:
there's an inevitable cut-off of the shooting area by 10%,

the stabilization doesn't work at frame rates above 60 per second,

and for 4K video is not provided at all.
And still…
It's a worthy feature because it allows you to get much better video without professional photography accessories.
---
3) RAW Images and WDR
HERO5 Black can take 12-megapixel photos in RAW.
In my opinion, this is just another proof that GoPro wants to create its cameras as universal as possible and suitable for everyone. 
That includes photographers, for whom it's critically important to have the ability of high-quality image post-processing.
It gets better:
A WDR mode is provided which allows you to capture more detail under adverse lighting conditions.
---
4) Waterproof Body
Indeed: 
The new generation of GoPros can work when submerged to a depth of 10 meters without any additional accessories. 
(Compartments with battery and memory card, micro-HDMI and USB-C ports are securely protected with sealed plugs.)
---
5) GPS
HERO5 Black has a built-in GPS feature. 
It's a big advantage for landscape photographers and those who like using geo-tags overall.
What else can you ask for?
---
GoPro Hero5 for Extreme Sports
---
Truth is:
This camera turned out to be controversial in some ways, but the positive aspects clearly outweigh.
My opinion:
GoPro Hero5 is a great (advanced) alternative to smartphones for shooting photos and videos. 
It seems that the manufacturer wanted to make it convenient and understandable for an "ordinary" photographer, and he succeeded.
Now:
If you're into adrenaline-full (underwater) activities who wants to share awesome IG pics, then I encourage to give this action cam a try.

---
---
Best DSLR Under $1000 for Instagram Influencers
---
Canon EOS Rebel T6i
Type

: Compact SLR

Weight

: 555 g

Resolution

: 24 MP

Sensor

: APS-C (22.3 x 14.9 mm)

LCD screen

: Fully articulated

Touchscreen

: Yes

Weather sealed

: No

ISO

: Auto, 100-12800 (can expand to 25600)

Best lens for social media photos

: Canon 50mm f/1.8 lens
---
Look:
If you're a Canon fan, then I recommend Rebel T6i.
Why this DSLR?
Because I sincerely think that this camera is a great investment for enthusiast photographers.
The 5 reasons why I think T6i is a great choice:
it has 24 MP sensor,

its autofocus is fast,

awesome articulated touch screen,

great work in Auto mode,

and, its (rather) attractive price tag.
Thanks to its NFC and Wi-Fi features, you'll be able to shoot and upload your photos to your social media page straight away.
(Another reason why I recommend T6i as one of the best affordable cameras for Instagram pictures/social media content.)
==> Click here to read my full review. 
---
Video Review of Canon EOS T6i (750D)
---
Jim created a video review for the average consumer, so it won't sound too "tech-y" and will be easy to understand.
---
Rebel T6i Features Worth Mentioning
---
Let's be honest:
Classic DSLRs don't necessarily stand out with some interesting or "unusual" features.
But unlike previous Canon models, Rebel T6i (750D outside the Americas) did have certain innovations.
There are 2 important things I'd like to talk about:
image quality

Wi-Fi

video capabilities
Let's start with the image quality.
---
1) Image Quality:
Even though the number of pixels was raised from 18MP to 24MP, I don't think this change reflected on the image quality.
What you'll love though is its improvement in color rendition (with artificial lighting).
In my experience, you can safely shoot photos up to ISO 12800 and not worry about losing the image quality.
I mean, T6i works great at high ISO (example below).
Now…
Combine it with convenient control with the touch screen and we see how close budget-friendly cameras get to their FX DSLR counterparts.
---
2) Wi-Fi:
As an IG star, it's important for you to get a camera that has a Wi-Fi feature.
I mean with the current trends, having no Wi-Fi is a serious drawback. 
Fun fact:
It was the Nikon that started the era of budget DSLRs with a built-in Wi-Fi, with their release of Nikon D5300 in late 2013.
(Later, this initiative was intercepted by the updated D5500 model.)
T6i's predecessor didn't have the Wi-Fi feature, so it sure is a correct step on Canon's part.
Point is… This Canon is a camera with Instagram upload.
Keep in mind:
Don't expect this functionality to be of the same level as in, let's say, Panasonic mirrorless counterparts but it's still quite decent.
---
3) Video Recording:
There are both advantages and disadvantages to T6i video capabilities.
First of all:
Full HD video shooting is possible with a frequency of up to 30 fps when using autofocus, as well as with auto or manual settings.
Also, you have the ability to control the parameters of the exposure and ISO using a touch screen.
However:
Unlike its competitor from the previous generation, Nikon D5300 DSLR, T6i still can't master the 1080/60p mode. And only the MP4 (H.264) format is supported.
I mean for videographers that's simply unacceptable.
And while the autofocus is correct, it's still might be considered to be slow.
So, do keep this in mind if you like shooting videos on a regular basis.
---
✓

What you might like about it:
burst rate up to 5 fps

Auto mode works great

fully articulated and responsive touch screen

19-point phase autofocus (better than before)

large buffer for JPG photos

amazing image quality at high ISO

Scene modes and creative filters

accurate autofocus when recording videos

ability to control remotely
✕

What you might not like about it:
small buffer when shooting in RAW

no HDR and

interval timer

shooting

not very well optimized Wi-Fi power consumption
---
Best Lens to Get with T6i
---
I'll repeat myself:
If you want to get crispy photos and great background blur, you need to go for lenses with the ability to open up really wide (have an aperture of at least f/1.8).
This being said:
My recommendation with T6i is Canon 50mm f/1.8 lens.
---
One of the Best Cameras for Social Media Photography
---
Here's the thing:
While Canon wasn't as "revolutionary" compared to their mirrorless competitors, T6i still is a great budget-friendly DSLR option in 2021.
Especially for those those who are:
Canon fans,

beginner photographers,

Instagram influencers, fashion bloggers and models,

looking for a DSLR under $1000 for social media photography.
One more thing:
Scene modes and creative filters will definitely appeal to Instagrammers.
==> Check exact price on Amazon.

---
---
Another Camera Instagram Influencers Use
---
Panasonic G7
Type

: SLR-style mirrorless

Weight

: 410 g

Resolution

: 16 MP

Sensor size

: Four Thirds (17.3 x 13 mm)

LCD screen

: Fully articulated

Touchscreen

: Yes

Weather resistant

: No

ISO

: Auto, 160, 200, 400, 800, 1600, 3200, 6400, 12800, 25600

Best lens for social media photography

: Panasonic 25mm f/1.7
---
Look:
Panasonic Lumix G7 is another budget-friendly option in this list (under $1000 with the lens).
The G7 takes great photos and also can shoot in 4K, which is pretty amazing, considering the price point.
Important features to mention:
full-frame continuous shooting at a speed of 8 fps,

face and eye detection autofocus,

panoramic and time-lapse (interval) shooting;

built-in Wi-Fi.
My preference:
I personally would go for Sony a6300 as my mirrorless camera for Instagram but…
… if you're looking for a great budget 4K camera under $1000 with the lens, then Panasonic G7 might be your best bet (check the exact price on Amazon).
---
Hands-on Field Test with Panasonic G7 (Video)
---
Let's start with a video review as usual.
Note: Chris refers to G7 as the "brand new" but the video was shot a couple years ago, so G7 is definitely not brand new in 2021 (but still worth checking out).
---
Lumix G7: Let's Get Down to Details
---
​Guess what:
At first glance, you won't be able to tell if Lumix G7 is a mirrorless camera, because it has all of the features present in DSLRs:
a viewfinder, and,

a hot shoe.​
But once you pick it up, you'll know the difference.
What is it made of?
If we get into the technical characteristics, Lumix G7 is built on the basis of CMOS-sensor in the format of micro 4/3 for 16 megapixels.
It's actual sensor size is 17.3 x 13 mm (which is about half the size of the FX sensor).
What's the big deal about micro four-thirds lenses?
The micro 4/3 system is very good in that there is a huge amount of lenses for it.
And if that's not enough…
You can always buy an adapter and put on any lens for the Canon or Nikon lens mount.
Features to mention:
The maximum ISO value is 25 600, but the operating value for the camera is 3200 for JPG and 6400 for RAW.
The shutter speed range is 1/16000 to 60 seconds.
The electronic shutter operates in a noiseless mode. And it really is noiseless.
​Autofocus:
​That's yet another advantage of Lumix G7. It's a contrast type AF and has 49 points.
This means that:
it's fast,

it's accurate,

and works in low-light situations.
That's pretty much all you need to know.
---
Lumix G7 Offers 4K Video and Photo Modes
---
Truth is:
If you love 4K, you'll likely love Lumix G7.
This 4K burst rate novelty is dictated the its brand new processor.
The end result sure is very detailed.
(This means that besides quality photos, it's a great camera for Instagram videos too.)
Now:
Video resolution can be selected between the following values:
3840 x 2160 (30, 25, 24, 20fps),

1920 x 1080 (60, 50, 30, 25fps),

1280 x 720 (60, 50, 30, 25fps), and,

640 x 480 (30, 25 fps).
Its burst rate is 8 fps but Lumix G7 also has a 4K-photo function, which allows you to take a series of pictures at a burst rate of 30 fps with a resolution lowered to 8 megapixels.
It gets better:
Now, there are a few new 4K Photo modes​:
4K Burst Shooting

– this is a normal continuous shooting.

4K Burst Start/Stop (S/S)

– you record 4K video, and then cut a frame out from it.

4K Pre-burst

– records 4K one second before and after pressing the recording button.
Basically, it allows to "never miss that moment".
---
✓ 
What you might like about it:
high burst rate and image buffer

best video capabilities in its category

pretty easy to manage

Picture-in-picture and focus peaking mode

4K video and photo modes

fully articulated LCD screen
✕
What you might not like about it:
no headphone jack

autofocus isn't crazy fast (compared to other products on this list)

plastic body
---
Choosing a Lens with Lumix G7
---
Gotcha! 
This time you're not looking for a 50 mm f/1.8 lens to create awesome Instagram pictures.
Instead:
You will want a Panasonic 25 mm f/1.7 lens to pair up with Lumix G7.
---
Best 4K Camera Under $1000 (With the Lens)
---
Here's the deal:
In the face of Lumix G7, Panasonic managed to make a very convenient, highly functional and high-quality camera.
I mean, it has:
bright electronic viewfinder,

fast autofocus,

top 4K video quality,

and high burst rate,

best value for price
Without a doubt:
Right now, it is probably one of the cheapest 4K camera options.
Panasonic Lumix G7 alternative:
Another one you can look at is Nikon D5500 (my review).
It is also:
a great entry-level DSLR for beginners

creates Instagram-worthy photos

under $1000
What else can you ask for?

---
---
Frequently Asked Questions
---
Q: Is there a camera that uploads photos directly to Instagram?
Short answer: None
Being an influencer is tough. You need to update your followers with photos/content regularly. But sometimes, there are circumstances that prevent you from uploading your photos in your social media accounts.
This is so true especially if you are using a mirrorless or DSLR. There's no way you can upload your snaps directly to Instagram from your camera. Chances are, you don't always bring a laptop with you to transfer files (especially when travelling), or it takes too long for files to transfer (large file size).
However, the inclusion of WiFi connectivity on most modern cameras today has become a solution to this. It reduces the lead time in posting updates to your social media accounts. Instead of waiting until you get back home or to your hotel room to get access to a computer, you can simply use the camera's WiFi feature to transfer files easily to your phone. And from there, you can upload your photos to your various social media accounts.
Note: If your camera doesn't come with built-in WiFi connectivity, there are various ways on how you can have the same function installed in your gear. One is through buying memory cards with built-in WiFi features.
Q: Is it worth it to buy a camera for Instagram?
These days, smartphones are becoming more and more advanced. In fact, most high-end mobiles have better camera specs than most basic point-and-shooters. However, there's always a limit as to what your phone camera can achieve, and there's no arguing over that. There are things that your phone can't do but a camera easily can.
But, is it really worth it to buy a real camera for Instagram purposes?
Honestly, I don't have a direct answer for this. I think the answer really depends on your purpose in posting your photos to social media platforms, particularly Instagram. Is it for fun? Or is it for business?
Check out this post which cameras fashion bloggers use and why.
If you are an influencer who is paid to advertise products on your feeds, then upgrading to a serious camera would do you more good than harm. Of course, people won't know what gear you are using behind the beautiful photos, but its quality would always give it away.
Don't get me wrong. I'm not saying smartphones don't produce great photos. It's just that sometimes, a DSLR or mirrorless gear makes your pictures more "gram" worthy and gives it more quality.
On the other hand, if you are only posting for fun and personal collection, then you don't necessarily need a camera for that. Your smartphone will do.
Q: What should I look for when buying camera for Instagram/YouTube?
I personally use Canon M50 for YouTube videos, which is also under $1000. Here are a couple of things you should remember when buying a camera for Instagram or YouTube purposes:
Image and Video Resolution
Resolution is almost tantamount to picture quality. Your camera needs to have good resolution for your photos to look amazing. Most cameras today sport 16MP image resolution which produces decent results fit for the gram. You can also go for those having 20MP or 24MP photo resolution. But take note that these could be pricier.
As for video quality, look for a camera that offers full HD recording so that you can have the best video for your social media.
The size of a camera matters a lot, especially for the spontaneous/traveling type of influencers. It wouldn't do you any good to carry that excess bulk when going out.
Though DSLRs are impressive in terms of overall quality, you cannot discount the fact that mirrorless counterparts are more convenient and lighter to carry around. And if you're lucky enough, you'd easily find mirrorless gears with top-notch quality similar to that of the bulkier DSLR.
Of course, ergonomics should also count. For vloggers/influencers who are always on the go, you will really appreciate the gear more if it feels comfortable in your hands. (I would also mention having the fully articulated LCD screen really helps.)
Lastly, you should look for a camera that has built-in connectivity features. This means a lot if you are an influencer. Remember when I mentioned some gears come with WiFi? You should try looking for a camera that has it. This way, you will be able to transfer photos from the camera to your phone as easy as 1-2-3.
If you can't find one, or if your budget doesn't allow you to buy a gear with WiFi (they tend to be a little more expensive than rivals without this feature), you can also look for one with Bluetooth. This also lets you transfer photos to your phone for easier uploading.
Q: How Do I Make Instagram Pictures Sharp?
Instagram is not known for the best photo quality, but there are some things you can do to help increase picture quality and sharpness. One way to increase picture sharpness is to upload a high-quality compressed JPEG image directly from your phone or tablet. This will help avoid image quality reduction during the uploading process.
To increase the sharpness of Instagram photos, you can use the "sharpen" and "structure" features within the editing panel during the upload process. If you activate both these filters or photo edits to the max, it should go a long way in increasing picture quality. Another thing is selecting 1080 as the resolution if the image is wider than it is high.
Of course, how well your camera performs in the first place is another issue that you must consider. If you want to make your Instagram photos sharp, then they need to be high-quality in the first place. This means that having a camera with either an excellent digital zoom or optical zoom is a must, as well as body stabilization.
It is also beneficial to have a camera with a good ISO range, which will help improve picture quality in bad lighting conditions. If you take pictures of yourself,  having a camera with a screen for selfies so you can actually see what you are doing is a good idea.
What Camera Do Most Instagrammers Use?
If you plan to become a famous Instagrammer, you need to have the right camera. Across the board, one of the favorite cameras of Instagrammers at this time is the Canon 5D Mark IV, as well as Canon cameras in general.
One of the biggest reasons why Canon tends to be the most popular brand name for Instagrammer cameras is because of the massive selection of lenses available for use, over 200 of them in fact. Going back to the Canon 5D Mark IV. People love this camera due to its Wi-Fi capabilities, its great ISO range, 30.4 MP photos, and more.
If you prefer using a mirrorless camera due to its performance, some of the favorite options for Instagrammers include the Canon EOS R, the EOS R5, and the EOS RP. Other top choices include the Canon EOS 80D, the Leica D-Lux, the Olympus PEN E-PL9m, the Canon ESO Rebel, the Sony a 5100m, and the Nikon COOLPIX P900.
Does Instagram Reduce Photo Quality?
Something that can be a bit frustrating with Instagram is that it always seems to deteriorate your images' quality matter what you do. You can spend a lot of time editing your pictures on a computer or even on a high-end phone and then upload them to Instagram, only to realize that the image quality has decreased significantly.
The answer is yes; Instagram does reduce photo quality when you upload. One of the reasons is that you aren't following the maximum resolution guideline currently set to 1080 x 1350px. Simply put, Instagram will make any pictures larger than that resolution smaller to fit within its guidelines.
Next, Instagram uses JPEG as the default image format, and if you upload anything other than JPEG, images will be converted to JPEG. They will therefore lose some of the image quality during the conversion process. Finally, Instagram prioritizes mobile-based users and may reduce image quality when you go to upload via computer.
---
What Should I Look For When Buying Camera for Instagram/YouTube?
---
ISO Range
ISO range is something you should always look for in a camera. Generally speaking, the wider the ISO range, the better your images will turn out. This is especially the case when it comes to poor light conditions because the higher you can set your ISO, the better the results will be working in dark lighting.
Body Stabilization
Another useful feature is body stabilization, which means that the camera sensor can move slightly to compensate for shake and movement. Another desirable option is in-lens stabilization.
Digital Zoom vs. Optical Zoom
With optical zoom, you first zoom in on the subject with the lens to get it close, and with digital zoom, the camera takes a picture and then zooms in on the already-taken picture to bring it to the correct size. Optical zoom provides you with the best chances of retaining maximum image quality.
A Screen for Selfies
Chances are that you will be using Instagram to take pictures of yourself, which means you need to see yourself as you take the picture. Therefore, if you want the best camera for Instagram, we recommend going for one with a selfie screen.
---
What Camera Do Bloggers Use for Instagram?
---
So:
Here is my top rated 5 best Instagram cameras for influencers, fashion bloggers, models and so forth (across various budgets and from different brands).
These options will work not only for Instagrammers but also for other social media platforms and blog photos.
Now…
I'd like to hear from YOU:
Do you prefer mirrorless or DSLRs?

In your opinion, what is the best camera for social media photography for 2021? 
Any questions, suggestions?
Let us know your thoughts in the comments!
Click here to jump straight to the comment section.
---
Sharing is caring!
About Author
Zarina
Founder & content creator at Digital World Beauty. My main objective here is to create a valuable resource for photography enthusiasts with honest tech reviews, course recommendations, and how-to tutorials.