Please note: As an Amazon Associate I earn from qualifying purchases. I also work with other affiliate partners and may be compensated from the links below. Details here.
March 22, 2023
Nikon D5300 in 2023: Great Budget DSLR for Beginners to Invest In (Review)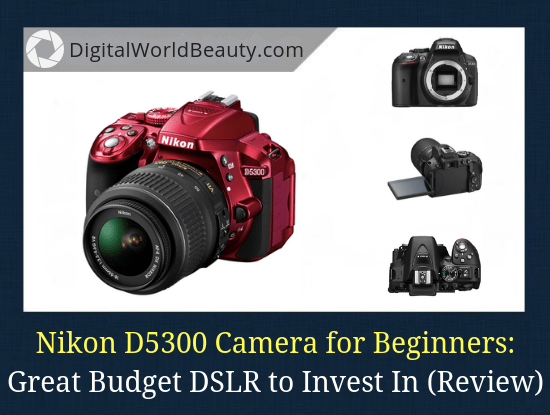 ---
Welcome to my Nikon D5300 review! (2023 Update)
---
I often hear people ask: 
Is Nikon D5300 a good camera?

Is Nikon D5300 still worth buying in 2023? 
My honest opinion?
YES.
If you decided to get into photography and want to buy your first budget DSLR, then D5300 might be one of the best investments you'll make. However, it's NOT for you if video shooting is your primary goal.
Quick reasons to get this entry-level gear:
costs less than $500 (body only),

has WiFi and GPS functions built-in,

comes with a fully articulating LCD screen,
(Just to name a few.)
Truth is…
In terms of functionality, Nikon D5300 is just one step behind the D7100, only smaller and weighs less. And when it comes to image quality, this DSLR won't disappoint. 
I mean, check out the glowing reviews on Amazon.
---
Nikon D5300 Review (Summary)
---
Type: Compact SLR | Weight: 480 g | Resolution: 24 MP | Sensor size: APS-C (23.5 x 15.6 mm) | ISO: Auto, 100 – 12800 (25600 with boost) | LCD Screen: Fully articulated | Touchscreen: None | Weather sealed: No 
Reasons to Buy
very low price tag

rotating rear display

good image resolution

little noise at high ISO for an entry-level camera

control it from your smartphone

marking and automatically transfer photos to your smartphone

convenient viewing of horizontal photos compared to an older model
Reasons to Avoid
no touchscreen

not weather-sealed

might not be the best option for video shooters
---

---
D5200 vs D5300 Display – What Changed?
---
So…
What has changed in comparison with the D5200?
no more anti-aliasing filter, just like in D800E and D7100

built-in WiFi and GPS

video recording in 1080 60p/30p

timer control button moved to another location

the updated 18-55 VR II kit lens

the screen became larger, can now view horizontal photos in full (see below)
---

---
The screen on D5300 is slightly larger, 3,2″ (720 x 480 resolution) compared to D5200's 3″ screen.
To an average person, this difference isn't noticeable, however, this is what allowed for the 3:2 aspect ratio to happen. Simply speaking, this allows you to "stretch" the image on the whole screen.
(What's not clear to me is why this couldn't be done earlier.)
In this sense, viewing horizontal photographs has become much more convenient. (As seen in the comparison image earlier).
And of course, just like its predecessors (D5000/D5100/D5200), the Nikon D5300 also has a tilting screen.
This will help you shoot videos and macro photography conveniently (without bending yourself in funny positions).
---
Wi-Fi Connection & How It Helps (Example)
---
You can sync it with your smartphone via WiFi without any problems.
To do this, you just need to install the program Wireless Mobile Utility on your Android or iOS device (and is free and very easy to use).
This way:
1) You can view photos that are on the camera and download the photos you want to a smartphone or tablet.
2) Now it's convenient to take pictures with long exposure when it is in Bulb mode, there is no need to buy additional devices like remote control or Triggertrap (which is out of business now, by the way).
Note on how to do that:
Put it in Manual (M) mode and roll the wheel until it shows "Bulb" on the display. Press and hold the shutter button for the desired length of time.
Someone once told me how he used the remote control function using Wi-Fi.
Basically, he was on a beach vacation somewhere in the US, where crowds of crabs would crawl ashore, but upon seeing people they would hide back in the water.
So…
He installed the gear on a tripod, waited for the crabs to get out of the water, and remotely photographed a lot of interesting frames of these sea creatures.
(By the way, Mark Hemmings is an excellent instructor to help you improve all aspects of your photography.)
---
Know Your Location with GPS
---
Another pretty useful feature in D5300 is the GPS module.
With it, you can tie your images to a specific place. The location data will be spelled out in exif and you can easily determine where exactly you took a particular photo.
Most people I know do care about having this feature.
Location especially matters if you're into landscape photography.
Learning photography has never been easier…
DCM is my #1 recommendation for beginners to help you become a better photographer. Read my review here.
---
---
About D5300 Sensor and ISO
---
It has a 24 MP sensor, so the number of megapixels doesn't differ from the one on the D5200.
Due to the new Nikon sensor, the D5300 can use the ISO range from 100 to 12,800 units and extend it to the Hi1 value (equivalent to 25,600).
Compare it with its predecessor, Nikon D5200, which uses ISO from 100 to 6400 units and extends it to the value of Hi2 (equivalent to 25.600).
By the way, Nikon D5300 DSLR became the first Nikon DX sensor that can use real ISO 12.800 (and not the advanced 'Hi' modes).
Note on Nikon D7100 vs D5300:
Judging by this indicator, the D5300 (and D3300) might outperform the Nikon D7100. Also, the Nikon D7100 uses the same sensor as the D5300 model, but because of the older processor, it can't use ISO 12,800.
However, it is true that the D7100 focuses faster, has superior flash capabilities, and performs better in low-light conditions.
Funny, but all three models D5100, D5200, D5300 use the maximum ISO threshold of 25,600 and still can't get any higher.
Generally speaking, when it comes to ISO there is a significant improvement in the sense that the noise has become smaller at greater ISO.
Now you can safely use ISO 6400 and not be afraid of possible losses of quality. Even the photos at a maximum ISO of 12,800 and Hi-1 (ISO 25,600) look quite decent.
One more thing to mention, the sensor on the D5300 is without an anti-aliasing filter, like on the D800E and D7100, so the image is extremely sharp.
If the image is not sharp, then you are doing something wrong.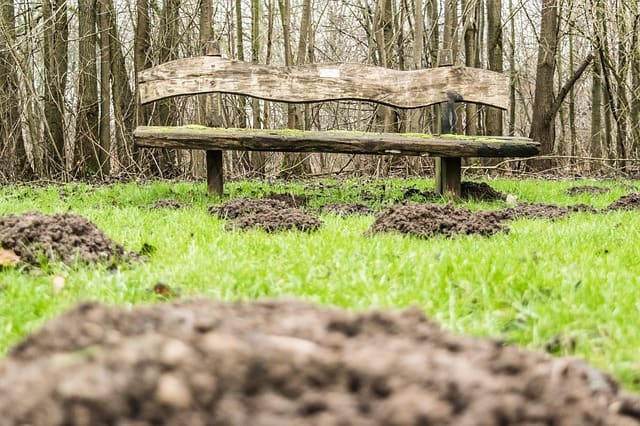 ---
Nikon D5300 Lens Compatibility
---
Now, what about lens compatibility and the Nikon D5300 kit lens?
Well, nothing has changed here.
It is compatible with all Nikon lenses released in the 60s.
However, the autofocus will only work with the new AF-S and old AF-I contact lenses (with the motor).
The good news is that the majority of the lenses are with an integrated autofocus motor and the old AF lenses are almost completely replaced by the new AF-S ones, so I doubt you will have any problems.
Now…
A word on kit lenses.
The kit version is what I recommend buying if it's your first DSLR. 
In the beginning, you don't need a lot of lenses, and a standard kit lens covers 150% of the need for your creativity.
When you have more experience in photography and will know what you like photographing the most, then you can buy the lens that will best suit your needs.
The D5300 comes in two versions, with an updated 18-55 VR lens and a new 18-140 VR kit lens.
The difference in price will be about $200, which might be quite significant for some, so if it is I'd recommend going with the Nikon D5300 18-55mm kit lens.
---
Other Features Worth Mentioning
---
1) Burst Rate
The rate of burst is no different from the D5200, however having 5 frames per second is a very good indicator, especially for a budget camera (and it is only slightly different from semi-professional models like D7100/D610).
This shooting speed is more than enough for photographing children, landscapes and even wedding photography.
2) Auto Distortion Control
Works amazingly well.
This function is enabled by default, but if you accidentally turned it off, here is how to turn it on:
Menu> Shooting Menu> Auto distortion control> On.
It helps a little to correct the distortion of your lens, especially true for wide-angle lenses that you'll likely use to capture the beauty of an immense landscape.
3) Auto ADR (Active D-Lighting)
I'd have this feature always turned on. It works when you shoot in JPEG.
Basically, in this mode, the DSLR tries not to light out the bright areas, and at the same time not lose the dark ones.
This happens by processing the frame at the conversion stage from RAW to JPEG right within the camera, but of course in difficult situations only the HDR mode will save.
4) HDR Mode – And How Does It Differ from ADR?
The difference is that the ADR turns a RAW frame into JPEG, trying to keep the details in both shadows and light areas.
HDR mode does roughly the same, but uses both frames with different exposures. Once you press the button, the camera in HDR mode makes two frames and then glues both together.
Naturally, this requires that the DSLR doesn't move, otherwise you will smudge the frame.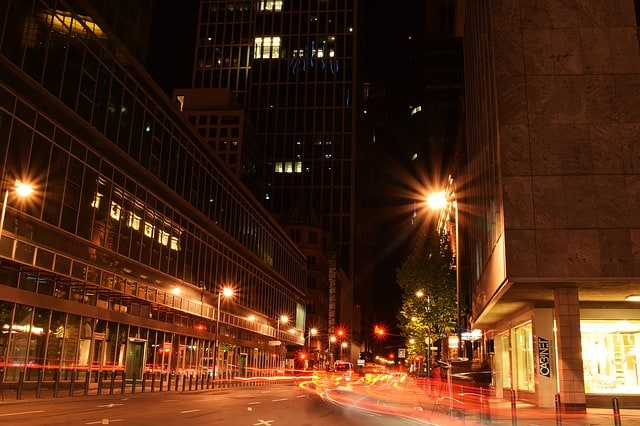 5) Interval Mode
Interval time shooting is the ideal thing for photographing lightning and fireworks.
You set the number of frames and the interval between them, press the start, and rest back. Everything else it does by itself.
6) Video Shooting
D5300 has a great articulated screen and a stereo microphone, so technically it should work fine for video shooting. However, if a video is your primary goal and you want to do it professionally, then I would suggest finding another (better) option.
When D5300 came out, its video capabilities were probably great but in 2023, there's a very high standard. And that's why I don't recommend it for video content creators. 
7) Flash
It has an excellent built-in TTL flash, but it still doesn't know how to control external flashes, as does the D7100/D610.
D5300 also lacks the ability to FP-sync, so you have to take pictures with a minimum shutter speed (with the flash turned on) in 1/200 seconds.
If you plan to often shoot in the street with a flash, you should think about the ND filter. And if you want to control external flashes you need to read about the ways to control your flash.
8) Memory Card
It is necessary to purchase a regular SD memory card separately.
SD card is much more convenient than the CF because a slot for an SD card is available on almost every laptop and many tablets.
This is especially relevant if you forgot your USB cord at home.
Personally, I hate having too many cords, so I find this option super useful.
9) Battery Life
The battery is larger, 1230 mAh versus 1030 mAh on the D5200, and it's not surprising, because now with the included WiFi and GPS, the camera wouldn't "live" as long.
In practice, it feels like Wi-Fi is eating up the battery, but if you don't use it for too long, then you can easily shoot more than 1000 frames, and the battery will live longer too.
---
How to Set Up Nikon D5300 DSLR?

---
If you want to know how to set up your D5300, try using the following settings:
Shooting Menu
Auto Distortion Control ON
Active D-Lighting Auto
ISO sensitivity settings, Auto ISO ON, minimum shutter speed – Auto
Release mode Continuous H
Custom Setting Menu
a1 AF-C priority selection Release
a2 number of focus points AF39
a3 build-in AF-assist illumination OFF
d1 Beep OFF
d3 ISO display ON
d4 File number sequence ON
f1 Assign Fn button HDR
Setup Menu
Ready to crush it as a photographer this year?
Get this practical photography course to take you from zero to photography hero. Join the course now.
---
---
Best Lenses for Nikon D5300 (2023)
---
If this is your first DSLR, then it's best to buy it with an 18-55VR kit lens.
It is also recommended you pay attention to the following lenses:
Tokina 12-28mm f/4

Tokina 11-16mm f/2.8 (with motor!) or

Nikon 10-24mm f/3.5-4.5
In case you do not have enough versatility, it's worth buying 18-200VR, which is also the best lens for travel.
For those who like to shoot with a telephoto lens, go with 55-200VR or 55-300VR.
Passionate fans of macro photography need to take the 105 mm VR micro lens, or more budget 40mm micro lens option.
Finally…
If you're into portraits, I sugges you find the Nikon D5300 with 18-140mm kit lens.
Why?
Because this longer kit lens is gonna be really useful as you're shooting different types of portraits and light wedding stuff. 
I also highly suggest you pick up Nikon 50mm F/1.8 G.
it autofocuses,

it is very sharp, and,

it really gives you that background blur that portrait photographers love.
Attention:
Note that the D model won't autofocus with that body, so be careful to get the G model!!!
---
Nikon D5300 vs D3500 for Beginners
---
If you've been doing a lot of research on which entry-level DSLR to get, you likely came across the D3500 that was recently released.
I don't have the review out yet but I can say a few words here.
My opinion is that if you're doubting between these 2 options, I suggest you choose D5300.
I don't know what's happening with this brand, but Nikon's D3x00 series just gets worse and worse. Basically, D3500 is a downgrade from D3400 and D3400 is a downgrade from D3300 (in terms of features). 
How's that so?
Well, Nikon D3300 had:
sensor cleaning,

remote shutter port (intervalometer), and,

microphone port.
These features were removed from Nikon D3400 and were replaced with Bluetooth. Then, while D3500 is smaller, we see fewer buttons there, and arguably less usable.
This being said…
Nikon D5300 would be the obvious better choice. Alternatively, you can invest in other newer models, like D5500 or D5600.
---
Nikon D5300 vs. D7100 as Your First Camera
---
There are so many entry-level cameras in the market right now. So, it's not surprising many people keep wondering if the older models are still significant today. 
The thing is, some products remain a favorite among beginners since they have a quality that has been proven and tested. Some examples are the Nikon D5300 and the D7100. 
Released just one year apart, with the D7100 being announced to the public earlier, what could probably be the major differences between these two? Let's check it out below!
The focus points in D7100 outnumber that of the newer unit – 51 vs 39. This is important because the more focus points there are, the more options you have when choosing which part of the screen you want to focus on. 
D7100 is slightly better in terms of speed. It can perform at 6fps while the other model can only do 5fps. 
Though this feature often goes unnoticed, it's as important as the others, too. D5300 has built-in WiFi and GPS, a feature only modern devices have. 
There are so many more differences (or similarities) between the two models. Regardless of the unit you choose, it's still your artistry that will matter the most. So just relax and choose which you think is best for your photography needs. 
---
Is Nikon D5300 Worth Buying in 2023?

---
The Nikon D5300 is definitely the best budget DSLR you'll ever hold in your hands.
it's light,

it's compact, and,

it has an amazing image quality even in poor lighting at high ISO.
Now:
D7100 is worth buying if you are photographing for money, such as weddings or reportage photos, where speed, good flash capabilities, and convenience of switching the settings are important.
In the D5300, everything will need to be set up using the menu on the screen, but if it does, it will not take long.
The camera is equipped with a built-in Wi-Fi module that will allow it to sync with your smartphone in a matter of seconds.
It's convenient, and in my experience doesn't affect the quality of the images.
I don't think the owners of earlier versions, like D5100/D5200, should upgrade to D5300 because you already have everything you need for quality photography.
And if you suddenly decide to go from D3100/D3200/D3300 to D5300 then this should be done only if you REALLY want the tilting screen.
And even then, I'd recommend going with D7100 instead. Watch my video below:
So… 
Should you buy Nikon D5300 in 2023?
Based on the info here, it's safe to conclude that Nikon D5300 totally is worth buying even this year. Especially if you are a beginner on a budget, and looking for your first DSLR. 
---
Nikon D5300 Review: Final Thoughts
---
I'll repeat myself here but D5300 sure is one of the best starter cameras today. 
Some people argue that it might be the ideal DSLR for beginners.
Alternative option:
If you are really on a tight budget and just want to get your feet wet, do consider Nikon D3400 under $500 (WITH the lens).
Remember:
My job with this website is to provide accurate information but ultimately, it's your decision whether this option is the right fit for you.
Now, I'd like to hear from YOU:
What are your thoughts on this Nikon D5300 review?

In your opinion, is Nikon D5300 still good as a first DSLR in 2023?

Would you like me to discuss Nikon d7100 vs d5300 in depth here?
Anything else to add?
Comments and suggestions are welcome in the comments below (click to jump straight to the comment section).