Please note: As an Amazon Associate I earn from qualifying purchases. I also work with other affiliate partners and may be compensated from the links below. Details here.
June 16, 2023
5 Best Cameras for Landscape Photography in 2023 (With the Lenses)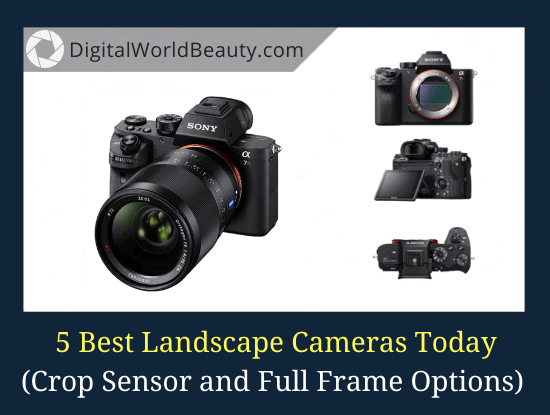 ---
Look…
I firmly believe that buying specialized photo gear should be a fun process.
And to make your life easier, I created this list with the 5 best landscape cameras for 2023 (across various price points). 
It gets better:
I included the best lens for landscape photography that you would need to get for each mirrorless and DSLR presented in this article.
So, this buying guide should be useful, especially if your primary task is travel and still-life photography.
Here's a table that'll give you a quick look of my roundup and the reasons to buy the product. For further details, simply click 'review>' in respective row.
Best landscape DSLR for newbies

great price-quality ratio

Budget full-frame landscape camera

unique tilting LCD screen

Best "FX" value in the Nikon lineup

Best mirrorless camera under $3000 (with lens)

great for variety of genres

top quality photo & video

High end gear for pro level photos

highest resolution = 45 MP

fast & tenacious focusing

best for all photo purposes
FYI: When choosing which product to include, I didn't focus on the 'latest and the greatest', but rather on great price-quality ratio options, even if they are older models.
In any case, whether you're a complete newbie or an enthusiast, bootstrapped or not, you'll find a good option that works best for your needs, skills, and budget.
So, what is best camera for landscape photography?
Let's start with the one at a low-price point that will allow you to take pretty awesome photos – the Nikon D5500.
---
1.

Nikon D5500
Best Starter DSLR for Landscape Photography 2023
Type: Compact SLR | Weight: 420 g | Resolution: 24 MP | Sensor size: APS-C (23.5 x 15.6 mm) | LCD screen: Fully articulated | Touchscreen: Yes | Weather-sealed: No | Built-in GPS: No | ISO: Auto, 100-25600
Reasons to Buy:
accurate work in Auto mode

articulated touch screen

fast autofocus & decent burst rate

low noise level up to ISO 3200

good color rendition &

 image detail

built-in Wi-Fi

in-camera image processing

best affordable camera for landscape photography in 2023
Reasons to Avoid:
no built-in GPS

not weather-sealed

not too much buffer space when shooting in RAW + JPG
---
Look…
If you're a newbie looking for the best budget camera for scenery photography, then the Nikon D5500 DSLR might be your best bet.
It's an entry-level option for advanced beginners that came to replace the Nikon D5300, and it was the first Nikon model equipped with an articulated touch screen.
If you end up picking up the D5500 model, you will realize that this one is capable of shooting different scenes and all images do come out great.
Just like with all modern Nikon cameras, even when shooting in low-light conditions, you can rely on this model's confident work.
Now:
When it comes to landscape photos, you can boldly raise ISO up to 1600 without worrying about loss of detail and the image noise. This is the case where D5500's autofocus, along with continuous shooting, demonstrates decent speed and accuracy. 
Being their first DSLR with a touch screen, the manufacturer succeeded at making this implementation a successful one. Its touch screen reacts very quickly, and navigating through the menu has become faster and easier.
The only thing that bothered me a little (and probably will you too) was the lack of a GPS in this model.
Let me remind you that one of my recommended DSLRs for beginners, the Nikon D5300, does have it. (This model also made the list of my top 9 list of the best entry-level Nikon lineup in 2023).
The thing is that for travel and landscape photography, location matters.
On the other hand, advanced amateur photographers will always be able to purchase an external GPS module if they wish to. For those who don't need it, the D5500 will cost less.
Arguably, Nikon D5500 is the best affordable camera for landscape photography (for beginners).
I'll say more:
For hobby photographers, it will be a real godsend. Accurate and confident work in auto mode will produce high-quality images even for inexperienced amateurs.
The presence of built-in filters and the possibility of in-camera image processing will improve your images even without using a computer.
In favor of the D5500 also speaks its universality.
(It is equally suitable for most genres, stably producing quality photos.)
Best Landscape Lens for Nikon D5500
Usually the kit lenses aren't that sharp, that's why Sigma 18-55mm f/1.8 is the best landscape lens for Nikon D5500. I mean, this glass is incredibly sharp.
(But make sure you pick it up in a Nikon mount!)
I already mentioned that D5500 is the best budget landscape camera here, and if you use use Sigma 18-35mm f/1.8 lens, then you get the best value at the lowest price possible. 
I mean, this combo will produce fantastic nature images.
---
2. Pentax K-1
Best Budget Full-Frame Camera for Landscape Photography
Type: Mid-size SLR | Weight: 1010 g | Resolution: 36 MP | Sensor size: Full-frame (35.9 x 24 mm) | LCD screen: Tilting | Touchscreen: Yes | Weather-sealed: Yes | Built-in GPS: Yes | ISO: Auto, 100-204800 
Reasons to Buy:
incredible image quality

low noise, the widest dynamic range

5-axis stabilization

unique tilting screen

two SD-card slots

full-featured Live View mode

Pixel Shift, AstroTracer feature, anti-moire

convenient shooting in RAW (PEF), JPEG, and in the universal DNG format

built-in GPS and Wi-Fi

low price for this category
Reasons to Avoid:
takes time to master the Pentax's 'unique technologies'

not the most advanced AF for a FX DSLR

small coverage area for phase AF

low speed of continuous shooting (for sports/action photographers)

using Pixel Shift and HDR shooting may load the processor (slow it down)
---
I'll say this…
Pentax K-1 is certainly suitable for any type of shooting. (If you can afford the Mark II model, even better.)
Basically it will be appropriate for landscape shots and for artistic portraits alike.
It is also a great option for other professional photography genres, including wedding, interior, and product photography.
I also feel that Pentax K-1 will be interesting for those who are choosing their first full-frame DSLR.
Because we have a camera that offers a lot for a relatively small price tag:
a very effective optical stabilization system,

magnificent (!) image quality

widest dynamic range and low noise level,

flexibility in RAW processing.
Without doubt, the price is a HUGE advantage.
In the segment of the top full-frame DSLRs, the Pentax K-1 (review) is one of the best budget FX cameras for landscape photography that you can find in 2023.
(You know how expensive they can be!)
Point is, K-1 has everything to be a professional tool. It not only gives excellent quality of images, but it has huge shutter speed, and is weather sealed.
Definitely worth it for enthusiast landscape and creative photographers, looking for their first full frame DSLR.
Best Landscape Lens for Pentax K-1
If you want to create sweet landscape shots, you should pair up your Pentax K-1 with Pentax 24-70mm f/2.8 lens.
On a full-frame DSLR like the new Pentax K-, this glass captures an angle of 74º in the horizontal direction when you set it at 24mm.
And that is GOOD for landscape photography.
---
3. Nikon D810
Best DSLR for Nature Photography 2023 (Under $2000)
Type: Mid-size SLR | Weight: 980 g | Resolution: 36 MP | Sensor size: Full-frame (35.9 x 24 mm) | LCD screen: Fixed | Touchscreen: No | Weather-sealed: Yes | Built-in GPS: Not built-in but can be added | ISO: Auto, 64-12800
Reasons to Buy:
the highest detail of the images & 

excellent color rendering

quality picture up to ISO 3200-6400

high burst of rate considering its resolution

large buffer when shooting in JPG

excellent autofocus

advanced ergonomics & 

extensive control settings

dust and moisture protection

video shooting up to 1080 @ 60p

microphone and headphone output

working with 2 memory cards
Reasons to Avoid:
relatively high cost

the possibility of moiré (occasionally)

a small buffer when shooting in RAW and S-RAW
---
If you're looking for the best camera for nature photography under $2000, have a look at Nikon D810.
It is a modern full-frame DSLR, designed primarily for those photographers who need uncompromisingly high image quality.
Which sure is the case with landscapes, weddings, and advertising photography.
Thanks to the 36-megapixel sensor without an optical low-pass filter, this model provides excellent color rendering and offers the highest detail of the image. 
Its pretty high burst rate and excellent autofocus allows you to use the D810 for reportage and documentary photography too.
(In case landscape photography isn't the only favorite genre of yours.)
Also, the resolution is great. When shooting with insufficient lighting, it allows a more effective noise reduction.
Other advantages include:
great ergonomics,

a weatherproof body,

an ability to work with two flash drives, and,

a convenient optical viewfinder with an exhaustive set of output parameters.
Check out my detailed review of Nikon D810 to learn more why I love it.
I must warn you though…
The control interface of the D810 is designed for an experienced photographer, and amateurs may find it way too complicated.
As a beginner photographer you need to learn the tips and tricks of the camera first and invest in a cheaper entry-level DSLR instead.
Best Lens for Landscape Photography (Nikon D810)
While there are many lenses that you could use for this genre, you might want to start with Nikkor AF-S 16-35mm f/4 G and then go from there in the future.
Nikon D810 coupled with 16-35mm f/4 lens is a great combo for this genre.
Note:
In case you're not ready for D810 for whatever reason, check out this alternative: Nikon D750 with Tamron 15-30mm f/2.8 lens (for landscape photography).
---
4.

Sony a7R II Mirrorless
Sweet Mirrorless Camera for Landscape Shots
Type: SLR-style mirrorless | Weight: 625 g | Resolution: 42 MP | Sensor size: Full-frame (35.9 x 24 mm) | LCD screen: Tilting | Touchscreen: No | Weather-sealed: Yes | Built-in GPS: No | ISO: Auto, 100-25600 (expands to 50-102400)
Reasons to Buy:
highest resolution = 42 megapixels

absence of optical low-pass filter

low noise up to ISO 6400

wide dynamic range

silent shutter and

effective stabilizer

advanced ergonomics with a customizable interface

improved hybrid autofocus

large viewfinder

4K-video shooting

WiFi & other additional features

two batteries and a charger included
Reasons to Avoid:
relatively high price tag

not instant switch-on time

unusual interface for old-school (SLR) photographers
---
As of 2023, the newer Sony a7R models are better hybrid (mirrorless) cameras, but I decided to include the Mark II version here as a cheaper alternative. 
So, this section is for those who are looking for the best mirrorless camera for landscape photography under $3000, including the lenses recommended here.
(You might totally find a great deal on Amazon, BH Photo Video, or Adorama.)
Now…
Sony Alpha A7R II is a symbolic model which has gathered all of Sony's most advanced technologies.
It has amazing photo and video capabilities, as well as presents one the latest developments in the field of microelectronic production.
The sensor has 42 megapixels which is not the record one but it was the first full-frame sensor in the world, created using the BSI technology, and it has no optical low-pass filter.
As a result, this further increases the detailization of images.
And by the way, you won't see a lot of moiré in images. (The specificity of multi-megapixel sensors is that it's really hard to get moire on them.)
In a nutshell, Sony a7R II has…
well-developed ergonomics,

finely tuned interface,

professional video shooting with a resolution of up to 4K,

and an effective optical stabilizer,
… all of which are enclosed in a really compact body.
Add to this high speed and hybrid autofocus, and you have a mirrorless monster that offers excellent results in any conditions.
So, if you're in a stock photography business, nature/landscapes and wildlife, advertising, work in a studio, and are a travel photographer (videographer), then Sony a7R II is for you.
Best Lenses for Landscape Photography?
As mentioned earlier, Sony A7R II is the perfect choice for those photographers and videographers who need the highest possible technical quality.
What about the glass?
Well, Sony 24-70 and 16-35mm f/2.8 are absolutely stellar lenses for landscape photography.
The best part is that combining the Sony body with any of this glass should cost less than $3000 for you.
---
5. Nikon D850
Best DSLR for Landscape Photography 2023
Type: Mid-size SLR | Weight: 1005 g | Resolution: 45 MP | Sensor size: Full-frame (35.9 x 24 mm) | LCD screen: Tilting | Touchscreen: Yes | Weather-sealed: Yes | Built-in GPS: None | ISO: Auto, 64-25600 (32-102400)
Reasons to Buy:
high resolution 45.4 Mp

excellent work at high ISO, low noise level up to ISO 6400

wide dynamic range, flexibility in processing RAW files

ease of use: improved grip, button illumination, high resolution inclined display

touch screen & 

optical viewfinder with 100% frame coverage

quiet shutter & 

noiseless Live View shooting

fast and tenacious focusing

high speed of continuous shooting (7 fps), capacious buffer

30 fps 4K video shooting

support of modern fast memory cards XQD and SD UHS-II
Reasons to Avoid:
a bit slow focusing of contrast type in Live View mode

challenging for enthusiast photographers
---
Look…
If you want to go more with an old-school options then Nikon D850 is the best DSLR all around that you can get.
(Without a doubt, it's the best Nikon camera for landscape photography in 2023.)
It's not just an upgrade of the good old D800 and D810. It's a completely new model with a lot of interesting and practical features.
This type of gear can often be found in the hands of professionals as they have proven themselves in various types of shooting such as wedding, studio, and/or landscape.
If you're a beginner, consider entry-level DSLRs instead, such as:
D5500 (the first one in this list),

Nikon D5300 (a cheaper alternative to D5500),

Despite the avalanche of various innovations, the main intrigue in the D850 remains its sensor. This was the first time that a BSI-CMOS sensor was used in Nikon products. 
It's designed to provide better results when working at high ISO.
Also, at the time it was the first sensor to have such a high resolution of 45 MP. There is no low-pass filter on the sensor (which is a good thing). At the output, we get images up to 8256 × 5504 pixels.
Having so many megapixels means more image detail, and that means the more freedom you have in everything.
High resolution allows you to print photos in large format, gives room for framing, and greater flexibility in processing.
For example, retouching a portrait or a subject photo becomes much more convenient if the shot is taken in high resolution.
That is why cameras with higher resolution are so loved by studio and landscape photographers.
However, classic studio DSLRs are rarely equipped with an equally powerful autofocus and do not have such a fast continuous shooting.
This means that Nikon D850 will give a high resolution not only to photographers working in the studio and with landscapes, but also to all those involved with the reportage shooting.
This being said…
The D850 model combines high speed with incredible detail of images, and allows you to make high-quality shots in any conditions, including in poor lighting at high values of ISO.
Now, while this product is great, it's for a specific target audience, that is, the experienced pros.
(More professional in the Nikon lineup is only the Nikon D5, but it is oriented to a different field of application: it is a quick burst-rate SLR in a killer body, created for reporters.)
So I don't recommend it for total beginners, as there are no guide modes available and it will definitely be challenging for them to master.
Best Landscape Lens for Nikon D850?
You will want to get the 24-70mm f/2.8 VR lens to pair it up with Nikon D850.
In itself Nikon D850 is an amazing high-end landscape DSLR, but combined with 24-70mm f/2.8 VR lens, you'll have an incredible combo for your photography purposes.
---
Landscape Cameras Roundup (2023)
---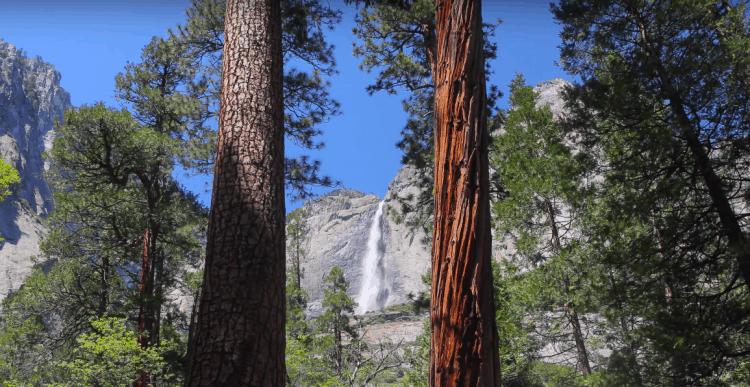 All the aforementioned products are absolutely great for nature photography, whatever your budget is.
The fact is, all of the above were/are used by professional photographers and it shows that the quality really is top-notch (especially Sony a7R II and Nikon D850).
Almost all of them are environmentally-sealed which means that as a landscape photographer, you will be able to shoot in any weather condition. And all the lenses chosen here are great for this genre.
Note: As many of you may know, it's the lens you have that's more important.
So…
If you are on a budget, it might be a better idea to get a cheaper option but a stellar lens. (For example, getting Nikon D5500 and a Sigma 15-55mm f/1.8 lens with it).
Here's an overview of the products covered today:
5 Best Landscape Cameras 2023 (With Lenses)
---

If you are a beginner, check out Photography Pro online courses to build a solid foundation for your future as a photographer.
I really hope you enjoyed this list of the best cameras and lenses for landscape photography and let me know which one you found most suitable for you.
One last thing to mention:
If you are into sports, action or wildlife, keep in mind that unlike landscapes, sports and action requires fast focusing and high frame rate.
Therefore you'll need different digital cameras and lenses for sports!
---
Choosing the Camera for Scenery Photography
---
Now…
I'd like to hear from YOU:
What is your level of photography skills?

Are you more into DSLRs or mirrorless options?

In your opinion, what is the best landscape photography camera in 2023?
Let us know in the comments below!
---
Sharing is caring!
About Author
Zarina
Founder & content creator at Digital World Beauty. My main objective here is to create a valuable resource for photography enthusiasts with honest tech reviews, course recommendations, and how-to tutorials.