Please note: As an Amazon Associate I earn from qualifying purchases. I also work with other affiliate partners and may be compensated from the links below. Details here.
March 7, 2019
Pentax K-1 in 2022: This Full-Frame DSLR Offers a Lot for Your Money (Review)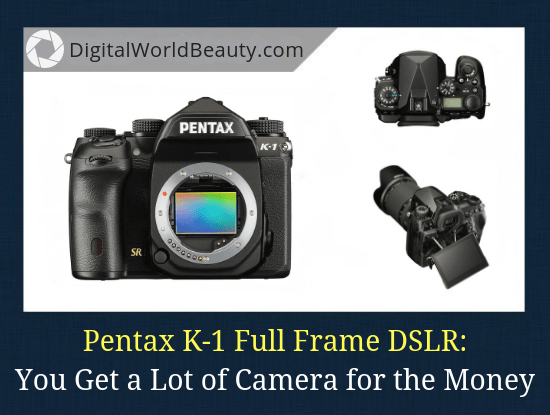 ---
Welcome to my Pentax K-1 review! (August 2022 Update)
---
Look:
If you're looking for your first budget full-frame SLR camera in 2022 and are heavily focused on landscape photography, then Pentax K-1 might be your best bet. Especially under $1500 price tag.
(Hopefully this review will help you understand why.)
Generally speaking, Pentax K-1 is suitable for any type of shooting.
The camera will be appropriate in your hunting for landscape frames, and for artistic portraits alike.
It's also a great option for other genres of professional photography:
weddings,

advertising,

interior photography.
I feel that Pentax K-1 will be interesting for those who are choosing their first full-frame camera.
I mean, the camera offers a LOT for a rather small price tag.
Now…
Who is this camera for?
It is clear that professionals are unlikely to abandon their camera systems that they use now and go for Pentax instead.
However, K-1 has everything to be a professional tool:
it not only gives excellent quality of images,
but it has huge shutter speed,
and is weather sealed (which is important for landscape photographers).
It's also a camera for enthusiasts and creative photographers, looking for their first full frame camera under $1500.
---
Pentax K-1 Video Review (With Nick Devlin)
---
Below is a Pentax K-1 video review attached with samples and comments on this full-frame SLR camera.
Note:
Keep in mind that an abundance of this DSLR's "unique technologies" will require that you invest some time to master it. Either way, Pentax K-1 a good option to consider for your photography career.
Especially if you're heavily into landscape shooting.
---
Quick Specs
Type: Mid-size SLR

Weight: 1010 g 

How many pixels: 36 MP

Sensor size: Full frame (35.9 x 24 mm)

ISO: Auto, 100-204800

Articulated LCD: Tilting

Touchscreen: None
Environmentally sealed: Yes (Weather and dust resistant)
---
Reasons to Buy
excellent image quality: low noise, the widest dynamic range

5-axis stabilization

unique tilting screen

two SD-card slots

full-featured Live View mode

Pixel Shift, AstroTracer feature, antimoire

convenient shooting in RAW (PEF), JPEG, and in the universal DNG format

implemented GPS and Wi-Fi

low price for a camera of this class
---
Reasons to Avoid
pretty low continuous shooting (4.4 fps), small buffer

not the most advanced autofocus, a small coverage area for phase AF

when using Pixel Shift, HDR shooting and other technologies that load the processor, make the camera a bit slower
==> Check the exact price on Amazon.
---
A Bit of History of the Brand
---
---
What do you know about Pentax cameras and this system as a whole?
Most likely you know very little. Today, it is pretty rare to meet a Pentaxian photographer.
At the turn of the century this popular brand of photography equipment went through many difficulties, but since 2011 it is under the wing of the Ricoh corporation.
And from that moment, the brand began to come to life gradually, pleasing the photo community with interesting novelties.
Among them: a series of dust and waterproof crop frame DSLRs with new lenses and even a remarkable digital medium-format Pentax 645Z.
And then came the moment when Ricoh brings Pentax to the market of full-frame SLR cameras.
The Pentax K-1 is one of those quality DSLR cameras that started to make a name, and I think it indeed is a worthy investment, especially if you're into landscapes.
---
Pentax K-1: Design and Construction
---
Pentax is a Japanese based company that has been manufacturing imaging and electronics products for quite some time, and one of their products they are truly proud of is the Pentax K-1 full frame CMOS sensor DSLR.
Let us find out why.
First of all, the camera in the hands looks very compact by the standards of full-frame SLRs.
At the same time, the camera weighs a respectable 1010 grams, which  you won't really feel thanks to a comfortable grip.
Pentax K-1 implemented a five-axis stabilization sensor called Shake Reduction II (SRII).
Due to this sensor stabilizer, any lens installed on the device will be "stabilized" even if it is a manual fix of 30 years ago.
Very convenient!
This camera has a dual SD card slot to make sure your work is backed up.
Its 3.2-inch monitor is very different from its competitors as it can be tilted up to 90 degrees. It can also be moved down at 44° and move on either side up to 35°.
By the way, on a full-frame camera like the new Pentax K-, this lens captures an angle of 74º in the horizontal direction when you set it at 24mm.
And that is good for landscape photography.
An important feature to mention is the Pixel Shift that's been built for Pentax K-1. The essence of it is that the device makes 4 frames in a row, and then glues the results in one shot.
Don't get me wrong:
This doesn't result in a photo with a huge number of megapixels, as was seen with Olympus. The resolution remains the same: 7360 x 4912. But the color and sharpness of the image increases, and the noise decreases.
Here is a video to compare Pixel Shift resolution with the normal shooting:
It comes with an HD PENTAX-D FA 28-105mm f/3.5-5.6 ED DC WR lens, which is so much better than most kit lenses you will find in DSLR cameras.
It is suited for:
close-up telephoto zoom and

wide-angle shooting.
The lens also has a low dispersion glass that stops colors from fringing out when you zoom in. Its HD coating will prevent flare and ghosting for better contrast.
This lens also has Supersonic Direct Drive Motor that achieves a smooth and quiet autofocus. Another great feature is that this Pentax model has a weatherproof coating to help protect it from rough conditions.
This means that…
If the weather gets rough, landscape, travel or street photographers can keep taking photos without a worry.
You also need not worry about dust since the body is made of magnesium alloy. I mean the quality of manufacture and assembly really is excellent.
All these design and construction features collectively make the K-1 an irresistible DSLR camera.
---
Image and Video Shooting Capabilities
---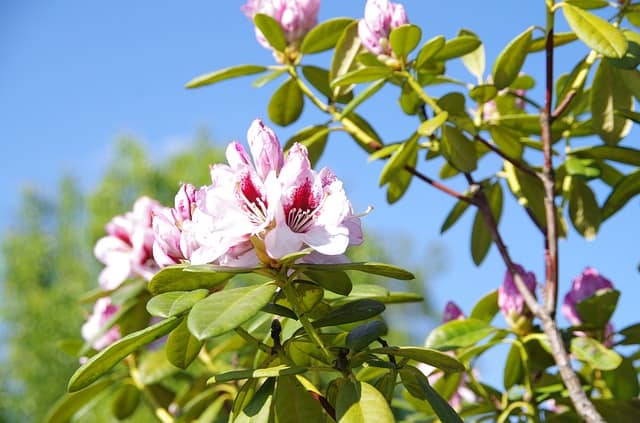 This DSLR features a 36.4 MP full-frame CMOS sensor and PRIME IV, which is the latest image processing engine.
With these amazing features, you can take detailed photos with minimal noise. It also offers sensitivities of up to 204800 ISO.
With the K-1 in your hand, you get the sharpest image as its sensor is capable of ignoring optical low pass and anti-aliasing.
As I mentioned earlier, the camera comes built-in with a five-axis image stabilizer that is adequate for preventing shakiness when taking images, which in turn ensures that you won't produce blurry images.
This camera is best for taking pictures in low light (-3 EV), which is very ideal.
It also features 33 AF points, and 25 of them are cross-type. There are also three f/2.8 luminance sensors, and for a quick capture of your desired shot, Pentax has a widened SAFOX 12 AF sensor.
It is also optimized for the full-frame area, so you can easily pack everything in your shot.
Not only is this camera great for capturing images, but it is also great for shooting videos as it supports full HD 1080p video recording. With this camera, you would also be able to capture images and record videos up to 4.5 fps.
(Although, if you're strictly info filmmaking, you might want to choose another option.)
Note:
If you're one of the hybrid shooters, here is a separate list of cameras great for both video and still photography.
---
Who Is This Full-Frame DSLR Best For?
---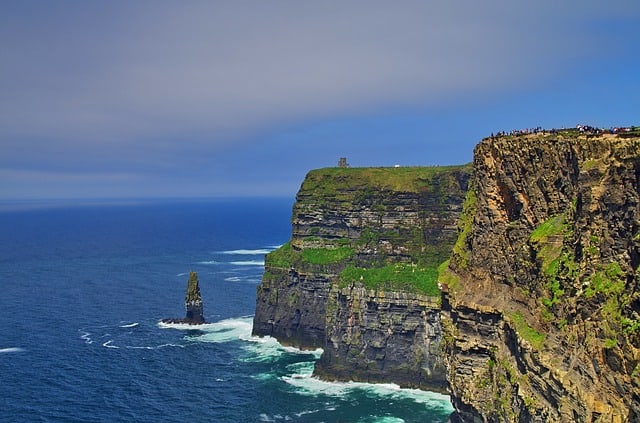 Even though Pentax cameras are not exactly popular these days, I think the Pentax K-1 is an all-rounder DSLR camera with a great lens.
It is packed with features that can allow you to take immaculate photos even in the most difficult conditions.
As such, this is a good fit for professionals who do not want to compromise on quality.
What else can I say here?
Well,
we have a camera with a very effective optical stabilization system,

and the quality of the pictures is simply magnificent (!)

the widest dynamic range, flexible in RAW processing, low noise level…
… Isn't this the most important thing?
Another important advantage of the camera is its price.
In the segment of the top full-frame DSLRs, the Pentax K-1 is one of the best budget full-frame cameras in 2022.
(You know how expensive other cameras can be!)
Again, I especially recommend this camera for landscape photographers.
One thing you need to know is that even though the lens that comes with it is adequate enough, you can choose to upgrade to an even better one.
==> Check the exact price on Amazon.
---
Is Pentax K-1 Worth Buying in 2022?
---
---
Without a doubt…
The Pentax K-1 is packed with features that make it a great fit for professional photography.
With its CMOS sensor of 36.4 MP, the images are clear, sharp, and highly detailed. Pentax has also made sure that the camera works equally great in low and high light conditions.
How awesome is that?
It also features an image stabilizer, luminance sensors, and an AA Filter Simulator function. The monitor on the camera can be tilted up, down, right and left.
Additionally, Pentax has only used high-quality materials for the construction of both the camera and the lens and weatherproofed them to maximize their lifespan.
Speaking of the lens, the 28-105 mm lens is great for many types of photography.
However, if you're into landscape photography, I highly encourage that you pair up your Pentax K-1 camera with Pentax 24-70 f/2.8 lens.
Now…
Is Pentax K-1 worth buying in 2022? I believe yes. Overall, it's a great value for money, costing under $1500. The Pentax K-1 will definitely give Canon or Nikon cameras a run for their money, while also offering amazing features for you.
Don't ya think?
Now, I'd like to hear from YOU:
What are your thoughts on this Pentax K-1 review for 2022? 

Do you agree that it is a great full-frame DSLR for landscape photography? 

Would you buy it yourself this year?
Let us know your thoughts in the comments below!