Please note: As an Amazon Associate I earn from qualifying purchases. I also work with other affiliate partners and may be compensated from the links below. Details here.
May 22, 2021
5 Best Cameras for Portrait Photography in 2022 (With the Right Lenses)
---
My list of the best portrait cameras and lenses. (Updated for 2022)
---
Let's face it:
We all want to take photos with the "WOW Factor".
To do that you need to have the right gear and learn the skills (for example, as a member of SLR Lounge Workshops platform, whatever genre you're into).
In today's post though, I'm focusing on tech gear and will offer my top 5 picks for portraits and headshots, across the various price range.
I will also recommend you the best compatible lenses for each product mentioned here. When you pair the body with the right glass, you'll be able to work professionally in this field.
So, what camera do (professional) portrait photographers use? Here's an overview:
Best Cameras for Portrait Photography 2022
---

FYI: When choosing which product to include, I didn't focus on the 'latest and the greatest', but rather on great price-quality ratio options, even if they are older models.
In any case, whether you're a complete newbie or an enthusiast, bootstrapped or not, you'll find a good option that works best for your needs and budget.
Here's a table that'll give you a quick look at my roundup and the reasons to buy the product. For further details, simply click 'review>' in respective row.
One of the best beginner DSLRs!

39-point AF + 3D tracking

5 fps continuous shooting

amazing price/quality ratio

Semi-pro FX body for headshots

detail images at ISO 3200

Best "FX" value in the Nikon lineup

price tag under $1500 (!)

If you're nerdy for all new features

high burst rate of 10 fps

great for variety of genres

high quality photo & video

High end gear for pro level photos

fast & tenacious focusing

best for all photo purposes
You will also notice that the majority of the list are Nikon models.
It's not because I am a huge fan but because most photographers use these DSLRs specifically for portraits. (In the future, will update the post with Canon options too.)
---
1. Best Budget DSLR for Portraits 2022
---
Nikon D5300
Type: Compact SLR
Weight: 480 g
Resolution: 24 MP

Sensor size:

APS-C (23.5 x 15.6 mm)

LCD:

Fully articulated

Touchscreen:

None
Weather sealed: No
ISO: Auto, 100 – 12800 (25600 with boost)

---
Look:
Nikon D5300 is one of the best cheap entry-level cameras today.
If you decided to try yourself in photography and are ready to purchase your first DSLR, then D5300 is practically a dream choice for newbies.
(Whether it's for taking portraits, scenery, product shots and so forth).
Of course, it's not the current model but it is a great one to pick up, especially if you're a beginner on a budget.
Here's the kicker:
When it comes to D5300, it is…
not that inferior to the expensive full frame sensor DSLRs (in terms of image quality),

only a step behind the Nikon D7100 (in terms of functionality), yet more compact and lighter.
It has an image resolution of 24 MP and has an AA (anti-liasing filter), which means that the image is exceptionally sharp.
(If it's not then you are doing something wrong).
In terms of ISO:
You can safely use ISO 6400 and the quality of the image will be decent.

Even at the maximum ISO 12800 and Hi-1 (ISO 25600) your photos will look quite great.
I think you will also be satisfied with its ISO performance.
Also, the burst rate of 5 frames per second is a very good indicator, especially for a budget option like Nikon D5300.
(Which is only slightly different from the D7100/D610 models).
This means that having 5 fps burst rate is more than enough for shooting portraits, landscapes and even wedding photography.
Nikon D5300 is an excellent choice for a beginner or an advanced photographer alike… Why?
Because…
the ease of operation and excellent results in Auto mode will appeal to the former,

and the highest image quality for this class will appeal to the latter.
What else?
D5300 is equipped with a built-in Wi-Fi sensor that will allow you to synchronize it with your smartphone in a matter of seconds.
It's convenient and won't have a negative effect on the quality of your photos.
In any case, if you are a beginner, you'll need to read the instructions from cover to cover to learn how to take great photos with Nikon D5300.
Also, check out the video-review below for more info:
---
✓ What you might like about it:
great work in auto mode

high image detail

low noise level up to ISO 3200 inclusive

good color rendering

great ergonomics

high burst rate for an entry-level body

quick autofocus

built-in Wi-Fi and GPS

articulated (tilting) screen

post-processing functions in the D5300 itself
✕ What you might not like about it:
small buffer size when shooting in RAW + JPG

all the advantages of AF appear only when shooting through the viewfinder

no depth of field preview button
? Where to buy online? Check availability and price on:
? Best portrait lens for Nikon D5300:
I suggest you find Nikon D5300 with 18-140mm (focal length) kit lens because that longer kit lens is going to be really useful as you're shooting different types of portraits and light wedding stuff.
I also recommend that you pick up Nikon 50mm F/1.8 G.
It autofocuses,

It's very sharp,

And it really gives you that background blur (bokeh)
Attention:
Please note that the D model will not autofocus for you with this model, so be careful and get the G model!!!
---
Budget Photography Equipment for Beginners
---
If you:
have limit price-wise,

are a beginner photographer,

and looking for the best budget DSLR for portrait photography,
Then Nikon D5300 is a great choice for you.
It can surprise:
When shooting with good lighting it provides the highest detail, and when shooting with low lighting, you will have a "clean" and noise-free image. 
Last but not least…
The 50mm f/1.8 G lens will really give you that desired background blur that most photographers love.
So, if you're looking for photography equipment for beginners, look no further. Even the pros use this exact combination of D5300 + 50mm f/1.8 G lens to create masterpieces.

---
---
Semi Pro Full-Frame Body for Headshots
---
Nikon D610
Type: Mid-size SLR
Weight: 850 g

Resolution:

24 MP

Sensor size:

Full frame (35.9 x 24 mm)

LCD:

Fully articulated

Touchscreen:

None

Weather resistant

: Yes
ISO: 100 – 6400 (50 – 25600 with boost)
---
Nikon D610 is a good full-frame DSLR for your portrait photography purposes.
Fun fact:
Initially, the full-frame bodies were intended for professional photography and were pretty expensive. However, as time went on, the manufacturers decided to release pro level yet affordable cameras, and one of those models was the D610.
That's why it is considered a "semi-professional" DSLR.
Just like in Nikon D5300 I mentioned earlier, the D610 also has a 24 MP sensor and it is its main advantage.
Unlike D5300 though, it has a higher burst rate, which is 6 frames per second at full resolution in RAW.
Now, what can be said about ISO?
Well, the range of photosensitivity is from 100 to 6400 ISO units, and with boost it can range from 50 to 25600 units.
One thing I'd like to mention is that Nikon D610 has a fantastic HDR mode.
Once you try this mode, you will never shoot without an HDR, believe me. Especially, if we are talking about shooting landscape photos in the evening time.
This mode makes 2 frames with different exposures and glues these 2 together in 1, keeping very bright and very dark areas as much as possible.
HDR works only when shooting in JPEG.
In RAW, you will have to do everything yourself, having spent a lot of time, and the result is unlikely to be better.
So, if you happen to shoot in low-light conditions, be sure to use the HDR function.
(Of course, this focus will not work when shooting moving subjects, be it during sports-related events or anything else.)
Also, it's very convenient to have U1 and U2 modes. 
All the settings, including autofocus and exposure metering settings can be stored in these modes and instantly turned on.
I have a friend who saves the settings in U1 to shoot landscapes (which is his specialty), and U2 mode for portrait photography.
In any case, if you are looking for an affordable quality full-frame DSLR for this genre, then Nikon D610 is one of the good options to consider.
---
✓ What you might like about it:
ergonomic body

advanced and customizable management

full-frame sensor

high detail images at ISO up to 3200

continuous shooting up to 6 frames/s

perfectly working tracking autofocus

ability to work with two memory cards

interval shooting and HDR

good optical viewfinder

quiet shooting mode

full HD video
✕ What you might not like about it:
relatively large size and weight

no tilting display

a challenging interface for beginners

autofocus points are grouped close to the center of the frame
? Where to buy online? Check availability and price on:
? Best portrait lens for Nikon D610:
I suggest you get a Tamron 70-200mm f/2.8 lens in its Nikon mount.
That'll be way more versatile, you'll be able to get those tight headshots with a beautiful background blur and overall your image quality will be just cleaner – perfect for portraits.
---
Good FX DSLR for Studio Portrait Photography
---
Nikon D610 is a great FX option for advanced photographers.
This is the most compact and most affordable full-frame camera produced by Nikon, in which the best developments were realized:
excellent detailing,

low noise level,

wide dynamic range.
If you're a Nikon fan and have a higher budget, consider it. It's unlikely you'll be disappointed.
This gear will perform an entire range of tasks quickly and efficiently.

---
---
Best Nikon Body Under $1500 Today
---
Nikon D750
Type: Mid-size SLR
Weight: 750 g

Resolution:

24 MP

Sensor size:

Full frame (35.9 x 24 mm)

LCD:

Tilting

Touchscreen:

None

Weather resistant:

 Yes
ISO: Auto, 100-12800, (expand 50-51200)
---
Look:
Nikon D750 is one of my most recommended advanced cameras for 2022 that offers a lot for the price.
(I explain why I love it so much in my in-depth review here.)
It's a full-frame (FX) DSLR with a tilting display, the logical continuation of the Nikon's lineup, perfectly suited for modern photographers.
Even though the previously mentioned D610 has a fine autofocus, in Nikon D750 it's a lot better.
The D750 focuses quickly and confidently even in the dark (like the D810 DSLR), so the backlight can be safely turned off.
In addition to high photosensitivity, the autofocus can recognize faces in the frame, which is not present in the older Nikon FX models and Canon digital cameras.
Basically, this allows you to get good shots even without taking a particular aim.
High ISO of 8000 won't be a problem, in fact, even shooting at ISO 12,800 will be quite decent. This allows you to fully use the burst rate of D750, which is 6.5 frames per second.
I would prefer that the autofocus areas occupy the entire area of the frame, and not just its central part, then there will be more chances to get a sharp shot in the sports or any other moving subjects.
The most noticeable external innovation was its inclined display.
The Nikon developers from year to year avoided using such a design solution in professional and semi-professional SLRs.
And they finally added this feature to Nikon D750!
What we see with D750 is a finely tuned control, which became much clearer to enthusiast photographers. A new design with a flip-up display will make it convenient for you to use this gear.
Without a doubt, it is perfect for:
portrait photography,

weddings, and,

other events shooting.
Here's my video of whether Nikon D750 is good to buy in 2022, with some pros and cons:
==> Subscribe to my YouTube channel for more videos!
---
✓ What you might like about it:
advanced ergonomics and customizable controls

friendly interface

tilting display

dust and waterproof body

burst rate of up to 6.5 frames/s

excellent autofocus

high ISO performance

excellent video mode with Full HD shooting at 60 frames/s

a wide range of additional functions

built-in Wi-Fi

ability to work with two memory cards
✕ What you might not like about it:
absence of exposure at 1/8000 s

reduced monochrome display on the top panel
? Where to buy online? Check availability and price on:
? Best portrait lens for Nikon D750:
Again, I suggest you get a second generation Tamron 70-200mm f/2.8 lens. I explained the reason for it in the D610 section.
Just a note:
If you have a bigger budget then the new Tamron glass will definitely be better to get than the old one.
---
Best "Full Frame" Value for Your Buck
---
Nikon D750 is a step up from D610 which has an improved focusing system.
It makes sure that it focuses on the eyes that much quicker and allows you to focus out further towards the edges of a frame (which as a pro you'll begin to really appreciate).
In a nutshell:
Nikon D750 is an excellent FX camera with no visible flaws that could spoil your mood.
If you want a full frame DSLR for portrait photography, then you should take a closer look at the D750 with Tamron 70-200mm f/2.8 lens.

---
---
If You're Nerdy for All the New Features
---
Sony a7R III
Type: SLR-style mirrorless
Weight: 657 g

Resolution:

 42 MP

Sensor size:

Full frame (35.9 x 24 mm)

LCD:

Tilting

Touchscreen:

Yes

Weather sealed:

 Yes
ISO: Auto, 100-32000 (expands to 50-102400)
---
Look:
While Sony a7R II is a cheaper alternative, without doubt, the newer a7R Mark III model is one of the best mirrorless bodies on the market, whether you're looking to capture landscapes, (family) portraits, or anything else.
Its versatility can compete with the reportage Sony a9, which won an official EISA Award.
(Tip: If you're looking for a Sony product with an amazing performance in low light situations, check out the A7S III model instead)
Alpha 7R III gives up its place to Sony a9 in terms of speed but it does surpass the latter in terms of image resolution and video capabilities.
Those improvements which were introduced in the a7R Mark III still make it one of the fastest bodies today:
continuous shooting up to 10 frames per second,

continuous autofocus on the eyes,

a buffer for  42-megapixel RAW,
These added features really are amazing.
Not to mention the widest dynamic range and high ISO. I mean the detail of the image is extremely sharp. You can boldly use values of up to 12,800 ISO units.
As a portrait photographer, you will definitely love the eye-detect autofocus in a7R III. Basically, it can lock on to the eyes so you will never have to move the focusing point around.
Generally, you'll find the workflow works a little better than, for example, Nikon D850 (that I will mention next).
Check out the video-review of the a7R III below:
---
✓ What you might like about it:
high detail images

solid ISO up to 12,800 units

very wide dynamic range

high speed of continuous shooting up to 10 frames/s

noiseless shooting

excellent autofocus

effective image stabilizer based on the sensor shift

touch sensitive display

very good viewfinder

high-quality video in 4K and Full HD

input for microphone and headphone output

dust and moisture protection

possibility of charging and working from USB

possibility of communication with the smartphone via Wi-Fi, geotagging via Bluetooth

two memory card slots, one with UHS-II support
✕ What you might not like about it:
not always easy to understand abbreviations in the menu

minor delays when working with menus

not always smooth work with compatible applications

limited functionality of the touch interface
? Where to buy online? Check availability and price on:
? Best portrait lens for Sony a7R III:
Sony doesn't have that much variety of lenses and flashes, especially third-party lenses, but the a7R III body and a 70-200mm f/2.8 GM lens really is a powerful combination for 'carte de visite' and such.
Test it out!
---
Unreal Mirrorless Body for Various Photo Genres
---
If you're a bit nerdy for all the new camera features, you'll love Sony a7r III. Without a doubt, it turned out to be very successful and extremely universal.
Does it have any cons? 
In my opinion, most of them are not so noticeable in comparison to their pros. I'm referring to some minor flaws in the interface such as obscure abbreviations and non-obvious settings.
I feel that to understand the a7R III, it is not enough to read the instruction.
With this beauty, you'll have to work with it and adjust yourself to it a little bit, and only then fully customize it to your needs.
Either way, it's one of the best mirrorless cameras for portrait photography in 2022.

---
---
Best Nikon Camera for Portraits 2022
---
Nikon D850
Type: Mid-size SLR
Weight: 1005 g

Resolution:

 45 MP

Sensor size:

Full frame (35.9 x 24 mm)

LCD:

Tilting

Touchscreen:

Yes

Weather sealed:

 Yes
ISO: Auto, 64-25600 (expands to 32-102400)
---
Without a doubt:
Nikon D850 is one of the best Nikon DSLRs on the market today.
Just like in my article on the best gear recommendations for landscapes, I wasn't sure what to put here first, Nikon D850 or Sony a7R III.
As I mentioned earlier, if you are a bit nerdy about all the new features, then you'll love mirrorless cameras like Sony.
But if you are more into old-school cameras, then Nikon D850 sure is the best 45MP DSLR that you can get for any kind of professional photography.
You might ask, "why do I need so many megapixels"?
It's like with time and money: you can't have it too much.
More image detail – the more freedom you have in everything. High resolution allows you to print pictures in large format, gives room for framing, and greater flexibility in processing.
For example:
Retouching a portrait or a subject photo becomes much more convenient if the shot is taken in high resolution.
This is why portrait and landscape photographers love gear with higher resolution.
Nikon D850 combines high speed with incredible detail of images, allows you to make high-quality shots in any conditions, including in poor lighting at high ISO values.
The dynamic range is also wide enough for RAW files to be flexible in processing and allow to "pull out" a decent result even in the most difficult situations.
Continuous shooting is possible at a rate of 7 frames/s, and with a battery pack MB-D18 (with EN-EL18b battery) – it's 9 frames/s. Ergonomics is at its finest: articulated display, joystick to select the area of autofocus, a lot of separate buttons and selectors.
I think you'll get to understand better how this body works if you watch Chris' video-review below:
---
✓ What you might like about it:
high resolution 45.4 Mp

excellent work at high ISO, low noise level up to ISO 6400

wide dynamic range, flexibility in processing RAW files

ease of use: improved grip, button illumination, high resolution inclined display

touch screen

optical viewfinder with 100% frame coverage

quiet shutter

noiseless Live View shooting

fast and tenacious focusing

high speed of continuous shooting (7 fps), capacious buffer

30 fps 4K video shooting

support of modern fast memory cards XQD and SD UHS-II
✕ What you might not like about it:
a bit slow focusing of contrast type in Live View mode

challenging for beginner photographers
? Where to buy online? Check availability and price on:
? Best portrait lens for Nikon D850:
Get this lens if you're mainly into portrait photography.
For what it's worth, one of the reasons why I'd recommend choosing Nikon D850 over Sony a7R III is that there are more lenses available for the former than the latter.
I mean there are a lot of lenses that won't match Sony but will definitely match the good ol' Nikon DSLR.
---
The Best Full Frame Nikon DSLR in 2022
---
The Nikon D850 sets the new quality bar for all manufacturers.
It is the one that other players in the full-frame body market will have to equal to in the near future (at least in terms of image quality and detail).
Again, if you are into all the modern cameras and like all the new features, then definitely get Sony a7R III.
If you are more old-school and want to have a variety of lenses available, then get Nikon D850.
Nikon D850 with Nikkor 70-200 f/2.8E lens really is a powerful combination that you can get for your portrait sessions.

---
---
Portrait Photography for Beginners
---
Now…
It's one thing to find the best camera for taking portrait pictures but you also have to have basic skills and the right lenses. You don't have to be a master with manual mode; you just need to learn the core foundation of photography. 
First of all, for this genre, it's convenient to use long focus lenses with a fixed focal length, also known as prime lenses.
Why?
Because they don't distort perspective as much as others do and that's important.
Also, a fully open aperture when shooting a portrait allows you to get photos with very beautiful background blur.
The basic rules for shooting portraits
When taking, you need to remember some important rules: to give expressiveness to a picture, you need to focus on the model's nearest eye, and take a shutter speed no longer than 1 / <focal length of the lens>.
For example, if it's an 85 mm lens, then use a 1/85 shutter.
This way you'll avoid an unexpectedly sharp nose or chin on the overall unsharp portrait of the model. It also will guarantee that you avoid the overall image blue due to the long exposure.
Last but not least:
You don't want to have a strong digital noise, so try using the 100-400 range ISO. The camera must be used in semi-automatic or manual mode.
Where to Learn the Skills (Online)?
When it comes to crushing it in photography, it's not about gear only. You also have to have the skills to take good headshot pictures. 
Below I'm offering a few options:
My recommendation would be KelbyOne because it's a specialized digital photography e-learning platform.
---
What Camera Should You Buy for Portraits?
---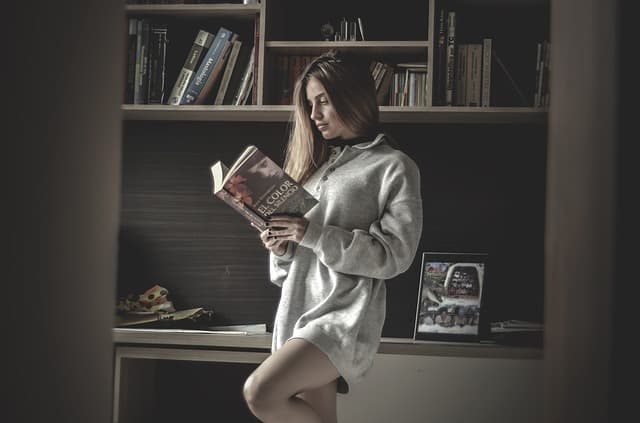 ---
Look:
All the aforementioned products are absolutely great for studio portraits, headshots for passports, and fashion photography whatsoever, across various price points.
In fact, all of these body + glass combos were/are used by the pros for photographing people. 
If you won't like them, then you can return the gear back to Amazon (and leave a nasty comment here). 🙂
Now…
If you're a regular reader of my Digital World Beauty blog, you'll notice that some of these are my recommendations here came up for portrait AND landscape photography. 
They totally work for both genres.
However, don't choose these if you are into sports or wildlife because, unlike landscapes and portraits, action photography requires a high frame rate and fast focusing. If that's your genre, check out this post.
What are your thoughts on these 5 best cameras for portrait photography in 2022?
---
Sharing is caring!
About Author
Zarina
Founder & content creator at Digital World Beauty. My main objective here is to create a valuable resource for photography enthusiasts with honest tech reviews, course recommendations, and how-to tutorials.