Please note: As an Amazon Associate I earn from qualifying purchases. I also work with other affiliate partners and may be compensated from the links below. Details here.
January 1, 2020
How to Take a Passport Photo with Digital Camera: 5 Main Things to Focus On (Guide)
---
You might be surprised, but a lot of people actually take their passport photos themselves. They believe that getting their photos taken in a studio isn't well worth the spend. 
If you, too, think the same, then in this post I'll cover how to take a passport photo with digital camera in 2020 (and beyond).
It isn't as complicated as it sounds, especially if you have basic experience in photography.
These are the main things you'll need:
tripod

digital camera

white or off-white background

photo paper and a 

printer
(Plus, there are certain guidelines to follow which I'll discuss in a bit too.)
Anyway…
If you really want to maximize the use of your digital camera for passport size photos, these tips are for you.
And if you don't own a DSLR, no worries, the next section to help.
Let's get started.
---
---
Choosing a Digital Camera for Passport Photos
---
---
But first things first:
Which digital camera you need for passport photos? 
If you're new to photography, consider the following entry-level DSLRs with kit lenses (with my full reviews of each):
These cameras certainly will be easy on you and will get the results you need.
What about the lenses?
Ideally, you'd want to get a 50mm prime lens with a fixed focal length. Although, for cropped sensor DSLRs, the 85mm will work better for headshot portraits.
==> Understand the difference between 35mm vs 50mm vs 85mm on APS-C sensor. 
This lens will give you the best result you can get.
Now…
If you're on a small budget and aren't ready for prime lenses, then the 18-55mm kit lens will give a pretty decent result too. For passport photos will be enough.
(Kit lenses come with all the cameras I mentioned above, basically it's a package deal.)
---
---
Important Guidelines to Follow
---
To be clear:
I cannot generalize the set of guidelines when it comes to passport photos because it varies from one country to another.
However, almost all countries tend to adhere to some set rules, such as the background, your ensemble, exposure, accepted expressions, and the likes.
Here are some of those guidelines:
Your face must be in full view, directly facing the camera.

It's required that you have neutral expression.

You can wear what you wear on an everyday basis.

You need to submit a recent photo of yours (within the past 6 months).

The background should be plain white or off-white.

Your photo can be printed on a glossy or matte photo paper.

It must be a colored photo.

No glasses or hats unless for medical or religious purposes (provide signed statements).

You should not be wearing headphones or any other devices that are wireless.

The size of the photo must be two by two inches or 51 mm by 51 mm. Accordingly, your head should be 1 to 1 3/8 inches from the bottom of your chin up to the top of your head.
Here's a source of digital image requirements (in the U.S.) if you decide to take a photo yourself.
Like I mentioned earlier, this is isn't a complicated process.
Basically, you need a decent DSLR, a tripod and a well-lit room to take the passport photo yourself. There are no fusses regarding editing, complicated backgrounds, and even filters.
This being said, let's talk about tips and tricks to take a passport photo on your own.
---
How to Take a Passport Photo With Digital Camera
---
NOTE: No eyeglasses and no smile is allowed in 2020.
---
Now, The Text-Based Instructions
---
Learning photography has never been easier…
Digital Camera Mastery is my #1 recommendation for beginners to help you become a better photographer. Read my full review now.

First of all, you can just leave the settings of your camera in Auto mode.
Of course you can play with some of its settings such as the white balance, exposure, and the likes but don't go for settings that will distort your face shape, enlarge your eyes, or smoothen your skin.
Point is…
The photo should be as what you look like in person, as much as possible.
(Also, if you have a mirrorless camera, you can switch out the lens to have more focus.)
Makes sense, right?
---
1. The Background
---
You don't have to buy a white background. All you have to do is to find a white or off-white wall.
Make sure that this wall is also smooth, or if it is not that smooth, you can still take your picture there and post-process it at a later time.
Another thing that you can do is to stick a piece of white paper or cardboard on the wall.
Alternatively, you can also just hang a white cloth at your back.
---
2. The Lighting
---
Natural lighting is best, so you don't have to worry about artificial lights.
In fact, you can simply take a photo in front of a window or even outside. If you really need to use artificial lights, go for fluorescent bulbs. They are great because it gives the vibe of a post-office lighting.
Now…
Don't place it too near your face because your photo might look overexposed. Just scatter the light around you to brighten up the shot.
---
3. The Tripod
---
You have to use a tripod and set your camera to a timer setting.
This is the case because you have to sit or stand straight in the photo. Your hands should not look like you are taking a selfie.
If you don't have a tripod, you can just put your camera on top of a stack of boxes or books.
---
4. The Editing
---
Once you take the picture that you like, you still have to edit it using either a computer software (like Photoshop) or an application in your phone.
==> Click here to get Adobe Photoshop today.
You can edit the lighting, as well as the color of your shirt but do not alter the way you look.
Now…
This resource is great on teaching how to edit your photographs.
Deleting a few stray hairs is good, but doing other face modifications should not be done. Also, this is when you can crop the photo based on the passport photo regulations.
---
5. The Printing
---
You are now ready to print!
Use a photo paper and set the print settings to high quality so you can have a vivid picture.
Keep in mind that some passport photos are laminated, or there is a clear coat applied to the top. You just have to make sure that when they do those things, your picture still looks clear.
---
Taking Passport Photos on Your Own
---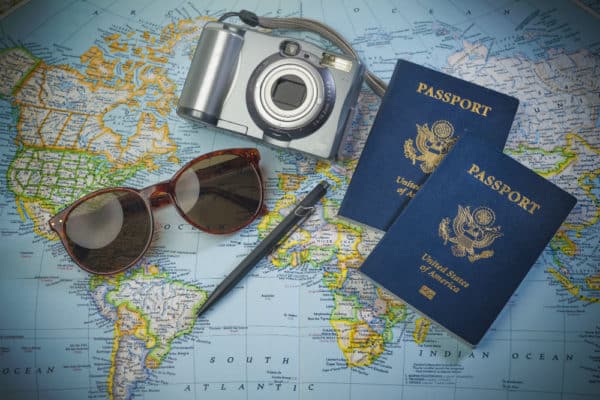 ---
Basically that's how you take a passport photo with digital cameras (for headshots).
Pretty easy, right?
And you don't even need any fancy equipment too.
Simply work with what you have, and boom! You were able to save a trip to a photography studio (not to mention a few bucks).
Remember that you still have to follow the passport photo guidelines because, at the end of the day, even if your goal is to look pretty or handsome in your photo, a passport photo is still going to land in a government-issued document.
Now…
I'd like to hear from YOU:
Any other questions on digital cameras for passport photos?

Any tips you'd like to provide yourself?
Let me know in the comments, I'm happy to help!
Ready to crush it as a photographer this year?
Get this practical photography course to take you from zero to photography hero in a matter of weeks. Join the program now.
---
---