April 25, 2018
Nikon D5500 Review: Is This Camera Worth Buying in 2018? (Video + Samples)
---
Is Nikon D5500 camera any good? Is it still worth purchasing for 2018?
Check out our Nikon D5500 review (with video) to make an educated buying decision.
---
It won't be a surprise if I say that the photography market has changed a lot in the past few years.
Basically, there was a redistribution of forces, which forced even the large producers to reconsider their conservative approach to manufactured products.
The wind of change also affected Nikon, which reacted to the requests of amateur photographers, taking into account all the remarks and wishes in the new models of their cameras.
Now:
Generally speaking, Nikon D5500 is a small entry-level camera with excellent ergonomics and features that will satisfy most photographers (though best for non-professionals).
And is equally suitable for most photography genres, stably producing a quality image in the Nikon style.
Keep in mind: 
D5500 doesn't have GPS and no more panoramic mode too.

---
Anyway, this post won't just include a boring set of features that the camera has.
You can watch a video review,
You'll learn how to set up your Nikon D5500,
A few lens recommendations based on whatever photography genre you're into,
And a few photo samples so you can judge this DSLR for yourself.
Now, let's have a warm up with a video review.
---
---
Nikon D5500 Video Review (Plus Samples)
---
Here's a hands-on video with samples and demos:

---
Quick specs:
Camera type: Compact SLR camera

Camera weight: 420 g 

How many pixels: 24 MP

Sensor size: APS-C (23.5 x 15.6 mm)

ISO: Auto, 100 – 25600

LCD screen: Fully articulated

Touchscreen: Yes
Environmentally sealed: No
---
What you might like about Nikon D5500:
Excellent rate of fire 5 frames/second.

The presence of a mini HDMI connector.

SD memory card (CF is difficult to insert into the laptop).

Supports Wi-Fi for synchronization with mobile devices.

Outstanding battery life, even despite the active use of the touch screen.

Interval time shooting. Very useful when photographing salutes and lightning.

In LiveView mode, you can focus by clicking on the desired point on the touch screen.
---
What you might not like about Nikon D5500:
There is no panoramic mode in D5500, although there used to be. Nikon, return the panoramic mode back, please!

The GPS sensor is missing, although again there used to be. Location matters for landscape photographers.

Controlling the camera via Wi-Fi is very limited. This is where

Canon Rebel T6i does a better job.
LiveView mode with old lenses shows one exposure on the screen, and the actual one turns out to be different. Obviously a software defect.
---
What to keep in mind when buying Nikon D5500 in 2018:
The built-in flash doesn't know how to control other flashes, this requires either synchronizers or a

more expensive camera.

Old lenses with a mechanical drive will work without autofocus.

There is no exposure metering with old lenses without contacts, this is realized only in more expensive models.

EN-EL14a battery.

X-sync built-in flash 1/200 sec – not great, but you can live with it.

Minimum shutter speed is 1/4000 sec.

By default, the through numbering of frames is turned off. Turn it on in menu d2, so that you don't start with frame number 0001 every time you shoot.

---
There Are A Lot of Things to Love About D5500
---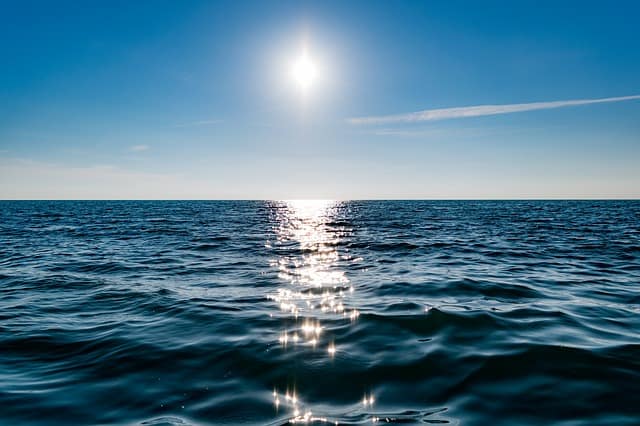 Now:
As seen from the video, there really are a lot of advantages to this camera.
Like I mentioned earlier, Nikon D5500 is a small entry-level DX camera with traditionally excellent ergonomics and features that will satisfy most photographers, not only beginners.
Compared with the previous Nikon D5300 (D5400 was missed due to Japanese superstitions), this one has significantly lost its weight and also decreased in size.
Size and hands:
However, the reduction in size didn't have negative consequences, the camera is still comfortable to hold, especially if you have small hands. 
For our large-handed comrades, this camera will be okay too, but the pinkie finger might slip off the handle.
Anyway, the ergonomics as always at altitude, all the basic settings, including the mode selection wheel (dial), can be operated with one hand.
Though, the multi-function dial under the thumb became less pronounced and, as it seemed to me, the previous version was more convenient.
(But that's just a personal opinion).
LCD screen:
Nikon models D5x00 are always equipped with an articulated LCD screen on the hinge.
Personally, I think this is the most convenient of all the screen options – it allows you to rotate the screen in different angles, without much interference.
(Unlike Nikon D750, for example).
In addition to that, you can fold the screen with the display inward, so as not to scratch it, especially if you travel light and don't really bother with camera bags.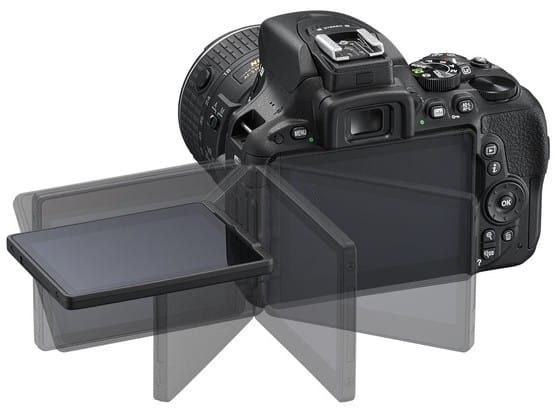 Touchscreen:
Perhaps the main advantage of the Nikon D5500 is the touch screen.
At the time it was produced, it was a big step forward, because the budget cameras always differed by a small number of customizable buttons, and for some popular settings one had to go on a tedious journey through the menu.
The touch screen in this case greatly helps, since all the essentials are available with one click.
Thanks to the touch screen, the "i" button has found its meaning, which I didn't fully understand as a newbie. Now the display is turned on by default with all mode settings displayed, as usual. And when you press "i", these basic settings turn into touch buttons.
This switch thing was created so that when photographing you accidentally don't click anything with your nose, especially if it's long.
Eye proximity sensor:
By the way, the developers thought about long noses and equipped the eye proximity sensor. For those who don't know, basically the screen automatically turns off when you hold the camera to your eye.
This feature was realized in other cameras a while ago, it's just an important part for cameras with a touch screen.
Now, with a touch screen, the fine line between "amateur" cameras with the "auto" button and "professional" buttons with a large number of programmable buttons became even thinner.

---
Here's the truth:
To justify the purchase of a more expensive model as the first camera is now more difficult… that's how Nikon's entry-level cameras have become so good.
The only thing that still might frustrate you in inexpensive cameras is the inability to assign 100% crop to the central button of the joystick, as done on large cameras.
Many photographers often shoot in series, and then select the best/sharpest shots.
In this case, such a button is indispensable, otherwise you'd have to spend a lot of time on unnecessary pressing and the process takes several times longer.
To zoom images by spreading or pulling fingers on the touch screen is completely inconvenient, since there is a small but noticeable delay. Though, good thing that the scale is preserved when turning onto the next frame with a dial.
More on ergonomics:
Since we are still on the topic of ergonomics, I want to note a very quiet shutter. This is especially well heard in the large cameras, including some of the modern ones.
In addition to the screen, in the camera with each generation Nikon does a great job on the DX-sensor.
The resolution has yet to grow, stopping at 24 megapixels but what is improved is its color rendition in artificial light. Gone are the days when you had to buy a high-speed lens to take photos with the usual room lighting.
Now you can safely grab the camera, even with its kit lens and shoot anything at any light conditions.
In terms of Nikon D5500, I noticed that the frames with ISO 12,800, demonstrate a moderate noise level, are still quite suitable for a family archive. Ideally, you'd want to keep your ISO at 1600.
Overall, D5500 is suitable for any life situation. If you get blurred images, then it's definitely not the camera's fault.
Note on Auto ISO settings:
By the way, many people forget that in Nikon cameras in Auto ISO settings there is a correction for the maximum shutter speed, after which the sensitivity is switched.
Each photographer needs to adjust these settings, since the degree of trembling of hands is different for everyone, depending on the photographer's mood and his state of health.
In most cases, when you hand held shoot the masterpieces, the ISO will rarely exceed 3200, which is a easy warm-up for D5500.
HDR Mode:
When the sun is completely down, I strongly recommend turning on the HDR mode. 
Pro tip: you'd want to photograph in HDR mode using a tripod, that's why high ISO and light intensity here don't play any role, and therefore in night scenery the ISO drops sharply to 100.
Note: You can view ISO and other parameters of the image in EXIF (exchangeable image file format).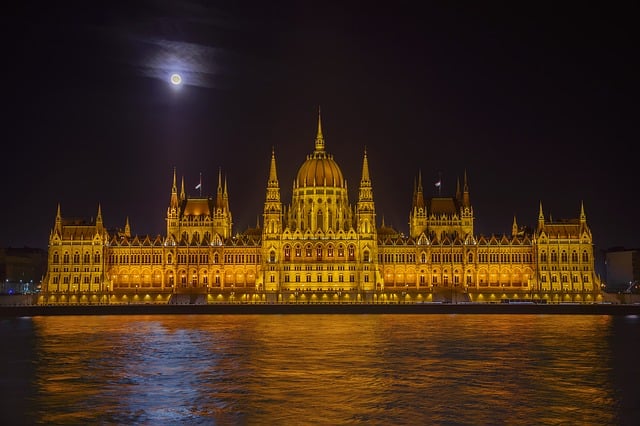 Just so you know, in Nikon cameras, the HDR mode is very successful.
You can try different settings manually, but you will soon realize that the best results are obtained in Auto mode.
The Nikon specialists did a very good job because an image looks so natural that you don't even realize it was shot in HDR mode.
If there is no object in the frame that "doubles" (like a flying bird, for example), you will not even suspect anything. Moving objects tend to "double" because the result is stuck together from two consecutive frames.
When photographing fast-moving children is exactly where your high ISO and short exposures will be useful and highly appreciated by you.
Camera settings to use:
For portrait photography, you can use the neutral (NL) or standard (SD) colors of the Picture Control mode, which is available in the lower left corner of the touch menu. 
For landscapes, I usually choose saturated colors (Vi) with a slight correction.
Personally, I love the rich colors Nikon cameras give out. What's interesting is that the color rendition with good lighting on all cameras is the same regardless of the price.
---
A Few Lens Recommendations for Nikon D5500:
---
The Nikon kit lenses are good enough, they can easily shoot and you will have nothing to worry about.
But if you want to make yourself a gift then pay attention to the following value/price ratio lenses:
All-in-one lens would be Nikon 18-200mm f/3.5-5.6 VR II. 
I mean this is the best bang for your buck that you can get. It's also ideal for travel photography. 
If you're into portrait photography, get Nikkor 35mm f/1.8 lens. 
It is a low-power, high-speed fix for portraits with shallow depth of field.
The recommended lens for landscape photography at a low price point is Sigma 18-55mm f/1.8 lens. I mean it's incredibly sharp. 
Make sure you pick it up in a Nikon mount though!
If you are into macro photography, Nikon 40mm f/2.8 DX Micro lens has best price/value ratio. 
If you're on a bigger budget and want a better lens – Nikon 105mm f/2.8G IF-ED VR Micro lens is for you.
---
---
Nikon D5500: A Real Godsend for Amateur Photographers (2018)
---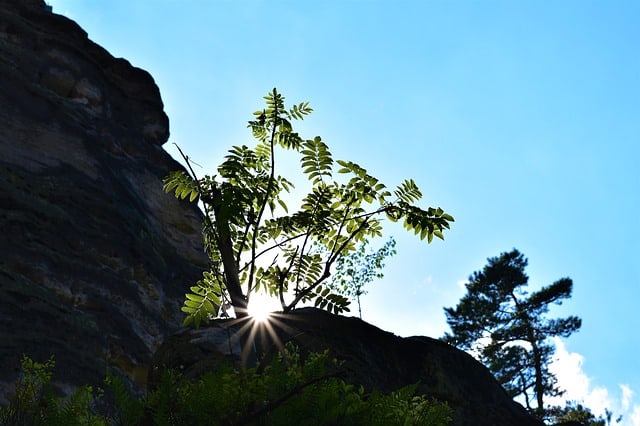 For novice photographers, the Nikon D5500 will be a real godsend.
Accurate and confident work of the camera in auto mode will give out high-quality images even in the hands of inexperienced amateurs.
As a beginner, you will also appreciate thee presence of built-in filters and the possibility of intra-camera processing. In other words, this camera ability will improve your images even without using a computer.
In favor of the camera also speaks its universality.
It is equally suitable for most photography genres, stably producing a quality image.
---
Are You Considering Nikon D5500 in 2018?


Your Thoughts?
---
In conclusion, I'd like to address most people's concern and say that even though Nikon D5500 was released a couple years ago, it is still a popular (relevant) DSLR camera in 2018. 
Our job with this website is to provide accurate information but ultimately, it's your decision whether this camera is the right fit for you.
Now, what are your thoughts on this Nikon D5500 review?
Anything else to add?
Comments and suggestions are welcome in the comments below (click to jump straight to the comment form).