Please note: As an Amazon Associate I earn from qualifying purchases. I also work with other affiliate partners and may be compensated from the links below. Details here.
March 15, 2019
Best Resolution for Printing Photos and the Standard Photo Print Sizes (Guide)
---
What's the best resolution for printing photos? What are the standard photo print sizes?
(Image size and resolution explained in this guide.)
---
Look:
There are a lot of questions related to standard photo print sizes, image size, resolution, pixels, PPI, DPI…
Specifically:
What is the best resolution for photo printing?

What size should I print my photos?

How do pixels, image size and resolution affect each other and the print quality?
And these are the questions I aim to answer here.
Let's face it…
At least once in your life you faced the following situation:
You take a photo that looks amazing and high quality on the screen, but when actually printed on a paper it just doesn't translate well.
In fact, that photo has a lot of digital noise and overall the result is a lot worse than what you saw on the screen.
What's the problem here? 
Part of the reason has to do with how a printed image is created vs. how a digital image is displayed.
You need to understand how the print quality has to do with image size and resolution.
Let's get to the details.
---
First Things First: Understanding the Terms
---
I know you're eager to find out what is the best resolution for photo printing, but before we move on, you need to understand the terms related to image size and resolution, such as:
pixels, 

megapixels,

PPI (pixels per inch),

DPI (dots per inch).
I'll try to help you understand these.
Wikipedia explains a pixel as "the smallest controllable element of a picture represented on the screen." (Think of it as the atom in a molecule.)
The number of pixels is measured by "dots per inch", or DPI. The more pixels in one inch of the image, the higher is the DPI value.
An image with a high DPI value means it has a high resolution. And as you know, high-resolution images have less noise, they are sharper and contain a lot of detail.
In other words:
The higher the dpi, the greater the resolution, the better the image quality.
The number of pixels determines the photo resolution and is directly related to the number of megapixels (MP) a camera has.
For example:
A 12 MP camera has a frame resolution of 4288 x 2848 pixels. This means that the width of the photo contains 4288 pixels, and its height is 2848 pixels.
Below a screenshot of photo sizes pixel chart (that is, pixel size to print size).
---
---
Photo experts recommend setting a resolution of 300 DPI to get high quality prints. The minimum is 150 DPI.
Point is…
The higher is your DPI value, the better is the quality of your photo.
Another thing worth noting is that the resolution of a said image is directly proportional to its size.
So, follow this advice if you want good quality prints:
If you want to increase your photo's resolution, reduce its physical size. And if you want to enlarge a photo, lower the resolution.
---
Image Size and Resolution Explained (Video)
---
Look:
I understand that this whole topic gets very confusing for newbies, so below I'm attaching a brilliant short video that will help you understand the technicalities of an image's dimensions.
You'll understand the terms such as:
image size,

resolution,

pixel dimensions,

pixel density,
… the difference between them and how they affect each other.
Believe me, this 2-min video it's very well worth your time!
---
Guide to (Standard) Photo Print Sizes
---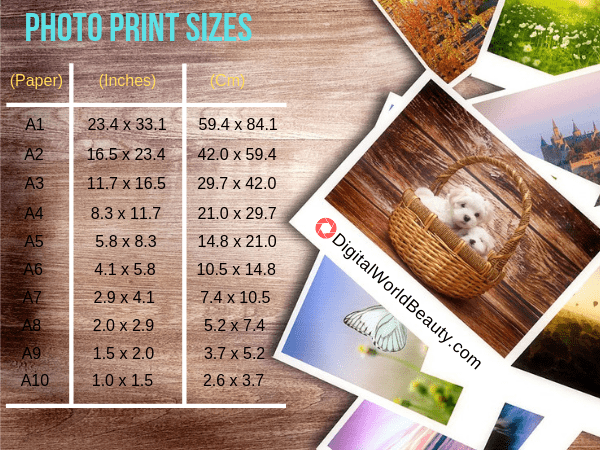 ---
So…
What is the standard photo size for printing? 
Standard Photo Print Sizes (rounded, in cm):
A4 or 10 x 15 is the most popular print size. Often used for family photo albums.

A5 or 15 x 20 print size is the second popular one.

A4 or 21 x 29 is a standard office paper size. Often used for decorating walls with photos.
Non-Standard Photo Print Sizes:
13 x 18 is a rare and rather difficult size used for printing.

30 x 40 or 40 x 50 are nice for interior design. Since this a quite large size, the quality of photos/resolution should be high too.
Note:
It's important to choose the right paper.
If you won't, the end result will be an incomplete, cropped image, or with white fields. Typically, the photo printing studio presents a guide with image sizes/formats for printing with examples.
Another note:
In terms of a print passport photo size, it must be 2×2 inches or 51 mm by 51 mm (in the US/Canada).
==> Here's a guide on how to choose the right digital camera and how to take passport photos on your own.
(With important guidelines to know.)
---
Ordering Photo Prints Online
---
Now…
If you decide to order photo prints online, then the system will provide the best parameters for you to have a high quality image.
If you choose the format of your choice, instead of the one recommended by the system, then as a rule that online service isn't responsible for low-quality results.
You may ask:
What's the point of prints when we live in the digital age?
Some people believe that a photo comes to life when printed, framed and hanged on the wall for everyone to see 🙂
Moreover, because we live in the digital age actual print photos are some sort of a unique phenomenon.
(Maybe that's why instant photos are pretty popular these days.)
---
Resolution and Print Photos: Final Thoughts
---
A lot of people (and especially companies) will argue that you'll need more and more MP if you want your images to look great.
Truth is:
An average photographer with a 10+ megapixel camera will be able to get a 16 x 20 inch print of amazing photo quality, full of detail.
So, while it's nice to have the latest and greatest, your current camera might be just fine!
(Of course, it's important to get good quality photos in the first place. Remember about having a good lens, shooting in RAW image format and keeping your ISO values low.)
Now…
I'd like to hear from YOU:
What is your current photography gear?

Have you understood how image quality and resolution impacts print quality?  

Is it now clear what is the best best resolution for printing photos?
If you have any thoughts, let us know in the comments below!
---