Please note: As an Amazon Associate I earn from qualifying purchases. I also work with other affiliate partners and may be compensated from the links below. Details here.
July 24, 2023
Advanced Selfie University: Is Sorelle Amore's Course Worth It? (Honest Review)
I'll be honest:
I'm a HUGE fan of Sorelle Amore.
I appreciate her strong values, her experience in both photography and online business world, and her passion for helping people master independent income and gain more freedom in life.
In this particular post though, we'll talk about Advanced Selfie University review.
I have been a student for quite a while and I'm excited to finally share my honest review if you are considering this unique photography course.
Before we dive in, here's an overview of her courses that I'm a part of:
Sorelle Amore Courses (Summary)
I am a paid member inside several of Sorelle Amore's online courses and memberships, and I can testify that it was money well invested.
There are thousands of happy students, including me. And it's the reason why I highly recommend her.
Truth is, Sorelle is successful in everything she does.
Thanks to her incredible skills, she worked with major brands like Samsung, Porsche, Squarespace, Armani, and had major publications like Forbes, ABC, Business Insider, and Buzzfeed write about her.

Check out her digital products:
Yes, I myself am a paying student.
The gold offered in Sorelle's courses is worth more than the price tag.
Whether you're interested in building a brand on Instagram, creating incredible selfie photos, mastering independent income, or becoming a global citizen, you'll find something that resonates with you.
(Or maybe you'll end up buying everything like I did, ha!)
Bonus from me to you:
If you decide to go with Abundantia, you can use my code ZARINA20 to save 20% off the yearly subscription.
What Is Advanced Selfie University, Exactly?
Advanced Selfie University is Sorelle Amore's photography course.
And a unique one at that! Here, Sorelle shares all her secrets for creating incredible studio-like images of yourself.
(Using nothing more than just a camera, a few cheap tools like a tripod, and some simple photography hacks.)
And guess what?
You'll be amazed what kind of amazing shots you can take of yourself, without asking anyone for help.
And you certainly won't find duck faces or typical selfies here, you're gonna learn ADVANCED self-portraits.
The best part is that it's simple to follow the tutorials, understand what the instructor is talking about, and motivating to put your new knowledge into practice.
Advanced Selfie University has 10 main modules, which I'll talk about later in this review.
Who Is Sorelle Amore?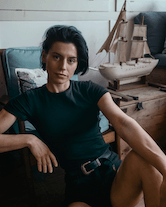 Without a doubt…
Sorelle Amore is a woman of many talents. 
She's a photographer, content creator, and influencer who has managed to build a social media empire in a large part due to knowing how to take beautiful self-portraits.
Sorelle has worked with major brands around the world (like Samsung, Armani, Porsche), and gained a very strong following on Instagram and YouTube channels.
Not only that, but she is is also a huge advocate for building independent income and gaining more freedom in life (which is what her other courses are about).
I'll say this:
Sorelle Amore is a charismatic instructor, very knowledgable, and passionate about teaching you everything she knows – whether it's self photography, social media, or creating passive income for yourself.
Having bought a lot of courses in the past, I really enjoyed hers.
How Does Advanced Selfie University Help You?
Let's face it:
It's hard to stand out online these days. And it's even harder to take amazing shots of yourself without involving professional photographers.
The Advanced Selfie University takes you from wherever level you are to becoming a master at advanced self-portraits, with zero outside help.
Having this knowledge and applying to practice can help you:
build an online presence,

boost your confidence,

impress potential employers,
And even potentially propel you to Instagram fame.
The course provides practical advice and step-by-step formula that is easy to follow, even for beginners.
Now…
If you combine Advanced Selfie University with Sorelle's Public Figure Bootcamp and Abundantia, then not only will you level up your photos, but you will also help you level up your (passive) income.
Who Is It For?
Everyone has different motives for joining ASU.
Some are social media influencers and creators who want to level up their photos.

Some are travelers who want to take nice selfies in new places for the gram (and memories).
Heck, some are even shy introverts who want to push their comfort zone when it comes to taking photos of themselves.
(And that includes men too.)
Bottom line:
Advanced Selfie University is for anyone who creates content, builds an online presence, or simply wants to improve their visuals and raise their confidence.
(And believe me, taking amazing photos of yourself WILL boost your confidence.)
Is Selfie Advanced University Worth It?
If you are wondering if the Advanced Selfie University is worth it for you, then it definitely is.
If you want to learn how take your self-portraits to the next level, this is probably the best course currently on the market.
My honest opinion?
ASU is probably the best self-portrait photography course today.
You will hardly find such a charismatic instructor like Sorelle who is also excelling in this field, AND as a photographer, creator, influencer, and educator.
The Course Structure
As mentioned earlier, ASU has 10 main modules, with digestible videos that are 5-10 mins long. Under the videos you'll see a text-based section, which is certainly helpful.
Here's what to expect in those modules.
Module 1: Preparation
This is a short module which covers what gear you'll need (not a lot), what to wear and how to choose clothes based on your skin tone, and the one thing that will make or break your advanced selfies.
(Absolute must is getting a tripod. It's cheap to invest in, but will save a ton of time.)
Module 2: Camera Basics
This module may be boring for experienced photographers, but important for newbies.
You'll learn the camera basics, the manual settings for your DSLR, how to set it up, how to achieve the WOW factor, along with specific advanced selfie examples to help you understand visually.
Module 3: How to Pose
Ah, the biggest pain point of many.
In this module you'll learn how to pose your face, how to pose in sitting, standing or lying down positions, how to take group shots, and what to do with your hands.
You'll also learn how to create context in your photographs.
Module 4: Personal Branding
Let's face it, photos tell a complete story about who you are.
And this section will help you figure out your branding and what type of photos work for YOU.
Sorelle will also share her tips on how to look more confident in your self-images, and how to over fear of posing and posting.
Module 5: Lighting and Focus
A very short module with straightforward tips on finding the best lighting and how to set focus for your advanced selfies.
Module 6: Easy Advanced Selfies
This is the one you'll look forward to.
While it's hard to say what is an "easy" selfie since it depends on the person, Sorelle does try to give her best tips on what works for most people.
She talks about locations, about understanding your preferences, lighting, backgrounds, and why choosing the right colours for you matters.
Module 7: Mobile Phone Advanced Selfies
This is great for those who don't have a DSLR and mostly focus on Android or iPhone photography.
You'll learn what settings to use, how to take better selfies with your iPhone or Android, and how to edit on Lightroom app and 'Photoshop' editing in Facetune.
Even if you shoot with a mirrorless or DSLR camera, it's good to have some basic knowledge and try mobile photography and editing as well.
Module 8: Interval Timer Photography
A very short video on how to take advanced selfies on a DSLR without a remote trigger.
Module 9: Drone Advanced Selfies
You'll learn how to level up your Instagram with these easy aerial self-portrait ideas.
However, this is the very advanced part of the course.
You can't just buy a drone and try it without any experience. First you'll need to pass your FAA drone exam.
If this is something you're interested in, here's the the industry's #1 online test prep and drone training course.
Module 10: Editing
Last but not least, editing your advanced selfies.
To Sorelle, editing makes up 40% of a photo.
The thing is that you're trying to show people something normal in a new light and editing will help achieve that WOW effect.
And the best part, you can use her own presets to see a significant difference in your shots.
Here's a video you can watch to understand what presets are and why you should use them in your photography:
Lifetime Access to the Course
Let's face it:
A lot of us have busy schedules or prefer to learn at their own pace.
Advanced Selfie University offers you a lifetime access to the course. This is an important feature for me personally.
Sometimes I can't keep up with all the projects and courses I'm a part of, and sometimes I like to go back and watch the tutorials again should I need to refresh my memory.
If you're like me, then you'll love the lifetime access feature.
Are Students Getting Results?
So far from the Advanced Selfie University review, I can confidently say that students are getting results.
The comment section is proof that people loved ASU and were more than satisfied with it.
Here are some students' comments about it:



(And that's precisely how I feel about this course too.) 
How Much Does It Cost?
Now…
How much does Advanced Selfie University cost?
The price for Sorelle Amore's photography course is only $67 USD which is a great deal for the value and self-confidence you gain after following the course and actually putting your knowledge into practice.
Oh, and you get lifetime access.
==> Click here to get started today.
Cons of Advanced Selfie University
I think it's pretty obvious I'm passionate about Sorelle's courses, but are there any drawbacks to this one?
Is there anything you might want to see more of?
Allow me to share a couple of responses from other students with my comments: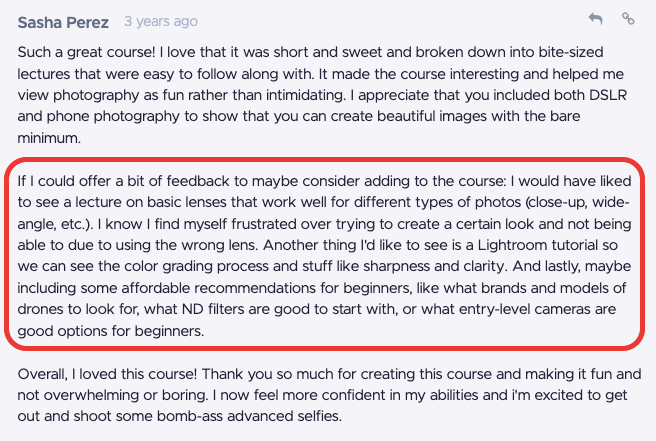 Some of Sasha's feedback points probably go beyond the course plan (like having a list of entry-level cameras), but I do realize that they might be a bit challenging for complete newbies.
Not something that will completely throw you off the game, though.
On the other hand, if you're quite the experienced photographer, particularly with taking advanced selfies, then this course might not be the right choice for you.
This is something that happened with one of the students, Jason: 
Note how even though he was a bit disappointed, he never asked for a refund because he loves Sorelle's work and treated the $67 payment as a Patreon gift.
I think that says a lot about the quality of Sorelle's work!
Is Advanced Selfie University Worth It?
Absolutely, I highly recommend Advanced Selfie University.
I think it's an amazing self-portrait photography course that you'll find today.
You can also check out Sorelle Amore's other courses if you want to build an online presence, master independent income, and become a global citizen:
If you decide to go with Abundantia, you can use my code ZARINA20 to save 20% off the yearly subscription.
(And at some point I will create The Codex & The Order review.)
In the meantime, you can click the button below to learn what each course is about.
Now…
I'd like to hear from YOU:
What do you think of this Advanced Selfie Academy review?
Have you taken any of these courses before?
Please share your concerns, questions, and personal experience in the comments below! I'll be happy to hear from you.
Thank you!