November 1, 2017
Best Cameras For 2018: Meet 10 EISA Award Winners
---
This roundup of the best digital cameras for 2018 will include 10 official EISA Award winners.
---
What camera was officially voted as the "best superzoom camera 2018"? And what about the best point-and-shoot (compact) camera for 2018? Are there dual pixel CMOS AF cameras in this list? Keep on reading to find out!
What is this EISA thing that I keep mentioning?
The European Image and Sound Association (EISA) is an organization of 53 specialist CE magazines from 25 countries.
Every year, member magazine experts get together for an EISA Awards event and celebrate the products that combine the most advanced technology and desirable features with class-leading performance.
The EISA Awards extend from the most affordable, high value products to the most aspirational expressions of modern consumer electronics.
Based on the results of the independent reviews of the participating EISA Awards members, the following cameras were recognized as the best cameras in 2017-2018:

Table Of Contents:
(click on the link to jump to the section you want to read)
---
---
You May Also Want To Read:
Let's further examine each of the camera winners.
---
THE BEST CAMERA 2018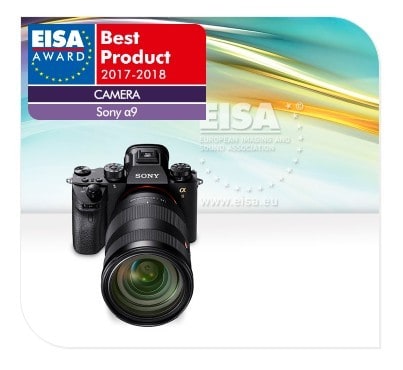 At the EISA Awards event, Sony a9 was voted as the best camera in 2017-2018.
Key Features:

24.2MP full-frame stacked CMOS sensor

20fps shooting

693-point auto focus

ISO 50-204,800 (extended)

5-axis in-body image stabilization
The Sony a9 is a high-speed full-frame mirror less camera that's designed to go head to head with Canon and Nikon's flagship professional DSLRs. Even though the camera is called "α9" (Alpha 9), the official name of the model is ILCE-9.
This full-frame mirror less camera features a 24MP stacked CMOS sensor which allows 20 fps burst shooting and provides a completely silent operation of the electronic shutter. Video shooting can be in 4K format at 30 fps, and in FullHD format – up to 120 fps.


The Sony a9 camera can record up to 200 RAW frames at a speed of up to 20 frames per second, with no image loss in the viewfinder ("blackout").
It is noted that the calculation of auto focus and auto exposure is performed at a frequency of 60 times per second. The auto focus system uses 693 built-in phase detection sensors, covering more than 90% of the frame area. 
Sony a9 should appeal to the lovers of continuous shooting. This camera will show itself best for example at sports competition events to select the most successful shots of jumping or running.
As mentioned already, Sony a9 can shoot up to 200 RAW frames and up to 360 frames in JPEG format – clearly there is a huge potential here.
Final Thoughts: Sony a9 Rightfully Voted As The Best Mirrorless Camera in 2018
According to the manufacturer, Sony a9 is the most functionally powerful camera of all existing, both mirror-less and DSLR cameras. With this positioning, its high price tag does not seem surprising.
However, if you are looking for the "complete package", then the Sony a9 camera price will definitely justify itself. 
Click below to take a closer look at Sony a9 ↓
Back to Menu ↑
---
THE BEST CONSUMER DSLR CAMERA 2018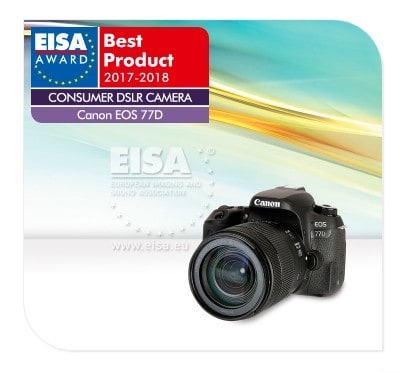 Canon EOS 77D was recognized as the best consumer DSLR camera.
Key Features:

24.2MP APS-C sensor

DIGIC 7 image processor

Dual Pixel CMOS AF

ISO 100-51,200 (extended)
The camera does not belong to any of the established DSLR line of its manufacturer. It is positioned as an intermediate option between the amateur EOS 800D and the advanced, large and powerful EOS 80D (see image below).
This novelty is especially relevant to our market because the prices for photo equipment drastically increased, yet many people want to engage in photography creation and have an affordable "adult" camera with necessary functions.
This way, Canon EOS 77D throws a bridge for amateur photographers into the world of serious photography equipment.
It works on the same basis as the EOS 800D and EOS 80D: they have a similar image sensor APS-C with a resolution of 24 megapixels, auto focus system with support for Dual Pixel CMOS AF technology and 45 points when viewed through the viewfinder.
Canon EOS 77D Place In A Model Range
In 2015, Canon released a special modification of the Canon EOS 750D – EOS 760D. It was an inexpensive entry-level camera with advanced control: two parameter adjustment discs and an upper information display.
Apparently, the experiment was considered successful, as it was decided to allocate such cameras to a separate segment in the next generation.
The result of the development of this idea is the Canon EOS 77D.

As mentioned already, the camera is based on a 24-megapixel CMOS-sensor with support for Dual Pixel CMOS Auto Focus technology.
What this means is that this Auto Focus technology is responsible for fast and accurate focusing in movies and when shooting still photos in Live View mode.
A very solid characteristic not only for the amateur, but also for the semi-pro class.
Canon EOS 77D is equipped with a new DIGIC 7 processor, which delivers high precision tracking performance and allows for touch detection of image subjects. It has a great range of photo sensitivity that you will surely enjoy.
Final Thoughts on Canon EOS 77D As The Best Consumer DSLR Camera

Due to the presence of controls inherent in professional cameras, the EOS 77D is an excellent choice when buying your first camera.
With it, it is easy to learn, and at the same time it allows you to perform some serious creative tasks. This Canon novelty is smaller and lighter than the Canon EOS 80D.
A sort of golden mean, an ideal compromise. 
Click below to take a closer look at Canon EOS 77D ↓
Back to Menu ↑
---
THE BEST PROFESSIONAL DSLR CAMERA 2018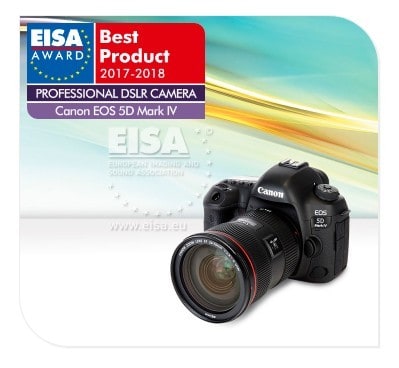 Canon EOS 5D Mark IV was recognized by the EISA as the best professional DSLR camera.
Personally, I included this camera in my list of best Canon cameras too.
Key Features:

30.4MP full-frame CMOS sensor

Dual Pixel RAW

7fps shooting

Wi-Fi/NFC built in

Dual Digic 6/6+ processors
The Canon 5D Mark IV was one of the most anticipated cameras.
Four years after the release of Canon EOS 5D Mark III, the company released a next-generation camera capable of repeating the success of the legendary "third Mark". 
Winning the EISA Award proves it right.
The whole secret lies in the equally wide versatility of the Canon EOS 5D Mark IV.
The "fourth Mark" borrowed this feature from its predecessor, but became a bit better in everything.


The Canon EOS 5D Mark IV has a 30.4-megapixel full-frame CMOS sensor. Even though the resolution of the images increased to 30 megapixels, this did not affect the quality at all.
The camera confidently captures images at ISO up to 6400, but if you want to publish an image on the Internet, it can provide good quality at much higher ISO values too.
And when you make adjustments to a RAW file, there is almost no noise in it.
A novelty for the whole photo industry was Dual Pixel RAW.
Essentially what it does is it simultaneously takes two photos, both 30.4 megapixels in size, using the left and right halves of a single pixel.
In other words, during Dual Pixel RAW shooting, a single RAW file saves two images into the file.
Because these two images see things a bit different, Canon lets you adjust/filter information from them separately. Thanks to this, in the post-processing stage, you have the opportunity to slightly shift a photo's focus and bokeh appearance.

The auto focus system is close to the top Canon EOS-1D X Mark II in terms of its capabilities.
(This also applies to focusing through the viewfinder, and focusing on the image sensor).
The same function is fully functional for video shooting.
Enhanced focus and metering functions of the EOS 5D Mark IV camera will not miss the moment and capture it even in difficult lighting conditions.
Recording functions in high definition 4K1 and Full HD with different frame rates, including slow-motion shooting 60p, expand the possibilities of video shooting on digital SLR cameras. 
Final Thoughts on Canon EOS 5D As The Professional Digital SLR Camera
The cumulative set of properties and characteristics makes the "fourth Mark" applicable for almost any genre: from reportage to advertising photography, from photo hunting to professional video shooting.
Additional convenience for shooting creates a touch screen, which allows you to specify a focus object with a simple touch.
Dual Pixel CMOS AF will focus on it instantly, even in very low light situations.
Click below to take a closer look at EOS 5D Mark IV ↓
---
THE BEST PROSUMER DSLR CAMERA 2018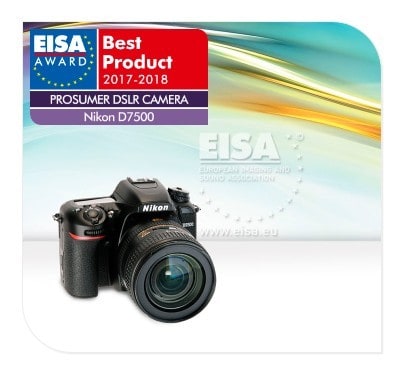 Nikon D7500 was voted as the best prosumer DSLR camera.
Key Features:

20.9MP DX CMOS sensor

ISO 100-51,200 (standard), ISO 100-1,640,000 (extended)

51-point auto focus

8fps shooting

3.2in, 922,000-dot tilting touchscreen
To start off, the Nikon D7500 SLR camera uses a 20.9-megapixel APS-C format matrix, an Expeed 5 processor, and an 180000-band RGB metering sensor.
Nikon D7500 can shoot video in 4K format.
And it has improved dust and waterproof design.
Old users of the Nikon 7000 series can complain that the camera has lost some external features of its predecessors – a magnesium-alloy body, two memory card slots, ring belt and a large monochrome LCD.
And these features stressed its semi-professional character.
On the other hand, the new Nikon D7500 became lighter, has a powerful matrix, EXPEED 5 image-processor and 180K-pixel RGB sensor used in Nikon's "top-dog" D500. As a result, these features provided the D7500 camera with excellent characteristics of its class.
In addition to that, burst rate of 8 fps and a super-deep buffer of 50 Raw files or 100+ JPEGs bring camera closer to the speed characteristics of professional camera models.
51-point AF system from the previous generation of professional cameras D750, D810, D4s is a good acquisition for cameras of this level. And the touch-sensitive inclined display made it even more convenient.
Final Thoughts on Nikon D7500 Been Voted As The Best Prosumer DSLR Camera for 2018
I think that the D7500 will appeal to many photography enthusiasts who can appreciate and use all the technical abilities of the camera.
Like the previous models of the Nikon 7000 series, it brings a number of new opportunities, approaching its characteristics to the ones of professional camera models.
Click below to take a closer look at Nikon D7500 ↓
---
BEST PROSUMER COMPACT SYSTEM CAMERA 2018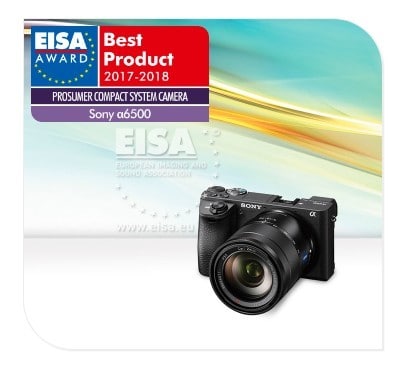 As the best prosumer compact system camera, the EISA Award was given to Sony a6500.
Key Features:

24.2MP Exmor CMOS sensor

Sony E-mount lenses

7.5cm touchscreen

425-point phase-detection auto focus

11fps continuous shooting
Sony a6500 is a flagship mirrorless camera with APS-C matrix/sensors, has an advanced buffer for continuous shooting at 11 frames per second, and includes a fast 425-point phase-detection auto focus.
Another innovation is the image stabilization system, which compensates for the displacement along the five axes.
The new Sony model inherited a hybrid focus system from its predecessor, Sony a6300, however the a6500 model now allows you to select the focus points with its touch screen. Sony a6500 touch screen has the following options: one-touch shooting and setting the point for auto focusing.
And when framing through the viewfinder the screen works like a touch pad, allowing you to select the focus area with your finger, while still keeping your eyes on the viewfinder (see image below).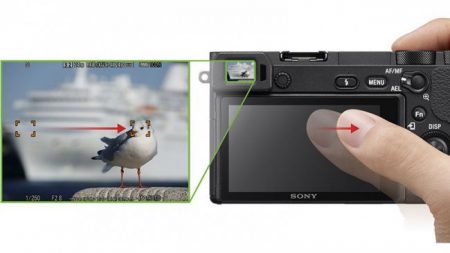 It's the first time that this ability was introduced in Sony cameras.
Also, an important improvement was the increased buffer for images.
Now it allows producing continuously up to 307 frames in JPEG format and 107 frames in RAW format. The speed of the continuous shooting is 11 frames per second (or 8 frames per second with refocusing and exposure metering for each frame).
Final Thoughts on Sony a6500 As The Best Compact System Camera for 2018

In terms of combined consumer characteristics, the previous Sony model is noticeably inferior to the new Sony a6500.
This means that there will definitely be photography enthusiasts willing to pay for the increased buffer, 5-axis image stabilization, and the 425-point phase-detection auto focus.
The touch screen will become a pleasant bonus and the last argument in favor of Sony a6500 when camera shopping. 
Click below to take a closer look at Sony a6500 ↓
Back to Menu ↑
---
THE BEST CONSUMER COMPACT SYSTEM CAMERA 2018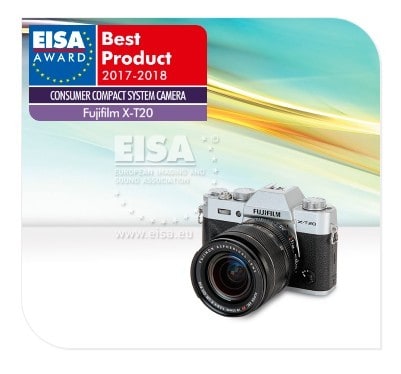 Fujifilm X-T20 was voted as the best consumer compact system camera 2017-2018.
Key features:

24MP X-Trans CMOS III sensor

Up to 325 selectable AF points

3″ 1.04M-dot tilting touchscreen LCD

8 fps continuous shooting with AF, 5 fps with live view

2.5mm jack for external microphone or wired remote control
The X-T20 uses a 24-megapixel matrix X-Trans CMOS III format APS-C, the model is equipped with new auto focus modes for shooting moving objects.
Among the features of the Fujifilm X-T20 are an electronic OLED viewfinder with a resolution of 2.36 points, front and rear control dials, built-in flash and continuous shooting at 14 frames per second.
According to the figures, the characteristics of Fujifilm X-T20 differ little from the characteristics of the flagship Fujifilm X-T2.
But having held these models in your hands, you immediately understand where the camera is for amateur shooting, and where the device is professional level.
X-T20 is the ideal choice for those who like photography, want to develop their photography skills and do photography for the sake of pleasure, not for money.
Fujifilm engineers added new features that will be useful for amateur photographers: automatic mode, built-in flash and touch screen. The X-T20 is noticeably smaller than the flagship, has a less pronounced grip and a smaller viewfinder.
In the X-T20, there is now an advanced AF system.
Also, 4K was added which improved its video recording capabilities. Good autonomy coupled with compactness and the ability to charge from USB makes the X-T20 an excellent option for shooting on a trip.
Besides, free applications FUJIFILM Camera Remote and Wireless Communication allow you to take pictures by controlling the camera from smartphones and tablets via Wi-Fi.
Final Thoughts on Fujifilm X-T20 Voted As The Best Consumer Compact Camera for 2018

Fujifilm X-T20 can be considered as a second camera for a professional.
We recommend the novelty to amateurs of street and genre photography, given its lightning-fast focusing, its small body, and the possibility of silent shooting.
In short, Fujifilm X-T20 is stylish, compact, fast, easy to use camera. Thanks to a wide selection of film presets with it, you can make original frames without additional processing.
The camera has a fairly affordable price, yet there are enough capabilities of X-T2 enough for the development of your photography skills. 
Click below to take a closer look at Fujifilm X-T20 ↓
Back to Menu ↑
---
THE BEST INSTANT CAMERA 2018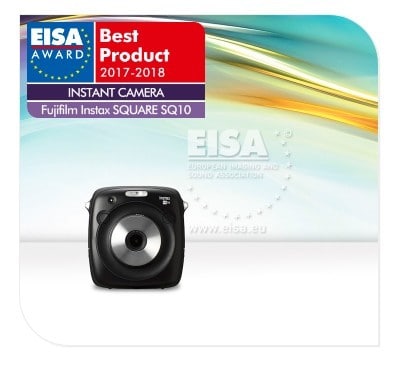 Fujifilm X-T20 was not the only camera that won EISA Award this year.
So did Fujifilm Instax SQUARE SQ10, which won an award as the best instant camera in 2017-2018.
Key features:

Fujifilm Instax Square SQ10 with all-new hybrid INSTAX system

Print from internal memory or micro SD \ microSDHC card

Tripod mount

3" TFT color LCD monitor with 460K dots resolution

¼" CMOS image sensor with primary color filter

1920×1920 recorded pixels

F2.4 aperture
Surely among the readers of this review, there are many who are aware of Fujifilm Instax Mini 8, which was an interesting camera but had a number of shortcomings with it. 
However, in summer 2017, a new generation – Fujifilm Instax Square SQ10 was introduced, which is by far the most advanced instant camera available out there.
The design of Fujifilm Instax Square SQ10 resembles the icon of the Instagram social network, which has become the most popular network, the emphasis of which is on photography.
By the way, even the format of the photos themselves from the camera and in this network is similar (62 by 62 mm).


Having a TFT display made it possible to configure the operation of the camera.
Before photo-shooting, you can adjust the exposure, shutter speed, select the color profile. After the shooting, you can process the photo, add frames, filters, and adjust the brightness and contrast.
Its internal memory is enough for about 50 pictures, you can expand it with a memory card up to 32 GB. The memory card slot can be useful for storing captured images or downloading files.
Final Thoughts on Fujifilm SQ10 As The Best Instant Camera for 2018
Fujifilm Instax Square SQ10 is more functional than its predecessor but so did increase the price for it (expectedly).
Here is the competition with smartphones and digital cameras which have more capabilities and better image quality for the same price.
(Don't get me wrong, I am not saying that the quality of the printed images of Fujifilm is bad!)
SQ10 acts more like a unique camera that you can take with you to a party with friends, presentations or creative meetings.
In our digital age, instant printing and pictures that can be seen on actual photo paper always cause a "WoW" effect. 
If this camera interested you too, click on the button below to take a closer look at Fujifilm Instax Square SQ10. ↓
Back to Menu ↑
---
THE BEST COMPACT CAMERA 2018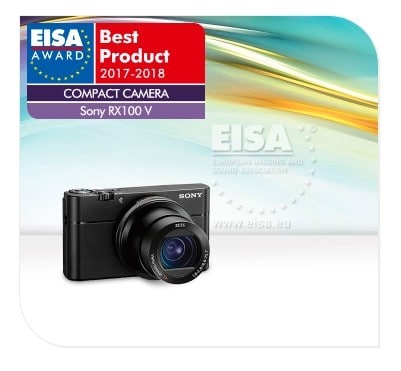 Sony RX100 V was another EISA Award winner.
It was voted as the best compact camera.
Key features:

20.1-megapixel one-inch CMOS sensor with stacked design

0.05 sec AF 

24fps shooting 

Zeiss 2.9x optical zoom (24-70mm equivalent) f/1.8-f/2.8 lens

0.39-inch electronic viewfinder
Along with the flagship mirrorless a6500 (see "best prosumer compact system camera" above), Sony released the fifth reincarnation of the popular compact camera series RX100. 
According to the manufacturer, the new Sony RX100 V has the world's fastest auto focus and the largest number of focus points, as well as the fastest continuous shooting – all among the cameras of the same class.
Sony RX100 V uses a 20-megapixel sensor Exmor RS BSI CMOS format 1″. The BIONZ X processor works together with a new LSI chip, which maximizes processing speed and improves image quality at high ISO values.
The sensitivity range is ISO 125-12800, but it is possible to expand it down to ISO 80.
All electronic stuffing of the camera is designed with an emphasis on maximum speed.
The hybrid autofocus system uses 315 focus points, which cover 65% of the matrix area. These 315 points, as well as the focus speed – 0.05 seconds – set a new record bar for compact cameras.
Pretty impressive.
The camera features the Anti-Distortion Shutter function with a shutter speed of 1/32000 seconds that minimizes the effect of the rolling shutter and allows you to take pictures at a fully open aperture at an illumination level of up to EV19.
Last but not least, Sony RX100 V has a ZEISS 2.9x optical zoom with a focal length range of 24-70 eq. Mm and a f/1.8-2.8 focal length.
Final Thoughts: Sony RX100 V is One Of The Best Compact Cameras for 2018 Available on the Market

Sony RX100 V is a miniature device that continues the evolutionary line of the company, and it is able to fit in your pocket.
By this criterion, there perhaps no analogues on the market.
It's a compact with the features of a professional camera.
For those who need a compact camera, this "toy" is the best one available on the market.
Click below to take a closer look at Sony RX100 V ↓
Back to Menu ↑
---
THE BEST SUPERZOOM CAMERA 2018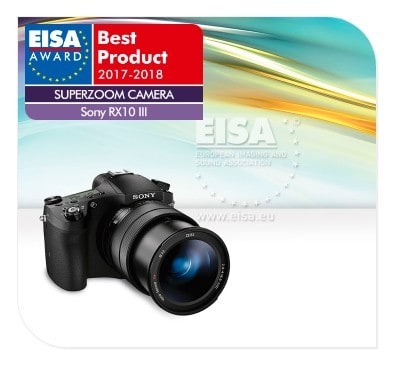 Sony cameras won a lot of awards this year.
And the winner as the best superzoom camera was Sony RX10 III.
Key features:

20.1-megapixel 1-inch Exmor R CMOS sensor

4K video recording

Wi-Fi 

Bionz X Processor 

Tilting 1,228,800-dot Xtra Fine TFT LCD Monitor

In 2016, Sony released RX10 III, a compact camera with a powerful 25x optical zoom. 
The RX10 III uses a 20.1-megapixel Exmor RS CMOS sensor, as well as a BIONZ X processor – like the previous RX10 II. The lens has a focal length range of 24-600 eq.m. m and a f/2.4-4.0 aperture.
Among other technical characteristics of Sony RX10 III are ISO sensitivity range 64-12800, high-speed video shooting up to 960-1000 frames per second (in reduced resolution), which gives a slowdown by 40 times during playback.
It also includes 4K video, built-in optical image stabilization Optical SteadyShot, a minimum focusing distance of 72 cm, an increase of up to 0.49x at 600 eq. mm, fast autofocus (response rate of 0.09 seconds), and an integrated Wi-Fi module supporting NFC technology.
Final Thoughts on Sony RX10 III as The Best Superzoom Digital Camera in 2018
The RX10 III tries to offer a lot in one package and it succeeds in that.
No one yet withstood the competition with Sony's fast sensor in the category of superzoom cameras.
The camera turned out to be interesting, and despite its high price tag, it will find its buyer among the amateur photographers. 
Click on the button below to take a closer look at Sony RX10 III ↓
Back to Menu ↑
---
THE BEST PHOTO & VIDEO CAMERA 2018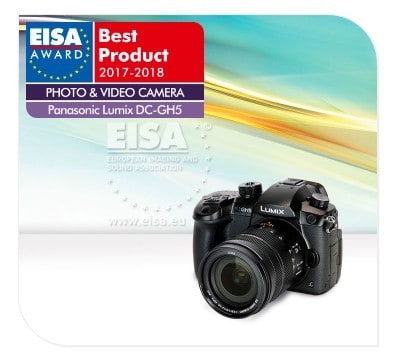 Finally, we got to the last EISA Award winner.
Panasonic Lumix DC-GH5 was voted as the best photo and video camera.
Key features:

20MP 4/3 sensor

5-axis in-body image stabilization system with 'Dual IS 2' support

9 fps shooting with continuous autofocus

Advanced DFD autofocus

Internal 4K/30p 10-bit 4:2:2 video capture

Dual UHS II card slots

4K footage (with full width of sensor)

802.11ac Wi-Fi, NFC and Bluetooth
Panasonic Lumix DC-GH5 has a 20.3Mp sensor, that was previously used in GX8 model, but the low-pass filter was removed from it. It also has a 5-axis in-body image stabilization system with 'Dual IS 2' support. 
Panasonic also added a 6K photo mode that shoots the movie at 30 frames per second. For RAW shooting, a series of 80 frames is offered, for JPEG there are no restrictions.
An interesting feature is that you can record simultaneously on two memory cards or by selecting a priority for each of them individually. On one there can be a video, on the second there can be a photo.


The camera shoots video in 4K resolution at a rate of 50 frames per second with a bitrate of 150 Mbps.
There is an uncompressed shot with a bitrate of 400 Mbit / s 10 bits. Full HD can be shot at a speed of 180 frames per second. Bitrate up to 200 Mbit / s 10 bit. The extensions available are MP4, AVCHD, MOV.
There is a dust and moisture protection.
Therefore, a randomly-started rain will not damage the camera. In addition to that, in can be used in winter time without any problem.
Wireless control via Wi-Fi is supported. The Bluetooth module paired with NFC.
This means that you can transfer the captured images to your smartphone and then share it on your social network account without using a desktop PC.
Final Thoughts on Lumix DC-GH5 as The Best Photo & Video Camera in 2018
Cameras of Panasonic Lumix GH family are very popular among bloggers, journalists and those who are fond of video shooting. 
GH5 became noticeably better, more functional and more expensive.
Now it can be safely called as one of the best cameras for shooting video for publications on the web, great to use during travel, and are excellent for wedding and reportage shooting.
Click below to take a closer look at Panasonic Lumix DC-GH5 ↓
Back to Menu ↑
---
If you like videos, here is a short Youtube video summarizing 10 best cameras as voted at a EISA Awards event.
Conclusion
Based on the information that you just saw on each of the EISA Award winners, it becomes clear that the EISA Awards members were very careful in their selection of the "best of" cameras.
Let me remind you again which cameras were recognized as the best cameras in 2017-2018:
Depending on your likes, needs and level of your photogragraphy skills, you will find the camera that suits you best. 
If you are on a smaller budget or just starting to gain experience in photography, check out our list of the best budget cameras for 2018.
Whatever you decide to choose, you know that the aforementioned cameras were legitimately voted as the best cameras for 2018. 
Happy shooting!
---
Have you made your decision? Which camera did you decide to buy for 2018?

Any questions? Let me know in the comments below!
About Author
Zarina
Founder of Digital World Beauty website. My purpose here is to provide easy-to-understand guides and reviews on digital technology to make YOUR life easier and help YOU make as informed of a decision as possible. If you want to learn more about me, please visit my profile page.