Please note: As an Amazon Associate I earn from qualifying purchases. I also work with other affiliate partners and may be compensated from the links below. Details here.
March 1, 2021
9 Best Cameras for Teenagers: Start Your Photography Journey Today! (2022)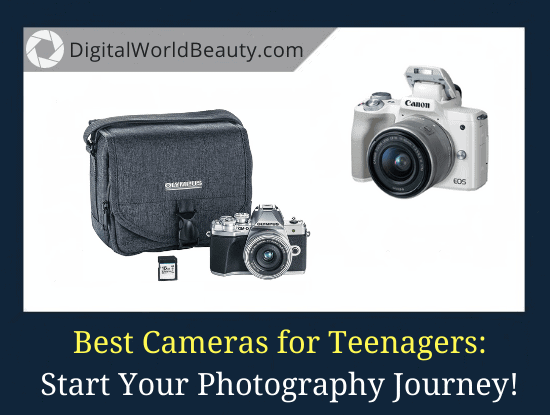 ---
What is the best camera for teenager interested in photography? (2022 Update)
---
Let's face it:
Many teenagers these days are getting more and more into photography. They seem to love taking selfies, or taking pictures of their staycation and food preferences.
While this seem to be a normal trend among social media users, it could be a good starting point to cultivate your love for serious photography. Who knows? One of these days you will realize that you want to step up your game to the next level.
If you already feel like you are going to take this hobby seriously in the near future, you better be prepared with the right gear to help you start the journey. Knowing which camera you should get is imperative.
In line with that, I'll be listing the 9 best cameras for teenagers in 2022.
Here is a quick preview of my most recommended options for young and aspiring photographers:
Best Cameras for Teenage Photographers 2022
---

All the aforementioned recommended products are fit for beginners and enthusiasts.
The controls are pretty much easier and simpler than pro-grade counterparts but the overall quality of the images is still very great.
Without further ado, let's get started.
---
The Best Overall Choice for Beginners
---
Nikon D3500
Type: Compact SLR
Weight: 365g
Resolution: 6000 x 4000
Sensor Size: APS-C (23.5 x 15.6mm)
LCD Screen: Fixed, 3″
Touchscreen: No
Weather-sealed: No
ISO: Auto, 100 – 25,600
---
When it comes to starter DSLRs for teenagers, almost always you get to see a lot of people recommending Nikon D3500 and you start to wonder just why.
Well, that is really not surprising since this model is advertised as the brand's best entry-level option. It has a lot of features that meet the needs and skills of most prosumers and hobbyists.
And on top of that, it is also one of the most affordable deals you can get right now.
Features
Probably the most helpful feature a beginner's device could have is this one. This mode basically guides you how to take the shot and automatically detects what type of scene you are currently trying to take. It teaches you the basics of photography, honestly.
By using this feature, you will know about shutter speed, aperture, and exposure. Later on as you continue using the gear and this feature, you will realize which settings are good for which type of scenes.
Once you master that, you will be ready to go manual (which is what professionals usually prefer).
Compared to pro-grade options, this one is really lightweight. That makes this product easier to carry around everywhere, despite its bulky appearance. It is good for a whole day use since it really doesn't weigh that much.
The reason for this is that the materials used (especially for the outer shell of the device) are different from those premium products.
But don't get me wrong, D3500 is still durable and reliable, but just not as much as the ones used by professionals. And this part is quite understandable given its price point.
Battery life is one of the most important features you should look after when deciding which product to buy. The longer it lasts, the more photos and videos you can take per charge. For this product, it is capable of taking about 1550 shots per full charge. This is pretty decent considering it is an entry-level device.
Though limited in terms of connectivity features, D3500 still got Bluetooth that helps make file transfers easier and more portable. In case you don't have you cables, you can simply connect the device to your PC via Bluetooth and the transfer will still be facilitated just fine.
✓

Pros
Easy to use

simply user interface

affordable

for all around use

excellent battery life
✕

Cons
not touchscreen

no Wi-Fi

does not record 4K videos
Nikon D3500 DSLR Camera Bundle with 18-55mm VR Lens
DX-format 24.2MP DX-Format CMOS Sensor, EXPEED 4 Image Processor

Color accuracy, and low-light sensitivity to a native ISO 25600

Continuous shooting of up to 5 frames per second

Full HD 1080p Video Recording at 60 fps

Built-in pop-up flash , Active D-Lighting , In-Camera Image Editing

SnapBridge Bluetooth Connectivity

No Optical Low-Pass Filter (better image sharpness and detail)

Guide Mode and Special Effects
---
Great Price-Quality Ratio
---
Canon Rebel T6i
Type: Compact SLR
Weight: 555g
Resolution: 6000 x 4000
Sensor Size: APS-C (22.3 x 14.9mm)
LCD Screen: Fully articulated, 3″
Touchscreen: Yes
Weather-sealed: No
ISO: Auto, 100 – 12,800 (up to 25600)
---
Canon has been known as one of the biggest manufacturers of photography equipment up to today.
Every year, the industry always awaits for the newest addition to the countless products they have so far. For true Canon fans, it is always exciting to see how much a predecessor unit has been improved and which models are new releases.
==> Click here to read my review.
Rebel T6i may not be the newest one in this series, but it is still one of the most recommended best starter camera for teenage photographers.
The reason? Its price-quality ratio. Compared to the newer T7i, this will give you better value for your money.
Features
One of the major considerations professionals have when choosing their equipment is the reliability and speed of its AF system. This helps so much in capturing details especially if you try taking photos of moving subjects like people on the streets, animals in the wild, or even insects in your backyard.
Rebel T6i's AF system came as a surprise to many professionals since it is exceptionally fast for its class. Even when using the fastest burst rate, it can still keep up with the subject pretty decently. However the accuracy isn't as good as pro-grade gears, which is totally expected for this DSLR for tweens.
One most notable feature of the T6i, which isn't available in the other digital SLR mentioned here (Nikon D3500), is a fully articulating LCD. To some, this feature might not matter a lot, but when you intend to go serious with this hobby, it is so much better to have an articulating screen.
Why?
It helps you compose your shots better. With a fixed LCD, your angles will be much limited. But when you have an articulating screen, you can simply tilt it to get the Live View and still have the angles perfectly positioned for a great shot.
This device already comes with Wi-Fi plus NFC. That only means faster file transfers and file sharing within your network. This is way speedier than transferring files over Bluetooth, by the way.
Most beginners don't pay attention to the gear's ISO dynamic range when shooting during the day. But, the moment you try shooting at night with your camera and a flash, you will start to realize how important it is for your device to have a really good dynamic range.
Adjusting ISO values can be quite tricky at the start. You need to find the right balance so that your images won't contain too much digital noise. Luckily, you less likely are to worry about that with the Rebel T6i. It has great dynamic range and the resulting images are decent enough even in poor lighting conditions.
✓

Pros
with Wi-Fi

fully articulated screen

good ergonomics

fast AF system

great resolution for both photo and videos
✕

Cons
short battery life

slow buffer in RAW shooting
Canon EOS Rebel T6i DSLR with EF-S 18-55mm Lens
242 Megapixel CMOS (APS-C) sensor, ISO 100–12800 (expandable to H: 25600)

Full HD Movie mode helps capture brilliant results in MP4 format

High-speed continuous shooting up to 5 fps allows you to capture fast action

19-point all cross-type AF system for superb autofocus performance

Sweet beginner DSLR under $600
---
Best Vlogging Camera for Beginners
---
Canon EOS M50 Mark II
Type: SLR-style mirrorless
Weight: 387g
Resolution: 6000 x 4000
Sensor Size: APS-C (22.3 x 14.9mm)
LCD Screen: Fully articulated, 3″
Touchscreen: Yes
Weather-sealed: No
ISO: Auto, 100 – 25,600 (expandable to 51200)
---
In case you were wondering what is a good camera for teenagers interested in photography, then the answer is: IT DEPENDS.
Actually, you have to know first what you want to do with a gear before buying it. Cameras, just like other devices, have different functions and buying the one it is best known for will help you achieve your goal.
Now, if you want to go for vlogging, which is becoming increasingly popular among younger generation these days, then Canon M50 is your best bet.
==> Here's my review of Canon M50.
(I personally own it and it's definitely one of the most recommended options for YouTube/video content creators.)
Features
This is yet one of the best image processors in the history of Canon devices. It enhances the gear's shooting capabilities, extending your reach beyond usual limits. It allows you to record 4k videos at 30 fps tops.
On top of that, this processor is powerful enough to support Panning mode, and Time Lapse, thereby gaining the title of being the best vlogging camera of the year.
This is branded as a "revolutionary" feature from Canon. It allows you to have a more accurate focus on the subjects despite movements. The dual pixel technology is really fast in getting a sharper focus in videos, specially when shooting at 4K.
Here, instead of each pixel having only one photo diode, Canon's has 2. It makes it easier for the device to process the focus on the subject rather than wandering at different points in the frame.
Just like I've mentioned earlier, this device can record 4K videos at a maximum rate of 30 fps (thanks to its powerful processor). This is the highest video resolution you can get for this class. You can zoom in without much worry since the resolution will still be good even with crop factor.
It will give you flawless and smooth footages perfect for sharing with the rest of the world through your social media accounts.
Digital Image Stabilization
If you go for vlogging, chances are you will be recording a lot of clips/movies that require you to move around (especially if your vlog is about travel and lifestyle). In order to create steady recordings, your device must have a reliable image stabilization feature that helps reduce shakes and unnecessary motion.
The good news is that M50 has a built-in digital IS that works so well for this particular purpose. With this feature, you are less likely to worry about too shaky captures even if you are taking videos while moving.
✓

Pros
Fast and accurate AF system

Built-in IS

24MP image resolution

4K videos

OLED EVF

Wi-Fi and Bluetooth connectivity

lightweight
✕

Cons
short battery life

not environmentally sealed
Canon EOS M50 Mark II + EF-M 15-45mm & EF-M 55-200mm (Bundle)
24.1 megapixel (APS-C) CMOS sensor with iso 100-25600 (h: 51200).

DIGIC 8 image processor with auto lighting optimizer

Dual Pixel CMOS autofocus and eye detection AF (still/movie servo af support).

4k uhd 24p and hd 120p for slow motion

Vari-angle touchscreen LCD convenient for vlogging and various composition

Video capture resolution: 2160p
---
Great Starter Camera for Adolescents
---
Olympus OM-D E-M10 III
Type: SLR-style mirrorless
Weight: 410g
Resolution: 4608 x 3456
Sensor Size: Four thirds (17.4 x 13mm)
LCD Screen: Tilting, 3″
Touchscreen: Yes
Weather-sealed: No
ISO: Auto, 200 – 25600 (up to 100 – 25600)
---
If you are up for unique camera designs and lightweight companion, then this mirrorless product from Olympus might just be your style.
It looks really chic with its black and silver outer shell, deviating from the normal "all-black" serious gears in the market. It is also voted as one of the best travel photography equipment since it doesn't really weigh much, it being mirrorless.
This is the latest update to the once popular M10 II. There's not much change with regards to hardware, but there have been additional and upgraded features you might love.
Features
Built in flash and viewfinder
Many might not really give much attention whether the device comes with a flash or not.
Normally, people would rather use external flash because some built-ins are not really that much of help anyway. But the one in Olympus OM-D E-M10 II will be very handy for tweens. It will help you explore more about using the flash system.
Through this, you will be able to use your judgement as to when you should use it and when you shouldn't, which is very important, by the way.
On top of that, this product also has in-body EVF that lets you compose shots better. Though not as accurate as an OVF, it still does its job of letting you see what your lens is seeing before you actually snap that shutter button.
It is believed that the higher the burst rate of a device is, the more chances you get at capturing flawless photos and videos. This 8.6fps is a pretty fast for its class. You can expect to have wonderful photos despite subject movements. That's why this is considered as one of the best options for entry-level videography.
The overall ergonomics of a device is extremely important. It will greatly affect the way you shoot. Of course, since you have to hold the gear most of the time, it needs to feel comfortable in your hands. Otherwise, you'll spend time readjusting your grip instead of focusing your energy into composing your shot.
Good thing M10 III has good ergonomics and easy grip. You don't need to worry about not being able to hold your device properly when shooting. The risk of it slipping out of your grip is also low. So your camera stays safe while you do your thing.
Beginner-friendly interface
One of the most important features you need to consider is the user interface. Since you are only starting out as a photographer, there is really no need for you to get a device with complex interface.
You can start with Olympus OM-D E-M1o II which has a very simple and easy to understand layout. There aren't so many complicated buttons and settings you need to choose from. That's what makes it a better pick for novice shooters.
✓

Pros
simple UI

4K videos

in-body IS

durable

touchscreen
✕

Cons
Olympus OM-D E-M10 Mark III
In body 5 axis image stabilization for blur free stills and smooth 4K video

16 megapixel live MOS sensor and TruePic VIII image processor

4K 30P video plus HD 120 frames per second high speed video

Timeless, easy to use body design

Compact & lightweight with 2 dials, arrow pad and shortcut button
---
Still Excellent for Enthusiast Photographers
---
Sony A6000
Type: Rangefinder-style mirrorless
Weight: 344g
Resolution: 6000 x 4000
Sensor Size: APS-C (23.5 x 15.6mm)
LCD Screen: Tilting, 3″
Touchscreen: No
Weather-sealed: No
ISO: Auto, 100 – 25600 (up to 51200 w/ Multi-frame NR)
---
It is not a secret that Sony manufactures really good quality products.
The only downside is that they are almost always on the higher end of the price spectrum. They have pretty expensive models and A6000 is no exception. However, it has now been 6 years after its release so there has been a significant decrease in the price tag, which is a relief.
So, is it still good to invest in this older Sony model in 2022?
If it is for beginner's use only, then it would be a great gear to start with. It has so many useful features that will help you discovering photography on a deeper level. Some even compare it with Canon M50 for YouTube purposes (FYI: in that case, I'd choose M50).
Features
Even after several years being in the market, A6000 still got one of the best photo resolutions for an entry-level mirrorless. It boasts a strong 24MP sensor that keeps up even higher end gears with 32MP. Well, this is pretty expected since the brand is known for its crisp and sharp image quality which is really good.
Not only that. A6000 being a rangefinder type of gear, you can really expect it to have sharper photos even when photographing at a good distance away from your subject. With this device, you will be able to product good quality photos without doing so much in post.
Most photography equipment uses phase-detection AF these days, but Sony knows better than settling for that. They managed to include a hybrid AF system in A6000 which uses both phase-detection and contrast-detection to track the subject. As a result, photos appear sharper and in more focus than ever.
Reliable electronic viewfinder
Just like A6000's premium sibling RX10, it also comes with a built-in EVF. Though a lot of people still prefer an OVF over EVF, the one in this model is quite outstanding. It is more accurate than other EVFs in this price point. This lets you compose shots a whole lot better and gives you the chance to explore your creativity to the limits.
We all know how much stronger Sony becomes in terms of color rendition. It produces exceptionally vibrant photos with great tones and hues.
With this gear, you don't really have to spend a lot of time editing your images. If you only intend to post photos on Instagram (or any other social media page), then the original file will be more than enough to satisfy your followers.
✓

Pros
excellent photo resolution

accurate and fast AF

OLED EVF

very lightweight
✕

Cons
no 4K video recording

no silent shutter mode
Sony Alpha a6000 Mirrorless
Advanced 24.2MP back Illuminated 35mm full frame image sensor

ISO 100 25600 (expandable to 51200). Lens compatibility: Sony E mount lenses

Hybrid AF with 179 point focal plane phase detection and 25 contrast detect points

Up to 11 FPS continuous shooting. Battery Life (Still Images): Up to 360 shots.

3 inch tilting LCD with 921,000 dots. Viewfinder Type: 0.39 in type electronic viewfinder (color)

Anti-dust system: Charge protection coating on optical filter and ultrasonic vibration mechanism
---
Bridge Camera for All Around Use
---
Panasonic Lumix FZ80
Type: SLR-like (bridge)
Weight: 616g
Resolution: 4896 x 3672
Sensor Size: 1/2.3″ (6.17 x 4.55mm)
LCD Screen: Fixed, 3″
Touchscreen: Yes
Weather-sealed: No
ISO: Auto, 80 – 3200 (up to 6400)
---
Panasonic Lumix FZ80 is a bridge type SLR-like device that sports a lot of different features.
At first glance, it looks like a normal digital SLR, but in reality it is more like a point-and-shooter, hence coined as "bridge" type. It lacks an SLR's ability to have interchangeable lenses but has similar features in terms of appearance and other functions.
In other words, this is basically a hybrid device that bridges the gap between SLRs and compacts. This makes it all the more interesting.
Features
Although it doesn't have interchangeable lenses, FZ80 still got powerful fixed zoom lens that is equivalent to 20-1200mm f/2.8 – 5.9 lenses. This is about 60x zoom capabilities than most point and shooter, which makes it a really great device for taking photos of distant subjects.
This extremely long range zoom is really great especially for those who are into nature photography. You can position yourself at a safe distance while still being able to magnify your subjects at resolutions that are decent enough even for printing.
It also comes with a fully functional touchscreen LCD which makes it easier to operate. You can also zoom in and out as much as you like by pinching the screen.
Many of us are aware that a lot of cameras are able to shoot 4k videos, but how about 4k photos? Well, this is something not so usual in entry-level devices. But Panasonic made it possible and it is a really good addition to the wonderful set of features FZ80 has. This lets you take your photography to the next level.
Also, this product already comes with Wi-Fi connectivity, something missing from its predecessor. This makes it easier to transfer and share files between your devices.
✓

Pros
unique

functional LCD

connectivity features

outstanding zoom capabilities
✕

Cons
fixed screen

ISO dynamic range could be better
Panasonic LUMIX FZ80
Point and Shoot Long Zoom Camera: 18.1 megapixel MOS sensor plus 60X zooms DC Vario lens captures far off moments

High Resolution View Finder & LCD Display: High resolution 1,170K dot view finder and rear touch enabled 3 inch LCD Display (1040 dots) are clear even in bright sunlight.

4K video Capture: 4K QFHD video recording (3840 x 2160) with three unique 4K ultra HD video pause and save 4K photo modes extracts individual high resolution

Low Light Performance: Low light capture lets you enjoy photography during your nightlife again with impressive results

USB Charging and Wi-Fi Connectivity: Enjoy travel ready technologies like USB charging and Wi Fi connectivity to your mobile device
---
Best Action Cam for Active Photographers
---
GoPro Hero 9
Type: VR/Action cam
Weight: 158g
Resolution: 20MP
LCD Screen: Fixed, 1.4″
Touchscreen: Yes, rear only
Waterproof: Yes, up to 10m without housing
---
When it comes to action cameras, we almost always immediately think about GoPro. This isn't really surprising considering they are the most popular and biggest brand that manufactures this type of devices.
(I also included it in my guide of the great gifts for teenage photographers.)
Hero 9 is the latest model released by the brand and up to today, it is still very in demand, especially for teenagers. In fact, most teens would prefer having a tiny gear like this compared to bulkier DSLRs. I mean, who wouldn't love the portability, right?
While there are many emerging GoPro competitors, it still remains at the top. This is probably due to the well reputed durability and high-end features only Hero products can provide.
Features
One of the most prominent characteristics of action cams is that they are really small; so small that it could fit your pocket. This makes it extremely handy. You don't have any reason not to bring it to your adventures.
Despite its tiny nature, this device got a lot of powerful features inside. One example is its ability to shoot 5K videos.
Though most of us won't be able to appreciate this because not many devices support 5K playback, but it is still quite helpful in getting the best video resolution if you ever decide to crop your footage. Even after the cropping, you will most likely end up with a 4K video, which is the next level quality yet.
This product doesn't only have rear screen. It also comes with a front screen that serves as your monitor. You can easily take selfies with this feature.
What's even more amazing is that it displays the scene in full color. It's just like looking at a mirror while taking a footage of your adventures.
Probably one of the best features you can get from this type of gear. Scheduled capture allows you to set a specific time for the device to turn ON and capture everything you focused it to.
If you want to catch the sunset but always seems to miss it by a minute, then you no longer have to worry about that anymore. You can do your thing and use this feature then Hero 9 will do the work for you.
==> Best GoPro action cameras for teenagers this year.
✓

Pros
Schedule capture

super lightweight and handy

high resolution

waterproof up to 10m on its own
✕

Cons
short battery life

expensive
GoPro HERO9 Black – Waterproof Action Camera
5K Video - Shoot stunning video with up to 5K resolution, perfect for maintaining detail even when zooming in

20MP Photo with SuperPhoto: Capture crisp, pro-quality photos with 20MP clarity. And with SuperPhoto, HERO9 Black can automatically pick all the best image processing for you

Front Display + Rear Touch Screen: A new, larger rear touch screen with touch zoom on HERO9 Black and a dazzling new front display makes for easy framing and intuitive camera control

Live Streaming + Webcam: Live stream in 1080p on social, get HyperSmooth stabilization as you broadcast

HyperSmooth 3.0: Experience the ultimate smoothness with our most advanced video stabilization ever

TimeWarp 3.0: Record mesmerizes time lapse scenes as you move on the road, on foot or anywhere else

Rugged + Waterproof: Shoot in the gnarliest conditions imaginable. HERO9 Black can take it. It's tough as nails, and waterproof down to 33 feet right out of the box
---
Popular Instant Camera in 2022
---
Fujifilm Instax Mini 9
Type: Instant
Weight: 307g
Resolution: 16MP
LCD Screen: None
Touchscreen: Not applicable
Weather-sealed: No
---
Instant cameras are a thing now.
In fact, if you ask young people, they would say it is the best camera for high school students.
It is pretty straightforward. You point it to the subject, click the shutter button, and wait for the photo to come out. Operation-wise, it is extremely easy making it an all-time favorite of beginners and casual users.
And considering we live in a digital age, Fuji Mini 9 is a unique photography gift for kids.
Features
Instax Mini just got better with the addition of a selfie mirror. This is a tiny mirror located just beside the lens. This helps you get the right angles for your selfies. (Honestly, it would be a waste to only get photos of your forehead; films are quite expensive)
If you wanted to try macro photography, you can also do that with this device by putting on a clip on adapter. This will let you be more creative and let you explore other areas of the craft as well.
A lot of colors to choose from
Without a doubt, this is a device fit for younger prosumers. It comes with a variety of candy colors you can choose from. This makes it aesthetically pleasing to the eyes.
✓

Pros
prints photos instantly

unique design

casual use

simple and easy operation
✕

Cons
films can be quite expensive

very limited functions
Fujifilm Instax Mini 9 Instant Camera
BUNDLE INCLUDES: Fujifilm instax Mini 9 Instant Camera (Flamingo Pink) and one Mini Film Twin Pack (20 Sheets)

COMPACT AND LIGHTWEIGHT DESIGN: Snaps and prints pictures that fit in your wallet. Compact and lightweight design

MACRO LENS AND SELFIE MIRROR: Macro Lens for close-ups from 35-50cm away, adjustable brightness and selfie mirror

INSTAX FILM: 2.13 x 3.4-Inch image size can fit in a purse, wallet or mini photo frame

FUJIFILM AUTHORIZED DEALER: Includes USA Manufacturer Guaran
---
Cheap Point-and-Shooter for Everyday Use
---
Sony DSCW800
Type: Compact
Weight: 125g
Resolution: 5152 x 3864
Sensor Size: 1/2.3″
LCD Screen: Fixed, 2.7″
Touchscreen: No
Weather-sealed: No
ISO: Auto, 100 – 3200
---
For those who are looking for an everyday use point-and-shooter, then this digital camera for tweens might just be your type. Sony DSCW800 is a chic compact that does what it needs to do: take good photos and videos. It is very easy to use and is preferred by people who only wants to take photos for fun.
Features
Design-wise, this product is really efficient and straightforward. It only has the most important and basic buttons on top and on the rear. Plus, it's size is really slim and weighs only a little over than 100g so it's easy to carry around everywhere.
Despite being ultra compact, it still is capable of housing a 20MP sensor. This is as good as it gets. You don't get to see a lot of casual compacts sporting this much resolution in a thin body.
One thing about Sony is that even their entry level gears feels as if it is a premium-grade product, and this one isn't an exception either. The buttons, the housing, the screen and everything else about this device are robust and well made.
✓

Pros
very affordable

slim design

very easy to use

2.7″ LCD

User friendly interface

straightforward operation
✕

Cons
Sony DSCW800 Digital Camera
MP Super HAD CCD sensor for beautifully detailed images.

Sony Lens w/ 5x Optical Zoom.

Reduced blur with SteadyShot Image stabilization

Capture your videos in 720p HD Movie mode

Simplify camera menu with Easy Mode
---
9 Best Cameras for Teenagers 2022
---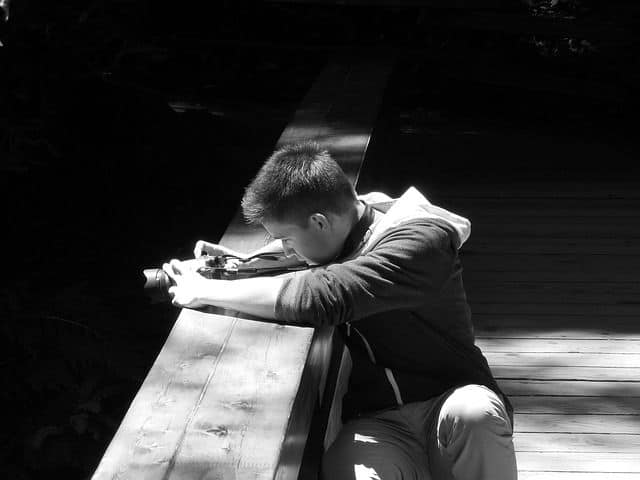 ---
So…
If you're looking for the best camera for teenager interested in photography, then I've listed the top 9 options across various price points and categories. Plenty to choose from, really.
If you're still uncertain, then feel free to comment below the exact purposes you're looking to buy gear for and what your budget is and I'll be happy to help!