Please note: As an Amazon Associate I earn from qualifying purchases. I also work with other affiliate partners and may be compensated from the links below. Details here.
March 2, 2021
GoPro Competitors: 11 Best GoPro Alternatives Worth Buying Today (2022)
---
My list of the top GoPro competitors worth buying now. (2022 Update)
---
Look:
People love the idea of being able to capture their spontaneous trips and adventures with family and friends. And while you can do this by bringing a normal point and shooter, there is an even more portable gear such as action camera to capture every moment on the go.
Now…
You might have heard a lot about these tiny gears and wonder why at every mention of action cams, people automatically think you are referring to GoPro products. Somehow, the brand has become a synonymous term for the gear and this shows how popular they are.
But, are there any GoPro competitors that are worth looking into? Yes, and in here I'll list the 11 best GoPro alternatives in 2022.
Here is an overview of what to expect here:
11 Best GoPro Camera Alternatives 2022
---

There are choices for the premium category, mid-range, and entry level devices. That means you will probably find one that will fit your budget with these options in varying price points.
So, what is the best alternative to GoPro? Let's see.
---
A Serious GoPro Competitor This Year
---
Garmin VIRB Ultra 30
Weight:

87.9g

Dimensions:

57.5 x 45.9 x 31.3mm w/o case

Connectivity:

Bluetooth, ANT+, Wi-Fi

Touchscreen:

Yes

Waterproof:

up to 40m with casing

Battery:

1250mAh li-ion

Photo Resolution:

12MP, 8MP

Video Resolution:

4K/30fps
---
VIRB Ultra 30 is currently the most popular and most trusted GoPro alternative. Truth is, it broke new ground when it was released. 
It is packed with powerful and advanced features that are at par with that of the ones you can find in Hero models. And this product from Garmin is lower in price compared to the popular rival, it is quite understandable why many would prefer investing in it.
Let's check out more feature of the VIRB Ultra 30 below.
Many people would argue that the quality of photos and videos taken with an action cam can't even compare to that of the ones taken from mid-range DSLRs mainly because of sensor size. While there is some truth to this, not all tiny gears are like that.
In fact, Garmin's high quality resolution for both stills and videos prove them wrong. It comes with a 12MP image resolution, resembling that of point-and-shooters and entry level DSLRs. This is enough to capture really clear and vivid images that will still look good even on a wider and bigger display.
Not only that, it also records at a maximum video resolution of 4K at 30 fps. This feature is not even in most mid-range mirrorless and DSLRs, to be totally honest. With this amount of resolution, you can capture smooth videos that you can show to your friends and families.
If you are a vlogger, then this feature will matter a lot. It has a highly sensitive built in microphone that will record the audio along with the video. That means you will do just fine even without using a separate microphone.
Supports up to 128gb SD cards
This device comes with a dedicated card slot for SD cards where you can store your photos and videos. It allows you to use up to 128gb storage. This is big enough to store thousands of images and several lengthy videos.
There's also night shooting mode on the gear, so capturing your late night adventures wouldn't be a problem. However, you can't expect it to produce really great shots in places with extremely poor lighting conditions. But you can always external flash and lighting equipment if you really want the details to be on the footage.
✓

Pros:

Functional touchscreen display

Great connectivity features

Waterproofing capabilities

4K shooting

Remote control via Wi-Fi
✕

Cons:
needs case for underwater activities
Final Thoughts
Indeed, Garmin VIRB Ultra 30 is a great choice as a GoPro Hero alternative. It gives you almost the same features at a lesser price tag. Plus, it is a pretty really reliable baby that you can carry wherever you go.
Garmin VIRB Ultra 30
ULTRA HD VIDEO - Crystal clear 4K/30fps footage, 1080p/120fps, or slow motion capability at 720p/240fps

G-METRIX - Built-in GPS and external sensors with connectivity to Garmin devices to capture performance data like speed, elevation, heart rate and G-force

LCD COLOR TOUCHSCREEN - 1.75-inch display is easy to operate; fully functional in and out of waterproof case

VOICE CONTROL - Shoot hands-free by using voice commands to start/stop recording, take a photo or tag footage

3-AXIS IMAGE STABILIZATION - Captures steady footage up to 1080p/60fps
---
One of the Best Camcorders for Action Shots
---
Sony FDR X3000R
Weight:

114g

Dimensions:

29.4 x 47 x 83mm

Connectivity:

Wi-Fi, Bluetooth

Touchscreen:

No

Waterproof:

up to 60m with case

Battery:

Rechargeable Li-ion

Photo Resolution:

8MP

Video Resolution:

1080p FHD at 60fps
---
Sony has been producing high quality products for a long time, and their reputation isn't to be taken lightly. In fact, they are one of the biggest camera manufacturers even up to today. They offer various products like DSLRs, mirrorless, and even tinier gears like these action cams.
Here are the most amazing features sported by the premium alternative Sony FDR X3000R:
Without a doubt, this feature will give you lots of opportunity to capture amazing and out of this world footages. Partnered with an in-body image stabilization, you will certainly have smoother videos and sharper images even when moving around. It reduces shakes and unnecessary motion that might blur your shots.
This makes it a really good "action" gear since it allows you to keep moving while still being able to capture lots of detail in the frame.
Sony FDR X3000R also comes with a remote for live view.  It means you can shoot videos from afar without too much hassle. And because of the live view feature, you will be able to monitor the shoot in real time.
But that's not the only amazing thing about this remote. It's actually a wearable accessory that you can wrap around your wrist for convenience. Or if you don't like to wear it that way, you can also mount it on an adapter that comes with the package.
It's quite rare to find action cameras that have ultra wide angle lenses like this one. It gives you the benefit of shooting a larger area, perfect for group activities and trips. You no longer need to cramp up just to fit into the frame. This will take your "groufies" to another level.
Do you ever want to add some drama to your captures? With this feature, that will be as easy as 1-2-3!
The slow motion feature allows you to shoot at 120fps so you don't miss out on any details for that once in a lifetime shot. You can now reply your greatest bike jump or cliff dive with added drama when you use this feature. That makes it more interesting to watch.
✓

Pros:
Motion shot

multiple gear control with one remote

Time-lapse in 4K mode

Three field of view modes: Narrow, Medium, Wide
✕

Cons:
premium price tag

bigger than usual action cams
Final Thoughts
If budget is not a problem, then this one is definitely a good piece to invest in. There is just so much you can do with this powerful gear. You can let your imagination run wild and let it capture all those fantastic moments for you.
Sony FDRX3000 Underwater Camcorder
Ultimate image stabilization from Balanced Optical SteadyShot Professional 4K with ZEISS lens and Exmor R CMOS sensor

High quality 12MP still images and up to 10 fps in burst mode

Interval record at 8.3MP for stills and 4K time-lapse video

High Quality stereo sound with wind noise reduction

Built-in Wi-Fi, Bluetooth, NFC, GPS, HDMI, USB and mic jack

Splash-proof body or use incl. waterproof housing down to 197ft.
---
1″ Sensor Ultra Compact with a Tilting Screen
---
Sony DSC-RX0
Weight:

110g

Dimensions:

59 x 40.5 x 29.8mm

Connectivity:

Bluetooth, Remote

Touchscreen:

No

Waterproof:

up to 10 meters

Battery:

Rechargeable NP-BJ1

Photo Resolution:

15MP

Video Resolution:

1080p full HD
---
It is not actually that surprising to see several Sony products in the list of the best alternatives for GoPro products.
As I've mentioned earlier, they manufacture products of diverse categories. This one in particular is closely similar to the typical gears for capturing live action like Hero models (design-wise).
Here are its most important features you should know about:
Many people, mostly professional photographers, are arguing that RX0 is not really an action camera. They say it is more fitting to classify it as a compact gear (ultra compact at that).
That is because it boasts a 1-inch imaging sensor that you rarely see in rivals (even GoPro products). It uses the same sensor as that of Sony's compacts. This gives you better image quality on the outset.
Plus, the crop factor wouldn't be an issue because the sensor size is relative big and the gear is running effectively on 20MP photo resolution.
Most underwater photography gear will need a dedicated waterproof housing in order to function, but RX0 doesn't need that. The body itself if waterproof with a rating of IP68. You can go as deep as 10m with this gear alone.
This is what makes it perfect for vloggers. It has a dedicated microphone port that supports universal mic jacks for your audio needs. The device itself can record the audio on its own, but using an external microphone will make it clearer and better.
✓

Pros:
large image sensor

robust and rugged design

user-friendly interface
✕

Cons:
expensive

doesn't come with image stabilization feature
Final Thoughts
Though not really considered as a gear for live action, RX0 is still a good choice for  those of you who wants to have a solid and ultra compact device. It is handy enough to fit inside your pocket yet extremely capable of producing images and videos like that of bigger compacts.
Sony DSC-RX0
Unique performance and compactness for extraordinary applications

1" (1.0-Type) stacked Exmor RS CMOS sensor with DRAM Chip

24mm1 F4 ZEISS Tessar T* lens delivers high-resolution images

Matchbox sized durable duralumin, water2/shock3/crush4 proof body
---
Best Rugged Compact Right Now
---
Olympus Tough TG-Tracker
Weight:

180g

Dimensions:

56.5 x 93.2 x 35mm

Connectivity:

WiFi

Touchscreen:

No

Waterproof:

up to 30m without case

Battery:

Rechargeable li-ion

Photo Resolution:

8MP

Video Resolution:

4K at 30p
---
This is not your typical minicam.
At one glance, you will immediately notice how different it looks from other products in this list. But that shouldn't be an issue. What matters most is that it still performs what it is expected to do: capture live action clearly.
Here are some features you need to know about:
This device will give you the widest field of view compared to all the other products in the list. It can accommodate as much as 204 degrees, which is so much more than what standard lenses allows you to. This only means you will be able to capture more actions in one frame.
Waterproofing capabilities
With just one look, you will know that this thing is really robust and durable from all the premium materials used for the body exterior. But that is not all there is to its robustness. It can also withstand water pressure of as deep as 30m without using a special waterproof housing. So, that will be less expense on your accessories.
Image stabilization (5-axis electronic)
Probably one of the most important features of this type of tiny devices is image stabilization. Since its purpose is to capture motion as smoothly as possible and keep up with the subject, it needs to have some way to minimize the shakes.
These shakes are normal if you film while moving or if your subject is in motion, or worse you both are on the move. So this electronic IS helps produce more defined and less blurry footages and stills by reducing unnecessary motion.
✓

Pros:
Flip monitor for selfies and self recordings

very tough

great color rendition
✕

Cons:
heavier than most counterparts

battery life could use some improvements
Final Thoughts
This device is for you if you want an alternative that doesn't break the bank but still gives you decent quality photos and videos.
Olympus TG-Tracker with 1.5-Inch LCD (Green)
Still Pics are about 8 MP; 4K 30P Video capture

204 Degree Extreme Angle f2.0 High Speed Lens

Waterproof to 100 feet/30 meters without housing

Built in WiFi. Power Adapter: 100 - 240 VAC, 50/60Hz

5 Built In sensors capture movement: GPS, eCompass, Accelerometer, Thermometer, and Barometer

The TG Tracker has a fixed, fish eye, ultra wide angle lens
---
A Worthy Alternative to GoPro's Hero Series
---
DJI Osmo Action
Weight:

124g

Dimensions:

65 x 42 x 35mm

Connectivity:

Wi-Fi, Bluetooth

Touchscreen:

Yes

Waterproof:

up to 11m without case, 60m with case

Battery:

1300mAh LiPo

Photo Resolution:

12MP

Video Resolution:

4K
---
DJI is another powerhouse when it comes to products in this category. They also have a good reputation among customers since their tiny gears are working so well, almost keeping up with GoPro products.
(By the way, you can also check out the DJI Osmo Pocket 2 gimbal camera.)
Check out these features:
The reason why this is tagged as the best vlogging tiny cam is that it has 2 displays, one on the rear, and a smaller screen in front. You can easily switch between the two screens or just have both on, depending on your preference.
The front screen serves as a mirror so you can compose your selfies and self recordings better. This will help make sure that your subject stays within the frame while you are filming.
Just like GoPro, this also has a removable lens cover that you can replace with ND filters. Because of that, you will be able to artistically and dramatically change your shots without too much editing. Filters work so much wonders, really.
This is DJI's very own image stabilization feature. When you turn ROCKSTEADY on, you will have smoother videos even while moving around. This is perfect for sports and adventures.
Fully functional rear touchscreen display
You can't find a single button at the back of this gear. What you'll find is a full LCD with functional touch screen. So basically, all your operations will be done through interacting with the screen directly. You can zoom in and out using the same display as well. You can also adjust focus by clicking on a point anywhere on the screen, which is very common in DSLRs and mirrorless.
✓

Pros:
very compact and lightweight

ready for ND filters

two screens

waterproof even without casing

HDR recording

4K videos at fast frame rates
✕

Cons:
lacks tripod socket

average battery life
Final Thoughts
DJI Osmo Action is a powerful gear that will keep up with you no matter what you do and where you go. And it's price is pretty decent for all the features you are getting so I can say it's good value for your money.
DJI Osmo Action Cam
Dual Screens: Osmo Action's dual screens allow you to capture it all with the touch of a button.

The RockSteady technology combines EIS with complex algorithms, delivering stable, shake-free footage no matter how heavy the action gets.

Action camera with 1/2.3 CMOS Sensor, 12MP, wide-angle 145° that allows you to shoot 4K HDR videos.

8x Slow Motion: Capture every epic move with jaw-dropping clarity and detail when you use 8x slow motion with 1080p resolution and 240fps.

Osmo Action is waterproof at depths of up to 11 meters, making it the perfect underwater companion. Versatile batteries perform well even in extremely cold environments with temperatures as low as -10℃.
---
This Baby Will Exceed Your Expectations
---
Vantop Moment 6S
Weight:

85g

Dimensions:

62.5 x 41 x 28.8mm

Connectivity:

Wi-Fi

Touchscreen:

Yes (rear)

Waterproof:

up to 30m with casing

Battery:

1200mAh

Photo Resolution:

12MP

Video Resolution:

4k/60fps
---
Vantop is one of the uprising products having features that are considered suitable as GoPro alternatives. It may not be as popular as the big brands, but it definitely has some things you need in a small gear.
Check out these awesome features of Moment 6S:
Getting a decent footage while moving around swiftly will be challenging if your gear doesn't have a built in image stabilization feature. But with Vantop Moment 6S, that is not an issue.
Their SmoothFlow electronic image stabilizer works very well so you can be sure to have flawless and smooth frame transition for fast moving videos. No details will be left out since this EIS is paired with 4k recording capabilities, ensuring full detail capture.
If there's a feature for fast-paced movements, there's also another one for slow motion. This will help create a more artistic effect on the footage. Plus, with the 8x slow-mo effect, you get the chance to highlight your best moments during the trip.
170 degrees field of view
Honestly, who wouldn't love an ultra wide field of view? Vantop wants to give you so much power in a small device, and they succeeded without a doubt.
This degree of FOV is comparable to top of the line products. It allows you to capture great landscapes as iconic background.
✓

Pros:
Video and photo lapse

Instant share

Dual screen (front serves as status monitor)

wide FOV

4K videos
✕

Cons:
fixed FOV

doesn't perform well in low light
Final Thoughts
Vantop Moment 6S is perfect for daytime extreme adventures. It has a robust build and reliable EIS to keep you stable even on the go. It is also an ideal camera for underwater activities such as snorkeling, swimming, surfing, and, diving.
But if you wish to capture night scenes with it, I suggest you choose another product on the list with night vision features.
VanTop Moment 6S 4K/60FPS Action Camera
Superb 4K Action Camera: Featuring native 4K/60fps, 2.7K/60fps, 2K/60fps, 1080P/120fps video resolutions, VanTop Moment 6S action camera captures vivid, crystal clear and smooth footages for your adventures and great moments.

EIS Anti-Shake Technology: Built-in advanced Electronic Image Stabilization (EIS) with 6-axis gyroscope helps to counteract any bump, shake or camera tilt and deliver shake-free, hyper stable and stunning videos.

Bonus Accessories for Free: External microphone and the fashionable wristwatch digital remote.

Waterproof up to 100FT: This underwater camera is ideal for water sports such as snorkeling, swimming, surfing, diving, etc.

Various functions like Time Lapse, Burst Photo, 8X Slow Motion and 8X Digital Zoom, etc available.
---
Quality Sports Gadget That's Worth the Money
---
Akaso V50 Pro
Weight:

82g

Dimensions:

60 x 24 x 40mm

Connectivity:

WiFi

Touchscreen:

Yes

Waterproof:

up to 30m with casing

Battery:

1100mAh (2pcs)

Photo Resolution:

20MP

Video Resolution:

4K
---
AKASO is another brand that is making a buzz in this department.
They advertise very promising features that make you want to check out their products and put them to test, honestly. And more surprisingly, these products are more affordable compared to that from famous brands.
Let's check out some of its features:
Everybody loves filters. Somehow, they enhance the quality of photos and add in a little more drama in the process. However, not every cam has this feature built in.
So Akaso has an edge in this department. You don't have to wait until post-processing to edit in some of your favorite presets and filters. You can just do it on the device before taking the shot.
This is a perfect feature for those who want to capture every single moment of the trip but want to save on file size and storage. Time lapse allows you to record every thing and compress it so that the video length is significantly cut down (just like playing it on fast forward mode).
If you want to instantly share your shots and videos on your social media accounts, all you have to do is download the AKASO app on your phone. Just connect your gear to your smartphone via Wi-Fi and you're good to go.
✓

Pros:
Adjustable field of view

durable waterproof case

filters

4k recording

high image resolution
✕

Cons:
Final Thoughts
If you are looking for a product with the best price-quality ratio, then that will be AKASO V50 Pro. In my opinion, it's good value for your money.
AKASO V50 Pro
SUPERB IMAGE QUALITY: Featuring 4K/30fps and 20MP image, your AKASO V50 Pro action camera can capture every detail of your wonderful outdoor adventures and present an immersive footage of you and your world.

ELECTRONIC IMAGE STABILIZATION: Built-in Electronic Image Stabilization (EIS) with 6-axis gyroscope detects position and motion changes. When the camera tilts, moves, shakes or experiences impact, this action camera can still produce stable videos.

OPTIONAL VIEW ANGLE: You can adjust the view angle of this action camera according to your needs between Super Wide, Wide, Medium and Narrow. This action camera also has the distortion calibration feature, which offers image distortion improvements.

BUILT-IN WIFI AND HDMI OUTPUT: Just download App(AKASO GO) on your phone or tablet and connect it to this action camera, you can share your wonderful moment on social media instantly. With HDMI Port allows you to connect it to TV.
---
Best Bang for Your Buck 4K Action Cam
---
COOAU Action Camera
Weight:

450g

Dimensions:

60 x 24 x 42mm

Connectivity:

Wi-Fi

Touchscreen:

No

Waterproof:

up to 40m with case

Battery:

1200mAh (2pcs)

Photo Resolution:

16MP

Video Resolution:

4K
---
Another addition to the list of valuable alternatives to the popular GoPro products is this one from COOAU. It comes with external microphone for better audio quality. Plus, it also has built-in Wi-Fi for faster media sharing.
Here are the other good features of this item:
Most products like this could only go as deep as 30m even with waterproof housing, but COOAU made it even a little more extra. This one can go 40m deep, which is good for diving and other water sports you might want to engage in.
This also comes with a separate remote control that you can wear around your wrist. This means you'll have no problem losing it since it stays on your wrist when you are running, and any other activities you are doing. You can enjoy taking snaps and videos by controlling the cam with it.
Sometimes, it is also good to go on trips alone. Having a self timer ensures that you still get to capture awesome moments even if no one is there to press the shutter button for you. You can do it yourself instead with a self-timer.
✓

Pros:
easy to use

with EIS

durable

very compact
✕

Cons:
Final Thoughts
Over all, this is a great product to invest in. But if you are an avid fan of touchscreen LCD, you might want to choose another item on this list. Without a doubt, it's a sweet little 4K action cam, and a best bang for your buck.
COOAU
【Ultra HD 4K 20MP Action Camera】- Ultra HD 4K videos and 20MP photos. Featuring rich video resolution: 4K/30FPS (others only 25FPS), 2.7K/30FPS, 1080P/60FPS, 720P/120FPS, great for action shots.

【EIS Stabilization and 40M Waterproof】- Smart anti-shake program is embedded in the chip. Made of upgraded durable material, the case improves the waterproof level from 30M to 40M.

【Built-in and External Microphone】- Comes with external microphone and 170° wide angle.

【Remote Control plus Wi-Fi】- You can control COOAU remotely from 10 meters away with the remote control.

【Various Functions to Meet your needs】- Loop recording, time lapse recording, slow motion, self-timer, burst photo, screen saver, upside down, white balance etc.
---
Lifestyle Camera to Capture Your Adventures
---
Akaso Brave 4
Weight:

61g

Dimensions:

59.5 x 41.8 x 30.3mm

Connectivity:

WiFi

Touchscreen:

No

Waterproof:

up to 30m with housing

Battery:

1050mAh li-ion

Photo Resolution:

16MP

Video Resolution:

4k at 24fps
---
This is another AKASO item on the list. The only difference is that this falls under the entry level category. It's very budget friendly and considered as entry-level.
Here are its features:
Just like the more expensive AKASO product on this list, this also comes with instant sharing feature. You just need to download their mobile app and connect both devices. Through this, you can transfer and share your shots in a blink of an eye.
Of course, it wouldn't truly be an action-cam if it doesn't have an image stabilizer. AKASO's anti-shake technology helps you achieve smoother videos despite fast movements. It is perfect for extreme sports and people with active lifestyle.
Who would have thought this inexpensive and small device can shoot 4K videos as well? It has a really decent output that will make take your adventures to the next level of fun.
✓

Pros:
time lapse

adjustable FOV

5x digital zoom

20MP image resolution
✕

Cons:
Final Thoughts
It definitely is a nice little gadget under $100, and if we compared it to GoPro, it'd definitely well worth the price tag. A lot of reviewers will confirm that it's a great camera for a great price.
AKASO Brave 4
Featuring 4K/24fps, 2K/30fps and 1080P/60FPS video resolution and 20MP photos.

Offers optional view angle, and anti-shaking and image stabilization

Sports camera with Wi-Fi and HDMI

100ft/30m waterproof camera and 2 IPS screen

Free accessories included: 2 rechargeable 1050mAh batteries, remote control wristband and 19 accessories kit

Battery life up to 90 mins
---
Best Budget Stabilized Action Cam (Under $100)
---
Apeman A87
Weight:

498g

Dimensions:

60 x 39 x 25mm

Connectivity:

WiFi

Touchscreen:

Yes

Waterproof:

up to 40m with case

Battery:

not specified

Photo Resolution:

20MP

Video Resolution:

4K
---
APEMAN has been known as the cheap minicam you can always rely on. They have a variety of models that have good quality and that includes A87.
Here are some of its features:
This item features two different modes to fit every type of photographer. For beginners and enthusiasts, there is an Automatic mode where you only need to press the shutter and it will do all the hard work for you.
For intermediate and pros, there is a Professional mode that gives you full control of the settings. You can apply whichever settings you want to use and shoot like you are using your bigger toys.
Aside from having EIS, this also comes with gyro stabilization. This helps effectively minimize shakes and unnecessary motions that might cause blurs and slurs in photos and videos.
When it comes to image resolution, 20MP is good enough for viewing on mobile phones, tablets, and even on PCs. In fact, it has the same resolution for most top compacts today. So you can expect to have pretty great picture with this.
✓

Pros:
excellent resolution

durable body

free waterproofing case

comes with a lot of accessories
✕

Cons:
Final Thoughts
If you're looking for cameras like GoPro but cheaper, Apeman A87 is a really good item to try out today. This isn't too expensive for this type of device, and it's definitely worth your money.
APEMAN A87
Features Ultra HD 4K/60FPS & 8×Zoom Lens

Touch Screen and Preset Scenes available

APEMAN A87 features both electronic stabilization and gyro stabilization which allows for extremely stable shooting.

Integrated Wifi and HDMI Output

40m Waterproof and Accessory Bag
---
Best Cheap Action Camera 2022
---
Campark
Weight:

58g

Dimensions:

59 x 41 x 28mm

Connectivity:

WiFi

Touchscreen:

No

Waterproof:

30m with housing

Battery:

900mAh Li-Ion (2 pcs)

Photo Resolution:

16MP

Video Resolution:

4K at 30fps
---
Right now, this is the cheapest among the items included in this list.
But you shouldn't be too quick to judge that it is also of the least quality. Though they say you get what you pay for normally, Campark stepped up their game a couple of notches up.
Here are its features:
For a price point under $50, you'd expect to receive a flimsy gadget alone, but Campark knows better than do that. Instead, they packed the box with so many useful accessories you will find really functional. This includes various mounts where you can attach the product.
The last thing you'll want is a gadget that is so hard to use. But with Campark A74, that shouldn't be a problem. It is very easy to use that even kids can operate it without breaking a sweat.
✓

Pros:
Sony IMX179 sensor

16MP photo resolution

SD card slot up to 64gb

Bicycle mount

Helmet mount
✕

Cons:
Poor battery life

no touch screen
Final Thoughts
In a nutshell, this one is for you if you want a cheap device that can still take decent videos and photos. Just remember to bring a charger with you every time because the battery drains too fast.
Campark [2021 Upgrade]
Records video in 4K/30fps and takes photo at 20MP

EIS Anti-shaking Function for stable and clear videos

Remote Control and WIFI available

External Microphone to capture sound from all directions

With the improved waterproof case, this underwater camera can dive below 40 meters (131ft)

Comes with 2 batteries, remote control, external microphone and other multifunctional accessories (most are compatible with gopro cameras)
---
Action Cameras: Quick Buying Guide
---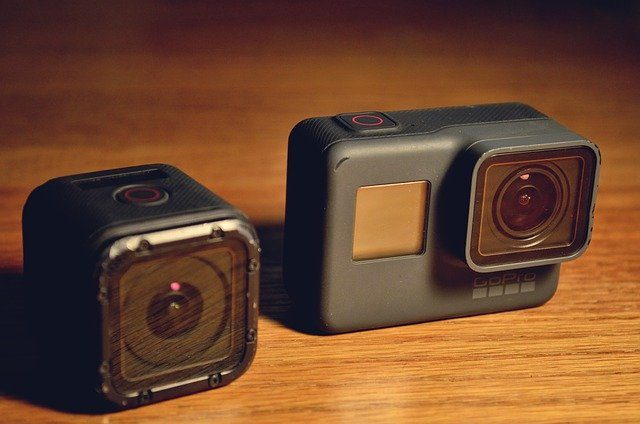 ---
Before buying a gear, there are several things you need to keep in mind in order to get the best value for your money. Below are some of the most important things you need to remember when shopping for your very own action camera.
As much as it seems like all gears of this type have similar designs, not all of them does. It is very important to look for a product with a very compact design without compromising quality and functionality.
One of the reasons why action cams are very popular despite being inferior in comparison to DSLRs is that they are so handy and portable. So as much as possible, choose an option that lives up to that expectation. Something that is lightweight, compact, and portable.
The most common design will look like a small rectangular box, while there are more creative styles like that of an elongated stick. Whether you choose the typical or the unusual style, it's all up to you. After all, you are the one who is going to use the gear.
Another thing you need to look for when buying a gear of this type is the connectivity features it boasts. Normally, good products come with WiFi and Bluetooth features that lets you share your adventures to your family and friends faster. Sometimes, top of the line gears will even let you broadcast your activities in real time through Livestreaming.
However, if you don't intend to do livestreaming, you can still look for products with Bluetooth at least. That will make transferring files easier without needing to bring cables or computers. You can simply transfer files from gear to phone and share it on your social media accounts like it was taken straight from your phones.
Next thing you would want from your cam is waterproofing capabilities.
This is true especially for those of you who love activities that involve water like swimming, kayaking, white water rafting, canyoneering, and any other things that requires you to be in the water or near it.
To ensure that your fun will not be put to halt, having a waterproof gear is really important. You no longer need to be concerned whether you splashed some water into it or even submerge it deep down when you dive.
On the other hand, if you plan to use this gear purely on the ground or away from bodies of water, I'd still recommend getting one with water resistance, at least. This will help save your device in times of accidental splashes and even light drizzles of rain.
Image and video Resolution
Of course, you should never forget to check out the image and video quality of your chosen gear. Just like when you are choosing your DSLR or mirrorless, you should also pay attention to the amount of resolution these tiny gears have. This will matter a lot.
Higher resolution means better photo and video quality. It could also mean having clearer and more vivid footages so that your friends and family can really see how much fun you had during your trip.
However, you should also keep in mind that these little gadgets (even the ones with highest number of MPs) are still inferior to pro-grade cameras. From the sensor size alone, you can already imagine the difference in quality between them. Nevertheless, most products still have great resolution to capture good moments.
For both professionals and enthusiasts, having plenty of room for a lot of pictures and videos is always preferred. The bigger the storage is, the more memories you can capture and lesser file transfer cycles to go through. Because of that, it is important to check whether the gear you are buying have built-in storage or allows you to use SD cards to keep your footages.
Once you have determined that it has a memory card slot (almost all gears of this type have one), the next thing you need to know is how much space it allows you to use. Some can only handle up to 32gb, while other premium ones can support up to 64gb – 128gb cards.
Lastly, you also have to keep in mind that most of these tiny gears will need extra accessories to make it work better. For instance, you might need to buy a separate waterproof housing if you want to document your adventures underwater. Or, you will probably need a tripod/selfie stick if you are into vlogging travels and lifestyle.
All these accessories are additional cost, so if you have set a budget for your gear, make sure you got these covered as well. As much as possible, don't allot the entire budget for the camera alone. Instead it will be best to purchase one priced at around 70 to 80% of your total budget and save the rest for necessary accessories.
That way, you won't overspend on these extras. *wink*
In any case, you can use action cameras for pretty much any activity, motorcycle, bicycle, skiing, snowboarding, skateboarding, paragliding, and during any other extreme sports you participate in.
Now… I'd like from YOU:
What do you think of these GoPro alternatives for 2022?

Will you be investing in any of the aforementioned GoPro competitors? If yes, which one?
Let us know your thoughts in the comments below!