Please note: As an Amazon Associate I earn from qualifying purchases. I also work with other affiliate partners and may be compensated from the links below. Details here.
October 29, 2021
Running With a GoPro: Can You Use One While Running? (Settings and Tips)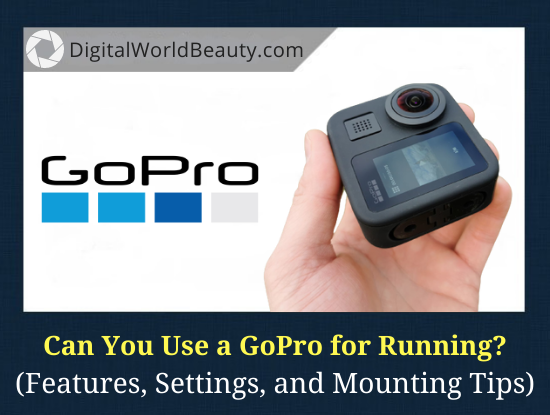 ---
This is a beginner's guide to running with a GoPro action camera.
In here, you'll learn:
common features of the action cameras of this brand

GoPro settings for running

4 different mounting positions you can use

frequently asked questions
So, if you are ready to run "all in", then this post is for you.
---
Common GoPro Features
---
Although you can find multiple apps to help you monitor your runs, an action camera offers a quality option for tracking your progress. Some people may wonder if running with a GoPro is possible due to worry about getting a shaky outcome.
However, this device incorporates premium and ergonomic features that enhance convenience and stability, allowing you to capture high-resolution videos and photos.
Below is the list of the top 3 options to consider:
| | | | |
| --- | --- | --- | --- |
| | | | |
| One of the latest & greatest models | | dual screens (front & rear) | |
| Best cheapest alternative | | robust build (land & water) | |
| The 360º camera that vloggers love | | unbreakable stabilization | |
Now…
Can you use a GoPro while running? GoPro cameras integrate high-quality designs that make them compatible with jogging, trail running, and other physical activity, meaning you can choose any model for your outing (ones from the Hero 5 and above are the best).
For example, the device's compact and lightweight construction means you can quickly wear it without muscle strains to compromise your running. The manufacturers include other premium features that combine to ensure you enjoy optimal performance and take quality videos or photos when running.
These include:
1. Waterproof Construction
All GoPro devices have waterproof construction to enable comfortable utility in wet conditions. It enhances convenience since you can run in the rain without worrying about the water damaging your camera.
Moreover, the device features durable and sturdy materials in its structure to ensure you can depend on it for a long time without wear and tear damage.
2. HyperSmooth Technology
The HyperSmooth technology is an upgraded level of the Electronic Image Stabilization (EIS) found in some video cameras. EIS is an effective method for compensating for hand jitter that otherwise results in distracting video shake during playback.
EIS features from GoPro Hero5 models, whereas the manufacturer introduced the HyperSmooth technology from the Hero7 Black models.
HyperSmooth comes from improvements on the 2GB memory and GP1 chip, giving gimbal-like stabilization to create smoother video captures. This quality allows you to run without concerns about creating highly distracting playback videos of your runs.
3. Compatible Design
These action cameras is compatible with other apps such as the Quik app to make editing, sharing, and managing your videos and photos more comfortable.
You can also link the device with multiple accessories, including mounts, enabling you to wear it according to your preference for maximum comfort.
4. Adjustable Lenses
You can find some GoPro options with lenses that you can modify according to the view you prefer. For instance, you can adjust your lens to narrow, linear, or wide and SuperView settings to reduce or expand the scene captured.
Despite the run-friendly features, you may think, "Why would anyone wish to use GoPro when running?" You can find two primary reasons that most people have for wearing this device on their outings.
First, it provides a safety aspect since you can capture your run and any unexpected event during the activity, including an accident or robbery. Thus, it enables you to have visual evidence in unfortunate circumstances where you need it.
The other reason is that you can use the GoPro to form a time lapse. The time lapse lets you see your voyage during a long run, delivering a good sense of the distance you covered from the start to the end.
---
GoPro Settings for Running
---
It is essential to consider the suitable GoPro settings for your purposes. The main settings ideal for filming when running include:
Slo-Mo enabled at 2×

Lens at SuperView or Wide

Duration at No Limit

HyperSmooth at Maximum

Full HD at 60fps
You can modify the settings according to your preference, such as selecting the slow-motion mode for editing purposes.
Besides, you can record in full HD when you do not require large 4K files, offering premium image quality. The ProTune menu also lets you fine-tune your exposure by modifying the ISO, audio, color, shutter, exposure compensation, bit rate, and white balance. Notably, the built-in noise reduction function lets you minimize wind noise.
When you want to create a time lapse for your run, you can use similar settings mentioned above with a few changes. For instance, you can utilize full HD resolution, intervals at 0.5 seconds or 1 second, and set the camera at Compiled as a video.
==> The Ultimate Guide to Your GoPro: Beginner to Expert (Video)
---
Which Mounting Positions Can You Use?
---
Mounting options are vital to consider when answering the question, "Can you use a GoPro while running?" You can find four common ways of mounting the camera during a run, or any other sports activity outdoors really.
I. Head Mount
Although it can attract attention, this option offers one of the best ways of keeping your action camera stable. Nevertheless, its position means you cannot tip down the camera angle as you would when using the chest mount. In addition, you record wherever you turn your head, making it easy to capture unintended views.  
II. Chest Mount
It is advisable to get additional padding below the camera to cushion the bounces from your run while simultaneously protecting your skin against friction during long runs. You also want to fasten it tightly since the run can cause the camera to slide down your chest or slide side to side with your strides.
III. Selfie Stick
A selfie stick is an excellent option for shorter runs since it keeps you in the frame. Some of the best GoPro sticks for running available include:
Luxebell Selfie Stick,

HSU Handheld Monopod Extension Pole,

Lendoo Bluetooth Selfie Stick,

The Float Pro Waterproof Monopod.
(Check out all the available options on Amazon or BH Photo Video camera store.)
However, you can tire your arms because you have to carry the action cam the entire time, hindering your running comfort.
IV. Wrist Mount
This mounting style offers a more relaxing option to a selfie stick while leaving your hands free to make any necessary camera adjustments. Even so, its placement on your wrists limits the view you capture to one side.
You can choose the mounting option that offers the most comfort and convenience for your requirements, including view angles, sizes, and ease of adjustment. Each style has its shortcomings, but you can weigh the pros and cons of each option to know the ideal mounting type for your runs.
---
GoPro for Runners: FAQ
---
Q: Is a GoPro good for running?
Yes, it is. A GoPro camera integrates ergonomic features in its design that make the utility more comfortable when running. These functions facilitate steadiness, durability, and ease of use to enhance convenience when using it in motion.
All their models incorporate these features, meaning you can select any camera type that best suits your budget and running needs. In addition, you can securely mount it in various ways, including wearing it on the wrist, chest, and head, to increase stability during your runs.
Q: How do you use a GoPro while running?
You can use the built-in voice control setting and command it audibly to start or stop recording, eliminating the need to fiddle with the device mid-run. Besides, these cameras have easy-to-use controls and a menu to make adjustments convenient and stress-free.
You can set its lens at SuperView or Wide mode to capture a wider view, ensuring your shoulders and clothes do not fill the frame's edges when mounted on the chest mount.
Q: How do you film yourself with a GoPro?
You can film yourself with any action camera using a selfie stick. Holding the extension in your hand enables you to angle the camera to yourself without needing to stop your run.
Additionally, the adjustable rod lets you reduce and extend its length to suit your body dimensions for comfortable utility and maneuverability. You can also easily reach the device for any modifications necessary to get the perfect shots of yourself before resuming filming your surroundings.
Now…
I'd like to hear from YOU: 
What do you plan to use an action camera for, besides running?

If you have any experience, which of the GoPro models you think are best for runners?
Let us know your thoughts in the comments!