Please note: As an Amazon Associate I earn from qualifying purchases. I also work with other affiliate partners and may be compensated from the links below. Details here.
May 23, 2021
GoPro Uses: What Is a GoPro Action Camera and What Is It Used For? (Beginner's Guide)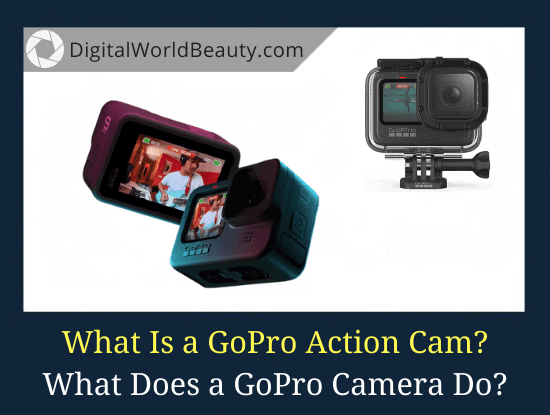 ---
GoPro action cams: What is a GoPro used for? (Beginner's guide)
---
Truth is:
Action cameras are very popular because they can be used in many different situations. They're small, lightweight, and easy to use — perfect for capturing spontaneous moments on the go.
The compact size also makes them perfect for extreme sports enthusiasts who want to capture their time spent snowboarding or mountain biking at the highest level of quality possible without carrying around a bulky, heavy camera.
A GoPro is a handy, portable, and durable action camera that can be mounted to your head, helmet, bike handlebars, or surfboard. It is popular among athletes because they capture high-quality footage without the need to hold it.
If you haven't heard about this gear yet, then this is a good place to learn about it. 
In this post, I will talk about the following:
what is a GoPro camera

how does a Gopro work

the different activities you can use it for
Read on to find out more!
---
What Is a GoPro Camera?
---
---
Over the years, the photography industry has witnessed several innovations that shocked the whole world – not just because the concept was brilliant, but because it actually does serve its purpose.
One good example is action cameras.
GoPro is by far the most popular brand when it comes to photography equipment in this category. In fact, they have become the flagship brand for these types of gears.
Today, there are several variations of this beauty, with Hero 10 being the latest addition to the fam. In terms of overall image quality, it beats most of your average point-and-shoot devices, making it a really good substitute for the bulkier counterpart.
---
What Does a GoPro Do?
---
So…
What is a GoPro camera used for? What can GoPro cameras do? Do you really need to upgrade from using a regular compact to this tiny device? 
It is a camera that's designed to endure rugged conditions. It can record video in HD quality and take photos. The best part is that it has an adjustable frame rate so you can record at the speed of life.
Speaking of – here's a guide on how to do time-lapse videos with GoPro.
This is the very thing that sets it apart from other photography gears. It is specially designed to capture your actions right when it happens so you'll never miss a moment!
Also, if you are a real estate agent/photographer, you can take advantage of the GoPro Max (if available, you can even find a real estate kit). How awesome is that?
READ ALSO: Can You Use GoPro As a Webcam for Streaming?
READ ALSO: Are GoPro Cameras Good for Filmmaking?

---
7 Reasons to Get a GoPro Today
---
---
It's not a secret that the products from this brand are quite on the pricier end of the stick. But, that doesn't stop people from purchasing them! 
Let's talk about the most obvious reasons why you should get your own GoPro today.
Very portable and easy to carry around
The very first thing you will notice about these products is that they are really tiny – they even fit in the palm of your hands. This design makes it very easy to bring along, whether to the beach or even just going to the park for a quick stroll.
They can fit inside your pocket, or you can even wear it on you (attach them to your bags, helmets, bikes, etc) for more convenience. This is probably one of the best things about small and light photography gadgets.
Of course, compared to DLSRs and compacts, this gear weighs like a feather. Makes it really fit for lifestyle, travel, sports and other action photography.
Excellent video and image quality
Without a doubt, models from this brand have some of the best imagery and video capabilities – in their own respect. Though not as much as that of high-end professional bodies, GoPro action cams are still better in resolution than many other smartphones and point-and-shoot devices. 
Today, they can even record 5K videos in that tiny body! This is not something your normal compact can do. Plus, photo resolutions can reach as much as 20MP, which is really good for this category.
(To be fair, these features are available in the latest model.)
One of the perks of getting this little camera is that you don't need pro skills to use it. Unlike mirrorless and DSLRs, this one doesn't have a lot of controls you can fidget with.
This makes it very easy to use and beginner-friendly. With just one click of the shutter, you can already have wonderful footage of your everyday adventures. Almost everything is automatic.
You can even use a GoPro for running purposes.
As cute as they may look, these products are really robust, one of the reasons why they have premium price tags. 
It is designed to withstand wind and water pressure, making it perfect to carry around for an action-packed getaway! 
Now, this feature is pretty solid. You wouldn't really expect a gear with this size can fit a wide-angle lens, but it surprisingly does.
The lenses will give you the freedom to take in as much foreground or background as you can. Plus, it has this natural fisheye effect that will certainly help you create stunning and artistic shots. 
However, you can always change the settings and choose a narrower perspective. The sensor will just crop the photo, which could mean lesser quality than the original resolution used. 
One of the strongest points of GoPro cameras is that they are waterproof – with our without casing. But there are some nuances, so read the following guide to know more:
==> Can GoPro Be Used Underwater?
Most of the recent models can go as deep as 10m(33ft) without a casing, and that's totally something. It means you get to enjoy underwater activities and put it on record with this device without worrying about it getting damaged. 
Or, you can use it outdoors even when it's pouring – as long as all the lids are properly closed. 
Isn't it just amazing how you don't have to manually press the shutter button to take photos or videos? That's what this device can do. 
Thanks to its built-in WiFi connectivity, you can easily control it on your phone. This means you can put it somewhere far (so that it can fit a wider field of view) and then click the shutter on your mobile. Less hassle!
And, this is really good for people traveling solo as well. If you don't have someone to take your photo, that's not really a problem. With your GoPro and remote control, you can snap those shots well!
Now:
I've covered most of the good stuff, but I'd be lying if I say there are no drawbacks to this product. So, here's a dedicated section where you will learn about some of the not-so-likeable aspects of these little monsters.
---
Reasons This Action Cam Is Not for You
---
---
As great as these action cams are, it's not for everyone. And in here I'll mention the reasons why you might not like GoPro.
Well, for a device this small, it's really not surprising to know its battery life isn't that great. If you are planning to use it for long trips and extended photo sessions, you will need to bring spares or find an external power supply to charge a GoPro.
At most, it can only shoot continuous videos at 1080p for 1.5 to 2 hours (without using other features). Say, if you turn on WiFi while shooting, that will certainly shorten the operating hours.
Though it comes with a really good quality wide-angle lens, there's just so much you can do with that. If you are a normal person who only wants to snap photos for keepsakes, this might be enough for you.
But for serious artists who plan on using GoPro for photography, you should be aware of the limitations of a fixed lens. With this, composing your images will be quite challenging.
You might want to bring a camera with interchangeable lenses just in case something catches your interest and your GoPro can't handle it. 
I have this habit of checking out my pictures after snapping them, and I bet you are the same. I mean, you will want to see whether they were taken nicely, right?
However, this could be really challenging with a GoPro's small screen size. You'll have to wait until you can transfer the snaps into a bigger screen to see how it really looks. 
Just a pro tip: take as many photos as you can, and sort them out later on a bigger monitor. 
If you are the type of photographer who wants to shoot-edit-post process images on the same device, you are better off with a smartphone than this. I mean, the quality is great, but editing is out of question.
There's no way you can edit your images on the device without transferring the files to a computer or mobile. That means, you have to wait until you can get your hands on a gear that allows you to do post-processing works. 
But of course, photo quality is already good, so you might not need to edit it if you only want to post it on your social media accounts. Including it in your professional portfolio is another story, though.
---
Is GoPro Worth It?
---
So… Is a GoPro worth it?
For years now, this brand has dominated the market.
But, have you ever wondered if it's really worth buying a GoPro today?
Let me tell you this straight – it is worth it if:
you just want to document your daily adventures

you like to record high quality videos

you don't need to do a lot of editing

you are okay with a fixed lens
But, if you are having second thoughts about investing in this baby, you might as well check out various GoPro alternatives that might suit your needs better. 
Here are the top 3 models worth checking out:
| | | | |
| --- | --- | --- | --- |
| | | | |
| One of the latest & greatest models | | dual screens (front & rear) | |
| | | robust build (land & water) | |
| The 360º camera that vloggers love | | unbreakable stabilization | |
---
Frequently Asked Questions
---
I've included 4 questions in this section, but you may want to check out the more in-depth post with frequently asked questions about GoPro here.
Q: Can you use an action camera as a normal one?
Without a doubt, you can (if you want to)!
However, you have to remember that this doesn't have zoom capabilities like that of traditional gears. Plus, you cannot change lenses, so you have to stick to its wide angle one (which is honestly great in its own respect, by the way).
Q: Smartphone vs. action camera: which is better?
It depends on which features you are talking about.
If it's overall image quality and video recording capabilities, then your best bet would be an action camera. Plus, these gears are really rugged so you really don't have to worry about taking it outdoors, no matter the weather. 
Also, if you wanted to go for water adventures, then this is better than drenching your smartphone in water (even if it has an IP68 rating).
On the other hand, smartphones beat these small devices in terms of battery life, editing capabilities, real-time posting/sharing. Not to mention that you can use it for other stuff like communication, browsing, etc. 
But if you own both, then why bother comparing? You can just bring the two on your trips and use them alternately. That's more like it! *wink*
Q: Should I get a GoPro for traveling?
There are many good reasons why this device is good for traveling. One is mainly because of its size.
Admittedly, this camera is really very easy to carry around. You can even fit it inside your pocket, so storage space will never be an issue. You can fill up your luggages and backpacks with other stuff and still have the luxury of fitting your GoPro inside.
The only downside is that, the battery runs out quickly. So if you have trips planned for the entire day, it will be better to bring a backup camera in case your action cam can't keep up anymore.
Q: What are the best GoPro models?
This is the latest version released by the brand.
There's just so much to love about this. From the 5K shooting mode, to the detachable lens, you are definitely in for a great deal.
It boasts a 20MP resolution, way better than most compacts have.
Plus, you get to enjoy dual screens – one on the rear, and one in front. This makes it perfect for selfies and vlogs.
If you are looking a cheaper alternative than the newest model, Hero 7 Black is a good alternative.
Its Hypersmooth video mode will keep up with all your adventures – on land or in water!
It's very robust build will keep your mind at peace every single time you use it. You can dunk it into water as deep as 10m without a separate housing, and you will still have great quality stills and videos.
Plus, the 720p live-streaming feature just makes it all the more interesting!
==> GoPro Hero 7 Black vs GoPro Max Reviewed [Compared]
GoProMax has everything you'll need.
It was designed with vloggers in mind. The screen faces the front, allowing you to monitor your footage – live. On top of that, it also has an excellent mic input for clearer and crisper audio.
==> How to Improve GoPro Sound Quality? [Guide]
Best of all? It is a 360 degree camera!
(And it's the reason why it can work for real estate purposes too, not just vlogging in its traditional sense.) 
---
Final Thoughts
---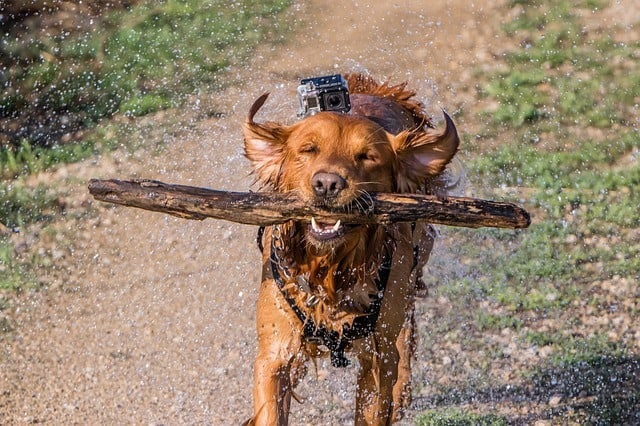 ---
The photography industry has seen it all; from the earliest cameras to action cams and GoPro, various innovations have been released to explore. However, one thing that remains a staple is the passion for capturing moments in life as they happen.
One good example of this innovation was found when we discovered how much people loved taking photos on their smartphones- so what could be better for water related activities and extreme sports?
Why (GoPro) action cameras are becoming more and more popular?
Well, that's because they are a great way to record your adventures. They're easy to use and can go places where you wouldn't be able to take your phone or any other "professional" camera.
And FYI, action cameras are good for photography as well, not just recording videos.
What is a GoPro and what does it do?
As we've established, a GoPro is a small, lightweight action camera that can be attached to just about anything. (As you can from the image above, even on dogs to capture their running!)
The moment you attach it, it starts filming and continues to film until you tell it to stop. This makes for some really cool footage of your adventures!
Now, I'd like to hear from YOU:
What are your thoughts on GoPro uses? What gear you currently use? Let us know in the comments below!