Please note: As an Amazon Associate I earn from qualifying purchases. I also work with other affiliate partners and may be compensated from the links below. Details here.
November 25, 2021
Is a GoPro Worth It? Top 3 Models That Are Worth the Money in 2022 (Buying Guide)
---
This is a complete guide to buying your first GoPro camera in 2022.
GoPro is one of the most capable action cameras existing today. It uses leading technology that makes shooting easier, fun, and more convenient, especially for active lifestyle junkies. I think it is worth it, but you need to find the right model for your needs. 
In this buying guide, you will learn:
is GoPro worth buying? (and I'm not talking about stocks)

the list of its advantages and drawbacks

the top 3 most popular options to consider this year
… and lots more.
Without further ado, let's get started.
---
What Is the Point of Buying a GoPro?
---
I don't know why, but there seems to be a lot of people having the misconception that photography is all about DSLRs. Well, the truth is, it's really not. There are other gears that will let you take great photos out there. An example of this is GoPro.
So what is this device, really?
GoPro is an action camera designed to capture fast-paced events like sports and adventure. The gear is small enough to be mounted on bikes, helmets, skateboards, and even portable enough to be handheld while running. Despite the compact design, there are actually a lot of things you can do with this little monster.
By the way, below are the most popular models so far:
| | | | |
| --- | --- | --- | --- |
| | | | |
| One of the latest & greatest models | | dual screens (front & rear) | |
| Best cheapest model to buy now | | robust build (land & water) | |
| The 360º camera that vloggers love | | unbreakable stabilization | |
So, what you can use your GoPro for?
One of the most basic operations you can do with a GoPro is to capture stills. Luckily for its tiny construction, it still offers a wide-angle lens often perfect for fish-eye effects. It provides you with a distinct and more creative shot compared to normal phone cameras.
What's even better is that the photo resolutions are always on top of the game. For example, the latest Hero 10 has a 23MP camera, better than your average compacts can offer. There's also a 12MP cam on the older model Hero 8 and a 20MP one on the Hero 9.
Additionally, these models all have the brand's SuperPhoto mode, which basically just turns your shots into more toned images. It has an HDR function that helps bring out the right shadows and highlights. The function also includes local tone mapping.
This greatly enhances the contrast to a very acceptable level, to make sure your photos are vivid but never oversaturated.
Record smooth 4K (5K) videos
When we talk about GoPro, almost instantly, we think about cool videos of fast-paced adventures and action. Well, that's not surprising, though. For this category, GoPro remains in the top tier.
The thing is, the higher the pixel count, the more detail you can capture in the footage. That's why many still covet gears offering this much resolution, despite the premium price tag.
Actually, if you are a casual shooter who just loves to record daily activities and stuff, a 1080p is enough to get a good result.
But for those who are into serious photography and videography, shooting in the highest resolution will give you the most flexibility. It means you can edit the videos more without compromising the quality, and that makes a whole lot of difference.
Responds to voice command
There's not much photography equipment that responds to voice commands, which is why GoPro excels in this department. Imagine being able to control your camera just by saying a few words. That's very convenient!
For instance, you can use your voice to power up your Hero 7 device (and successor models as well). However, this is only possible within an hour from turning off the gear. If you have not used it for more than several hours, a manual start-up is required.
You may also use this feature to turn on or off the Time Lapse mode on GoPro, Video, and many other basic functions.
One of the worst horrors you will ever face as a photographer is not being able to capture the best moments. As much as possible, you don't want to miss out on any detail when covering an event.
With GoPro, you can rest easy.
There is a feature called Hindsight that starts recording the footage 30 seconds even before you press the shutter button. This is really great because sometimes, the best moments happen too quickly, and these cannot be replayed the same way ever again.
With the feature in place, you'll never miss out on any of those awesome action shots.
Ever tried shooting a long video and only want to replay the highlights over and over again? Well, here's the good news: the HiLight feature is available in models Hero 4 (black) and above.
So, what does this really do? It lets you tag video highlights so that it will be easier to find, review, and share with your friends and families.
Another thing that regular cameras cannot do is to shoot underwater without special housing. With a GoPro, this isn't a problem.
Even without a waterproofing case, most models can dive as deep as 30 meters. This is enough for you to capture the beautiful underwater scenery before your very eyes.
READ ALSO: Can GoPros Go Underwater Without a Case?
READ ALSO: 17 Best Cameras for Snorkeling (from action cams to DSLRs)
---
GoPro Action Cams: Pros and Cons
---
---
Just like any other product out there, no matter how amazing it there, there will always be a set of pros and cons that goes with it.
(We answer some of the frequently asked questions about GoPro here.)
Actually, if you come across something that says their item is 100% foolproof, then that's just too good to be true! Even the best products could use some improvements.
Let's start with the good stuff!
✓

Reasons to Buy:
Very portable and compact
It's extremely hard to capture fast-paced action with chunky and heavy DSLRs if you are planning to shoot by yourself.
I mean, it will be too hard to hold the cam in one hand and record videos of yourself doing whatever it is you are doing. Though you can use a tripod for that, it's still different to have POV footage.
With action cameras like this, that's no longer an issue.
The size and weight of these devices are perfect for handheld use. Normally, they would fit in your palms, making it a bit awkward to hold (if you're used to bigger DSLRs, mirrorless, or point-and-shooters). But the good thing about it is you can operate it with one hand.
Also, it's perfect for those of you who want to vlog travel and lifestyle genres. Heck, you can even record with a GoPro while running. It can easily be stored in your pocket, a handbag, or even just carry it around in your hands.
Don't be misled by the tiny appearance! These little monsters are tough and built to withstand rough usage. They are so rugged, you don't have to worry about using them on a regular basis.
Unlike other action cameras, this one can go underwater even without a case. That means it's very tight-sealed and always ready for action.
Though no one wants to intentionally drop an expensive device like this, there are times it could happen. With GoPro, a minor drop wouldn't hurt so bad. But, of course, that depends on so many circumstances so you should not be complacent about dropping them whenever. 
Smooth footage and flawless stills
For videos involving fast movements, you'd expect the cam to have really shaky footage. But with GoPro, that wouldn't matter so much.
They have a feature called HyperSmooth. It is an electronic image stabilization that helps lessen or reduce the impact of camera shakes during recording. This results in more stable videos and much more professional-looking outputs. 
Since GoPro's has always been associated with great videography, the quality of its still often goes unnoticed. But honestly, they're way better than regular point-and-shooter, if you ask me. The resolution, the details, and the tones are just the right mix.
What's even better? You can customize photo settings if you are not fond of the defaults. But don't expect to have a wide range of options like DSLRs can provide.
There are actually so many benefits to having a wide-angle lens. When you have this, you can capture the subject close-up without losing detail in the background. In short, you'll have a wider field of view for the photos, perfect for landscapes or group pictures. 
The best part about an action cam like this that no chunky pro-grade gear can beat, is its capability to become wearable. Because of its small design, you can mount it on your helmets, wrists, or any equipment you carry when doing your adventures. This makes it easier for you to record videos of your activities.
Don't get me wrong. DSLRs, mirrorless, and compacts can also be mounted to accessories, but they aren't as portable as GoPros or other action cameras.
You can have seamless sharing and remote control over your camera with the help of WiFi. You simply connect it to your smartphone, and you're good to go. Through the GoPro app, you can even share a Livestream with your friends and family. Plus, there's a built-in GSP on the device for added connectivity.
---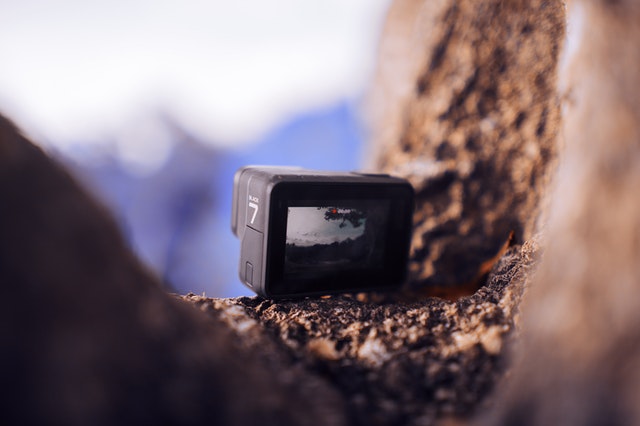 Now, let's take a look at the other things that might make you do a double-take when buying a GoPro.
✕

Reasons to Avoid:
Battery life is one of the most important things you need to consider when buying an action camera or any photography gear for that matter. I mean, you would want to have a device that can last longer than your planned activities, right? It would be a hassle to always think about charging them and all. 
While GoPro has a decent battery life, it's still considered shorter than other devices. The combination of powerful features and high resolution usually drains the pack quicker. You'll need to prepare a portable charger or a few spares in case you are planning to record videos over 2 hours straight. 
Too small for those with big hands
It's all cute and that, but sometimes, the tiny construction of these cameras makes it harder for people with big hands to operate them. I mean, the buttons are kinda small, and if you use the touchscreen to interact with it and press some options, that might just be a little challenging.
Limited manual setting customization
Though GoPros are extremely capable of giving you the best results, they can only do so much. Unlike professional DSLRs, you only have a bunch of things to manually set in an action cam. This will limit your range when it comes to manual shooting.
Note: If you use Protune on your videos, you'll be able to access more manual settings on the device. 
This is not a secret, and everyone who ever heard of the brand knows their products are expensive. Well, we have to give it to them, knowing very well the wonderful things you can do with any of their models. But, quite honestly, there are alternatives out there offering similar features at a more affordable tag. 
Well, for a tiny gear like this, it isn't really surprising that it only has a fixed focal length. Just like your smartphone camera, it only allows you to enjoy digital zoom. This makes it a not-so-good choice when doing faraway shoots like wildlife. 
What you need to remember when using action cams is that because of the fixed focal length paired with a wide-angle lens, you'll need to have a much closer distance between the gear and the subject. 
---
Top 3 GoPro Models to Consider in 2022
---
Now that GoPro pros and cons are out of the way, let's talk about the things that you need to consider when deciding which action camera to buy in 2022. 
Here's an overview of the GoPros that are worth the money:
| | | | |
| --- | --- | --- | --- |
| | | | |
| One of the latest & greatest models | | dual screens (front & rear) | |
| Best cheapest model to buy now | | robust build (land & water) | |
| The 360º camera that vloggers love | | unbreakable stabilization | |
Whether you are a first-time buyer or an expert shooter, there's a model that will work for your needs.
---
1. Hero 9 Black: The Best for Serious Adventure Seekers
---
Weight

: 158g

Dimensions

: 71x55x33.6mm

Connectivity

: WiFi, Bluetooth, GPS

Touchscreen

: Yes

Waterproof

: Yes

Battery

: 1720 mAh

Photo Resolution

: 20MP

Video Resolution

: 5K
---
While Hero 10's the latest model right now, and you all are probably expecting we'd choose it as the best gear, we still believe Hero 9 deserves this spot.
It's true there are several upgrades and improvements in the latest version, there's still the major GoPro Hero 10 overheating issue, and it's best you pick one that will give you the best performance without added headache, for now. 
But don't get me wrong. The brand already announced they are working on a firmware update to address the overheating problem. Until then, Hero 9 still remains the strongest contender in this department. 
Here's what you can expect from this model:
Vloggers are loving this model so much. Aside from having a bigger build than older versions, it is now equipped with a front display. This means you can easily see what the lens is capturing without peeping through the rear screen. It's perfect for selfies or for taking videos of yourself.
With the help of a monopod, you will be able to compose your pictures properly without using the rear display. A very convenient touch for GoPro fanatics.
Another amazing thing that makes this model really most covetable is the inclusion of electronic image stabilization. This makes your videos less shaky even at high resolutions and frame rates. Perfect for those who want to capture those extreme adventures. 
This newest version produces more refined recordings, making them look more high-quality. Even a beginner can rock videography with this device and feature on. 
Many of you are probably planning to use your action camera for timelapse. Well, here's the good news! With Hero 9's Timewarp version 3.0, you will now have a smoother timelapse. We all know how recordings like these can sometimes freeze or lag, especially using high frame rates. 
Isn't it just amazing if you can use your action camera for another purpose than what it mainly does? Well, say no more! You may now use Hero 9 as a substitute webcam, thanks to the front-facing display. 
All you need is an updated firmware, a dedicated webcam desktop app from GoPro, and a USB Type-C cord to connect it to your computer. 
---
2. Hero 7 Black: Best Value GoPro for Your Buck
---
Weight

: 116g

Dimensions

: 62.3×44.9x33mm

Connectivity

: WiFi, Bluetooth

Touchscreen

: Yes

Waterproof

: Yes

Battery

: 1220 mAh

Photo Resolution

: 12MP

Video Resolution

: 4K
---
Who said old models are not worth mentioning? The truth of the matter is, most older versions have a better price-quality ratio. Just like Hero 7 which is currently branded as the best value GoPro today. It still has so much power and capability which makes it a better option for those on a budget but still wants to have this brand's product (it's way cheaper than the latest model!)
Here are some of its best features:
This is what it means when someone says old but gold! Hero 7 may have been released years back, but it already has a voice control feature. You can power on your device just with your voice, capture photos and videos hands-free, and all the convenience you can think of controlling the device remotely. 
Even in late 2018, GoPro has already topped the game by including a 4K resolution on the Hero 7. This gives you better videos with more vivid details and clarity. Even when the photos or videos are cropped, you will still have a very fairly decent output. That's the power of shooting at high resolutions. 
But there's only one major downside – battery drains easily at max reso. So, don't forget your spares!
I don't know if it's just me, or is there something really magical about viewing things in slow motion? I mean, slowing the video down gives you more time to appreciate the moment, the surroundings, and everything else captured by the gear. 
With this, the most important moments in the footage can be highlighted easily, making it more emphasized and pronounced. 
In today's digital age, we are all connected through social media. It's not so bad to share your awesome adventure with your friends and the people you love, is it? With this feature, you can let them know in real-time your current activities. 
Enjoying the beach? Flexing your skateboarding skills? Doing parkour tricks? You can share them all via the Livestreaming feature. This way, it's as if your friends are with you on the adventure. 
---
3. GoPro Max: Great for YouTube Vlogging Stars
---
Weight

: 154g

Dimensions

: 64x69x25mm

Connectivity

: WiFi, Bluetooth, GPS

Touchscreen

: Yes,

Waterproof

: Yes

Battery

: 1600mAh

Photo Resolution

: 17MP

Video Resolution

: 5.6K
---
Explore the world in better view with the Max model.
It doesn't only let you see videos plainly capturing one single perspective. Instead, it will allow you to see the surrounding at no less than a 360-degree angle! This means you get to see details from the front, sides, and back of the camera. How cool is that?
READ ALSO: GoPro Max vs Hero 7 Black: Which One Is Better?
Check out the best features of this model:
Aside from the 360 capture, this is probably the best thing you can get from your Max model. You can turn your spherical videos into a non-360 format. Basically, you get to choose which angles you want and frame it as a regular photo or video. This gives you the freedom to explore better perspectives than what the front lens is actually seeing flatly.
Robust construction and design
Though it is bigger than other 360 cameras, Max is still significantly smaller than any DSLR. In fact, you can operate it using one hand and hold it there for long periods without feeling the heaviness of photography gear. 
What's even better is that this device is waterproof – up to 33ft even without a dedicated casing. This ensures you will have uninterrupted fun whether on the ground or underwater.
The outer shell construction is built to withstand both pressures on land and water, so you don't have to worry about missing out on any kind of adventure. 
The default video settings in this gadget are pretty solid. But if you want more freedom when shooting, you can always use the Protune feature to gain control over important settings.
With this feature on, you will be able to adjust shutter speed, white balance, ISO, and other settings that will make your photos look better. It's just like using a DSLR, but a kinda smaller and lite version.
Now, this one has just changed the entire game. Not only can you take photos using the wide-angle lens, but this model actually lets you choose between 4 options –  SuperView, Wide, Linear, or Narrow.
This gives you more freedom to control the lens despite having a fixed focal point. You can easily compose different-looking shots just by switching up lens modes. 
To improve GoPro sound quality, its engineers installed 6 microphones across the body. This helps with dampening the wind and other noises and makes sure to record good audio which vloggers will certainly love.
(It's one of the reasons why it's also great for runners who like to capture their jogging adventures.)
Of course, who would want to miss out on this great chance to record literally everything around you without moving the camera back and forth? No one, probably. 
So, how does this work? The thing is, this model has two cameras, one on the front, and one on the rear. This lets the gear record both sides, and all the things in between. It's like recording the entire scene as if seen on a globe. 
This gives you more fun and creative outputs with so much versatility. 
---
Is GoPro Worth Buying? Final Thoughts
---
GoPro cameras are very versatile and powerful. Aside from being great photography equipment, there are so many other things you can do with these products if you only think outside the box.
Though it has a premium price tag, many would still consider it as worth the investment. But mind you, not all units are equally expensive. You just have to find the right balance between features and price. It's always a matter of price-value ratio if you ask me.
Now, I'd like to hear from YOU:
What do you think, is a GoPro worth the money?

Which model do you think is the best when it comes to stills?

How about when it comes to videography?
Share your experiences below!