Please note: As an Amazon Associate I earn from qualifying purchases. I also work with other affiliate partners and may be compensated from the links below. Details here.
August 5, 2022
Is GoPro Waterproof Without a Case? (Guide)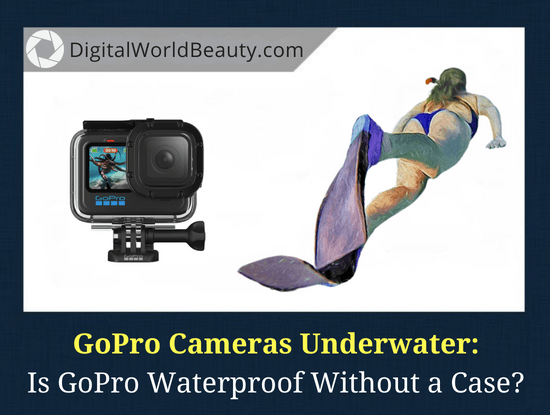 ---
You must have heard of the action cams surviving and taking great shots under the water. Perhaps, that is what made you buy one in the first place.
Would it survive the trip if you went swimming, snorkeling, or diving?
Look:
The word waterproof is too absolute and is only used for marketing purposes. It implies that the camera would survive under extreme wet conditions, which is almost impossible for electronic gadgets. Simply put, GoPro is waterproof without a case only to a certain extent.
In this post, we'll talk about immersion specs for each model of this brand, tips for taking good pictures underwater, and what to do if the lens is fogging up.
Let's dive (pun intended) right in.
---
Can GoPro Be Used Underwater?
---
So can they be used under the water, are GoPros waterproof? You should always remember that no gear truly is 100% that.
It only is in shallow water, even with a protective housing. Most versions are not that safe in deep waters.
For instance, you can take beautiful pictures while snorkeling. However, you need a specially reinforced camera for scuba diving.
By the way, here are the top 3 models worth considering today:
One of the latest & greatest models

10m (33ft) with no housing

dual screens (front & rear)

robust build (land & water)

The 360º camera that vloggers love

unbreakable stabilization

5m (16ft) with no housing
==> The Ultimate Guide to Your GoPro: Beginner to Expert (Video)
Now, most of the GoPros have two access doors, including HERO 8 and HERO 9.
The sliding doors have neoprene seals. They must close perfectly for the action cam to be waterproof, and the seals must be in topmost working conditions.
Each model has water immersion specifications which you must follow to the letter. There is a higher chance that the seals may leak for an unknown reason.
Here is a list of all the brand models and their specification.
GoPro Max and Fusion are lightweight gadgets perfect for shallow-water activities like swimming. With the seals and doors closed, these can go down to 5m (16ft) in perfect conditions.
Anything deeper than that calls for waterproof housing.
HERO5 Session Up to

HERO 10 Black
These are the next generation to feature improved water resistance capabilities.
For instance, Hero 9 and Hero 8 can easily be underwater up to 10m (33ft). You don't need a case if the sliding doors mentioned above are closed and in working conditions.
The diving depth for Hero 5 Black to Hero 10 Black can be increased by 50m using a special dive housing. Hero 7 White and Silver can go up to 131ft (40m) when equipped with protection.
The super tight protective cases enable you to dive deeper and take beautiful pictures.
READ ALSO: GoPro Hero 7 vs Max [Comparison Post]
HERO+, HERO (2014) HERO+ LCD
You don't need to buy anything for these three versions.
These products come equipped with permanent housing. This means the action cam is inside the plastic casing, increasing dive distance to a maximum of 131 feet (40 meters).
HERO3+ Black, HERO4 Silver, Black, HERO3+ Silver
Don't even try to dip these in water without a case. You definitely won't like the result.
To dive with them, they must be in standard housing.
Even with standard one, the maximum depth is 131 feet (40 meters). The depth can increase or decrease depending on whether you use a Dive Housing or a BacPac.
Anything from HERO3 Black to HD HERO Original is not waterproof without a case. You can get a protective case from approved dealers that can withstand a maximum of 197 feet (60 meters).
Always ensure that everything is working as expected with or without a protective casing.
The integrity of the protective casing is vital for the camera's safety. Clean debris or dirt in the rubber gasket before immersing your GoPro in water.
---
Is GoPro Waterproof Without a Lens Cover?
---
There is no single answer to this question.
Most components of the camera are tightly sealed, including the lens. It would be safer if you didn't try it.
---
Can GoPro Take (Good) Pictures Underwater?
---
Yes! GoPro action cams take excellent pictures underwater, especially the latest models.
That is why they exist in the first place. You can safely carry Hero 8, Hero 9 or Hero 10 on your next trip to the lake.
By the way, here are related posts that you might find useful:
Anyway, here are tips on how to take good pictures underwater using your current gadget.
1. Minimum Focus Distance
To begin with, this tiny gadget allows you to capture a subject and the surrounding contextual scene thanks to an extra wide field of view (FOV).
Working with different focus distances would be best until you find what works best. Spot your main subject, then get as close as you safely can.
Move your gadget close, with the main subject just 12 inches away from the lens, and capture that perfect shot.
2. Field of View
The field of view is the next setting that should be fixed after the minimum focus distance.
It would be best to adjust the gear before getting into the water. Some protective waterproof casings block the camera's touch screen functionality.
3. Go Back to Defaults to Improve Image Quality
Another trick for capturing quality pics is restoring the default setting before the session begins.
GoPro performs well in good lighting conditions.
Unfortunately, the situation changes as the light reduces. As the camera adapts to the low-light environment, the noise increases and the images become grainy.
Here is how to do it.
Go to settings and move the ISO to a value of not more than 800. While still at it, you should set the GoPro mode to "photo" default. It will come in handy if you need to snap a quick photo, but it suddenly shuts off.
4. Work on Stability
Keep handheld GoPro cameras stable.
Due to slower shutter speeds, murky water and cloudy days create non-sharp and blurry images. And things can go from bad to worse if your action cam is unstable.
It would be best to place it on a tripod in the appropriate location. Tripods are especially helpful when you can predict the movement of your subject, for example, trout in a river.
(Underwater tripods work in a similar way to the on-land versions.)
You can also use an extension pole when photographing in tidal pools. The poles are available in retail stores, although you can improvise.
The pole trick is best used in shallow waters by pushing it into the sea floor to improve stability. It will allow you to capture stable photos of your subject.
5. Time Lapse Setting
You can also scroll down in the settings area and find the time-lapse mode, also known for better stability. Pressing the trigger buttons undermines stability, and the time-lapse is meant to overcome this weakness.
Set the GoPro to a specific time-lapse, for instance, one shot per second, and begin taking pictures. Place it in a suitable location, compose the shots and have fun.
Remote triggers improve safety when dealing with dangerous wildlife.
The phone trigger functionality enables users to trigger the GoPro using their phones. While the Wi-Fi network may be slow underwater, a tripod can help pick up the signals.
All these depend on your camera version.
6. Split-Level Photography
Get an underwater housing that has a convex dome. Place one half of the dome inside the water and the other dome outside the water.
This helps you observe both the terrestrial world and the underwater world. This is a clever trick for contextualizing an image and telling a story.
You can also experiment with lighting whenever possible. Lighting is key to quality underwater photos, and you don't want to compromise on this.
Avoid blurring by using forms of underwater lighting like strobe lights.
Also, keep the ISO and the shutter speed low. However, be careful because lighting can be detrimental to some wildlife species.
---
GoPro Lens Fogging Up: How to Avoid It?
---
---
There have been some issues with condensation forming and causing fogging on the LCD and the housing lens. Condensation occurs when the environment is humid or cooler than the gear.
It's similar to when you blow into a mirror on a cold day. It might have happened to you when filming underwater.
The first solution to fogging is using Anti-Fog Inserts specially engineered to address this issue.
They keep your lens from condensation even in humid and low-temperature environments. The permanent option is always to keep your gadget cool.
Here is how to do it.
1. Put it in a bucket of cold water to keep it cool before diving.
2. If taking pictures on a beach, keep the camera away from direct sunlight, preferably under a cool shade.
3. Turn off some features, not in use, such as voice control or GPS, which overload the battery, thus generating heat.
4. If you're taking photos in non-wet conditions where waterproofing is unnecessary, open the housing backdoor to allow some cold air.
5. Move to a warmer environment. If you were diving, come up, dry the gadget and leave it in the sunshine for some time.
We plan on writing a more in-depth guide on fogging up of a GoPro lens, so stay tuned!
---
Additional GoPro Underwater Tips
---
Here are some tips to keep your tiny beauty safe and dry during swimming, diving, or snorkeling.
GoPros have seals on their doors to keep water out. Ensure that the seals around them are not loose. Replace them immediately if they show signs of damage. Get the spare parts from approved dealer shops.
Tie the Action Cam to Floaters or Straps
Cameras sink faster than you think.
Before you retrieve them, they have gone past recommended depths and started letting water in. the solution is strapping your GoPro on you.
Also, use floating cases so that it can resurface in case the straps come loose.
---
My Final Thoughts
---
So, does GoPro need a waterproofing case?
I hope this guide was helpful. As we've established, in most scenarios, and especially with newer models, you don't have to worry about going under the water without a protective housing.
If you plan on diving deeper, then it's strongly recommended that you use a waterproofing case.
And finally make sure that all the sliding doors are intact and to use anti-fog inserts should you need to avoid the lens fogging up.
Now, I'd like to hear from YOU:
What brand model do you currently own?

Do you have any additional tips for fellow action photographers and videographers?
Let us know in the comments below!