Please note: As an Amazon Associate I earn from qualifying purchases. I also work with other affiliate partners and may be compensated from the links below. Details here.
July 7, 2022
Gopro Hero 7 Black vs GoPro Max: Which One Is Best for Runners? [Compared]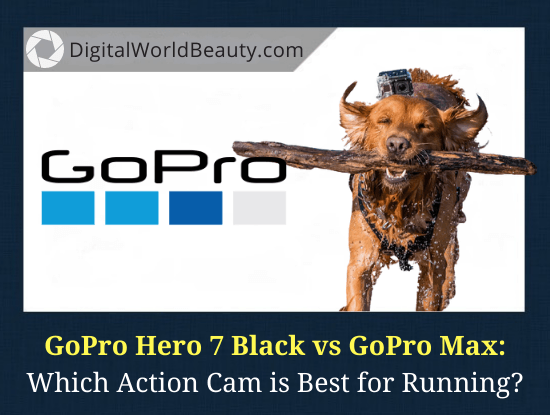 ---
This is an in-depth comparison review of 2 very different GoPro cameras for runners to use in 2021.
In this post you'll learn:
Even if you're not a runner, you'll certainly learn lot a lot. And if you are, then this post is definitely for you!
Without further ado, let's get started.
---
What Is a GoPro and Why Are They Popular?
---
The action cameras gained their popularity in recent years because they are super lightweight, compact, have pretty good in-body stabilization, and allow adrenaline junkies and extreme sports enthusiasts to capture all their adventures.
The GoPro has become the most popular brand when it comes to this type of gear, and while more expensive, it's arguably one of the best action cameras right now.
Here are the top 3 models worth checking out this year:
| | | | |
| --- | --- | --- | --- |
| | | | |
| One of the latest & greatest models | | dual screens (front & rear) | |
| Best cheapest alternative | | robust build (land & water) | |
| The 360º camera that vloggers love | | unbreakable stabilization | |
There are several GoPro uses and reasons to buy it, but in this post we're focused more on runners.
So the idea came up to compare cameras of one brand in their practical applicability specifically for shooting on the run, although action cameras are used all over the world for no less interesting activities.
Please note that we are not comparing the closely related GoPro Hero 7 and GoPro Hero 8, which is already available for purchase, or the Fusion and Max.
On the contrary, we want to talk about the work in real conditions of two different cameras by GoPro.
Basic requirements for an action camera for runners:
Good stabilization as running on terrain is the worst when shooting a video

Shock resistance and moisture protection (GoPro excels in that)

As minimum weight and compactness as possible

Good image/video quality

Ease of use in difficult conditions
Kirill Tsvetkov and his friend shared their experience with GoPro Hero 7 vs Max 360. We've translated it here, so let's see how they are different and which one is better for jogging/running/mountain racing.
---
Gopro Hero 7 vs GoPro Max 360: Compared
---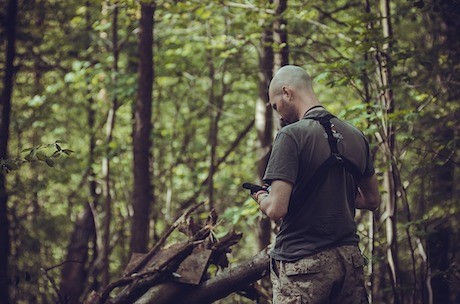 ---
The Hero 7 weighs 116g and I'm certain that the weight and compactness is one of the main reasons people love GoPro cameras. With the release of new stabilization systems, the GoPro has finally become a full-fledged tool for high-quality shooting while running. 
The Max 360 weights 164g with the card and battery. Doesn't really feel that much heavier than the Hero 7 Black.
Standard Battery Runtime (in +ve temperatures)
The Hero 7 and the Max 360 both work for about an hour with its fully charged battery. It depends on the modes that you use. Subzero temperatures also make their own adjustments to the operation of these devices.
Of course when shooting outdoors for a while, you'll definitely want to grab a few spare batteries that are fully charged. For example, you'll definitely need an extra battery for long time-lapse shooting with GoPro.
Output Video Resolution Quality
GoPro 7 Black shoots in a large number of modes, but most runners will likely find the linear 2.7K and 60fps as the most working option for them.
It gives a picture that is not particularly worse than 4K, and the file weighs less at the output. Well, 4K technically allows you to shoot only with a wide angle, which is not very good for Youtube when doing reportage shooting. 
The wide angle is more appropriate when actually moving and selfie-recording yourself as you run. If you need at least some attempt to take an even shot, then on the GoPro 7 Black, unfortunately, only 2.7K mode is the most appropriate.
(However the 8th version already gives a linear 4K picture).
But the linear angle of 16:9 has its drawback – the video expands a little around the edges, which is noticeable if your face falls into the edge area of the frame.
GoPro Max action camera can shoot in two formats: standard and 360⁰. Standard shooting with one of the lenses, the so-called HERO mode, can only offer 1440p and 1080p. 
But in 360⁰, the video is recorded in 5.6K resolution.
There are more video angles here than in a regular GoPro – these are SuperView Lens, Wide Lens, Linear Lens, Narrow Lens. Plus, you can use a quick and convenient button for switching between lens modes on the screen, without having have to dig into the camera menu settings every time.
The Built-In Stabilization
Hero 7 Black uses HyperSmooth technology.
In my opinion, it was with the release of the first really high-quality built-in stabilization feature in action cams, like Hypersmooth, that it became possible to shoot trail running with a personal touch and get a quality level that you'll be proud to show to a large audience.
(To run with a stabilizer during the competition can be afforded either by the operators filming the content, or by the slow-moving participants of the race.)
The built-in stabilizer in Hero 7 gives a simply gorgeous picture, and and will encourage you to create more running/mountain racing vlogs.
The only reason you need an external stabilizer is to horizontally align the frame. In this sense, the GoPro 7 Black is inferior to the compared model.
The Max 360 model uses the proprietary Max HyperSmooth technology with the ability of horizontal alignment, which allows you to maintain the correct horizon level at any tilt of the camera, which is very convenient for action shooting.
Because of that you won't need any additional stabilizers for this GoPro.
GoPro Hero 7 Black: In general, everything is simple in the menu, but only for those who are not afraid of technology and gadgets.
Finding the right settings, connectivity, and so on takes some digging. Fortunately, the menu is really clear and is done on a large touchscreen that occupies about 80% of the rear panel.
It will take time to choose a specific shooting format – for example, to start shooting Time lapse video instead of a photo, as well as setting the number of frames per minute you need to shoot at.
And this is important to take into account, especially if you are somewhere in the mountains, doing an activity under a strong wind. So it's worth spending time studying video reviews, what this camera can do, and where to click on the buttons. 
GoPro Max: When it comes to the menu and interface, everything is very convenient and intuitive. Those who have used previous versions of GoPro cameras will not feel any problems at all. As for complete beginners, they will need 5-10 minutes to figure out what's what.
The menu is well implemented, plus a well-made touch screen and touch controls. And you can always play with the voice commands, they work quite well, and you can choose your own language in the settings.
Using for Running Activities (Events, Marathons etc)
The Hero 7: You can totally vlog during your running activity. It's convenient to shoot yourself on a selfie stick, even though you cannot see the external screen. But rest assured, the angle of view from an outstretched arm is good and you are guaranteed to be in the frame.
Then, when editing/cropping out, you can remove unnecessary things from your frame.
Again, for high-quality trail shooting, the Hero 7 Black was the model among GoPro action camera lineup that didn't need a stabilizer.
The Max 360: Just like the 7th model, the Max is also great. 
Thanks to the large (by the industry standards) display, it's convenient to visualize the frame and monitor the shooting. Therefore, the GoPro MAX may gain more popularity as a vlogging camera.
Built-in Mic Sound Quality
The GoPro 7 has 3 microphones distributed over its body. If you don't close any of them with your fingers, then for an ordinary vlog the sound is quite tolerable. If you covered at least one with your finger, then it's no good.
As for an external mic, it's not exactly suitable during running, as you know. Only a special set in the 8th model already somehow solves this problem.
The Max model: With this one, the engineers worked on the sound by installing 6 microphones. There are quite good front-facing microphones, good noise reduction that dampens the wind, but GoPro's expansion microphones are still a long way off. 
---
Gopro Hero 7 Black: Pros & Cons
---
✓

Pros:
Compact and lightweight

Good menu screen and easy preview

Built-in stabilization (decent quality when jogging)
✕

Cons:
No horizontal alignment

Constantly having have to monitor not covering the mics

Careful not to delete all content with the "Select" ticks

No linear angle in 4K resolution

When video shooting, the left and right edges expand the frame a little
---
GoPro Max 360 Action Cam: Pros and Cons
---

✓

Pros: 
Ability to record videos in 360⁰

Sound 360 + stereo

Large display

HERO shooting mode

Excellent stabilization
✕

Cons:
In 360⁰ mode, recording is always in 5K format

in HERO mode the max resolution is only 1440 and with an aspect ratio of 1:1

Awful software for smartphone and computer with very weak functionality
---
GoPro Max vs Hero 7 Black: Final Thoughts
---
It's hard to say which model is best considering it's from the same brand and for the same purpose (trail running, jogging etc).
Yes, shooting ourselves in action is probably better with the Max 360. But if we are shooting not ourselves, but the world around us, we are shooting reportage, then the GoPro 7 Black here probably wins in video quality.
But then again, everything depends on the task.
And, of course, the price of the 7th model is cheaper than that Max (after the release of GoPro 8).
In general, there is a persistent feeling that the GoPro 7 Black is a transitional stage to the GoPro Hero 8, which is already available for purchase. And judging by the descriptions and the additional "vlogger kit", it is much cooler and more convenient. (Check it GoPro Hero 8 here.)
And most importantly, in order to skillfully use the full functionality of these cameras, you need to improve your skills, learn from others and constantly shoot a lot.