Please note: As an Amazon Associate I earn from qualifying purchases. I also work with other affiliate partners and may be compensated from the links below. Details here.
July 11, 2022
Is It Normal for GoPro to Get Hot? GoPro Overheating and Cooling Solutions (Guide)
---
This is a guide on how to keep a GoPro from overheating and how to keep it cool.
It is quite normal for GoPro to get hot (or any electronic device for that matter). Since it consumes power, the internal parts could sometimes trap that heat and it manifests in the external layers of the gear, especially those with a metal build.
But if it happens, it's good to know when and when not to get alarmed, and that's exactly what I'll share with you here.
Specifically I'll cover:
why does GoPro get so hot

what to do if your action camera overheats

how to prevent this from happening

a simple and cheap GoPro cooling system to record for hours non-stop!
So if you are ready to know the secrets to a "cooler and healthier (gadget) life", then this one is for you.
---
Why Does GoPro Get Hot?
---
---
For people who always use electronic devices (phones, laptops, etc.), you might probably have already encountered overheating issues at least once in your life. Just like these gears, are GoPros supposed to get hot? Well, of course!
(Whether it's a GoPro Hero 7, 8, 9 and especially the latest one, the Hero 10 Black had the overheating issues.)
But before we dive deeper into the troubleshooting part, it's important for you to know what is causing the problem. This way, it will be easier to solve moving forward.
So, here are the top 5 most common reasons why your action camera could heat up.
Isn't it amazing how your camera can record videos non-stop for hours? But what's not exciting about this is that there is a great chance for your device to overheat, and worse, get damaged. 
Although there are no strict limits as to how long you can record videos continuously (though GoPro does split videos into segments), it's good to know some numbers to help you decide. 
According to the brand, the latest model, Hero 10 is capable of shooting 5K footages for 20-minutes non-stop. But this doesn't mean you can't record beyond that. What they're trying to say is that this is the safest timeframe before your tiny gear overheats.
By the way, below are the top 3 most popular models of this brand:
| | | | |
| --- | --- | --- | --- |
| | | | |
| One of the latest & greatest models | | dual screens (front & rear) | |
| Best cheapest alternative today | | robust build (land & water) | |
| The 360º camera that vloggers love | | unbreakable stabilization | |
(Later on, you'll understand why I haven't added the newest Hero 10 Black model in this list yet. Hint: It has to do with overheating issues.)
READ ALSO: How to Shoot a Time Lapse with GoPro?
READ ALSO: Can You Keep GoPro Batteries in Checked Baggage?

The main reason for this – processor. As the device's central unit process the data, it consumes so much power, especially at very high resolutions. Naturally, it can heat up faster than recording a lower-quality video.
Another biggest contributor to an overheating issue is the external temperature. If it's too hot outside, chances are, your camera will get hot faster. (Later we'll talk about a GoPro cooling system when shooting baseball games.)
High levels of external heat can worsen the already hot insides of the gear. In order to counteract what's happening inside the device, the temperature outside it should be cooler. 
While there's really no direct correlation between overheating and a slow memory card, there are certain points that could trigger the build-up of heat. For instance, if you are recording ultra HD videos and your SD card cannot quite keep up, it will take more effort for your processor to do the heavy work. Hence, it could lead to your gadget quickly heating up.
One of the most obvious culprits, of course, is poor ventilation. When using your action camera, you need to give it some airflow once in a while. To prevent the gadget from getting too hot, it's good to let it breathe in between footages, even just for a few seconds (or better yet, minutes?). 
You can either choose to have some cooling device with you (a portable mini fan maybe?), or just let the camera rest for a while then reuse it afterward.
Lastly, but definitely one of the most significant, is the gadget's firmware. Actually, the brand did admit that there were significant overheating issues. GoPro gets hot when recording on a Hero 10 at maximum resolution.
But, just this October, they also announced that they are launching a firmware update to resolve this issue. 
Well, you see, an updated firmware will give the processor some breathing room. Since the operations will be smoother, the heart of your device will not be "overworked", thus helping maintain a cooler gadget.
---
How to Keep Your GoPro From Overheating?
---
---
So, why does my GoPro get so hot and how should I prevent it from overheating? The answer is quite simple. Find out the reason why your gear is in that state, and from there, find the best solution. 
Here are some tips on how you can prevent, or apply some effective GoPro overheating fixes:
Keep your firmware updated
The best and most reliable way to stop your GoPro from getting too hot is keeping the firmware updated. Make sure that you have installed all the latest version because that usually contains "bug fix" designed to keep your camera at its optimal condition.
But of course, we all know very well this isn't a 100% guarantee your device won't get hot. There are several factors to consider as well. *wink*
I know how it feels to pause in between recordings. Sometimes, we are so afraid to miss out on the details so we end up taking extra long footages, without even realizing how this affects the equipment. 
The good thing is that, if you forget to give it a break, the camera does that for itself. Noticed how the device can sometimes turn off automatically once it becomes too hot? Then that's your gear's preventive measure so as not to damage the internal parts.
==> Relevant reading: How to Improve GoPro Sound Quality?
==> Relevant reading: Can You Run With a GoPro?

You may opt to do this voluntarily though. Sometimes, letting it rest doesn't always necessarily mean you have to turn it off. You can simply stop taking a video every once in a while to somehow let it "breathe".
Since there is no way you can control the external environment when shooting, it's good to always know how to provide proper airflow to your device. You can easily do this by moving the camera from time to time while shooting. 
But if in case you need to record steadily in one position, make sure you take proper measures to ensure there is adequate airflow to it. You may use whatever cooling methods you know of (a fan definitely helps!).
One of the options of getting a GoPro cooling case, or additional ways to keep your GoPro cool when recording. Which is exactly what we'll talk about in the next section.
==> The Ultimate Guide to Your GoPro: Beginner to Expert (Video)
---
How to Keep a GoPro Cool? (Example)
---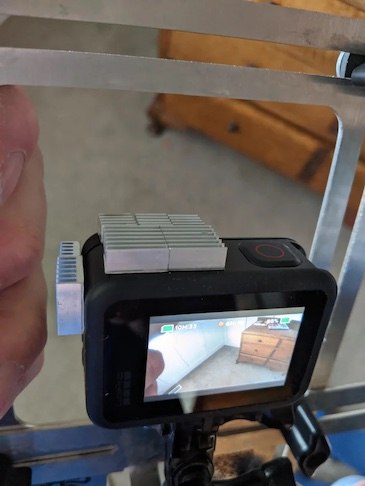 Another GoPro user on Reddit found a simple and cheap solution to keeping your GoPro cool, while also managing to record baseball game videos for 6 hours at 4k60fps without the gear shutting down.
First things first, @loggerhead_turtle decided to record for that long as a test to see if he could push the camera to overheat. The 4K mode is useful when he needs to zoom in on the outfielders, and 60fps is good for slow motion purposes.
(And it was 158GB in 6 hours 4k 60fps if it's on standard bitrate mode.)
So, what was his GoPro cooling system?
First, get the Pi Heatsink pieces on Amazon and place them on top, on the side and/or in the front of your action cam. (This solution on't work if you're near water or unstable condition though.)
Then take the cover for the battery off and use a USB Anker power bank (which comes with a mesh bag that you can attach on your Lynkspyder), and place it all on the fence.
And you're good to go!
Super easy and cheap solution to record baseball games with a GoPro on the fence.
Now, the reason why he went with a GoPro action camera instead of mirrorless or DSLRs was because he wanted something he could just set on the fence, press "record", and not worry about it getting hit or being in the way.
How cool is that? (No pun intended.)
READ ALSO: Best Cameras and Lenses for Sports Action Photography 2022
---
GoPro Hero 10 Overheating Fix?
---
Earlier, I mentioned the possibility of Hero 10 overheating when recording long videos on max resolution.
Actually, the company already admitted that there are some issues with this model getting a bit too hot when shooting with the 5.6K format.
That's not totally surprising, though.
Given the ultra-high resolution and a tiny processor/body, that's likely to happen.
There's not much airflow inside since the gear is designed to be as compact as it can be. But of course, for its price point, you'd expect much more. 
The good thing is that GoPro has already released an official statement recognizing this issue and that they are releasing a firmware update to resolve it. 
But, what if that doesn't fix the issue?
Well, I hate to think it, but it could be possible that there's more to this overheating problem than just a mere need for an update on the device's firmware.
Important note: as of today, the update does not unlock use of the Max Lens Mod for Hero 10 but it's likely coming in the future updates coming up. 
If it comes to this, then it would be hard to recommend Hero 10 as the best model of the brand yet. A lot of people would agree that increasing power, means higher heat, and probably we'd have to wait for GoPro 11 for a case redesign.
A wiser approach to this while waiting for the update is to try minimizing the use of unnecessary features. If GPS and WiFi are not needed, then you can have them turned off. Another thing that could do the trick is to record videos at lower bitrates.
This would extend the runtime for probably around 5 minutes more. I know that isn't a very appealing fix, but it's honestly better than nothing. 
They also launched a new battery pack for Hero 9 and 10 called Enduro. This upgrade is supposed to improve your cam's performance and lengthen the runtime of the gear.
==> The Ultimate Guide to Your GoPro: Beginner to Expert (Video)
---
GoPro Getting Hot: Final Thoughts
---
If you have more questions about this brand, I highly recommend you check out this article with answers to your GoPro questions.
Your GoPro getting hot is as normal as a smartphone gets heated up when used non-stop. Properly taking care of your action camera will make it last longer and perform better. 
I still find the old saying "prevention is better than cure" effective. Before you do damage to your gear, start taking care of it the right way. Make sure you prevent it from overheating as much as possible. 
Now, I'd like to hear from YOU:
Has your GoPro ever got too hot?

What did you do when your device overheated?

Are there other effective GoPro cooling systems that you can share?

And finally, what would you do with the newly released GoPro Hero 10 overheating issue? Risk buying it or get the Hero 9 model instead?
Let us know your thoughts and experiences below!