Please note: As an Amazon Associate I earn from qualifying purchases. I also work with other affiliate partners and may be compensated from the links below. Details here.
October 8, 2022
Is a GoPro Good For Filmmaking? Can You Make Movies? Or Regular Filming Only?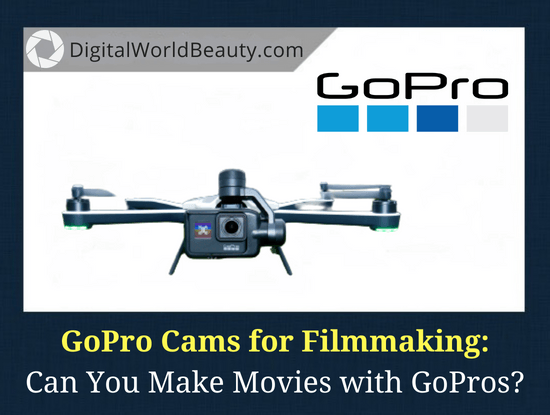 ---
GoPros are very versatile. One minute you're using it on land, and the next moment, you are recording videos with it underwater. It's not really surprising why many people strive hard to get their hands on this tiny gear. It just holds so much power inside that little shell.
But, can GoPro really replace traditional compacts and DSLRs? Is it really that great that you can easily choose it over other pro-grade equipment?
GoPro is a powerhouse in its own respect. While making long MOVIES might present some challenges, a GoPro is good for regular filming, such as recording videos and capturing motion shots of your sports and lifestyle activities. It has several exclusive features that you would definitely want to use as an adrenaline enthusiast.
In this post, you will learn:
what a GoPro is,

how it works,

what are its advantages over DSLRs and compacts,

what are top 3 models worth considering today,
…and so much more.
Without further ado, let's begin!
---
What Is a GoPro Action Camera?
---
So, what is a GoPro and what is it used for?
In its truest sense, GoPro is a brand for action cameras. It has become so popular that people almost always call tiny cams with the brand name.
Here are the top 3 models worth considering today:
One of the latest & greatest models

10m (33ft) with no housing

dual screens (front & rear)

robust build (land & water)

The 360º camera that vloggers love

unbreakable stabilization

5m (16ft) with no housing
Note: If you want THE LATEST and the greatest, then consider the GoPro Hero 10 model.
These little gadgets are designed to capture sports and lifestyle activities.
Most, if not all, have waterproofing capabilities so you can use them on both land and underwater. The company's CEO wanted to create this to film himself while surfing, hence the focus on a waterproof exterior.
Additionally, it was made in a way that it effectively shoots great stills and videos for fast-paced actions like sports and extreme adventures.
(Making it a perfect companion for the outdoors.)
---
How Does A GoPro Work?
---
Operating a GoPro is not as complicated as using DSLRs in manual mode. The tiny gear has presets and automatic modes that can help you easily navigate and use it as needed.
==> READ ALSO: GoPro Action Cameras (FAQs)
It has a wide-angle lens, though fixed, which works well when shooting nature and the outdoors. You get to have so many details in the background without compromising your subject.
This brings us to today's question at hand…
---
Is GoPro Good for Filmmaking?
---
---
Now, you may have heard lots of stories about the amazing capabilities of action cameras. But the real question is, will it really do you justice when it comes to recording films? 
The truth is…
This tiny device has so much power, especially when shooting videos, even more than your regular compacts. The highest resolution they have right now is 5K for videos. That means you'll have very crisp and sharp recordings despite bringing a very small gadget on your adventures. 
But of course, not everything is about resolution. There are several other factors to consider like frame rate, sensor size, and the run time of the gear. 
If you are planning to film casual videos (short ones), then using  GoPro would be great. Since regular filming doesn't usually require too much when it comes to equipment set-up and accessories, you're better off with an action cam.
(Below you'll see a video how you can make cinematic videos with GoPro.)
However, if you want to make movies with a GoPro (like the standard 2-hour run), then beware of the several challenges you might come across like battery life, limited lens capabilities, storage space, etc. 
So the bottom line is…
It's good to use a GoPro for short and casual videos (filming sports activities) like a bike ride, surfing trip, paragliding, or anything like that. But for more serious videography, you should consider investing in pro-grade equipment for a more efficient workflow.
==> READ ALSO: Best Affordable Cameras for Shooting Videos (For Beginners)
---
Why Is GoPro Good for Regular Filming?
---
---
Undoubtedly, GoPro has owned the majority of the market share in the action camera industry.
But have you ever wondered why people love their products so much despite the expensive price tag? Well, you'll find out below!
Let's admit it. One of the first things we check in a camera is its resolution. Why? Simply because we associate it with high-quality photos.
But, is resolution really everything there is to consider? In the case of a GoPro device, it's one of the most important factors, but not the only one.
Having high-res gear in a tiny housing is in itself already a feat, but the resulting pictures are even more impressive.
The brand's latest model Hero 11 boasts an amazing 27MP camera with a SuperPhoto HDR feature. That means you get crisp and sharp images and motion pictures despite all the fast-paced action involved.
As far as videos are concerned, the latest model supports 5K resolution recordings. This is more than what your ordinary compact is capable of doing. You get to have seamless motion pictures and you get to capture the moment vividly in full detail.
Electronic Image Stabilization
If there's anything this brand should be proud of, it's their top-notch EIS!
Well, this really isn't that surprising because the gear is made for live-action. But still, these tiny devices exceeded the expectations of pros and enthusiasts alike in terms of image stabilization.
==> READ ALSO: Running With a GoPro (Settings and Tips)
When recording videos, having a reliable EIS is a must. Without it, you will end up with shaky and unsteady footage which often looks unprofessional. So, if you're making a short film that requires super steady recordings, then GoPro is a good choice.
Extremely Portable and Handy
Travel and lifestyle photographers love GoPro. Why?
It's because the camera is packed with so many powerful features yet it's very portable, in the most literal sense. You can carry it around in the palm of your hands, mount it on a part of your body, or even put it on your helmets and other accessories.
They are so tiny that it doesn't actually take up too much space in your bag/luggage when traveling. So, wherever you go, you can also bring it with you.
For videographers, these two features will really matter.
Timelapse, as you may have already encountered on your mobile phones, is the ability to record lengthy videos and compress them into several seconds worth of motion pictures.
(Here's a guide on how to do a timelapse video with a GoPro.)
On the other hand, newer GoPro models now have a feature called the TimeWarp, which is basically just a timelapse with a bit of a twist. It is designed to capture moving subjects.
Here, the camera will do everything for you with the Autospeed mode. You only need to start recording and you don't have to worry about the rest.
---
GoPro for Filmmaking: Final Thoughts
---
Undoubtedly, GoPro is one of the best action cameras you can find today. Built for fast-paced action, it does the job of capturing every exciting event that comes your way, without missing a beat.
These tiny gears are perfect for travel and lifestyle photography, in terms of both stills and videos. However, this little monster can only do so much.
It has limited battery life, and there's not much to do for manual shooters. But if you're only doing shorts or casual video round-up for your trips, it can do the job without a problem.
However, if you are planning to film a 1-hour movie, this is not the best device to invest in.
You will need to bring spare batteries and storage cards and then change them every now and then. Plus, you don't have much flexibility when it comes to settings.
So…
If I were you, I'd only choose GoPro for casual video recording and not for professional lengthy films.
Do you feel the same way about action cameras? In your opinion, are GoPros good for filmmaking? Share your thoughts in the comments section below!