Please note: As an Amazon Associate I earn from qualifying purchases. I also work with other affiliate partners and may be compensated from the links below. Details here.
July 20, 2023
DJI Pocket 2 in 2023: Great Pocketable Choice for Video Content Creators (Review)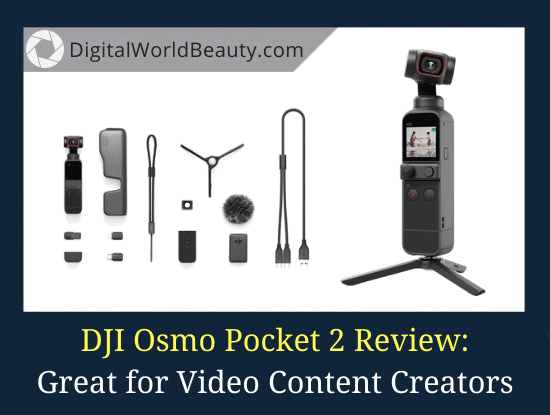 ---
Welcome to my DJI Osmo Pocket 2 review! (2023 Update)
---
You might be wondering:
With the list of available action cams on the market right now, is the DJI Pocket 2 worth it? If yes, then what's so special about it?
I'll be talking about the video, photo and audio quality, ergonomics, stabilization, general features, as well as compare the product with its competitors.
But if you're in a rush and want my quick opinion, then I think DJI Pocket 2 is a great pocketable camera perfect for vloggers, livestreamers and YouTube video content creators with HDR mode, 8x zoom and an ability to shoot in 4K/60fps.
One thing is clear:
If you're a vlogger and want a super compact stabilized action cam with high image and video quality, then DJI Pocket 2 Creator Combo a great choice to consider in 2023.
And the sound!? Simply WOW.
==> Click here to compare the prices today.
---
DJI Pocket 2 Review 2023 (Summary)
---
Viewing angle: 93° | Lens: f/1.8 | Sensor: 1/1.7 in | Video resolution: Up to 4K/60 fps | Photo resolution: 64MP | Battery life: 140 minutes | Weight: 117 grams | Dimensions: 30 x 38.1 x 124.7 mm
Reasons to Buy:
3-axis gimbal

incredibly portable

impressive audio quality

3 Follow Modes

stabilized video shooting in 4K/60fps

HDR mode available
Reasons to Avoid:
fairly uncomfortable small display screen

battery life only for 2+ hours
---
What Is DJI Pocket 2?
---
Last year, I've had a chance to publish a few articles and best of's on action cams but I couldn't pass up on the opportunity to review the latest release from DJI.
What is DJI Pocket 2?
DJI Pocket 2 is a pocketable gimbal with a built-in camera. It's supposed to the "ultimate" style action cam. The beauty of the device is that it is very compact and fits easily in the palm of your hand.
At the time of this writing, the manufacturer offers two options: the basic package as well as the 'creator combo'. The latter one is of particular interest to me.
What's inside the DJI Pocket 2 Creator Combo package?
DJI Pocket 2

DJI Pocket 2 Cover

Mini Control Stick

Tripod Mount (1/4″)

DJI Wrist Strap

DJI USB Splitter Charging Cable (Type-A to Type-C)

2 Osmo Pocket Smartphone Adapters (Lightning & USB-C)

Do-It-All Handle

DJI Wireless Microphone Transmitter + DJI Wireless Microphone Windscreen

Micro Tripod

Wide-Angle Lens
So, let's get to the actual review!
---
DJI Pocket 2: Design and Features
---
First things first:
The DJI Pocket 2 is the upgraded version of DJI Osmo Pocket (which had several complaints by users and so the new model answered most of those.)
The design of the latest release is very similar to the first Osmo Pocket. The camera lens is housed in a stabilizer body that attaches to a vertically elongated rectangular body. Thanks to this shape, the device is comfortable to hold in the hand.
The controls are simple:
There is a power button on the right side and two others on the front, right below the small square display. On the other side there is a slot for a microSD memory card with a capacity of up to 256 GB. While it is not very convenient, you will hardly need to use it often.
It is better to get a memory card with a large capacity in advance – a minute and a half of 4K/60 fps video takes up about 1 GB.
Externally, there are few differences from Osmo Pocket and Pocket 2.
There is now a bright red line around the lens, and the red dot on the start button is slightly brighter. The case has become 3 mm longer and 1 gram heavier, but in general, the changes are only cosmetic.
The only serious complaint about the new device is that it seems to be too fragile. You definitely shouldn't mindlessly throw it into your bag and carry it with you all day.
The Pocket 2 case also lacks water protection but luckily, DJI has included a small protective case with space for several accessories (in the Creator Combo package).
---
Video Shooting and Its Quality
---
The DJI Pocket 2 is a portable camera designed for video shooting, and many would agree that it does a great job.
Compared to its predecessor, the video characteristics are almost the same. The best you can get out of it is 4K/60 fps. You can shoot in 2.7K or 1080p at 24, 25, 30, 48 and 50 fps.
There are also time lapse, hyperlapse and dynamic hyperlapse modes. There is slow motion shooting at up to 240 fps in 1080p resolution. Important additions include an HDR mode, although it's limited to 2.7K/30 fps.
The new model has a 1/1.7-inch sensor, which is much larger than the 1/2.3-inch in Osmo Pocket.
It captures more light for better detail, dynamic range and low-light performance. (The f/1.8 aperture also helps here.)
Another feature worth mentioning, is that the field of view is now 93°. This means that the viewing angle is wider and you can get more objects into the frame.
For example, you can photograph a group of people or show off some landscapes.
Video quality is impressive even in 4K without HDR mode, and no detail is lost even when zooming in.
There are 4x zoom at 1080p, 3x at 2.7K, and 2x at 4K. You can shoot from afar, almost without losing quality. Live streaming is also available via the DJI Mimo app. You can stream your footage to YouTube or Twitch as it has RTMP support.
The camera comes with a wide-angle lens that is magnetically attached right in front of the main lens. The lenses can be changed in just a couple of seconds.
Overall, Pocket 2 will not be able to provide a super professional video quality but I don't think that's what most people would expect anyway.
This is a simple and portable device that will give you the ability to quickly shoot something on the go. The beauty of it, is that this DJI portable camera guarantees good quality footage and allows you not to carry a lot of equipment with you.
---
Stabilization and Autofocus
---
I think you'll like the stabilization and autofocus in this gimbal camera, which will give a more cinematic picture compared the regular action cams.
I gotta say, it's impressive how well DJI Pocket 2 manages to keep the footage stabilized. The camera is ideal for vlogs, there won't be any noticeable shaking when shooting a vid while walking.
The key feature of this action camera is the built-in 3-axis stabilization. The rotation and tilt angles have become a little bigger, although the main modes have remained unchanged.
There are three of them:
Follow (in a horizontal position),
Tilt-locked (can't rotate up and down), and,
FPV (there's complete freedom of movement).
What is remarkable is that in such a compact body, they managed to add the Active Track 3.0 function! You can safely record with tracking an object or person. It doesn't work perfectly – if the movements are too sudden, it'll lose focus.
But what we need to understand here is that it's not a problem of the technology itself, it's a naturally occurring problem due to the compactness of the device.
Now…
Since the stabilization is physical, the video quality will not deteriorate, as is the case with electronic stabilization. (However, it won't really help you're enjoy recording your skiing adventures.)
As before, we have quick keyboard shortcuts to center the camera and switch between forward or backward. It's also very handy for video content creators.
Autofocus is much better compared to the previous model. Pocket 2 handles different focal lengths well without losing the main subject in the frame.
But it seems that it's challenging to get it to focus on something other than faces.
Usually it's a convenient feature, particularly for vloggers, but sometimes when shooting a landscape or cityscape, the focus can suddenly switch to a bystander, which will ruin the shot.
---
What About the Images?
---
You can get huge pictures. In the first version, you could get 4000 x 3000 photos at the output.
Now, we were given the opportunity to get more detailed frames, and the maximum photo size is 9216 x 6912 pixels. And this is another reason to shoot cool vlogs on vacation, or beautiful places in general.
Although, in a sense it's a bit strange why they would put SO much efforts into image quality.
I mean I doubt anyone would buy an action cam just for photography purposes. Most people would use their standard (modern) smartphone which will do a great job taking quality photos.
Anyway…
The DJI Pocket 2 has two photo modes: 16MP and 64MP. If you decide to choose the maximum resolution, please note that the face retouching (beautification) function will not be available. Maximum ISO available is 6400.
Compared to what DJI Pocket 2 offers, the Osmo Pocket of the first generation simply fades because there we could get a photo of only 12 MP resolution, with a maximum ISO of 3200.
Regarding the disadvantages:
At night, the photos are generally good, but let's face it, the small sensor size does play its negative role, so you'll likely see noise when shooting in low light conditions.
Plus, at maximum resolution, it's better not to take images with handheld shooting because chances are good to get a very blurry shot.
---
Audio Quality is Mind-Blowing!
---
---
Sound is a very important component of quality content. And the audio quality in DJI Pocket 2 is simply mindblowing.
I mean have you heard that vlogging part Chris did in his video review!?
Let's face it, internal mic sound quality is very impressive, and many folks will agree with me here. (Probably the best there is so far.)
And this can be explained by 4 microphones in the body, on each face. Considering the recording is in 360, the output is of excellent quality. The microphones pick up almost everything. And when watching the footage, you get the impression of complete immersion.
Don't you agree?
The bonus of the Creator Combo package was a wireless microphone kit from the manufacturer.
In fact, it's an analogue of Rode Wireless Go. In terms of sound quality, it is neither better nor worse, but simply different – it is directed and records only the person on whom it is attached.
Test it in a street environment and you'll like it. You'll notice that the mic records only your voice and eliminates all the noises around you.
This being said…
If you want more 'live' sound of everything around you, then feel free to use the built-in microphones.
But if you need to make sure the mics clearly records your speech and no background noise, then take advantage of the DJI Wireless Microphone Transmitter + DJI Wireless Microphone Windscreen included in the Creator Combo package.
The connection is pretty simple: all you have to do is turn it on. The presence of wind protection is also nice – we have the possibility of filming on the street.
---
Battery Life… Is It An Issue?
---
The 875mAh battery is hardly an advantage for the DJI Pocket 2, although given such a compact body, this is an inevitable problem.
Battery will last for about two hours of 1080p video shooting. If you set the maximum resolution and frame rate, the battery will run out in an hour.
(Keep in mind that the body will likely become warm.)
And if you want to shoot for more than 2 hours, you will also need to bring a portable charger with you. Fortunately, it shouldn't be hard to find as the camera uses a USB-C connector.
I think the low battery life would be something most will complain about but it is what it is. There's a trade off for such a compact body and other amazing features, like the top quality audio.
---
Is the DJI Pocket 2 Worth It? (2023)
---
---
So…
Is DJI Pocket 2 worth buying in 2023?
I certainly think it is. It offers incredible features that you'll benefit from, especially if you're a vlogger/video content creator.
I also want to answer some of the questions you might have.
Should you upgrade from DJI Osmo Pocket?
I think it is worth upgrading.
Especially if you use it for its intended purpose on a regular basis, that is, taking vlogs. The second reason to upgrade is if your financial situation allows you and you want to try something new and interesting to create your content.
But if you rarely use the first generation Pocket action cam, say only on vacations, then I see no point in updating it.
Is Pocket 2 good for action and sports photography genre?
While the images taken by DJI Pocket 2 are pretty decent, you'd probably want a larger sensor camera for this kind of photography.
Generally speaking, sports photography cameras must have fast focus and high frame rate, and are better in low light conditions.
I think this DJI model would be more suitable for interviewing athletes, creating YouTube videos or livestreaming. For other purposes, consider one of these top rated DSLRs and action cams for sports photography.
Should you buy DJI Pocket 2 or DJI Osmo Mobile 4?
While they are similar, these are two different devices.
Therefore, you need to understand what you want from the shooting. If you need excellent smooth shots and maximum functionality – then choose DJI OM 4.
If mobility, compactness, and the possibility of inconspicuous shooting are more important for you, but at the slight expense of smoothness – then choose Pocket 2.
But I want to note that the frame will be smooth, it just won't be as high-quality as on a full-fledged steady cam like Osmo Mobile 4.
GoPro Hero 9 Black or DJI Pocket 2 – Which Is Better?
Truth is, a lot of people start to compare a Pocket to the standard action cams. But that doesn't really make sense.
If you want the drive, the adrenaline, if you plan on relaxing and taking shots by the water, whatsoever, then you need a (GoPro) action camera.
Pocket, on the other hand, is intended for people who want to get a compromise between high-quality image and the smoothness of the frame, while not sacrificing mobility and convenience. And it does its job well. 
For adrenaline-filled footages you'll definitely need a different device. Check out my list of the best action cameras and camcorders here.
Is DJI Pocket 2 worth the price?
I think a lot of people will find the price tag a bit high (under $500), but I certainly like what's being offered in the DJI Pocket 2 Creator Combo package.
Yes, it is more expensive than an action camera, but there are more possibilities.
I mean DJI Pocket is a modern device that, in addition to being compact, also boasts functionality. Especially when you connect it to your smartphone via the proprietary DJI Mimo app.
---
Final Thoughts
---
---
As of 2023, there are not many obvious competitors for this segment of action/gimbal cams with mini control sticks for creative videography.
Be that as it may, this is an excellent handheld camera that does all the functions, although it doesn't differ much from the first model in the DJI Osmo Pocket line.
Low-light video quality isn't the best, and the battery could be more durable. However, under normal conditions the camera shoots great, offers incredible audio quality and is great for recording vlogs on the go.
The Creator Combo package costs under $500 and offers a lot of accessories with it that you'll likely benefit from as a video content creator.
Now…
I'd like to hear from YOU:
Do you have an experience with action cams or previous DJI models?

What do you think of this DJI Osmo Pocket 2 review 2023?
Let us know your thoughts in the comments below!