Please note: As an Amazon Associate I earn from qualifying purchases. I also work with other affiliate partners and may be compensated from the links below. Details here.
October 31, 2021
3 Best GoPro Cameras for Kids and Teenagers in 2022 (Plus Cheaper Alternatives)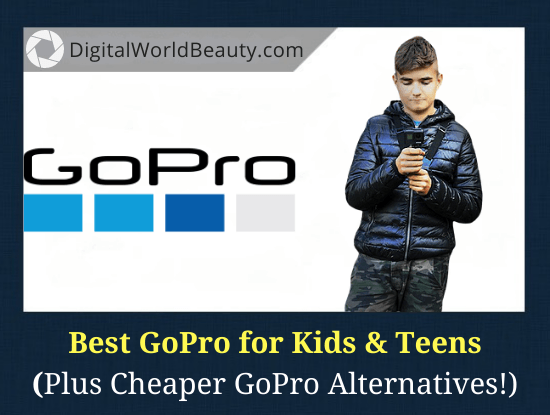 ---
Choosing the best GoPro model is a matter of personal preference. But what's a good GoPro for a kid/teenager?
There are several factors you can consider when choosing the best action camera for your little one – budget, features, age, etc. You just need to find the one that will suit your child's needs.
In this post, I will talk to you about:
So, without further ado, let's start!
---
What Is A GoPro?
---
---
What is a GoPro? What's so special about it?
You've probably heard people saying, "Hey, the new GoPro has been released!" and wonder why are they so hyped about it though? Just what is this product that's so popular not only to the adventure-seekers but also to teenagers as well?
GoPro is a brand famous for its action cameras. Ever since they started, the company has produced over 20 different models that have mostly become a major hit, on a global scale. Among the most popular ones is the Hero product line.
Below are the top 3 most popular options that people love:
| | | | |
| --- | --- | --- | --- |
| | | | |
| One of the latest & greatest models | | dual screens (front & rear) | |
| Best cheapest alternative | | robust build (land & water) | |
| The 360º camera that vloggers love | | unbreakable stabilization | |
Branding aside, there are so many reasons why people pay the extra price for having this tiny gear for outdoor adventures. Aside from its ultra-portability and multi-purpose, it offers an array of features that you can't enjoy in a regular DSLR, mirrorless, or compact.
Speaking of, you might want to also check out these articles:
But, are GoPro action cameras really worth the premium price tag? Read on to find out more!
---
Top 3 GoPro Action Cameras for Kids
---
There's no denying the GoPro products with a compact design are on the expensive end of the spectrum. While these are expensive cameras, if you're going for reliability, durability, and exceptional performance I think it's one of the best options you got right now.
Actually, buying this for a youngster has upsides and downsides.
READ ALSO: Is a GoPro Easy for Kids to Use? (Revealed!)
On a brighter note, it can withstand the usual kid's handling because of its durability, but on the other hand, it's a bit too expensive and when it breaks, that's gonna be a lot of money down the drain.
But hey, let's not focus on that yet! I'll let you be the judge on whether it's the right present for your kiddos. Let's first look at the top 3 best models you can give your tweens or teenage child, especially for their adventurous outdoor activities.
(With some cheaper GoPro alternatives to follow.)
---
1. GoPro Hero 7 Black: Best Price-Quality Ratio
---
Specs
Weight:

116g

Dimensions:

62x45x33mm

Connectivity:

WiFi, Bluetooth

Touchscreen:

Yes

Waterproof:

Yes

Battery:

1220 mAh

Photo Resolution:

12MP

Video Resolution:

4K
✓
Reasons to Buy
Durable

4 time lapse modes

Waterproof without case up to 10m

Intuitive touch screen controls

Removable batteries

Voice control feature (available in other 2 GoPros too)

User-friendly UI

Cheaper than newer GoPros

Instant sharing through live streaming

4K videos
✕
Reasons to Avoid
Short battery life

Still has a premium price tag than average action cams

Voice command feature still needs improvement

Average performance in low-light

Lack of microphone jack
---
GoPro has been releasing newer models pretty much quickly over the past few years. The thing with this trend is that most times, the upgrades are not significant enough, especially for non-serious photographers, to even notice.
If you are concerned with budget and spending money on a gear that your kid might end up destroying/damaging but still want a good product, then this one's definitely for you.
Although it is an older version (it's actually a very popular model), it doesn't mean it couldn't perform well. In fact, it has an excellent performance and offers the best price-quality ratio. Surprisingly, it can easily surpass the overall quality and performance of the average regular compacts today.
And remember that it comes with a waterproof housing, so it can handle the depths up to 131 feet underwater (40 meters).
READ ALSO: Can GoPro Be Used Underwater Without a Case?
Key Features:
The thing about action cameras is that they need to be extra reliable if you want to end up with decent motion shots. It's a crucial feature necessary to make up great videos. And with GoPro Hero 7 Black, you'll have that without a doubt! The brand deserves recognition for focusing on the things that really matter for a tiny action cam.
With the Hypersmooth feature in place, your images will surely have fewer unwanted blurs and your videos will have fewer camera shakes, making them more pro-grade. It's perfect for children who move a lot.
(Or even if they enjoy running with a GoPro.)
Though professionals say it isn't always about the resolution, we can never deny the fact that this plays an important role in creating great photos and footage. Even non-photographers will instantly know the difference between photos taken from a 10MP gear compared to something from a 20MP gear. 
For a device as tiny as this, a 12MP camera is good enough. It will let your kid take high-quality video and images without much effort. With a little knowledge of basic composition and post-processing, this much resolution can go a long way, even more than your average compacts.
Of course, very young kids will not be interested in that technical stuff yet, but hey, it pays to have a camera ready for a more serious photography hobby.
4 Different Time Lapse Modes
This model has 4 time lapse mode options that your kid will absolutely love. These include Time Warp Video, Time Lapse Video, Time Lapse Photo, and Night Lapse Photo.
By the way, I have a guide on how to do a time lapse video with a GoPro, check it out!
GoPro devices are known to have short battery life. Well, that isn't even so surprising considering how little they are (physically) and how powerful they are at the same time. 
But the good thing about it is that this model does have a removable battery. So grab extra batteries for your child to never miss out on any adventure. 
It's undeniable how much young people love sharing things on their social media. It could be food, new clothes, achievements – kids these days are more into sharing them with their friends through these platforms. And that's totally fine as long as it's done in moderation. 
With the Hero 7's live streaming feature, your little one can show his/her friends and family their real-time activities. This is actually quite amazing because it creates a feeling of togetherness, somehow. That though you are not with them on the adventure, you can still get updated on the things they are doing. 
---
2. GoPro Max: Best for (Vlogging) Teens & Tweens
---

Specs
Weight:

154g

Dimensions:

 64x69x25mm

Connectivity:

 WiFi, Bluetooth, GPS

Touchscreen:

Yes, 2″

Waterproof:

 Yes

Battery:

1600mAh

Photo Resolution:

 17MP

Video Resolution:

 5.6K for 360°; 1080p normal
✓ 
Reasons to Buy
360° capture

Video quality is pretty awesome

Easy video and image editing via Smartphones

6K video resolution with Max HyperSmooth

HD video and fish-eye effect even for RAW files

Excellent audio capture

Dual screens

Built in microphone is great

360° timelapse
✕ 
Reasons to Avoid
Still relatively short battery life (1 hour on the average)

Expensive

Regular video capabilities a bit inferior to other Hero models
---
Looking for more advanced gear for older kids or tweens with exceptional perfomance?
GoPro Max might be the best gift idea for them right now, especially if they also are interested in vlogging/becoming YouTube stars. Though closely similar to the older unit Hero 7, this one has other sets of features your enthusiast child will certainly love.
This innovative gear is a mixture of versatility and functionality in one tiny body. Its compatibility with most Android and IOS phones makes it even more appealing to tweens who are active in social media, and of course those adventurous types. 
Key Features:
This is the brand's 2nd model to have a 360° feature, a model that replaced the popular GoPro fusion. It's a very unique way to capture the world today. It's great for children who love to explore and experiment with different photography and videography techniques. 
Basically, this cam doesn't only capture what's in front, but also those at the back and sides as well. Your kiddo will never have to miss out on any detail of his adventure with the lenses of this gear capturing all the things happening around them.
The reason why this gear is perfect for older kids, or teenagers, is that it has more advanced features that younger children might not be able to fully utilize and appreciate. For instance, the built-in microphones (a total of 6!) are great for vlogging. 
They are extra sensitive and are strategically positioned in different parts of the camera. This means you get a really good audio input for your videos, unlike the previous Hero model above. The downside though, is it might capture unnecessary noise like accidentally tapping into the battery cover or what. 
But, you can always lessen these unwanted background audio by using a monopod, just so you don't end up ruining the sound quality of your footage in case you accidentally rub the camera strongly.
At one glance, it may look like a normal GoPro device, but at a closer look, you'll know that's definitely not the case. Instead of having only one lens, it has two! They are positioned back to back – which allows for the 360 degrees capture.
And when you imagine a camera having two lenses, you automatically think it will look bulky, but this model will prove you wrong. Despite having that much glass, it still remains as sleek as any GoPro unit. You can still easily fit it in your front pocket! (But don't! Or else you might damage the gear.)
Extremely Stable Horizontal Levelling
This model boasts a very reliable image and video stabilization feature. Despite moving around in a haste, you can be sure your footages are never too shaky nor too disoriented.
It's one of the reasons why runners prefer GoPro Max over GoPro Hero 7.
Thanks to the in-body IS, you get to enjoy stable horizontal leveling. Even if you toss this tiny monster up in the air, you'll get a really good orientation on the frame. It's a really good companion for those youngsters who love extreme adventures. 
---
GoPro Hero 10 Black: Best for Serious Teenagers
---
Specs
Weight:

158g

Dimensions:

71.8×50.8×33.6mm

Touchscreen:

Yes

Waterproof:

Yes

Battery:

 1720mAh

Photo Resolution:

 24MP

Video Resolution:

5K

Connectivity:

GPS, Cloud (subscription-base), WiFi, Bluetooth
✓ 
Reasons to Buy
Very durable

High resolution

for both stills and videos

Transform mode

Intuitive touch screen

Easy editing app

Hindsight feature

Rechargeable battery

Versatile

Awesome ergonomics
✕

 
Reasons to Avoid
Very expensive

Overheats when shooting 5k (but they're releasing a firmware update to address this)

For its price-point, battery life is very short

Heavier than most GoPro models
---
Choosing the best GoPro model is tough. Considering all their units are more expensive than other brands, you might as well think hard if this latest release is the best fit for your child. 
If in case your teenage kid is getting serious with photography and vlogging, then this could just be the perfect gift you can give them during this holiday season. I mean the video quality is pretty amazing and you get crisper photos.
Though there are several other cheaper alternatives, the top-notch features of this device can somehow justify the extra price. 
Key Features:
Being the newest addition to the family, this unit boasts a faster processor – the GP2! This works 2x faster than its older siblings, making it the most superior choice today. 
With this chip, your child will have lots of fun shooting with double-speed frame rates and improved performance for low-light venues. This is a game-changer for GoPro action cameras since they are reputed to have ave capabilities in dim environments. But with this enhancement, there's one less problem you can worry about.
Ever experienced wanting to suddenly shoot a once-in-a-lifetime event but your camera didn't quite get everything into frame from the beginning? Well, that's just downright frustrating!
But with Hero 10, that's no longer gonna be a problem. With the hindsight feature, your device starts recording 30 seconds before you even press the shutter button. This means, you will never miss a special or important moment again! 30 seconds is long enough to ensure the event is covered from start to finish.
Sometimes, fast-paced actions need to be slowed down, just so you can appreciate the moment better. When you replay your memories in slow-mo, it gives you more time to reminisce and ponder on how fun your adventure was. 
The good news is that Hero 10 offers a really admirable 8x slow-mo video feature – allowing you to highlight the most memorable moments during your trip.
Caught that big wave while surfing? Or even just planning to do a jump shot on the beach? No problem! Use this feature and that seemingly passing moment will be replayed at a dreamy-slow pace.
(Even though slow-mo is a video effect, GoPro has several photo effects too.)
If the basic Hero 10 isn't enough to keep up with your active lifestyle and specific needs, there's no need to worry! It's totally mod-ready, so you can focus on the things you ought to do. 
Planning a vlog and want to focus on GoPro audio quality? Then you can add an external microphone that's compatible with the little monster. If you are after having a bigger screen or just some sort of extra display, that can easily be accomplished with this model as well. You just have to find the right accessories that will meet your needs. 
Today, this unit boasts four different modes for you – Max Lens, Media, Display, and Light. Choose whichever you need, whenever you need it. 
It's not only the model itself that excels in performance. Its software and related applications have also been improved. Now, you can easily edit your photos and videos on your smartphones via the GoPro Quick App. 
This is the ultimate on-the-go photography and HD video lifestyle your child might be dreaming of.
Note: GoPro 10 is the newest release and still might have some issues to deal with like overheating and battery life, and if you consider Hero 9 model, that's a great one too.
---
Should You Invest In GoPros For Kids?
---
GoPro is undeniably popular, not only to professionals and active adults but also to most kids and teenagers, too. Has it ever crossed your mind why despite the premium price, many still covet their products? Well, it's about time you find out why it's a good gift for children.
Who would have thought that a camera only as small as your child's palm can hold so much power in terms of photography and videography? It's really amazing how much you can do with a GoPro gear.
Since you are teaching your kid to start early with the craft, might as well provide them with a reliable device that will help them "do more".
Though most of the models have small sensor sizes, which is quite expected given its tiny build, it can still produce really great images. I mean the image quality is great, I'll say more, it's even superior to the average cheap point-and-shooter.
Not only that, it can also capture videos, making your kid's childhood memories remain as vivid as they can be. It would be nice for your little ones to look back on how they spent their early life with so much convenience.
One of the main reasons why action cameras are more popular than regular compacts – portability. Not that I'm saying P&S is not portable enough. But, GoPros are designed to be ultra-compact, a gear that can fit the palm of your hand easily. 
Due to its size and design, even children with small hands can easily operate and carry it around, making it a perfect photography device for them.
When it comes to reliability and durability, GoPro always tops the charts. The brand's products are not only known to have great features, but they are also sturdy enough to withstand the toughest conditions, even in the hands of a young aspiring photographer.
Let's face it. Kids are often rough with gadgets. I mean, they sometimes don't know the consequences of mishandling their devices, and that's understandable. So, it would really be better to get them something that could keep up with their activities. Something that doesn't malfunction after one shallow drop. 
Innovations and consistency
Though most youngsters are not concerned with most of the technicalities, it is still great to provide them with a device that offers outstanding features. Teaching them the importance of these features will help them become more aware of what they can do with their GoPro. 
The good thing about this brand's products is that they keep upgrading to provide you with more power to do photography. This is something that will help your child appreciate his/her craft more, leading them to aspire to become better. 
---
4 Best GoPro Alternatives for Kids 2022
---
Now…
I know GoPro is almost synonymous with the collective term "action camera", but it's not the only exclusive brand having these products.
The action camera market is pretty big. So, if you are not a fan of their models for whatever reasons, you can always shop for (cheaper) alternatives as a gift for kids. 
Here are some other decent action cameras you can give your growing child this holiday season:
1. DJI Osmo Action Cam
Weight:

124g

Dimensions:

65 x 42 x 35mm

Connectivity:

WiFi, Bluetooth

Touchscreen:

Yes (rear screen)

Waterproof:

Yes

Battery:

1300mAh

Photo Resolution:

12MP

Video Resolution:

4K
✓

 
Reasons to Buy
Robust build and design

Very durable

Dual display with touchscreen rear LCD

4K at 60fps

Superb EIS
✕

 
Reasons to Avoid
Doesn't support live streaming

Lacks GPS

Absence of HDMI port

Average battery life
---
DJI is another popular brand with rugged design that can match the features of a GoPro device. In fact, it's one of GoPro's main competitors.
Osmo Action is perfect for your teenage kids who are into serious photography. It has so many useful functions that they surely will enjoy.
Key Features:
Creative shooting functions
As an aspiring photographer, your kid should never settle on plain shooting mode. It's always best to explore other ways to take your photos and videos to the next level. And, DJI Osmo Action will let them do just that. 
There is an HDR mode that will bring out more colorful footages your child can be proud of. Not only that, it also has a customizeable exposure setting, giving them the freedom to experiment on the right mix of brightness and contrast.
On top of that, there is a wuick switch button so that they can easily swap between different modes. 
This gear can take up to five voice commands for more convenience. Want to film or take photos without touching the cam? No problem! Just control the device using your voice prompt.
If GoPro has HyperSmooth, DJI boasts their propriety EIS known as RockSteady. It keeps the videos steady and lessens camera shakes, making it look more pro-grade. 
Probably the best part about this product is that it has a dual display, just like newer GoPro models. This makes it perfect for vlogging and it makes taking selfies easier than ever. 
No need to worry about missing something in the frame. With the dual display, you can perfectly compose your shots even if you are not looking at the rear screen.
---
VTECH KidiZoom
Weight:

540g

Dimensions:

1 x 2.3 x 2.2 inches

Connectivity:

USB

Touchscreen:

No

Waterproof:

Yes

Battery:

Li-ion rechargeable

Photo Resolution:

0.3MP

Video Resolution:

320 x 240p
✓

 
Reasons to Buy
Cheap

With games and other fun activities (built-in)

Ultra-compact

Durable

Waterproof design
✕

 
Reasons to Avoid
Low resolution

Limited features

LCD screen has no brightness adaptability
---
If you are looking for a simple starter camera for kids under 10 years of age, then this might just be the one you are looking for.
KidiZoom is perfect for kids with minimal photographic intentions, or those who simply want to have a toy camera. The only thing that sets it apart from other toys is that it can really take actual photos. 
Through this, you can start exposing your child to the photography craft, which might capture their interest as they grow up. Who knows? A toy camera today might pave the way for a rising professional photographer in the family.
Key Features:
Child-friendly design and construction
VTECH KidiZoom is perfect for children ages 4-9. The design and button layout are very simple and straightforward. It means, even at a young age, your kiddos can operate this thing. 
On the rear, there are only four controls – two arrow keys (left and right), a home/power switch, and an OK button. You can easily teach your children how to use them and they'll be ready to shoot their own videos in less than 5 minutes.
It's a bit surprising to know that even a kiddie cam like this has the ability to record slow-motion videos. Though not as high-quality as GoPro's, this will do for those who only want to experience the excitement of seeing things slowly moving. 
With three different mounts (bike mount etc)
This gives the device the versatility your child needs. The three mounts are for bicycles, skateboards, and helmets. So, you'll get to capture adventurous moments and milestone of your little one's growth (mind you, with excellent image quality).

---
Akaso EK7000 Pro
Weight:

115g

Dimensions:

6 x 4 x 3.3 cm

Connectivity:

WiFi

Touchscreen:

Yes

Waterproof:

Yes

Battery:

1050mAh

Photo Resolution:

16MP

Video Resolution:

4k
✓

 
Reasons to Buy
Rugged design

Cheaper than a GoPro

4K videos

Deeper waterproofing capabilities

Wrist band remote control

Electronic image stabilization
✕

 
Reasons to Avoid
USB ports gets hot after using the gear for a long time

Durability is inferior to counterparts
---
Sometimes people doubt between Campark 4K action camera and Akaso, but it is another brand that is a worthy GoPro alternative.
It's well-known for its very affordable yet high-quality products, and EK7000 Pro is among those. Equipped with an image stabilizer, your child's footages will certainly be praise-worthy.
Key Features:
At a very affordable price, it's hard to believe that this gear is even able to record 4K videos. But hey, it's definitely true that it can capture UHD at 25fps. Considering industry standards, that's pretty much a good frame rate within this price point.
If your teenager loves vlogging, then they will certainly like this feature as well. The adjustable angle allows them to choose narrow, medium, wide, or super wide angles in shooting the videos.
This is actually very useful in composing photos. If you need more room for people to get in the frame, then you can simply adjust the angle to make that happen.
Most devices can only go up to 30m even with a case, but this one goes as deep as 40m with it's new and improved waterproof housing. Plus, you can turn the diving mode so you can still get decent shots underwater even when with low light conditions.
This could very well be used as a dashcam since it also has a loop recording feature.
---
Dragon Touch 4K
Weight:

150g

Dimensions:

 

2.36 x 1.18 x 1.97 inches

Connectivity:

WiFi

Touchscreen:

Yes

Waterproof:

30m with case

Battery:

1050mAh

Photo Resolution:

16MP

Video Resolution:

4K
✓

 
Reasons to Buy
Wide-angle lens

Very affordable

Wireless remote control

Built-in WiFi

Intuitive touchscreen

Multi-functional

Free mounts and accessories

Decent price
✕

 
Reasons to Avoid
Short battery life

Max 30fps for 4K recording

Lacks a mobile app for easier editing
---
Dragon Touch Vision 3 is a promising, cheapest alternative to a GoPro device.
It boasts 4K video recording and the same waterproofing range of 30m deep. The only difference is that this unit needs a casing before you can dive with it. But it's not really that much of a problem since it comes with the package.
Key Features:
This feature gives you more freedom to do what you love, and still be able to operate your action cam simultaneously. The product comes with a wrist band capable of controlling the device without touching it. 
Why does this matter? Well, it's sometimes a hassle to find the shutter button when your camera is already mounted somewhere else, right? Like if it's already on your bike helmet, monopod, or say a tripod more than an arm's length away, it's more convenient to control it remotely. 
Doing a time-lapse is a great way to record videos without taking too much storage space. If your child is interested in a certain lengthy process like growing a plant or even just the sun setting, then this would be a great feature to help them observe and capture the moment. 
In a time-lapse, the video is compressed. Depending on the setting, 1-hour video footage can be converted to about a 10-minute clip or shorter. During the preview, the events are more in a fast-forward phase, only giving quick pauses on the video highlights. 
Not all action cameras exist only for the sole purpose of taking pictures and videos. Others can be used as a dashcam, and that's exactly what Vision 3 can do for you. 
If you are buying this for your teenager with a car, then this is totally a cool substitute for an expensive dashboard camera. They just need to turn it into driving mode and it can function according to its set purpose. (Or you can use it yourself.)
They can also turn on the loop recording option so that the oldest footage gets deleted to free up storage space for new files.
---
GoPro for Kids and Teens 2022: Thoughts?
---
---
With the holidays just around the corner, it's the time of the year again when we rake our minds with the best gift ideas for the kiddos to record their fun adventures. It's not a secret that young children outgrow hobbies very fast. So, it's best you give them something they can use longer.
If your child is the adventurous type, then one of the best gifts you can probably offer is a reliable action camera (it doesn't have to be expensive models, heck even Hero4 Silver would do!).
Point is, it will open up a whole lot of opportunities for them to learn and appreciate photography while doing the things they love. And this will help them preserve the memories of their childhood.
GoPro products live up to strict industry standards, which makes them so popular despite the hefty price. If you have the resources to invest in one, it's going to be a really nice present for your child who loves photography.
If you are on a budget or would want to do away from the mainstream gears, then there are other alternative action cameras for your kid's particular needs. 
Now, I'd like to hear from YOU:
Which GoPro model do you think is the best for kids and teenagers?

Have you tried using other action cameras aside from this brand?

Were they as equally reliable? 
Share your thought in the comments section below!