Please note: As an Amazon Associate I earn from qualifying purchases. I also work with other affiliate partners and may be compensated from the links below. Details here.
June 21, 2023
7 Best Beginner Cameras for Children Under 10 Years Old (Updated for 2023)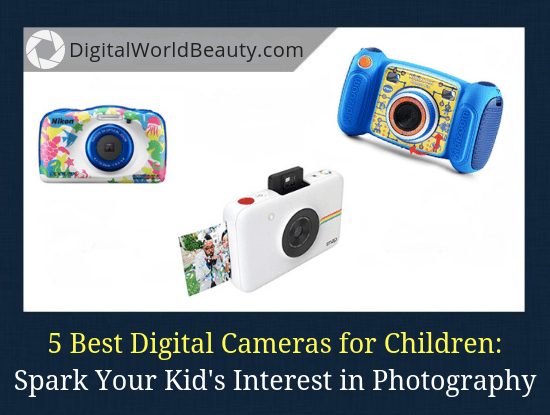 ---
What Is the Best Beginner Camera for a Child? [2023 Top 7 List]
---
Look…
If you yourself own a DSLR, you likely sparked your child's interest in photography. 
If that's true, then it's time to think about cool photography gifts for kids. In this post, I've prepared the top 7 list of best cameras for children right now.
(Most of which are OK 10 year olds and 5 year olds.)
Something tells me that they will be ecstatic about having their own photography gear. Have a look at this table to quickly see what might be best for your child.
Great budget option for toddler

2-in-1 (projector & camera)

sparks toddler's curiosity

Best starter camera for kids

Cheap action waterproof cam 

Best durable camera for kids

Unique camera with Lego design

"Adult" camera with children's menu

the "real" digital camera

Instant camera for Digital Age kids!

it's instant (built-in printer)

very easy for kids to use

unique, has a "wow" effect
Now:
Before we move on to actual kid-friendly camera options, let's quickly talk about how to choose the right product for them.
By the way, if you have children over 10-12 y/o, who are very much interested in photography, then you may consider reading these posts too:
Without further ado, let's get started.
---
How to Choose the Right Kid-Friendly Camera?
---
---
Some of the common questions are: 
What is the best cheap kids digital camera for 2023? What is the best first (real) camera for a child?
While it might seem that selecting one for your child is tricky, it's actually pretty simple.
Just think of the following when making a purchase:
durability

ease of use

(fun) design

low price tag
The good news is that children don't really need a lot of complicated settings.
Instead, what they need is a straightforward product that is also able to withstand the series of unfortunate events that they will befall it.
(As morbid as it sounds, this is actually the truth.)
This being said… Ideally you want get products that are durable. But more importantly, fun to use to keep sparking that creativity and desire to do more photography.
---
1. Playskool Showcam (2-in-1)
Projector & Digital Camera for Preschoolers
Type: Compact | Weight: 1,360 grams | Batteries: 4 AA Batteries | Durability: Shockproof | OK for kids under 5 y/o: Yes
Reasons to Buy:
2-in-1 product, can turn into a projector

Storage up to 1K pics

Comes with a built in photo editor

Has a grip and build similar to "real" cameras

Easy access buttons

Simple navigation

Affordable

Great choice for toddlers/preschoolers (1-3 year olds)
Reasons to Avoid:
Might be too bulky for a baby

Inferior image quality
---
Let's face it:
Children love to imitate what they see in adults. So if you love photography, there's a really big chance your child fancies it as well.
This is very true especially if they see you always with tech gear. And you know how a child's curiosity goes, right? If it hasn't happened yet, then one of these days they will probably come at you and ask to borrow your stuff.
Now, are you really going to let them play with your expensive gear? Probably not.
So, to satisfy your child's curiosity and for them to better appreciate your craft, why not give them a gadget that works the same way but fits their age?
This Playskool Showcam 2-in-1 Digital Camera and Projector is an amazing find.
It is a good product you can consider giving to your toddler this year. It looks and feels like a real "pro" camera, plus the bright colors that kids totally love.
It also comes with straps, colorful and easy to use buttons, and many more accessories that make it look like the real thing.
Plus, the body size itself is just right for a child's hand. So ergonomically speaking, it's great for children aged 3 – 6 years old.
But there's more.
Playskool Showcam does not only end in being a 'real gear' for preschoolers, but it also turns itself into a cool projector.
With this feature, your kids can enjoy viewing and showing off their snaps with the entire family. Plus, they can be as creative as they want to be since the product comes with a built in image editor. They can put stickers and stamps on their photos to make it more fun than it already is.
Oh, did I mention that you can also easily transfer the photos to your laptop using your own USB cable?
Well, there's a dedicated port for that but the cable is not included in the package. (I'm fairly certainly everyone already has one or two USB cables at home though, right?)
While it's a great creative camera for toddlers (3 year olds), it's not only good for 3 year olds, but you can also enjoy it with the whole family.
You can show your support to your budding little photographer by gathering in the living room to witness their showcase of images through its built in projector.
---
2.
Vtech Kidizoom
Best Starter Camera for Kids (3-5 Year Olds)
Type: Durable product for kids | Weight: 326 g | Batteries: 4 AA | Durability: Shockproof | OK for kids under 5 y/o: Yes
Reasons to Buy:
Easy to set up and

 use

Fun to edit the photos within

Feels like a real digital camera

Durability

Selfie mode

Photo collages and effects

Automatically turns off when not in use, prolongs battery life
Reasons to Avoid:
Takes low-quality photos

Has no flash

Not waterproof

Cover plates of the battery compartment easily come off

Can be a bit bulky for the little ones

Capture button has a bit of a delay
---
I tagged this product as the kiddie digicam because its functions are just like that of a regular digital camera.
The only difference is the funky design and simpler buttons.
(The reason behind it is obvious.)
Now…
Vtech Kidizoom offers 2.0-megapixel and a digital zoom that can zoom in 4x and with an ability to record videos. There is also a built-in micro SD card slot to allow for more storage.
All in all, it's one of the best ones for kids to use, especially if they are 3-6 years old. 
The features they'll love:
1) It's a durable kids camera and is designed to survive any tumbles and drips.
2) There is also a selfie mode that can automatically detect your kid's face.
3) It has photo collage templates, so your kids can enjoy editing the photos and adding effects. 
FYI: It is programmed with 35 photo editing effects.
It gets better: 
Vtech Kidizoom has 4 games. This means that your children won't get bored after taking some fun photos because they can also play the games too.
One last thing…
Personally, I have a habit of checking the battery life aspect of digital technology. And what I liked here is that Kidizoom automatically turns off when not in use, which therefore prolongs battery life.
(Speaking of which, you'll need 4 AA batteries for this one.)
All in all, it's a great durable choice for children under 10 years old.
Particularly, it's a great starter camera for 3-5 year olds. Even if your children are older (that is, under 10 years of age), I am sure they'll love it.
And what YOU will love is that it costs around $50.
---
3.
Ourlife Underwater Kids Camera
Best Underwater Camera (For 3-7 Year Olds)
Type: Kids action cam | Weight: 68 g (2.4 oz) | Batteries: Lithium metal | Durability: Shockproof, waterproof, dustproof | OK for kids under 5 y/o: Yes
Reasons to Buy:
Portable

Scene settings are fun to use

Comes with 8GB SD card

Pictures are bright

30-day money back and 12-month service
Reasons to Avoid:
Can't use under water for more than 2 hours

The included case bulks it up

Charging batter necessary every night

Isn't easy to review pics on the camera itself
---
Just keep swimming…
Like what the lovable Dory says in the movie Finding Nemo, you can just keep swimming and swimming.
With this product, though, your child can do more than just that.
They can also take pictures while underwater! 
Why did I add it to this list?
Fun design and constructed in a way that it'll be easy for your kids to deal with, it's dustproof and can survive underwater up to 3 metres, and it costs less than $50.
These 3 reasons already should be enough to want the Ourlife (or Prograce) action cam.
What else?
First of all, this baby is small and lightweight and runs on 1 Lithium metal battery (which seems to last). The control panel is pretty straightforward with easy-to-press buttons within. Each button only has a single function.
Capturing photos during the night is also not a problem because this product has a good resolution.
For adventurous children, this cam can potentially be attached to helmets, skateboards, and bikes.
Other people have used it to capture the precious moments of their baby. For what it's worth, it offers an 8MP photo resolutions  as well as 1080p/30fps video resolution.
All in all:
It a cool gift for kids (for toddlers too). I feel this this might be the best photography toy for kids for any occasion, especially considering it's under $50.
This baby is great because it's:
cheap,

compact and lightweight,

can be used for underwater shooting for up to 2 hours

an easy one for children to use (incl. 3 years olds)
You be the judge.
---
4.
Fisher-Price Kid-Tough
Best Durable Digital Camera for 5-7 Year Olds
Type: Durable choice for kids | Weight: 408 g | Batteries: 4 AAAA | Durability: Shockproof | OK for kids under 5 y/o: Yes, it's perfect.
Reasons to Buy:
Easy to set up

Shockproof

Can personalize pictures with effects

Controls can be managed easily

Computer connectivity is handy
Reasons to Avoid:
Not waterproof

Pretty bad battery life

Doesn't have flash

Has a shutter delay

Can only take decent pictures in bright light
---
This might be the best digital camera for 5 year olds.
Fisher-Price Digital Camera: The Classic:
At one point in time, you might have owned an older version of this product. It is as classic as it can be as it is the go-to option for kid-friendly cameras that runs on 4 AAA batteries.
It has simple features and controls that were made especially for toddlers and kids up to 6-7 years old. 
Needless to say that it has a shockproof body, so no amount of dropping and banging will leave it broken.
Like Vtech Kidizoom:
The Fisher-Price has a digital zoom that can zoom 4x. You can download a lot of special effects and frames. These effects are not applied after the photos are taken. Instead, they are applied while taking the photos. 
Unlike Vtech Kidizoom:
In Fisher-Price, the low light performance is better and it has a built-in memory that can house more than 2000 photos. Its colored, 1.44-inch TFT screen allows for photo and video playback.
Without a doubt, Fisher-Price Kid-Tough might be the best beginner camera for a child. 
Why I think it's great:
Easy to set up and manage

An extremely durable product for kids

The sound effects make it feel like a real one
Now…
It's a bit more pricey out of this list, but it's a better quality product too.
(And an excellent photography gift for kids under 7 years old).
---
5.
Lego Digital Camera
Unique Camera with Lego Design (For 7 Year Olds)
Type: Compact | Weight: 68 grams | Batteries: not specified but included in the package | Durability: Shockproof | OK for kids under 5 y/o: Probably, though best for 7-8 y/o
---
Reasons to Buy:
Rechargeable batteries (through USB cable)

Real camera

Unique design
Reasons to Avoid:
Not a high level photo quality (8MP)

Flash is too strong

Can store only up to 60 photos
---
Though it looks like it is made with a bunch of real Lego blocks, it's actually not.
There are only three pieces of true Lego pieces and it's on top of the flash and the upper leftmost side of it. Here, your children can attach their very own Lego blocks for a customized look.
And oh before I forget, I'd like to remind you that this is not a toy. It's a fully functional camera that lets your child store 50-60 photos in it.
As per manufacturer's recommendation, this device is perfect for children aged 7 – 15. But honestly, even kids as young as 3 years old are having fun with it. Thanks to the simple operation of this product, preschoolers can enjoy using it too.
It  just gets better…
This unique gadget comes with a 8MP lens that allows your child to take real pictures. With this device, you can encourage your child to develop his love for art and his creativity as well.
This body also comes with a flash, but don't expect too much from it.
From what I've gathered, the flash is just too strong that the resulting pictures are almost white. So this isn't really recommended for night use. And if it's not really necessary to use the flash, leave it off for better image captures.
This Lego digital camera doesn't use disposable batteries.
Instead, it can be recharged via USB cable to your laptop or a travel adapter. This makes it so much easier to carry around and it saves you money that's supposedly for the spare power packs.
All in all:
Lego blocks seems to be an all time favorite of children, regardless of gender.
They take so much joy in stacking up several blocks to create whatever toy they wish to have. Plus, the color scheme is really refreshing to eyes which makes your toddlers focus more on them.
But have you ever imagined it being a camera design for kids?
Well, I didn't really see that coming. With that design, this toddler-friendly product stands out and your kids will definitely fall for it in an instant.
All in all, this is a good gift for your little ones. It's a good starter pack for your child who loves photography or for those who just loves to keep mementos of their childhood lives.
---
6.
Nikon W100
Best "Real" Camera for Kids (7-10 Year Olds)
Type: Ultracompact | Weight: 177 g | Batteries: 2 AA | Durability: Shockproof, waterproof | OK for kids under 5 y/o: Yes
Reasons to Buy:
best for family use (and for vacations)

pretty waterproof

easy to use

lots of fun features for kids
Reasons to Avoid:
must be careful underwater (follow the instructions closely)

photo quality might not satisfy the adult photographers

pretty short battery life 
---
Now…
If you feel that your kids are old enough and would prefer an "adult" camera with children's menu, then I encourage you to check out Nikon W100.
It's also one of my recommendations for family vacations (with children), because the W100 is great for the whole family use, not just for the kids.
Why is that?
The design of the control system resembles a pocket game console.

The buttons on the Nikon Coolpix W100 are large and comfortable.
It gets better…
The children's menu allows your kids to take pictures in a game form, with animated characters on the screen, and they can put colorful stamps on already-taken shots.
For little photographers additional accessories are available such as a designer backpack, and a floating strap.
Here's the deal:
While this Nikon is ultracompact, it can withstand a drop from a height of up to 1.8 meters and dive to a depth of 10 meters. It's also capable to handle a cold weather of up to -10 °C, while retaining all its technical capabilities.
However…
(And this is important)
When you turn on the W100, on the screen you will see "waterproofing precautions" greeting.
Basically, it will guide you through so that water doesn't get into the camera when you're using it underwater or in bad weather conditions.
The thing is, battery compartment requires a two-step unlock process so that you don't accidentally open it underwater.
(Or when anything else that may get inside your battery compartment.)
So, make sure to follow the guidelines closely to avoid any issues while shooting pics under the water!
All in all:
Nikon W100 is a child-friendly digital product and is great for 7-10 years olds, and for family use in general. Your kids however will definitely enjoy it.
Remember though that it costs less than $200 and you shouldn't expect a top-notch photo quality.
For those of you who often go on family vacations and prefer adrenaline-filled trips, this baby is gorgeous.
---
7.
Polaroid Snap
Best Instant Camera (For 8-10 Year Olds)
Type: Instant camera | Weight: 397 g | Batteries: Built-in Li-on | Durability: Durable but not waterproof | OK for kids under 5 y/o: No
Reasons to Buy:
Value price

No AA batteries needed

Presence of memory card

Filters
Reasons to Avoid:
Flash doesn't go off

Won't take pics at night

Need a microSD to a firmware update
---
This one is a unique photo gift for digital age kids.
Just like Nikon W100, Polaroid is best for your older ones.
For 5 year-olds or less, it's not the best option for a number of reasons, but for the 8+ year-olds Polaroid Snap will be a unique gift.
I'll be honest, at first, I was doubting between Fujifilm Instax Mini 9 and Polaroid Snap.
But then I decided that the latter will better suit your children's needs:
it has simple controls,

large (print) photos,

and is convenient in size.
Basically, Polaroid Snap is a digital camera with a built-in printer. 
Now…
While to you it might be a thing of the past, for your children it will be unlike anything else.
This Polaroid was built with simplicity in mind, so it's very easy for kids to use.
The good news is that it comes with a built-in Li-on battery, so you can recharge it with your USB cable.
Keep in mind that while the body is made of hard plastic and can withstand minor hits, it's best to use a wrist strap that is included to avoid accidental drops.
Fujifilm Instax vs Polaroid Snap:
In the video above, Chelsea and her daughter talk about Fujifilm Instax vs Polaroid Snap, which will help you understand which one suits best for your child.
All in all, Polaroid Snap acts more like a unique photography gift for kids that they can take to:
birthday parties,

during school recess/lunch time,

anywhere else.
In our digital age, instant printing and pictures that can be seen on actual photo paper always cause a "WoW" effect.
Don't you think?
My 2 tips for buying:
The paper comes in packs of 10. Buy a lot of it in advance! (Specifically Polaroid Zink). Also, get  16GB or 32GB microSD card with it so you can update the firmware.
---
Best Camera for Kids? (The Verdict)
---
---
So…
All 5 options listed here are great in helping build a child's interest in photography.
However, you might have noticed that each of them excel in a specific field or is good for a particular age group.
You should decide what's the best camera for YOUR kid to use. 
Based on this article:
you have a good point-and-shooter for family use that has children's menu

you have an instant camera with a "wow factor" for our Digital Age kids

you have a good waterproof action cam, 

another one mimics a

professional digital camera,

also a no-fuss camera that is built to last,

there's one with the Lego design for all the Lego fans,

and a 2-in-1 creative camera for preschoolers.
It really depends on how old your child is.
Here's a recap of the products mentioned:
Best Beginner Camera for a Child? (2023)
---

Now…
If I were to name just one as the best kids camera, I'd probably say VTech Kidizoom.
Why? Because unlike previous years, children have become smarter and more demanding.
In a world full of tablets and smartphones, your child will surely appreciate a camera that closely resembles that of the real deal, instead of it looking like a toy.
(But for 10-12 year-olds, Nikon W100 might be a better "adult"-version option.)
Keep in mind:
These products all cost under $200 or even under $50.
You shouldn't expect a high image quality but what we are looking for here is the experience that your child will have when he or she is using their new photography "gear".
With the one from VTech, definitely, your child will feel like he or she is a professional photographer.
Either way…
All of the above make great photography gifts for kids.
Now, I'd like to hear from YOU:
How old is your child? 5 years old? 7 years old? 10 years old?

What is your price range? 

What is the best camera for a child, in YOUR opinion?
Let me know any thoughts, questions, and/or suggestions in the comments!
---