Please note: As an Amazon Associate I earn from qualifying purchases. I also work with other affiliate partners and may be compensated from the links below. Details here.
October 23, 2022
Are GoPros Easy for Kids to Use? (Revealed!)
---
Look, getting your kids their first-ever camera is not that easy.
For young aspiring photographers, you'd want them to start off with a decent gadget that doesn't break the bank and those that are not that hard to use. With tons of available devices in the market today, you'd probably take your time finding the best buy. 
GoPros, which are often coveted by adults, are among the top considerations for beginner action cameras. But, can a kid use a GoPro today? Is it worth the investment?
The thing about the GoPro action cam is that it is very easy to operate, even kids can do it. Since most of the settings are automatic, all there's left to do is press the shutter button and it's good to go. Young photographers will certainly navigate through the device much easier than your regular compact.
Today, we'll talk about:
why GoPro is good for kids

what are the pros and cons of using action cameras

the top 3 brand models to consider today
… and so much more. 
Without further ado, let's begin!
---
GoPro Features Perfect for Kids
---
Undeniably, action cameras are very versatile. But you can't help but wonder if GoPros are worth it, especially for your young action photographers.
By the way, here are the top 3 models worth considering today:
| | | | |
| --- | --- | --- | --- |
| | | | |
| One of the latest & greatest models | | dual screens (front & rear) | |
| Best cheapest alternative today | | robust build (land & water) | |
| The 360º camera that vloggers love | | unbreakable stabilization | |
So, just what are the features that would make it fitting for a child to use at such a young age? Read on below to find out!
DSLRs are good, even entry-level ones. But, can you really expect a child to enjoy carrying around a heavy gadget just to take photos? Certainly not.
Since children don't have as much strength to carry heavy photography equipment, the lightweight nature of an action camera is perfect for them. They won't have a hard time bringing it anywhere they go, so they don't miss out on anything extraordinary.
Moreover, these tiny gears are very portable, so your child can easily store them in his/her small bag without taking up too much space.
Let's admit it. Kids are very unpredictable, and that's their nature.
Whether you're on a family trip to a museum or you are spending the day at the waterpark, you don't have to worry about this camera. Your child can enjoy both activities and still capture the moments without a problem.
READ ALSO: Is GoPro Waterproof Without a Case?
Even without waterproof housing, most GoPro units can go underwater as deep as 10m. So, this is perfect if your child loves water adventures and swimming.
Kids can be tough with gadgets (most of the time!). But, that's not an issue with this brand since the units are built to withstand tough handling. Newer models are more durable and they can withstand bumps and drops. 
Though it's nice to teach your kids to take care of their cameras, there will be inevitable moments when they'd drop it due to whatever reasons. So, getting rugged gear will get you a long way. 
When it comes to navigation and operation, GoPro is pretty straightforward. Since kids don't really care much about manual settings, the device is perfect for them. With the presets and auto-modes, they can already take decent pictures with the camera. 
But if you are teaching your child to understand the basics of photography, you may also try introducing manual settings to them on the GoPro. Though it's limited, there are some things you can set manually on an action camera. 
Kids have petite hands, so it's fitting to get a device that will be ergonomically good for them, and GoPro is an excellent choice in this regard. The camera is so small, that it fits your regular pocket. So just imagine how convenient it will be in the hands of a child. 
Since kids have smaller fingers, it will be easier for them to access the physical buttons on the gear. Not only that, it will be easier for them to navigate through the small touchscreen portion (for newer models).  
Worried your child might not be able to capture the best moments right when it happens? Say no more! GoPros now have a Hindsight feature. This allows the camera to record the happenings for around 15 to 30 seconds (depending on your setting) even before you press the shutter button.
So, just turn on this feature and your kid won't miss anything from start to finish.
NOTE: If you have kids under 10 years of age, consider these starter cameras instead!
---
Is a GoPro Good for a Kid?
---
---
It's true there are so many features that make an action camera great for children. But, is it worth the investment? Are there some downsides in choosing this over other alternatives? Let's talk about this below.
Undeniably, GoPros are pricier compared to other alternatives. This is because it has excellent quality and premium features you can't find on other gears.
However, if you think about the cost-benefit of buying one, are GoPros good for kids in this sense? Well, maybe yes, but maybe not. Spending a lot of $$ for a gear that your kid might not use at its optimal capability might not be too wise.
Well, of course, if money isn't a problem, then there's certainly nothing wrong with buying your child one. But if you're on a budget, you might want to consider less expensive options.
READ ALSO: Best GoPro Alternatives Worth Buying Today
Adults would very much mind the specs and features of a camera, especially if you're a serious photographer. But kids? They might appreciate it as much as you do. Usually, they only care about taking the photo, regardless of settings and such.
So needless to say, it's a shame the full features won't get used totally. Unless you're in the process of teaching your child to take photography seriously, then this is definitely a good investment.
---
Top 3 Models to Consider (Price-Quality)
---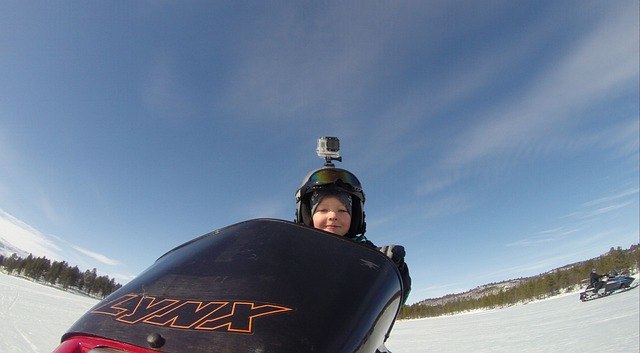 ---
Now, you have decided to get your kid a GoPro.
But just what model is perfect for them? Do you really need to get the latest unit at a hefty cost?
We cover this extensively in our post about the best GoPro cameras for kids and teenagers, but we'll quickly mention our top 3 recommendations here if you're in a rush:
GoPro Hero 9
You might be thinking, why settle for Hero 9 when there's a newer Hero 11 on the market? Well, of course, you should consider the value for money when investing in cameras, whether it is for a kid or not. For its price point, this model has so many features to offer and is great gear for young aspiring photographers.
GoPro Max
This unit is a bit underrated if I'm gonna be honest. It's actually one of the best models you can find from this brand. What makes it unique is that it allows your child to capture the surroundings – 360 degrees! Plus, it has 6 built-in microphones perfect if your child is into vlogging/wants to get into YouTube.
GoPro Hero 7
If you're looking for a gear with the best price-quality ratio, then it's always going to be the Hero 7. Being the cheapest one among the three options, this is the best value for your money. It has great capabilities and your child can enjoy various video modes on this unit.
---
GoPro for Kids: Final Thoughts
---
GoPros are very versatile and some of the best action cameras out there. Adults and kids alike definitely enjoy its rugged yet premium quality – in terms of physical design and resulting output.
Despite all the awesome features, the device is still easy to use and navigate, so kids can definitely use it without problems. Plus, you never need to worry about it getting damaged with rough handling because it's built for that.
(Not to mention that you/they would likely attach their gear on a helmet, bike handles, etc.)
Now, I'd like to hear from you:
Do you think GoPros are good for kids?

How old do you think a child should be to have a GoPro?
Let us know your thoughts in the comments section below!