Please note: As an Amazon Associate I earn from qualifying purchases. I also work with other affiliate partners and may be compensated from the links below. Details here.
January 16, 2020
My List of 15 Best Canon Cameras in 2020 (For Every Skill Level and Budget)
---
Canon camera list 2020: The 15 options worth checking out today.
---
I'm sure it's no secret for you that Canon is the world's leader in the market of photo and video equipment.
Their cameras are deservedly popular around the world due to the uncompromising quality of shooting, ergonomic design and a large selection of custom settings.
Today, the brand offers a wide range of quality gear in all price segments.
And this list will include the 15 best Canon cameras for 2020 across various categories and price points.
(I also focused on the models that offer great quality-price ratio.)
To speed your research up:
Let's get started.
---
---
Best Mirrorless Camera (for Hybrid Shooters)
---
Canon EOS M50
Type:

SLR-style mirrorless

Weight:

390

g

Resolution:

24 MP

Sensor:

APS-C (22.3 x 14.9 mm)

LCD:

Fully articulated

Touchscreen:

Yes

Weather-sealed:

No

ISO:

Auto, 100-25600 (expands to 51200)
---
Look…
If you are a hybrid shooter, looking for an awesome mirrorless camera under $1000, then consider the Canon M50.
It is a camera that I personally enjoy using for travel and YouTube purposes.
This year, it's one of the best affordable cameras that you can get especially if you're a content creator and like doing both photography and videos.
(Although I must add, while M50 has pretty good 4K at 24 fps, if you REALLY need the highest quality 4K video shooting, then it's not for you.)
The reasons why you'll love this baby:
cheap compared to DSLRs, and better quality compared to point-and-shooters,

compact and lightweight,

fully articulated LCD touchscreen,

easy to understand and use,

excellent image and video quality.
(Just to name a few.)
---
---
Best Mirrorless Canon Camera for 2020
(With Interchangeable Lenses)
---
Canon EOS M5
Type:

SLR-style mirrorless

Weight:

427 g

Resolution:

24 MP

Sensor:

APS-C (22.3 x 14.9 mm)

LCD:

Tilting

Touchscreen:

Yes

Weather-sealed:

No

ISO:

Auto, 100-25600
---
An enthusiast-friendly Canon EOS M5 became the flagship of the EOS M line. 
To compare it to the previous models:
The resolution of the pictures remained the same, 24.2 effective megapixels. The camera received a new image sensor with Dual Pixel CMOS AF technology, which provides more accurate and quick focus, even in poor light conditions.
In addition, Canon EOS M5 received the long-awaited built-in electronic viewfinder. 
On the camera EOS M3 you could use a removable electronic viewfinder, but it was supposed to be purchased separately for a considerable price.
What else?
In the EOS M5, 2.36 million points of the viewfinder form a very clear picture, suitable for manual focusing, especially since it also has an effective assistant in the form of a focus peaking.
The new powerful DIGIC 7 processor provides accurate and fast focusing, as well as a great burst speed: 7-9 frames per second (depending on the selected AF mode).
Improvements have also affected the image correction and processing system: the camera provides accurate transmission of hues and halftones, bright saturated color is preserved even at large ISO values.
A popular YouTuber iJustine had a video review on this:
Image stabilization has also improved:
In the video recording mode, a 5-axis electronic stabilization is now available, working in tandem with the system of optical stabilization of the lens.
The Canon EOS M5 will surprise you with low power consumption. 
When shooting in the cold with the use of various lenses, including lenses with optical image stabilizers, with the Eco-mode switched off on one battery charge, it is possible to make slightly more than 700 frames.
---
---
---
Best Canon Entry-Level DSLR for Beginners 2020
---
Canon Rebel T6i (750D)
Type: Compact SLR

Weight: 555 g

Resolution: 24 MP

Sensor: APS-C (22.3 x 14.9 mm)

LCD screen: Fully articulated

Touchscreen: Yes

Weather sealed: No

ISO: Auto, 100-12800 (can expand to 25600)
---
Here's the deal…
If you're a beginner, looking for your first entry-level DSLR specifically from Canon, then Rebel T6i (750D outside the North America) is probably the best choice for you that offers great price/quality ratio.
In fact, it's in my list of top recommended photo gear for 2020.
This camera comes with 24 MP sensor, fast and pretty accurate autofocus, articulated touch screen, and has Wi-Fi and NFC wireless connection.
I mean, it's great for…
vacations/travel,

shooting action/sports,

portraits and landscapes,
… just to name a few.
---
---
---
Best Compact DSLR for Amateurs
---
Canon Rebel SL1
Type: Compact SLR
Weight: 407 g
Sensor: CMOS
Lens: Zoom lens EF/EF-S
ISO: Auto, 100-12800 (25600 with boost)
Category: Best Canon DSLRs for amateurs
---
Another awesome little camera besides Rebel T6i is Canon Rebel SL1 (EOS 100D outside of the US). 
So, what can I say about it?
The camera has good technical characteristics:
it has high ISO values,

offers pretty great image quality,

it provides high-quality auto work, and,

a wide range of convenient for beginners auto modes. 
The burst rate of fire is not very high, but it is enough for amateur scenes – 4 frames per second.
Note: This is only relevant when shooting in JPG. If you shoot in RAW + JPG format, the speed of burst shooting falls after several frames.
Another great advantage of SL1 is the advanced technology of autofocus in Live View mode and in video shooting. And when recording, you can focus by touching the screen.
The drawbacks of the model include a short burst rate of continuous shooting in RAW and the absence of a tilting screen.
Below you will find an excellent video-review of Rebel SL1 (EOS 100D) by Larry Becker:
I think due to its small size and unique design, the camera will especially appeal to the ladies. It can become both a convenient friend for an amateur and an excellent starting base for a future professional. 
This versatility is a great advantage of amateur DSLRs.
I mean…
You can shoot in auto mode, using a kit lens, slightly adjust the pictures directly in the camera and immediately send them for printing, bypassing the computer. 
Or you can shoot in manual mode, controlling all settings, connect high-speed quality optics and external flash, use RAW format and conduct deep post-processing on the computer. 
The choice is yours.
---
---
---
More Budget Entry-Level Canon DSLRs
---
Canon Rebel T5i
Type: Compact SLR
Weight: 580 g
Sensor: CMOS
Lens: Zoom lens EF/EF-S
ISO sensitivity: Auto, 100-25600
Category: Best quality in the budget segment
---
Earlier I promised to share some alternative budget options to Rebel T6i. So I'll talk a bit about an older model from Rebel series – T5i (700D).
So…
This camera's 18-megapixel sensor allows you to shoot photos from ISO from 100 to 12800 (and up to 25600), as well as Full HD video at 30 fps. It's good system of hybrid autofocus additions in Live View was designed primarily for shooting video. 
Canon EOS Rebel T5i has a touch screen which is similar to smartphone screens: it reacts not to pressure, but to simple touch.
Because of that smarphone users will easily get used to the ability to browse through photos, and to use the multi-touch function to zoom in. Using the screen, you can control all the functions and shooting parameters.
(For what it's worth: A surface coating, borrowed from the mid-range Canon EOS models, increased the strength and durability of the screen.)
In Live View and Video mode – you simply focus by touching the screen and then press the shutter button.
The 7.7 cm (3 in.) fully articulated touch screen provides convenient settings, as well as shooting and viewing at different angles.  
Rebel T5i (700D) also offers great image quality, especially in the capable hands.
---
---
---
Best Canon Semi-Pro DSLR Cameras in 2020
---
Canon EOS 7D Mark II
Type: Mid-size SLR
Weight: 910 g
Sensor: CMOS
Lens: Canon EF/EF-S
Category: Best for advanced photography
Subcategory: Best reportage camera
ISO: Auto, 100-16000 (exp. to 51200)
---
I'll be straight…
There is no abundance of secondary functions in Canon EOS 7D Mark II, as seen in many modern novelties. But everything a professional photographer or a videographer needs is always at hand.
This camera is a real workhorse with a perfectly functional shooting capabilities.
This cameras…
excellent autofocus, both when viewed through the viewfinder and LCD,

high speed of continuous shooting and a large buffer,

high ISO performance, and,

a resolution of 20 MP sensor,
… allow using this Canon model literally in any scene: from the "greenhouse" conditions of the studio to the dynamic reportage.
A bit on features:
The heart of the Canon 7D II is the 20MP APS-C CMOS sensor which was built using Dual Pixel AF technology – each pixel is divided into two separate ones.
Technology makes reality phase focusing on 80% of the frame area. The range of operating sensitivity values is from 100 to 51200 ISO.
The continuous shooting reaches 10 frames/s – something that until recently only professional camera models could boast about.
Two DIGIC 6 processors allow you to make programmatic correction of distortion and vignetting directly during video shooting. The uncompressed 4:2:2 stream can be output and recorded via HDMI.
Other advantages that should be mentioned are:
the advanced ergonomics and options for additional settings,

the ability to work with two different types of memory cards,

the presence of an integrated and finely tuned GPS receiver, and,

a good battery life.
All this is more than enough to consider the "second Mark" a very competitive decision.
---
---
Best Advanced Level Canon Cameras
---
Canon EOS 70D
Type: Mid-size SLR
Weight: 755 g
Sensor: CMOS
Lens: Canon EF/EF-S
ISO: Auto, 100-12800 (25600 with boost)
---
Canon EOS 70D is an excellent choice for advanced amateur photographers who want to develop their photography skills. 
Now…
Brutus Östling, a professional wildlife photographer, said the following:
"I've got nothing but positive things to say about this camera, and I was delighted when Canon asked me to take part in some testing with it. It became very clear to me that here is a DSLR that is packed with some fantastic technologies to make photography more fun and exciting. It's perfect for capturing fast subjects and I used it very successfully to photograph birds recently. Anyone who picks up this camera will have no problems getting great pictures."
(And many pro photographers will agree with Brutus.)
One of the most serious improvements from its predecessor is the new CMOS image sensor manufactured by Canon APS-C format of 20.2 MP.
What stands this camera out is the new structure of the sensor Dual Pixel CMOS AF, which provides smooth and accurate auto focus adjustment for video recording in Full HD format, as well as fast autofocusing when taking photos in Live View mode.
The sensitivity range of ISO 100-12800 allows photographers to shoot under low light and use shorter exposures without compromising image quality.
Fans of video shooting will truly enjoy the stereo sound recording using the built-in microphone, as well as the ability to improve the sound quality with a plugged-in external microphone.
In manual mode, it is possible to fully control such parameters as ISO sensitivity and aperture. 
This freedom of action helps the user to improve their skills.
---
---
---
Best Semi-Professional Canon DSLR
---
Canon EOS 80D
Type: Mid-size SLR
Weight: 730 g
Sensor: CMOS
Lens: Canon EF/EF-S
ISO: Auto, 100-16000 (expands to 25600)
Subcategory: Best price/quality ratio
---
Look…
Even though there are no revolutionary changes visible, Canon EOS 80D still shows high development from its previous model. 
The camera presents a new sensor with a resolution of 24.2 MP, an improved DIGIC 6 processor and a slightly modified control scheme.
Now the heart of the camera is a new APS-C sensor resolution of 24.2 megapixels with a natural range of ISO 100-16000 and, most importantly, a two-pixel focusing system.
The focus in Live View mode is fully functional, works quickly and very accurately. Effective tracking focusing is available, which is especially important when you shoot a video. 
The ergonomics of EOS 80D is a successful compromise between size and convenience.
The camera does not take up much space compared to its full-frame counterparts and it's comfortable to shoot with it. It is also convenient to operate the camera using the touch interface. 
Fully articulated touch screen of Canon EOS 80D deserves a special praise.
Video shooting is possible in Full HD resolution with a frequency of up to 50/60 frames per second. The videographer is offered an excellent autofocus, the manual exposure control, and an input for headphones and a microphone.
Canon Camera Connect application allows you to shoot remotely. By connecting the camera to a smartphone or tablet via the built-in Wi-Fi or Dynamic NFC, you can send JPEG files to the smart device in full resolution. 
Everything in the spirit of the times. 
---
---
---
Top Rated Professional Canon Cameras 2020
---
Canon 5D Mark IV
Type: Mid-size SLR
Weight: 890 g
Sensor: CMOS
Lens: Canon EF
ISO: Auto, 100-32000 (50-102400)
Category: Best Canon DSLR cameras for professional photography
---
Look:
Canon EOS 5D Mark IV rightfully won the EISA Award as the best professional DSLR camera.
Here's why.
Mark IV is built around a new CMOS sensor, and its powerful image processing subsystem relies on a high-performance Digic 6+ processor.
The Canon EOS 5D Mark IV has a 30.4-megapixel full-frame CMOS sensor. Even though the resolution of the images increased to 30 megapixels, this did not affect the quality at all. 
The camera confidently captures images at ISO up to 6400, but if you want to publish an image on the Internet, it can provide good quality at much higher ISO values too. And when you make adjustments to a RAW file, there is almost no noise in it.
It gets better…
The EOS 5D Mark IV can shoot continuously at 7 frames per second with full autofocus and auto exposure, creating up to 21 RAW images or an unlimited number of JPEG images per shooting session.
Enhanced focus and metering functions of the EOS 5D Mark IV camera will not miss the moment and capture it even in difficult lighting conditions.
Recording functions in high definition 4K1 and Full HD with different frame rates, including slow-motion shooting 60p, expand the possibilities of video shooting on digital SLR cameras. 
---
---
---
Best Canon for Professional Photography 2020
---
Canon EOS 5DS R
Type: Mid-size SLR
Weight: 930 g
Sensor: CMOS
Lens: Canon EF
ISO: Auto, 100-6400 (50-12800)
Category: Best Canon cameras for pros
Subcategory: Best DSLR for studio photography
---
Canon introduced a 50-megapixel SLR camera – Canon EOS 5DS R. 
This megapixel monster is very similar in appearance to the Canon EOS 5D Mark III, but has undergone significant changes in the filling. Its main feature is a new CMOS-sensor of giant resolution and the "R" part in the name means the absence of anti-aliasing filter on the matrix.
The camera includes an electronic horizon level, which is output directly to the center of the viewfinder on a transparent LCD screen.
Especially worth noting is the EOS iSA system, which automatically analyzes the parameters of color, brightness, motion, contrast and distance to the subject. 
Based on iSA, the camera makes auto-correction of brightness, determines the position of people and optimal exposure parameters.
A few more things…
The range of sensitivity is ISO 100-6400 (extends to ISO 12800), shutter speed starts from 1/8000 to 30 seconds. The camera can shoot at a speed of 5 frames per second, which is quite a lot, given the "weight" of the images.
---
---
Another Great DSLR for Pro Photographers
---
Canon EOS 6D
Type: Mid-size SLR
Weight: 770 g
Sensor: CMOS
Lens: Canon EF
ISO: Auto, ISO 100-25600, (50-102400)
Category: Best professional Canon DSLR
Subcategory: Best price/quality ratio
---
For serious photography enthusiasts and pros, Canon introduced the Canon EOS 6D. 
This camera has the same size and weight as the EOS 60D. It is the lightest digital SLR camera with a full-frame CMOS sensor, which is ideal for shooting during travels, in the studio and in the open air.
In the EOS 6D, the full-frame sensor and high-quality shooting in low light are combined with a compact, reliable and lightweight design.
It is equipped with a new full-frame CMOS sensor with a resolution of 20.2 MP. Images made with it can be printed in a poster format and framed without sacrificing quality. The ISO sensitivity range from 100 to 25600 (50-102400 expanded) allows you to effortlessly obtain clear, natural photos in low light.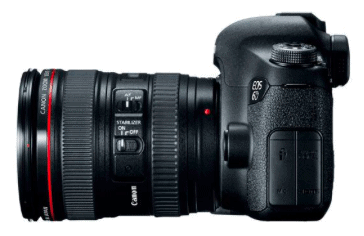 The 11-point AF system has the best performance when shooting in low light conditions.
Accuracy of focusing is maintained at an illumination level up to EV-3 (corresponding to moonlight), which makes it possible to shoot night landscapes or portraits and transfer the natural atmosphere of the scene with a minimum noise level.
Also, Canon EOS 6D was the first EOS camera with the ability to connect to Wi-Fi and GPS networks, allowing you to take photos and immediately add geotags to them, as well as transfer pictures over to the cloud storage, to a computer or smartphone.
Pretty awesome.
---
---
Best Cheap Canon Compacts Right Now
---
Canon PowerShot SX610 HS
Type: Compact
Weight: 191 g
Sensor Type: BSI-CMOS
Lens: Canon Zoom 18x
Autofocus: Contrast Detect (sensor)
ISO: Auto, 80-3200
Category: Compact digital cameras
---
You have an excellent opportunity to diversify your blog or social networking page with nice pictures made by Canon PowerShot SX610 HS.
This Canon camera is a good everyday companion. It is also a great compact camera for family vacations (with kids). 
Being a pocket size with a weight of less than 200 grams, it definitely will not weigh you down.
Now…
Despite its small size and weight, the camera has everything you need for everyday shooting:
an 18x zoom with stabilization, and,

a focal length range of 25-450mm is suitable for both landscape and subject photography. 
You'll also be happy with the level of autofocus that is pretty fast at any focal length.
The ZoomPlus function enhances the zoom capability by twice as much, without serious loss in image quality.
Also, Canon PowerShot SX610 HS has an optical image stabilizer, which promises less blurry images when shooting in low-light conditions.
(This is important for a lens with a large zoom level.)
This camera both fully auto and program mode of operation. In addition to auto and program modes, the camera menu has a hybrid auto mode and a creative auto mode.
In the hybrid mode:
Photographer produces small video clips, which are then automatically pasted into one large video clip. This way, besides actual photos, you'll have an interesting video digest of your adventures.
In the creative auto mode: 
After pressing the shutter, the camera automatically selects and applies special creative filters to the finished image.
Both of these modes will appeal to creative photographers, who like creating extraordinary photos and videos.
The shots that you took can later be viewed on a smartphone or a tablet, which then can be downloaded online or stored in the internal memory of the device using Wi-Fi and NFC. 
And if you install the Canon Camera Connect application on your gadget, you can also remotely control the camera.
---
---
Best Compact Cameras from Canon 2020
---
Canon G1 X Mark II
Type: Large sensor compact
Weight: 553 g
Sensor: CMOS
Lens: 5x zoom
ISO: Auto, 100-12800
Category: Best Canon compacts 2020
---
This camera has been top rated since 2014.
This is the choice of those who look for a compact digital camera, who appreciate and ready to pay for its quality. 
Canon PowerShot G1 X Mar
k II is a compact camera with a high-quality lens and a large 18.7 x 14.0 mm sensor. Thanks to a balanced set of features, this compact is perfectly capable of replacing a DSLR.
I'll say that the main strength of G1 X Mark II is its high-quality optics. A light lens (the aperture opens before F2) at close distances will allow shooting without a flash even when there is a lack of good light.
Beginners will like a large set of automatic modes, creative filters, and convenient touch controls.
More experienced photographers will appreciate the advanced ergonomics of the camera, the possibility of resetting the controls, and a great work of the HDR mode.
You'll also love the built-in neutral filter, the ability to shoot in RAW, and the compatibility with system accessories (flash, electronic viewfinder, filter holders).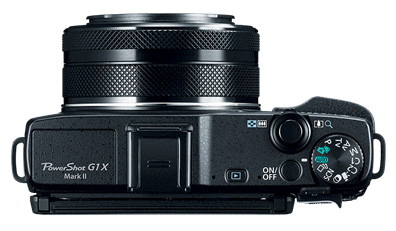 The successfully implemented a Wi-Fi interface allows you to connect the camera quick and easy with a laptop/smartphone for:
sharing pictures,

uploading files to your cloud, and,

printing them wirelessly.
You can also remotely control the camera using mobile devices and even use the smartphone as a GPS-logger. 
Remote control is especially appreciated by selfie lovers.
PowerShot G1 X Mark II could be called an ideal compact, except there is no viewfinder. You  can purchase it separately, but obviously this will increase the cost of the camera (by one and a half).
---
---
Best Budget Compact with 1-inch Sensor
---
Canon G9X II
Type

: Large sensor compact

Weight

: 206 g

Sensor size

: 1″ (13.2 x 8.8 mm)

Resolution

: 20 MP

LCD

: Fixed

Touchscreen

: Yes

ISO

: Auto, 125-12800
Category: Best Canon compacts 2020
---
Let's face it…
A lot of Canon's Powershot G series compacts were named as the best ones on the market lately, and for good reason.
In fact, this particular product was included in my list of top rated big-sensor compacts right now. (Which are also great alternatives to bulky DSLRs).
The features worth mentioning:
The G9 X II offers a focal length of 28-84 mm, an aperture of f/2.0-4.9 and a 3x optical zoom. It's also equipped with a touch screen, Bluetooth, Wi-Fi and NFC wireless modules, as well as HDMI and USB ports.
Photo enthusiasts who love traveling will appreciate the camera's low weight of 206 grams (including battery) and impressively small dimensions of 98x58x31 mm.
However, for the sake of compactness though, the battery life isn't as phenomenal as we'd want it to be.
(So, just in case keep a spare battery handy.)
---
---
Bonus Section: One More Camera for Beginners
---
Canon EOS Rebel T5
Type: Compact SLR
Weight: 480 g
Sensor: CMOS
Lens: Canon Zoom Lens EF/EF-S
ISO: Auto, ISO 100-6400
Category: Cheap Canon entry-level DSLR
---
I decided to leave this section here for beginners, in case you weren't satisfied with the other 3 entry-level DSLRs.
This is a classic model of the 1000th series: extremely simple and friendly to the user.
It is designed for an amateur, for whom it is either the first camera in general, or the first camera with interchangeable optics.
The set of controls in Rebel T5 is very close to the usual amateur Canon DSLRs, minus the most expected, perhaps, part – the touch screen.
(I think the manufacturer decided to sacrifice the touch screen and a tilting LCD in favor of maximum "easing" the model due to its entry-level status.)
The camera control interface doesn't cause any issues, you quickly get used to it.
Most functions and control responses are quite intuitive, especially for those who have dealt with Canon's DSLR cameras before.
The APS-C sensor of the Rebel T5 (EOS 1200D) has grown from 12 to 18 megapixels compared to the previous model – Rebel T5i (EOS 700D) – with a high enough for the amateur camera image quality. 
The sensor has an ISO 100-6400 range (expandable up to ISO 12800), and the camera rate is about 3 frames per second at the maximum resolution at a series length of 69 JPEG frames and 6 RAW frames, which is enough for most amateurs.
Autofocus is standard: 9 cross-shaped sensors that cover a small frame area.
For smartphone owners, there is a pleasant surprise – a special EOS Companion application, which is both a detailed guide to the camera and a small photoschool for beginners. 
---
---
---
The Top Rated Canon Digital Cameras for 2020
---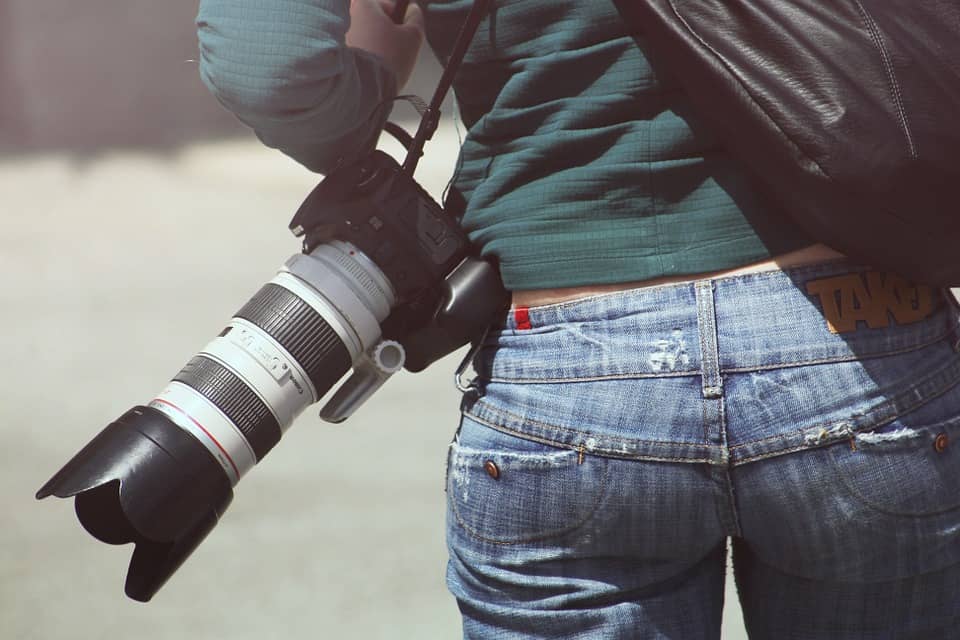 ---
It's no secret for everyone that Canon is the world's leader in the market of photo and video equipment. 
But it is important to take into account that the company took relatively little time in releasing point-and-shoot cameras, so it does not have such advantages over its competitors, as in the production of SLR cameras. 
Canon fans appreciate the intuitive menu and pleasant color rendition in warm tones of Canon digital cameras. 
Now, in order to help you make an educated buying decision, I decided to create this list of the absolute best Canon cameras across various categories and price points.
Here is a reminder.

Like I said…
Canon is the world's leader in the market of photo and video equipment. 
Almost a century of the company's history often becomes the decisive factor when choosing a camera. The Canon logo can found both on budget compact digital cameras and professional DSLRs. 
Its main strength is producing quality DSLRs and that's why in this roundup it's what you saw the most.
I mean, Canon is taking the first steps in the use of mirrorless technology, but it is still far from the market leaders.
It is said that the world of photographers has divided into "Canoners" and "Nikonians", but I think this is due more to the force of habit than to significant differences between Canon and Nikon. 
---
Canon Camera List 2020: Your Thoughts?
---
Now…
I'd like to hear from YOU:
Are a Canoner or a Nikonian? And why?

Are you an amateur photographer or a pro?

In your opinion, what is the best Canon camera for amateurs? And what DSLRs are best for advanced photographers? What about mirrorless cameras?
I'd love to hear your thoughts about this Canon camera/ratings list for 2020!
---
Sharing is caring!
About Author
Zarina
Founder & content creator at Digital World Beauty. My main objective here is to create a valuable resource for photography enthusiasts with honest tech reviews, course recommendations, and how-to tutorials.