Please note: As an Amazon Associate I earn from qualifying purchases. I also work with other affiliate partners and may be compensated from the links below. Details here.
May 3, 2019
Best Time of Year to Buy a Camera (A Guide on How to Get Good Photography Deals)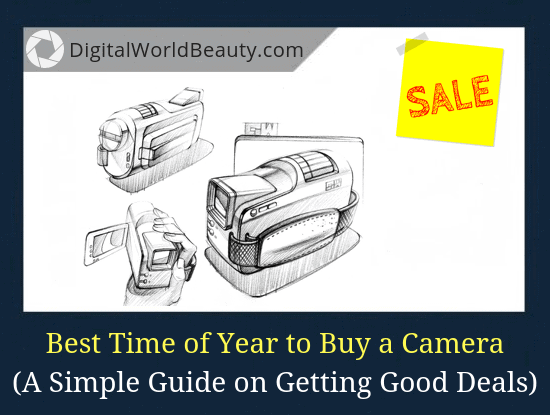 ---
Here's the truth:
Smartphone cameras aside, great digital cameras can dig a deep hole in your wallet. You can attribute the high prices to the high production costs involved such as manufacturing and optic testing costs.
However, you can get hot camera deals if you know exactly when and what to purchase.
So…
In here, I'd like to provide my thoughts on the best time of year to buy a camera.
---
---
3 Things to Keep in Mind Regarding Cameras
---
There are a few things that you need to know that'll help you understand when to buy photography-related equipment.
First:
For cameras above $1,000 there aren't really seasonal sales. It'll go on sale whenever the company is planning another model, or sales are down.
(Say January or February.)
Second:
As a rule, the season for selling photography equipment is during warm sunny times (when it is in demand) and right before the holidays (when it can be a gift).
While you do get pretty good deals before Thanksgiving/Christmas, in the summer you only might to find a good deal during Amazon's Prime Days in July.
Third:
You also should consider the times when the new camera models are about to get released, because then you can get great deals on the previous camera models.
This being said…
Based on this info, you can keep in mind approximately when it is the best time to start considering to buy a new DSLR/mirrorless camera.
---
What Is the Best Time of Year to Buy a Camera?
---
---
So:
Many people will argue that the best time to purchase a camera is the period between November and January.
The times vary with the manufacturer, though.
Every January, you might have to look out for the Consumer Electronics Show. The retail prices at this time are at their lowest. If you happen to miss out, look out for deals from November to December, especially Black Friday and Cyber Monday.
Sometimes the deals at this time are slightly worse than those of January but you can purchase a camera at a reasonably good price.

However, reliable deals can also be found all year round.
If you are keen enough, announcements on promotions and discounts will definitely not pass you. Some camera specializing companies like Adorama and B&H Photo Video usually make announcements about their deals.
Others, such as Amazon and Best Buy, also do.
(Amazon is not so open about their deals but do keep an eye on Black Friday and July Prime Day deals.)
During the Consumer Electronics show, you might hear announcements on some new models after which they get released in a few months.
So, if you're lucky enough, you may also get good deals on new arrivals in April and May.
---
What Is the Best Place Online to Buy a Camera?
---
I don't know how about you, but a lot of purchases (photography-related too) I make online, mainly, through Amazon.
My reasons for Amazon:
I tend to find the best prices on Amazon,

fast delivery

(try Amazon Prime FREE,

if you still haven't!), and,

great customer service.
---
---
But, of course, there are other places where you can buy new and used gear.
Other online places to buy cameras:
If you'd like to purchase used gear, consider the following:
Just to name a few.
(For what it's worth, Adorama also offers used gear.)
---
How to Get a Good Deal on a Camera
---
OK.
First, ensure you plan ahead and be patient enough to wait for the best times of year.
You could use a price tracker to determine if the price is really the lowest. Also see if you can source better camera deals from other brands apart from the mainstream.
For instance, if you are used to Nikon and Canon, try witching to other models such as Pentax, Panasonic, and Sony, among others.
Listening to announcements is key to keep you informed on coming better deals.

Retailers work towards clearing their current stock at their stores and getting ready to bring new releases. If you access the internet, some online dealers do a lot of discounting.
Now…
To keep an eye on deals, you may want to sign up to the following few places:
CanonPriceWatch.com

NikonPriceWatch.com

SonyPriceWatch.com

SlickDeals.com
I hope these give you a good idea where and how to get a good deal on a camera.
---
How to Select a Camera for Personal Use?
---
---
Here's my piece of advice:
Please, don't obsess over photography equipment.
Often I see that people start looking for a brand/camera models and just end up in this vicious cycle of constant research and comparison process.
Believe me, it can turn into a vice!
Find a camera/photography accessory that you feel suits you best, get it and enjoy it!
The sooner you receive your package, the sooner you can start to enjoy your passion for photography. Right?
Now…
How to select a camera for personal use? What is the best one to buy today?
It's my assumption that if you're asking this question, then you're a beginner or an enthusiast photographer. 
You may check out my main photography gear recommendations here, but I'll also include a few highly rated options for you to consider in this post.
So:
Today's excellent entry-level DSLRs on the lower price end are:
… Just to name a few.

Your selection will ultimately depend on your needs, photography genre and current photography skill level.
Additional resources for you to check out:
What about a camera for professionals?
Well…
If you want one with top notch image quality and high end features, consider the following award-winning cameras:
Sony a7R III

Canon EOS 5D III
But consider these options only if you plan to shoot professionally!
Last thing:
If you have any questions, leave them in the comments below and I'd love to help you find the dream camera that's right for YOU.
---
What to Look for When Shopping for a New Camera
---
Output image quality:
Your primary purpose of buying a camera is to take pictures.
But, you need them to look decent and crystal clear. Therefore, you will get yourself a camera which can produce images with high definition quality.
The quality depends on a combination sensor sizes and camera resolution.
Pricing:
Camera prices range between $150 and thousands of dollars.
In most cases, the cheaper the camera, the lower the quality of its images and the higher the limitation. Again, this draws you back to carefully examining your needs. 
If you need high quality images and high-end features, then you might want to plan your budget much earlier.
(Compact cameras, for example, are usually much cheaper than DSLRs.)
Specifications/features:
Cameras can either be classified under DSLRs, compact, mirrorless and interchangeable lens cameras.
DSLRs produce better quality images, are bigger in size, have bigger sensors, more effective lenses, and better processors than those of compact cameras.
Compact cameras are smaller and portable.
Mirrorless and interchangeable lens cameras have features of both DSLRs and compact cameras.
Chance of future upgrades:
Photography experts need to consider upgrade ability of accessories such as lenses, flashes, filters and other important camera parts.
Such cameras are very expensive to entirely replace.
If you take pictures just for fun, you don't need to think about upgrading your cameras. Since they cost as low as $150-200, you can just buy a better one for a slightly higher amount.
If you use a camera from Nikon and you liked it, you will probably buy a newer and better version from the same brand.
Ready to crush it as a photographer this year?
Get this practical photography course to take you from zero to photography hero in a matter of weeks. Get started today!
---
---
Are Camera Bundles Worth It?
---
A camera bundle includes the camera itself and the photography accessories.
These may include a camera, lenses, a camera bag, memory cards, tripods and batteries.
Regardless of the consumer needs, if you're planning to use every accessory, camera bundles are worth investing in because they save money. Your needs are still important because they determine camera bundle you get.
Test the whole camera bundle before purchasing it and seek recommendation of camera enthusiasts.
But as a rule, camera bundles are often great.
Especially for beginner photographers who are not very sure what they need to get.
---
Best Time of Year to Buy a Camera: Final Thoughts
---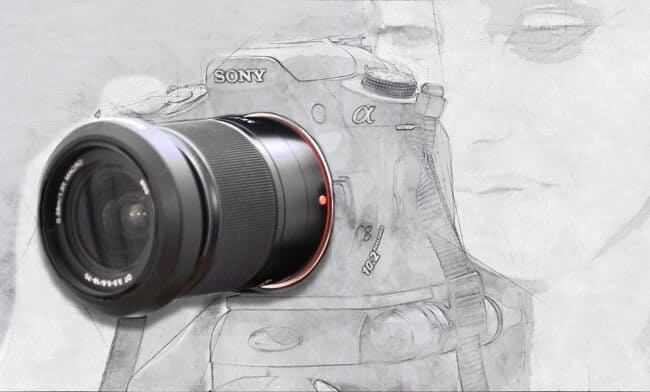 ---
Once again:
When is the best time of year to purchase a DLSR or mirrorless camera?
This depends on the model and also consumer needs.
If you are a hobbyist or an expert who doesn't mind using a previous model, the best times for your purchase are after/before the holidays.
(Specifically January-February and September-October.)
If you just want the latest camera options, your best times are likely 6 months later after the camera release.
(Often you can find good camera deals in April, May and after Christmas.)
Social media lovers can get reliable deals in March, April, September, and between Thanksgiving and Christmas.
Earlier I mentioned good websites to get used gear, or how to get a good deal on new gear, take advantage of those links!
Now…
I'd like to hear from YOU:
What is the best time of year to buy a camera in YOUR opinion? Let me know your thoughts in the comments!
READ NEXT:  How to become a better photographer in 31 days.
Sharing is caring!
About Author
Zarina
Founder & content creator at Digital World Beauty. My main objective here is to create a valuable resource for photography enthusiasts with honest tech reviews, course recommendations, and how-to tutorials.