May 3, 2019
Best Time of Year to Buy a Camera (A Guide on How to Get Good Photography Deals)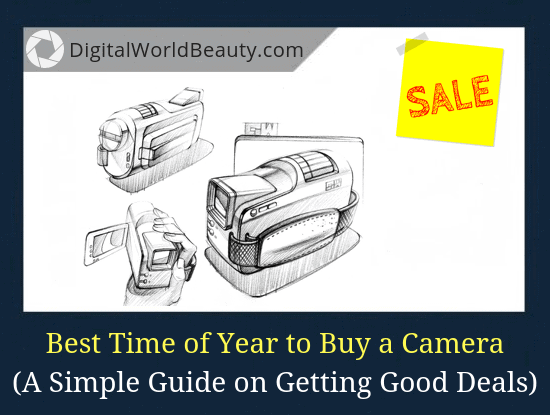 ---
Here's the truth:
Smartphone cameras aside, great digital cameras can dig a deep hole in your wallet. You can attribute the high prices to the high production costs involved such as manufacturing and optic testing costs.
So…
In here, I'd like to provide my thoughts on the best time of year to buy a camera.
---
3 Things to Keep in Mind Regarding Cameras
---
There are a few things that you need to know that'll help you understand when to buy photography-related equipment.
First:
For cameras above $1,000 there aren't really seasonal sales. It'll go on sale whenever the company is planning another model, or sales are down.
(Say January or February.)
Second:
As a rule, the season for selling photography equipment is during warm sunny times (when it is in demand) and right before the holidays (when it can be a gift).
While you do get pretty good deals before Thanksgiving/Christmas, in the summer you only might to find a good deal during Amazon's Prime Days in July.
Third:
You also should consider the times when the new camera models are about to get released, because then you can get great deals on the previous camera models.
This being said…
Based on this info, you can keep in mind approximately when it is the best time to start considering to buy a new DSLR/mirrorless camera.
---
What Is the Best Time of Year to Buy a Camera?
---
So:
Many people will argue that the best time to purchase a camera is the period between November and January.
Sharing is caring!
About Author
Zarina
Founder & CEO of Digital World Beauty. My main objective here is to create a valuable resource for photography enthusiasts with honest tech reviews, course recommendations, and how-to tutorials.