Please note: As an Amazon Associate I earn from qualifying purchases. I also work with other affiliate partners and may be compensated from the links below. Details here.
June 12, 2023
How to Make Money from Photography as a Teenager: Turn Your Passion Into Gold!
---
How to make money as a teenage photographer in 2023?
---
Look:
Mastering your craft is one thing, but making money out of it is another story.
As teenagers, there will come a point in your life when you will feel like you need more funds than the allowance you get from your parents. This happens all the time, especially during long school breaks.
While there are several ways you can make money at your age, today we will be talking about one activity in particular: photography.
If you are a budding teenage photographer, then this post is for you.
Here, you will learn different smart and practical ways on how you can earn real money just by doing what you love doing: taking photos.
An overview of what to expect here:
Ways to Make Money as a Teenage Photographer
---

I will also talk in detail about starting a photography business as a teenager and why it's a good idea to consider if you want to build passive income and have the most freedom you can have in a few years.
(And by the way, these options also work for adult photographers too, not only teens.)
Without further ado, let's begin.
---
Several Ways to Earn Income from Photography
---
---
Actually, there are several ways on how you can earn money even if you're 15.
One is by asking your neighbors if they have some errands you can do, babysitting, dog walking, and many other not so demanding part time jobs.
But do you know what's the best way to earn some cash as teenagers today?
It's turning your hobby into a money-generating activity.
But how can you do that? Let's find out.

This is the simplest way you can earn money from your photography hobby.
To some enthusiasts, taking photos mean saving it in the gallery and looking at it from time to time.
But if you want to actually make money out of this craft, you gotta start thinking how you can market your photos without stressing yourself too much.
Since you are young, you don't really need a very grand marketing plan to make it work.
Actually, you can start off by asking your friends, relatives, neighbors if they want to have their photos taken in exchange for a fee.
You can start by doing headshots because they will probably need ID photos at one point or another.
If you have a prospect client who loves landscapes and nature, you can let them see your collection of nice scenery images that you've taken. Or they might be interested in having their pets photographed, so you can take advantage of that.
For this first step into making money from photography as a teen, it's important you seek support from your local community first.
Then once you become better at your craft, you can expand your network and make your way up to bigger opportunities.

One of the commonly asked questions is how to make money as a photographer on Instagram.
Reward Pay is a website popular among influencers, and it's easy to see why.
It offers you a platform where you can promote brands of your choice and make money out of doing so. You can earn cash by sharing your content to a wide array of audience.
Every click pays and sales will give you commissions. You can choose from variety of brands from travel, food, fashion, entertainment, and many more.
So basically, it's like an affiliate program (more on this later) where you get to take advantage of your large social media following.
You just need to create one account and the site will give you access to over 3000 brands and you can choose any of those based on your own liking.
In this platform, you have the freedom to post your own photos while still promoting the brand you chose.
And did I mention that you also get to select specific promotional offers that you can advertise on your social media accounts? This way, you'll have more flexibility in earning cash as teenager while still enjoying your photography hobby.
Although I gotta warn you though, being an Instagram influencer is pretty tough these days. Just like with anything else, you'd have to put in a lot of efforts to build a loyal audience and make it work.

Create an account with money-paying sites for stock photos
Nowadays, a lot of websites pay for stock photos for whatever purpose they might need it.
How much money can you make selling stock photos? That depends on a bunch of factors.
Check out this video below how James made $35,000 part-time:
Point is…
Some use stock footage for business, while others may use it for advertising purposes alone. Whatever the case may be, these sites pay for your photos after they verify its authenticity and quality.
So what happens here is that you take a lot of photos, expand your portfolio, and upload them on the platform for evaluation.
Take note that not everything you submit will be able to pass this first stage so I suggest you feed your account with as much photos as you can. And before I forget, you need to register first before you can do all these.
There are a few websites like these today and among the most popular ones are the following:
iStock (by GettyImages)

500px

BigStock

123RF

Fotolia
And the list of online marketplaces goes on. There are a lot of photo stock sites that you can try out today, and they'd be glad to give you money in return for outstanding photos.
(By the way, if you're great at iPhone photography, it can also work.)
Just a tip though, you should submit high resolution photos to increase your chances of being chosen.
Since there are a lot of people uploading data on the web, the competition in this field is quite overwhelming. So as much as you can, pass images that are high quality and captivating.
Also, it would help increase your odds in getting picked if your photography portfolio is well diversified.
Meaning, it needs to have contents of different subjects, not only one. Say for instance, you can upload gram-worthy food photos, and some awesome street photographs as well. There are a lot of subjects you can focus on.
It doesn't just end there:
You also need to know how to properly tag your photos and what description would make it easier to pull out on search engines. For this, you need to have a knack for the keywords that are in demand for the specific kind of photo you submitted.
So a lot of research should go into this process if you want higher chances of getting paid for your images.

Food, product and/or real estate photography
You see, stock photography while a very popular option to monetize your hobby isn't the only.
In this day and age, being a food, product or real estate photographer is also pretty lucrative.
The thing is that a lot of businesses are moving their services to online and they constantly seek for talented photographers to help further build their business via imagery.
Building your own influencer page, say on Instagram, also works.
Alternatively, you can consider making money as a real estate photographer.
You don't have to be a real estate agent, or of legal age to make money in this industry. What you need is having the talent to produce quality shots of the real estate properties.
By the way, if this is something that interests you, I encourage you to get this massive e-book for only $19 on how to make money (as a teenager) with real estate photography.

Assist professional photographers
Landing a gig as an assistant photographer is great.
Just imagine you will be able to witness in person how "pros" cover events in real life. You might already have an idea as to how it goes, but it' still different if you are there physically.
Though this may sound simple and easy to do, it's actually not. For this to happen, you either need to know (personally) at least one active professional photographer or to actually look for one that is looking for a temporary assistant.
For me, I think the best one would be a whole lot better.
If you already know the photographer personally, so much better if you are close, then you will probably have fun while doing the job. Plus, you won't feel shy if there's ever something you want to ask. It's just like having an on-the-job training which is pretty useful.
So if someday you'd want to establish your own studio or become a freelance photographer, then you'd already have hands on experience.

Offer photo services to online sellers
Pictures convey a lot of messages, and it's a pretty good advertising technique that always proved to be much more effective. And since we mostly do purchases online now, that seems to be more relatable than ever.
Wouldn't it be nice to see a picture of the product first before actually proceeding to the checkout page?
I don't know if it's just me or do the products look more marketable once they come with photos to show the potential buyers?
If you check on popular buy & sell websites like Craiglist, you might have noticed that some ads don't have pictures on them. It's either the seller doesn't have the gear to take a photo, or they just didn't know that they'd be attracting more customers if they put one.
So, this might be your chance to earn money from photography as a teenager.
Just browse through the site and sooner or later you'll see a lot of sellers not having photos of their products. You can contact them and offer your services. You can shoot the photo, or just edit a pre-existing one (c/o the seller) to make it more "saleable".
And while you're at it, convince them that it will bring in more potential customers.

Offer editing, retouching and printing services
Photography isn't just about taking photos.
In reality, it's more about the post processing which includes editing and retouching, and even printing. I know that this is aimed towards photographers on the intermediate/advanced level, but maybe you're just that despite your young age.
If you already know the basics of photography, editing and retouching, then you can start with that.
Not a lot of people can do this, so you have an edge over them. It's true that anyone can shoot a photo. But the question is, are they of the right quality?
This is where your services will come in.
Find people in your local community who needs assistance in photo editing.
There has to be someone who needs to have a good presentation due in a couple of days, or someone who needs "gram" worthy photos to post on social media. You can help them and ask for a fee in return.
Now, let's talk about printing.
This one is another story. If you want to start offering printing services, you will need the right tools and equipment for that. A decent photo printer would be imperative, and some good quality photo paper too.
And you also need to have a good working computer where you can edit the photos in resolutions that would not ruin the quality when printed.
By the way:
If you're also very good with art, then you can also buy, sell and create art with ImageKind or other similar websites.

Become an event photographer
When you think about event photographers, you automatically think of "pros", but that isn't necessarily true. There are a lot of amateur shooters who can take on jobs like this.
If you have the right photography gear and you are pretty confident with your skills, then by all means go ahead and try this one out.
The only thing that makes this one hard is finding a client that will trust you and your talent. You can start off by covering small family events, parties of your neighbors, high school events, and any other local gigs you can get access to.
Eventually your portfolio will grow bigger, and this would mean potentially more clients in the future. That's just like hitting two birds with one stone: making money out of your passion, and learning the trade at the same time.

Look:
If you're creative enough, there are many ways that you can earn money with photography online.
Beside stock photography platforms, you can consider building a website or your own YouTube channel.
YouTube has become one of the most popular platform for influencers today. You upload videos of anything that spikes your interest, netizens view it, and then viola! You got yourself a passive income right there.
But it's not as simple as it sounds. Making loads of cash through this method would mean thousands of "watch hours" and a lot of published contents. Nevertheless, it's a good way to earn money, regardless of age.
So what happens here is that you create an account, upload videos of things about photography, then have YouTube pay you for it. There are a lot of things you can put into your content.
For instance, you can talk about photography basics, tutorials, how-to's, or basically anything you think might interest your target viewers.
The more interesting your content is, the better your chances of getting more views.
And this is what you need for YouTube to notice you. Then comes the sponsors and ads which will be the bread and butter of your channel. That's where you can earn loads of cash even at a young age.

Create a photography blog/online business
This one might be a little more challenging than the first few ways mentioned.
Creating a blog is manageable, but maintaining it well and having it monetized might be a lot of work.
You need to devote your time creating content that relates to your target readers and viewers, and of course those that can potentially get the attention of search engines like Google.
I'd also like to warn you that creating the blog and writing the content isn't the end of it. You need to make the people visit your site. The more traffic you generate, the better your chances are of monetizing your blog.
ExpertPhotography.com an example of one of the successful photography websites that bring millions of traffic and make thousands of dollars per month through their content and courses.
If you still aren't aware of this, the blog itself doesn't generate income.
What makes you money are usually the ads and the affiliate links you include in your content.
That's why I said this one is going be a lot of hard work and it will probably take more than just spring break to really gain from it.
But hey, the returns are pretty big if you manage to have regular site visitors that read the content (much so if they click affiliate links) even just for more than a minute.
And the best part of it all:
You have the freedom to include all the contents you want to share to the world (but only those that are legally acceptable, of course).
You can ever write your personal photography journey to let your viewers know what you're up to. You can also share your photos through this platform and let it reach a wider ocean of audiences.
---
Start a Photography Business as a Teenager
---
So…
How to start a photography business as a teenager?
You see, there are a lot of ways on how you can earn money as a teenage photographer. There's actually no limit as to what you can do if you only let your creativity run wild.
Now, I've mentioned above that you can start your own online business while still relating to your passion which is photography.
Let's discuss that more in detail below since I'm pretty sure this will be the biggest opportunity you will have to grow your skills, finances, and talents all in all.
The idea of starting a business is exciting and overwhelming at the same time, much so for young people. But it doesn't mean you can't start one if you are a teenager.
In fact, it's great to start building your empire while you are still young. It's better to always take advantage of your drive and burning passion when it's at its peak.
So, how do you really start up a photography business as a teen?
Well, there's a couple of ways but right now I'll share with you a specific and the least demanding one out of all the options. Build an online business.
Here is a step by step guide:
Conceptualize your business idea
This is a very important and crucial step.
From the very beginning, you have to think what your business will be all about. Though there are a lot of ideas that may come to mind, take note that this journey will be a lot easier if you choose something that you have a lot of knowledge about, in this case, photography.
You have to think about your style of photography, what genre you're planning to focus on, do you plan to provide photography services or sell your knowledge by creating tutorials.
From there, you can start conceptualizing which type of photography business you want to dive into.
Think of something about photography that you are sure you'll be interested in for a long time. You can either focus on gears, accessories, tutorial, or better yet travel stories.
Once you make up your mind, it's time for the next step.
Create your website/YouTube channel
Now, this may sound daunting, but it's actually pretty easy to set up your own website. It's actually somewhat like making a blog, as I've mentioned earlier.
In a few years, you can become one of those massive photography blogs that's visited by thousands of people who would like to read your stories, equipment reviews, special tips and tricks on how they can improve as photographers.
And no, you don't need to be tech-savvy to create your own site. All you need is proper guidance and the right platform where you can jumpstart this journey.
Check out what I did when I was just starting out with my site.
There are site hosting platforms like Wealthy Affiliate that lets you have a free-run of managing your own website.
And the entire process is surprisingly simple for newbies (and 100% risk free and cost free to get started, by the way). You just need to fill out a few details in order to create an account with them, and the rest will be a fun ride.
If you decide to become a Premium member, it sure is one of the cost-effective ways to build your own online business (and learn how to do it within the community).
Now this is the part where it gets a little challenging.
If you want to have substantial earnings from running your website, you should make your target audience notice you. In addition to that, you also need search engines to notice your site and it's contents.
But how do you do that? You might ask.
Simple: Feed your website with awesome and meaningful content. The type of contents that the target audience will definitely be looking for. And one that is related to your niche.
When you do this, search engines (SEO) like Google will notice you.
You might even get the chance to have your contents published on SEO's 1st page, which can by the way potentially turn the tables. When you land on the first page, there are more chances of people seeing your content and knowing about the site in general.
Another way you can attract audience is by sharing your content to various online social media accounts.
By now, we have already learned how powerful these tools can be, especially if you have large following. Make use of your social network and promote your website as much as you can.
I couldn't stress this enough, but the more traffic you divert to your website, the bigger the potential earnings will be.
Now for this step, there's also a number of ways on how you can earn through your website and traffic. The most common ones are the following:
Third-party advertisements
So how does these two make you earn cash from your photography business?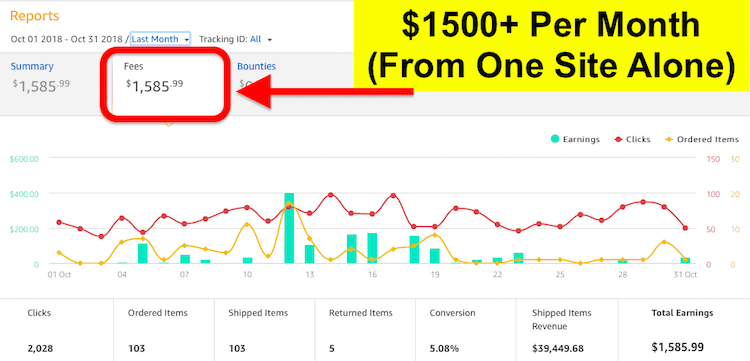 Let's talk about ads first.
As you may already know, companies pay people who promote their products and brands on their behalf. Have you ever wondered why there seems to be a lot of ads or unrelated badges on a website? This one's a money-generating technique most site owners employ.
It's basically just like clients renting out a small space in your site for advertisement purposes. They don't really care whether your audience will click the badges or not. What they are after is awareness of their own brand or products.
Affiliate marketing on the other hand, is more high-paying than simple ads, but are more tricky.
Here, you need to direct your readers to the brand/store's own site and provide value to people, and eventually they'll make a purchase. And when they do, you earn a commission for the referrals you've made.
However, not all companies have that kind of set-up.
Others, and only a few of them, actually gives you commission for every traffic you direct to their site, regardless if the customers purchased anything from them or not. They simply want to convert that traffic to more potential earnings, just like you and they pay you for it.
---
Earning Income With Photography As A Teen
---
There you have it.
Even as early as now, you can start your own photography business online. Make use of the Internet and its powerful tools and soon you will be able to let your business work for you. Not the other way around.
Advantages of Running Your Own Online Business?
Many of you might ask: what's so good about creating your own online business today that you're willing to go through all that hassle?
The thing is, it will give you more benefits than headaches.
To name a few:
YES, you read that right. This kind of business gives you the chance to have unlimited income.
There are billions of people all across the globe who has access to the Internet.
If you get even just 1% share of that market to notice your site, that's something you can't easily discount. When you have that large audience, you can expect a lot of income from your website. And that's only for a day!
Just imagine how much you can make if you manage to keep that daily average number of visitors that high.
This is another reason why it's a good business idea.
Once you have it set up and ready, you're on your way to earning without working as much. All that's left for you to focus on is creating fabulous contents that will keep the visitors coming.
And when you make it big in the Internet scene, you might not even need to publish as much content regularly. If you can create content that you think will be relevant for many years, then all the more better. This way, you will just be earning loads of cash from that.
This is probably the best part about having your own business. YOU ARE YOUR OWN BOSS.
Let's admit it. Working for other people can be tiring.
You need to understand their personality and blend in if you want things to work well. With a business of your own, you can control your own pace and your own time. No one is going to tell you what you should be doing.
Also, if you work hard enough for your business to grow, you will have more time later for fun and play.
You won't have to stick to strict work schedules, or go out of your house to earn a few bucks doing errands for your neighbors.
If all goes well, you'll see the results in a year's time like I did. That's why I encourage you to start young so you can enjoy what you've worked hard for in no time.
---
How to Make Money As A Teenage Photographer
---
They say age is just a number, and I believe that.
Even as teenagers and adult beginner photographers, there's a lot of opportunities for you to earn decent money by doing the things you love. From my own experience doing some of the things I mentioned above, I was able to make thousands of dollars online.
From photo contests, to assisting the pros locally, to building your brand with your own website/channel – you can do it too!
Just stick to your passion, explore your opportunities and let your talents speak for itself. But remember, that you'll still have to put in efforts to make it work online or offline.
Hope you enjoyed this post on how to make money with photography as a teenager (though it also works for adults too!)
Let us know your thoughts in the comments!