May 7, 2018
The 7 Main Ways to Make Money with Photography in 2018
---
How to make money with photography (online)? How to create a stunning photo website and/or become a teacher?
If you want to turn your passion into an income stream, then this post is for you.
---
When choosing a career that will help us earn a good amount of money, we often tend to focus on becoming an engineer, chartered accountant, lawyer, doctor, etc.
And only a few of us consider our passions like photography as a full-time job.
You'd be surprised but most popular full-time photographers today just incidentally knew how to make money with photography.
They just started purely on the desire to do something meaningful and worthwhile while being creative and fun.
With that said, if you want to make a living out of photography, we will provide you with some of the things that you need to keep in mind in order to succeed.
Here is a quick overview of what to expect (click on the link to jump to the section you want to read about): 
7 Ways to Make Money with Photography in 2018
---
---
Website Business – Educate Yourself on Being An Expert Online:
---
---
First Things First:
How to Become a Professional Photographer?
---
Of course, anyone with a camera can click pictures, but only a true professional can be called a photographer.
Photography is basically an artistic pursuit.
You must be extremely disciplined in order to even consider making this a full-time career.
---
1) Learn the Craft
---
You can't be a lawyer without going to law school. The same applies to photography.
You need to learn photography inside out in order to be a professional and even consider making a living with it. 
You can either take up a course on photography or watch a ton of YouTube videos and continuously keep practicing in order to master it.
Professional photographers tend to multi-task with a ton of settings when they click images, and you need to learn and master that.
I highly recommend you the following kit: 
(2 PDF ebooks and 4 audio-based interviews with professional photographers).

---
2) Assist Professional Photographers
---
This especially applies to aspiring photographers.
One of the best ways to not only learn more about photography but to also make some money in the process is to assist a professional photographer.
Helping fashion and wedding photographers is recommended since they are trained to work in a fast-paced environment. 
In the process, you would also learn how to multitask and manage the pressure that comes with the career.
You would also be given a chance to gain more practice that you can use to create your own portfolio and show prior experience.
---
The 7 Ways to Make Money with Photography in 2018 (And Beyond)
---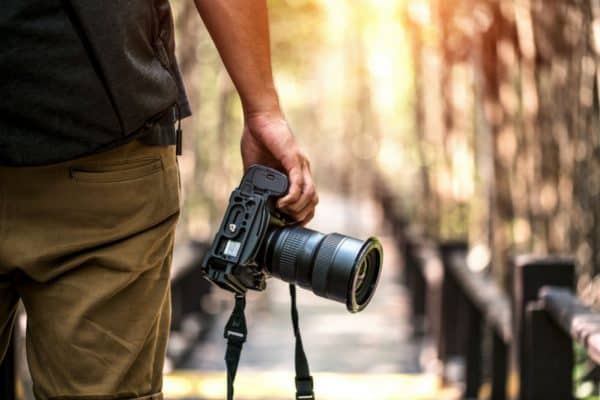 Now that you have mastered the craft and built your portfolio, below are some of the most important ways on how you can possibly make money as a photographer.
---
1) Offer Photo Shoots
---
Doing photo shoots is a sure shot way of making money with photography.
Of course, you will need a budget since you might need to rent out a space to build a professional studio but you can get away with this by opting to do outdoor photo shoots exclusively.
Some top outdoor photo shoots include maternity, pet, headshot, family portraits, real estate, and pre-nuptial photo shoots.
---
2) Selling or Licensing your Images through Stock Photography Sites
---
If you already have a good collection of high-quality images, then you can earn a decent buck by selling them to stock photography sites.
In fact, this works great even for those looking for a steady stream of passive income. Some top stock photography sites include:
Shutterstock,

BigStock, and,

iStock.
To sell your pictures on these sites, simply sign up for them.
You will be required to provide your basic information along with some information to prove your identity. Upload the images along with the description, keywords and metadata and then the site will review them.
You can also go the traditional way.
The easiest way here is to place the printed image in a frame and go to your nearest arts and crafts fair to sell it. You can also opt to sell it during festivals or garage sales.
---
3) Become a Paparazzo
---
Depending on certain factors, paparazzos can easily earn thousands for just one single picture.
However, it is extremely competitive and demanding. Also, be sure to obtain all the necessary credentials before beginning this gig.
Likewise, you should familiarize yourself with all the celebrity hotspots, and network excessively with others in the same field.
To become a paparazzo, simply buy a high-quality DSLR camera along with a telephoto lens. You must also have a small camera that you can use to click images on the sly.
You can choose to freelance and sell the images to newspaper or magazine companies or be a part of an agency.
---
4) Actively Participate in Competitions
---
People often do not consider participating in photography contests as even an option to make money. 
Several competitions take place all over the world, and some are hosted by extremely famous brands like the National Geographic.
These competitions have a winning prize that is worth a thousand dollars and not to forget the recognition that comes along with it which can help boost your photography career.
---
5) Market Yourself as a Freelance Photographer
---
Get in touch with your local newspapers and magazines and ask them whether they are looking for any freelance photography work.
It goes without saying that such jobs are in no way stable. But, they do work great as a second job or a job on the side.
Once you have established a steadier relationship with these outlets, they will hire you consistently for covering local events and stories.
Capturing weddings, shooting sports events or any other event is also amongst the best ways to make a quick buck over the weekend.
The best way to get such gigs is to network, in person and through social media platforms constantly.
Always remember to market yourself everywhere as the more attention you get, the chances of you getting photography gigs will also substantially increase.
---
6) Become a Photography Teacher
---
Isn't that the most obvious way of making money with photography? Countless people are looking for a good teacher to help them learn the aspects of photography.
Based on how strong your knowledge about photography is and how well experienced you are, you can really easily make quite a bit of money just teaching students on a regular basis.
For some, this is already a full-time job.
---
7) Build Your Own Website (to Sell Your Photos or Teach)
---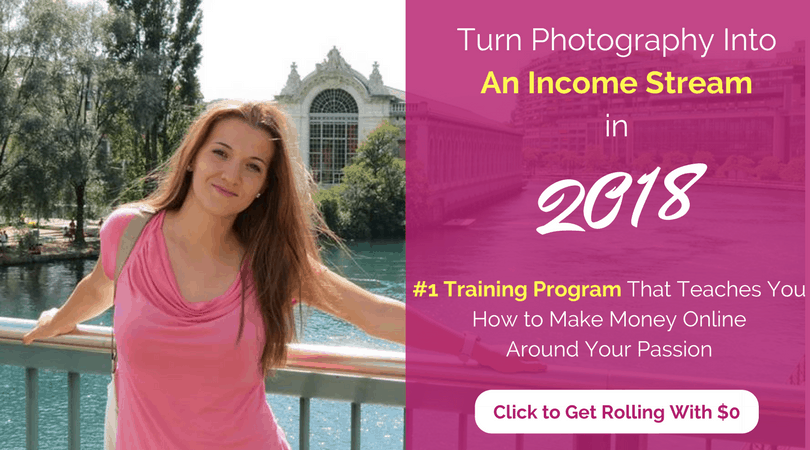 ---
While you can teach people in real life, a better option could be teaching people online.
First of all, after some time you will be able to leverage and expand your business.
Second of all, your website will be global and will work for you 24/7 (if done correctly).
Setting up your first website shouldn't be a challenge, nor do you have to be tech-savvy.
And definitely no need to hire expensive freelancers that charge thousands of dollar just to build a website for you!!!
I always say that when it comes to building your photography-related online business, it's extremely important to have proper guidance.

There is only ONE program I really recommend to all the beginners and it's called Wealthy Affiliate. 
I still consider it to be the #1 training program that teaches you how to make money online around your passion.
Best of all?
You can test-drive an ENTIRE platform 100% FREE.
And once inside, you can also rely on receiving my personal support. (I am there on a daily basis. You can find my profile @Zarina.)
Alright, now here is an honest video of what exactly to expect at Wealthy Affiliate.

---
How to Make Money as a Photographer in 2018
---
The ones we have mentioned above are the top ways on how to make money with photography. Yes, initially, it might be challenging to turn your passion into a steady stream of income.
That is why it is better to start it off as a second job and build your portfolio, knowledge, and experience in order to make this a profitable full-time job.
Keep practicing your photography skills until you master it!
Remember that nothing is impossible. 
With patience, time and proper guidance you WILL achieve success.
---
Over To You: What Are Your Thoughts?
---
Now I'd love to hear from you!
What is your level and your favourite genre in photography? Which of the aforementioned money making ways appealed to you the most? Have you made any money as a photographer yet?
Any questions, comments and suggestions are welcome in the comments section! (Click to jump straight to comment form).