Please note: As an Amazon Associate I earn from qualifying purchases. I also work with other affiliate partners and may be compensated from the links below. Details here.
November 10, 2020
Is A Degree In Photography Worth It? A Non-Degree Holder's Viewpoint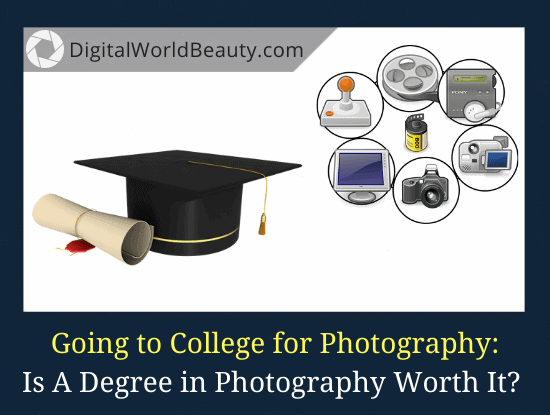 ---
Topic: Is going to school for photography worth it? Let's find out!
---
The thing is:
Getting a college degree is a serious engagement. You need to dedicate your time, focus, financial resources and a whole lot more for you to get through it all. And they say that after all the hard work, you'll reap what you sow by landing an employment or getting yourself into business. Ideally, that's how it should go.
I've heard that a more than a thousand times already. While there's really nothing wrong with it, I can't help but wonder if that still applies in courses that have limited job opportunities in the real world, such as photography and other art related sciences.
Let's admit it…
There's only a handful of opportunities for people who have photography skills alone (no knowledge in editing, retouching, marketing, etc.). In this day and age, most companies require you to have multiple skills if you want to bag the job.
So, does that mean you need to really attend university to get that kind of a well-rounded education? And do you really have to major in film and/or photography to increase your odds in becoming something big in the industry later?
Well, maybe, or maybe not.
So:
Is photography worth getting into? Specifically, is a degree in photography worth it? To some, it's YES. To others, it may be a NO.
While I can't pinpoint the exact solution to this issue, since it's a matter of personal preference, I can lay down the pros and cons of going to college and majoring in photography.
---
Degree in Photography: Pros and Cons
---
---
Here, I'll show you what the advantages and disadvantages of getting a formal education in Photography (and/or videography) in this day and age. Let's begin.
✓

The Good
This is the best part of enrolling in an actual school or university. Even if you major in film and/or photography, you will still have a lot of other minor subjects that may or may not be related to it. If you want to increase your chances of getting a great place in the industry, then you should take this time to learn several other things, especially branding and marketing.
Why those two?
Well, they are the most useful knowledge you will have if you want to put up your own photo studio or if you want to work as a stand-alone photographer. You will need all the marketing skills to promote your work and proper branding will ensure that your clients know it's your work.
This is another major advantage if you attend a formal school (especially if it's one of the big universities). You will meet a lot of people during your 4-year stay in the university, and in that span of time, I'm pretty sure your social network will continue to grow. This will help you so much once you go out into the real battlefield. I hate to admit it, but the more connections you have, the better your chances are in this industry.
Free use of photography equipment
Gears and equipment in this specific area of study are really expensive, and that's the bitter truth. If you explore this study on your own (as a beginner), chances are you'll only have access to a limited number of gears: the camera body, one or two lenses, and a tripod.
On the other hand, most universities and professors provide a lot of these things for you to experiment on. For instance, you may be able to try out various types of lenses in class and explore a whole new different field of specialization.
Of course, we should never forget this one. Getting into college and studying photography is the only way to get that official diploma. Even if you attend a lot of workshops and seminars, you still won't get the same certification as finishing a degree.
However today, not many companies require a diploma to hire a photographer. In fact, they don't base on credentials, but rather on the skill set and actual portfolio.
✕

The Bad
Spending 4 years in a university (even public ones) can be very costly. And if you end up in some well known private colleges, then the cost will be ten times more expensive than usual. That's why some would even consider getting a degree in photography a luxury – well, there's some truth to that.
==> Check out the online photo courses/platforms I've reviewed. 
Why would it be so expensive if the state runs the school, you might ask.
Well the thing is, it's not only the tuition fees you need to spend on. You will have projects, educational trips, activities, and other things that will require financial resources.
Not all subjects included in the curriculum are useful
I hate to break your bubble, but this is a fact not only in Photography courses, but in any other degree as well. It's good to have lots of knowledge, but over stuffing your mind with totally unrelated topics might not do you any good. Instead of focusing on things that are truly important, you just end up dividing your limited time by studying other unrelated subjects.
Some professors are not good in the teaching department
This is one major factor that either makes or breaks your entire college life. The set of mentors you get will form part of your entire 4-year journey. If you happen to meet professors who are experts in photography and a great teacher at the same time, then you're obviously very lucky. But that's not always the case.
Sometimes, you meet teachers that will make you hate the subject too. And when that happens, you end up losing interest in it, or worse in the entire course. Trust me, that's the last thing you'll want.
So, is getting a photography degree really worth it?
If you still can't decide whether it's good to pursue a degree in photography, then probably these two videos from professional photographers will help you decide for yourself.
---
College for Photography? Final Thoughts
---
So…
Should you go to college to become a photographer (or videographer)? Is it worth it to major in photography?
As a concept, getting a formal degree is still believed to be good. If you have the opportunity and resources to pursue it, then by all means go ahead and enroll.
But for those of you who think it's better to explore the craft on your own, there's also a lot of good things you can get from that. After all, it's just a matter of personal preference.
And I'll be honest, since not a lot of your clients will care about your portfolio and your experience, and you don't really need a diploma for that. To learn more about this craft, you could easily invest in online photography courses and that will cost you MUCH less.
==> Here's a list of all the online photo courses/platforms I've reviewed. 
Just remember, it's not the degree that matters. It will always be your skills that will take you to a bigger and more challenging battle out their in the industry.