Please note: As an Amazon Associate I earn from qualifying purchases. I also work with other affiliate partners and may be compensated from the links below. Details here.
October 12, 2018
15 Street Photography Tips and Tricks: How to Capture Compelling Images Today
---
Here's the thing:
​Just recently I published an article on large sensor compact cameras​​, and the majority of those were highly advisable for street photographers (in particular).
And that's how the idea was born to write about ​street photography tips and tricks​.
Now…
​Street photography has always been and always will be the most "accessible" genre.
To get creative in this genre, what you'll need as a photographer is your keen interest to observe the world around you and the right (compact) equipment.
Here's an overview of what to expect:
15 Street Photography Tips (For Beginners)
---
Use A Compact, Inconspicuous Camera

Do Not Dress to Impress

Use Silent Shooting mode

Choose a Light-Weight Camera

Get Creative, Find New Angles

Capturing Photos with Reflections

Use the Burst Mode in Street Photography

Experiment With Long Exposures

Play With Color and B&W Modes

Cameras With Electronic Viewfinders

Use Different Lenses

Don't Shoot During Blue and Golden Hours Only

Photograph Non-Touristy Parts of A Town (Too)

Have a Spare Battery Handy

Buy Cameras With the Wi-Fi Feature

Some of the questions that you'll have answers to:
How to recognize a good photo opportunity and/or capture sincere emotions?

How to take better street photographs (by staying inconspicuous)?
Let's get started.
---
1) Use A Compact, Inconspicuous Camera
---
​Here's the thing:
Good street photography cameras are small and inconspicuous.
And this is something the French pioneer of street photography genre, Henri Cartier-Bresson​​, was talking about. In fact, he would tape the shiny parts of his camera to stay "invisible" to the world.
Now…
Modern compacts positively changed the way we take candid street photos.
People don't pay too much attention to point-and-shoot or

compact system cameras​.

You can easily shoot from the hip.

If the camera has an articulating touch screen, then you can use your finger to focus on an object in the frame, while simultaneously releasing the shutter.
Pretty awesome.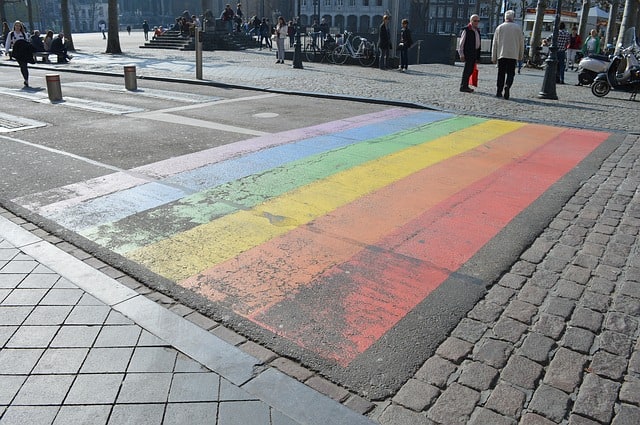 ---
2) Do Not Dress to Impress
---
Contrary to popular advice, do not dress to impress.
I mean, I wouldn't wear skirts and heels when street photographing​​ because receiving all the attention will interfere with my shooting process.
Choose proper clothes according to season and your photography genre.
​Don't you agree?
---
3) Use Silent Shooting mode
---
This will be ideal.
​Having a silent shutter will help you take photos without disturbing/distracting people around you. (Especially when continuous shooting.)
Basically, it'll help you to never miss a moment.
---
4) Choose a Lightweight Camera
---
Street photography means you'll be walking around a lot to find that scene or object that's worth capturing.
This also means that you want to "travel" as light as you can.
Luckily, today we have a lot of small mirrorless cameras with interchangeable lenses that will easily fit in your purse/bag.
It gets better:
There are also a lot of compacts with a fixed lens that are so small and light that you slip it in your pocket.
Again, this will help you stay inconspicuous and the camera's bulk won't slow you down.
---
5) Get Creative, Find New Angles
---
Experiment with different angles and framing to capture compelling images.
Should you go with the "birds-eye view"?

Perhaps take shots at ground level?

Or maybe some other unique way to capture the moment?
Without a doubt:
Street photography is an awesome subject to get creative with.​
---
6) Capturing Photos with Reflections
---
​Finding unique angles isn't the only way you can get creative street photography.
Photos with reflections (or smoke/steam) add that sense of mystery.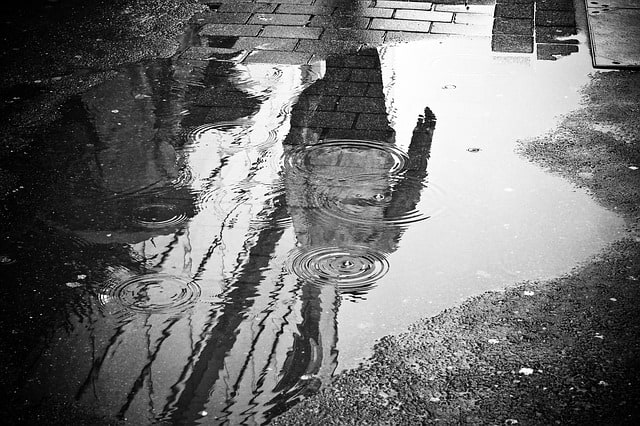 Any sort of reflective surface:
mirrors,

windows,

car hoods,

water (and even puddles)
… will work.
If done right, using reflection in photography will lead to stunning images.
Again, this is where you get a sense of "mystery", this is where the parallel realities become intertwined.​
---
7) Using the Burst Mode in Street Photography
---
If you're observing a particular person and/or action, or expecting some sort of "climax" to the scene, then use continuous shooting mode​​.
​The ability to capture several frames per second​ will guarantee that you'll get the shot you'll be satisfied with.
---
8) Experiment With Long Exposures
---
Look:
​There's a never ending movement on the streets.
Cars, pedestrians, cyclists with some interesting objects in the background…
Having used a long shutter speed, you'll be able to convey the dynamics of the urban rhythm, or you'll accentuate on a fixed object, which will give the shot multiple meanings.​
"Shutter speed is responsible for two particular things: changing the brightness of your photo, and creating dramatic effects by either freezing action or blurring motion.​"​​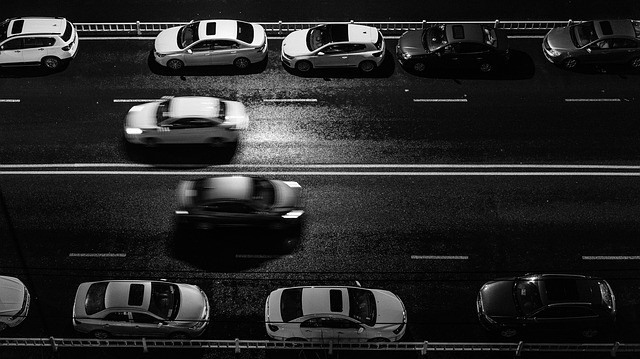 ---
9) Play With Color and B&W Modes
---
There will be debates about color vs. black and white for as long as photography lives.
Here, I will just say one thing:
Just like with the long shutter speed, experiment with color and black & white modes. Street photography is all about creativity, so be creative​!
---
10) Cameras With Electronic Viewfinders
---
Using cameras with electronic viewfinders will help you see an image as it is. Don't rely too much on post-processing.
This way you can make sure even plain scenes look interesting.
---
11) Use Different Lenses
---
Use different lenses (unless you own a digital camera with a fixed lens).
This advice isn't for beginner street photographers only, but also for professionals who want to add something new and creative into their work.
It will help you train your photography eye and expand your vision.
==> Here's a list of the amazing lens options if you own a Canon camera.
---
12) Don't Shoot During Blue and Golden Hours Only
---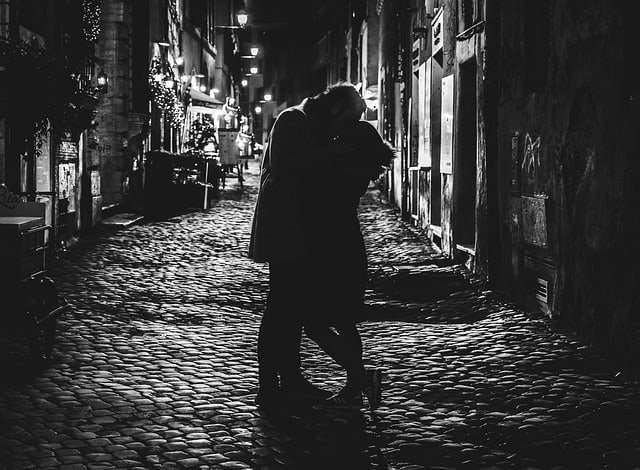 ​While it's important to choose a particular time for landscape photography (for example, shooting before 11am or after 5pm), shooting during the golden and blue hour​ only doesn't really work for street photography.
You see snow, fog, rain or blizzard? It's time to go out and start shooting!
If it is dark out, take the right low light photography gear, go out and shoot!
---
13) Photograph Non-Touristy Parts of A City
---
​When it comes to street photography, you can capture sincere emotions and the true life of the city anywhere you are.
Don't just go to touristy places.
Look around you and you'll see excellent scenes that are worth photographing.
---
14) Have a Spare Battery Handy
---
​Last thing you want is to have your battery die on you just when you wanted to take that awesome image.
Usually I recommend keeping a spare battery handy, especially if we're talking about compact cameras/point-and-shooters.
Especially when you're out shooting in the cold.
---
15) Buy Cameras With The Wi-Fi Feature
---
​Here's the thing:
If you are photographing some sort of city event, whether it's a festival, a strike, or a sports event, share your best photos on your social media accounts​ right away.
This way you will not only save time but also convey emotion and feeling in photographs​ at its peak!
---
Taking Better Street Photographs Today
---

---
There is one last thing I wanted to say:
You won't get photography masterpieces every time you go out as there are a lot of factors​ involved, among it being luck, having the right mood, as well as a number of external circumstances of the city life.
Just enjoy your shooting process.
Understand that your main purpose is to learn how to feel the world around you and capture the moments.
Be patient. Be persistent.
Now, I'd like to hear from YOU:
​What are your tips for street photographers?
---