Please note: As an Amazon Associate I earn from qualifying purchases. I also work with other affiliate partners and may be compensated from the links below. Details here.
May 28, 2020
KelbyOne vs CreativeLive: What's the Best Platform to Learn Photography?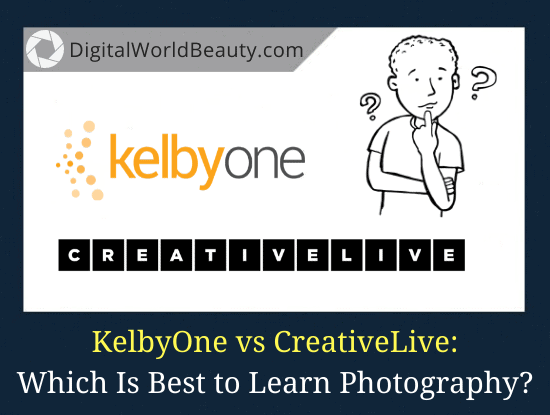 ---
Welcome to my KelbyOne and CreativeLive comparison post!
---
Truth is:
Photography is always in trend. For some people, it is a hobby or a means of living.
If you are a beginner, learning about the craft is no longer a problem. With the advancement of technology and the diverse information that you can see on the internet, you can easily learn the basics of photography on your own.
And the most common way to learn from photography experts today is through online interactive classes.
This being said…
In this post, we'll cover the two most popular online video-based training platforms, KelbyOne and CreativeLive.
---
Inside the KelbyOne Training Platform
---
---
KelbyOne is an online learning website that is popular in delivering photography-related topics, including Photoshop and Lightroom.
It offers membership to get full access to the courses it offers.
The good news is that you can get a glimpse of what this platform is about with their free trial account (more on this later). 
You can also experience a dynamic learning environment because KelbyOne allows you to interact with other members to share ideas and learn from each other's best practices.
Now…
Let's talk about the main features of KelbyOne.
KelbyOne offers three membership options:
the campus tour,

standard membership, and,

pro membership.
1) The campus tour is free of charge, you'll just have to register with a valid email address so you can have a sneak peek of what KelbyOne offers.
However, since it is free, you can only experience a bit of information about how KelbyOne works but users can still enjoy the 10 courses to view and learn.
2) The standard "Plus" membership costs $9.99 per month. It is a perfect membership plan if you are planning to take the online courses for a short span of time while enjoying its perks.
3) The last option is the "Pro" membership that costs about $19.99 per month. This plan does not have any restrictions, you are entitled to different exclusive features.
The KelbyOne users in pro membership enjoy the use of add-ons or plugins related to the course taken for hands-on training.
This feature makes it possible for members to easily follow the courses conducted.
There is a keyboard shortcut from the training screen so even if there is a live tutorial, the user can practice on the same screen to easily follow and integrate what the speaker is saying.
For photography courses, a common creative toolkit consists of Lightroom and Photoshop.
One of its unique features is the magazine archive wherein they have their own digital publications.
The magazine archive aims to give supplemental text-based information to the existing video courses.
Campus tour users don't have access to the digital publications, the standard users can only access the most recent publication while the pro membership users can browse through the magazine archive anytime.
Even experienced photographers also enjoy reading additional information from the publications. A new magazine publication is released every month for every course.
FYI: An email notification will be sent out to those who opt in to the subscription.
This platform doesn't only aim to educate its users but it gives them the opportunity to reach out to other members with the same hobby and skills.
Through the forum and help desk, issues encountered within the platform are easily resolved and that is also a means by which questions to the different courses offered are raised and answered.
Not only does it have group discussion forums but it also has a one-on-one chat feature so you can directly message any member you'd like.
KelbyOne Membership Advantages

Over 800+ available online classes

Unlimited access to all of the courses offered

Get help from the community through the help desk

Toolkit functionality for integration of apps and plugins

Monthly issues of digital user magazine
Definitely!
Like I mentioned in my KelbyOne vs Phlearn comparison post, this training website works well for photographers of all skill levels.
And remember, you don't have to get the paid membership right away.
You can start with the free plan to test drive the platform and see how you enjoy the KelbyOne training and only then you can upgrade to standard or pro plan.
If you decide it's not for you, you can always cancel.
But if you do end up enjoying the content, then you can also save by going yearly, with a new lesson coming out each week. Isn't that a great deal!?
==> Kelby photography training review.
---
Inside the CreativeLive Platform
---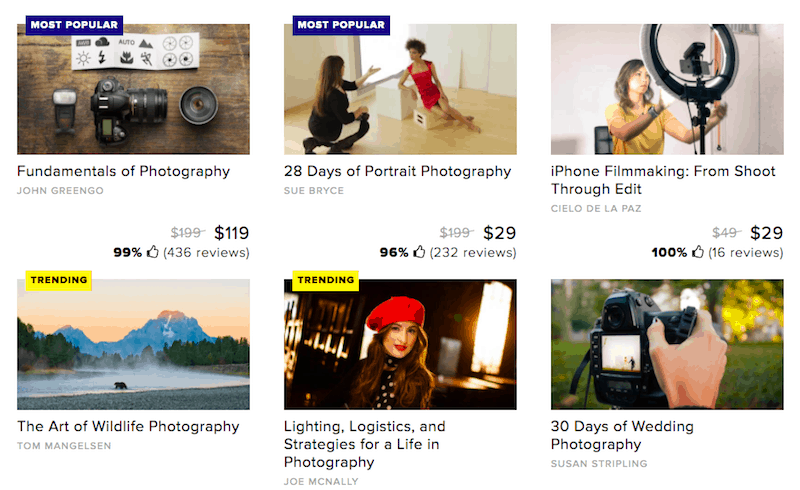 ---
CreativeLive is an online education platform that delivers not only photography related knowledge, but also other topics like art, marketing, business and so forth.
It is a great choice for those who take photography as a means of living because the courses have added tips for entrepreneurs.
If you don't have the budget for the all-access pass, you can still be able to watch their videos at the same time it was streamed (live).
Now…
Let's get into the features of CreativeLive.
CreativeLive Creator Pass
Users can access all classes that are live streaming for free, however, watching previous classes has restrictions.
There are only a few courses that can be viewed that is why purchasing a creator pass is recommended. It allows for unlimited streaming and downloading.
All videos available on the platform are both in SD and HD formats so it will be compatible in all devices when downloaded.
CreativeLive promotes an interactive, hands-on, and dynamic environment.
Professional coaching is made possible through face-to-face interaction. This is considered as one of the great advantages of CreativeLive because not all photography online platforms offer instructors-students interaction.
Since instructors are able to interact with their students, questions, and vague information points are easily addressed.
Accessing the CreativeLive website is made convenient because of the app that can be downloaded in any device.
There is no need to go through the hassle of logging in every time you would use it, just click on the app and you're all set.
With the use of the app, the user gets notified easily if there are live videos suitable for those who only have free access for new courses uploaded.
How awesome is that?
CreativeLive doesn't have a live chat facility but they boast its comprehensive knowledge base where all information about the platform is discussed.
There are frequently asked questions and answers to different scenarios that are commonly experienced when the platform is used.
If in any case, the concerns are nowhere to be found on the knowledge base, users can send an email to support@creativelive.com and expect a prompt response from a real customer service representative and not just a canned response.
The most common issue that needs the attention of their customer service is regarding membership issues.
CreativeLive Membership Advantages

Over 1,500+ available online classes

You have the option to download all classes into your mobile device

Exclusive conferences for photoshop week and photo week

Guaranteed new classes every month

Mobile app and desktop view are synced

Exclusive monthly classes for its members
Is CreativeLive Worth It for Photography Enthusiasts?
Oh yes!
If you're a photographer looking for good online classes, CreativeLive is a great option. But make sure to look for the ones that fit what you want to learn.
And remember that not only can you learn about the fundamentals of the craft but you can also learn how to build a BUSINESS with your photography.
I don't know how about you…
But I'm the type of person who likes to be "spoon-fed" when learning something new. And I personally think that, yes, CreativeLive photography is worth it.
==> Click here to join the CreativeLive training community today!
---
Similar Features of KelbyOne and CreativeLive
---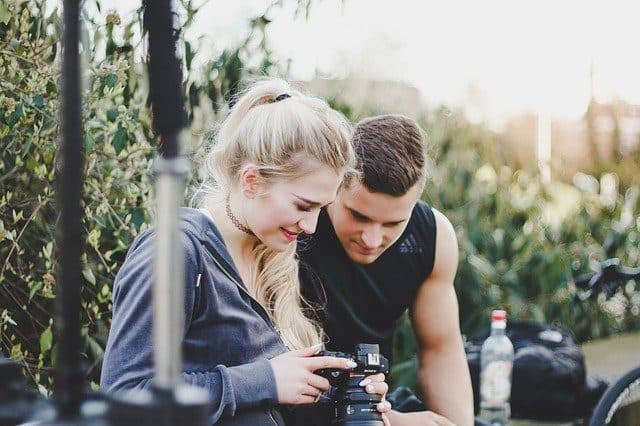 ---
So…
What are the similarities between the two? Let's discuss those.
1) Variety of photography classes available
Lots of topics that are offered by both KelbyOne and CreativeLive:
how to take wedding photos,

Photoshop and Lightroom photo editing,

photography for business & marketing,
… and other classes related to commercial, travel, wildlife, and smartphone photography and filmmaking.
(Most of these classes are 30-40 minutes long video tutorials.)
They have a wide selection of courses that would cater to both beginners and experts. The instructors on both platforms are experts in this field to ensure that they can give the best advice and inspiration.
2) Keeping track of the courses finished
Both KelbyOne and CreativeLive have the ability to keep track of the lessons that were taken so it won't keep on showing up on the dashboard every time you log in.
All classes viewed may be accomplished or in progress can be found on the history tab of the app so as to avoid losing progress for lessons that are not yet completely done.
You can revisit past lessons or segments. These media groups make use of a table of contents so when the system can easily choose the most suitable courses on the topic chosen.
3) All courses are in a written transcript with downloadable images
To make each course understandable, it comes with a written transcript so guides with step-by-step instructions can be followed easily.
There's no need to note-taking since the written transcript is clear and precise.
Each image clip course can be downloaded, especially if it is presented in a PowerPoint presentation.
---
CreativeLive or KelbyOne: Which is Better?
---
KelbyOne and CreativeLive are both excellent membership-based communities that provide informative training courses in photography.
It is perfect for beginners and professionals to get the latest trend in photography and to further hone their skills in doing the craft.
Both platforms may offer the same online topics but they have unique differences that suit the specific needs of the users.
Choose KelbyOne if you prefer a hands-on application of the courses being tackled while the speaker does the demo. Choose CreativeLive if you are into face-to-face interaction so immediate concerns can be tackled on the spot.
They have their own strengths and weaknesses so choose for the one where you can benefit a lot based on your style.
Truth is…
You can never go wrong choosing between the two especially if you are just after the knowledge that you will get after each course. They are recommended material for photography that covers all topics related to it.
---
KelbyOne vs CreativeLive: Final Thoughts
---
Be a professional photographer at the comforts of your home through the help of classes online that offer tutorials or demos. With the list of platforms that offer online courses in photography, you need to search for the one that best suits your learning style.
Choosing between KelbyOne vs CreativeLive is quite a hard task because each one has unique features that can benefit a specific individual.
They are a go-to platform for a vast amount of information about this industry.
You'll just have to know each platform's strengths to know if it will suit your needs, lifestyle, and learning techniques.
---