Please note: As an Amazon Associate I earn from qualifying purchases. I also work with other affiliate partners and may be compensated from the links below. Details here.
June 15, 2022
What Is Hybrid Photography & Who Is a Hybrid Shooter? (Definition & Buying Guide)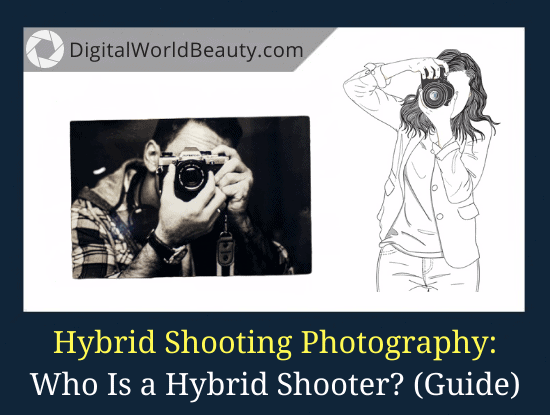 ---
Did you ever wonder what the heck is "hybrid shooting"?
Believe it or not, a lot of people are actually hybrid shooters, meaning that they want to shoot both videos and stills.
I'm sure you've seen content creators/Instagram influencers stitching it together and posting on their social media to increase their popularity and engagement with their audience.
In this day and age, hybrid photography is referred to as a combination of still photos, video clips and/or audio tracks to create an engaging content that can be shared on your website, social media, or with your clients. 
But if you've browsed forums on this topic, I'm sure you've read different opinions. This is because people have different understandings of what hybrid photography is.
In this post, we'll cover the following:
what is the "hybrid shooter" meaning,

different hybrid photography definitions/interpretations people have,

the things you should know before buying your own camera for hybrid shooting.
Stick around if you're interested!
---
What Is Hybrid Photography/Hybrid Shooter?
---
---
So, who exactly is a hybrid shooter/photographer?
There are 2 main interpretations:
Someone who documents using photography and videography
Generally speaking, a hybrid shooter is someone who shoots both stills and video, or audio. They can use these different mediums in the same project, or separately.
It's a new form of storytelling that has been made possible by recent technological advancements and it's the perfect way for photographers to stand out in today's world.
(Not to be confused with compositing.)
You may be wondering what makes hybrid photography different from traditional photography or videography.
Well, it's all about the seamless switching between two mediums without any loss of quality or time-consuming editing process. And because you can shoot both at once, you get twice the content for your story!
In most cases, you'll be able to share these outputs  with friends directly posting them onto Facebook or Instagram for all your followers to see.
Someone who shoots with both digital and film cameras
The second interpretation of hybrid shooter is that it is someone who shoots using both digital and analog cameras, in order to create stunning shots that tell a story about what they're capturing without breaking the bank.
When we think of shooting photographs, many people imagine a professional photographer with an expensive camera. But these days, the definition of photography has changed and photographers are using different types of cameras for their purposes.
Hybrid shooting has become a popular way to shoot because the number of people with film cameras has increased in recent years, and the quality of analog photographs have improved as well.
The problem that many photographers come across is deciding which camera they should use for certain assignments or events.
For example, if you are shooting a wedding then it would be best to use your digital camera since it can capture moments quickly without having to reload like a film camera does.
However, when shooting landscapes or portraits there are no limitations on what type of camera you use – so go ahead and try both out!
---
Hybrid Camera Buying Guide
---
I have a separate article on best digital cameras for hybrid shooters that I encourage you to check out, but here's a table where you can have a quick look of what made my top 5 list of cameras for stills and videos:
Best compact for content creators

very easy to use interface

Dual Pixel & eye detect AF

variangle touchscreen LCD

90% of flagship

X-T2 for half price

"all in one" hybrid camera

top photo & video features

Its IBIS is a total game changer!

integrated 5-axis stabilizer

11 fps continuous shooting

If you're nerdy for all new features

high burst rate of 10 fps

great for variety of genres

high quality photo & video

High end DSLR for 'old school' folks

high resolution of 45.4MP

fast & tenacious focusing
So in this quick buying guide, I'll share the things you should know before purchasing your own camera for both videos and still photography.
Important note:
The term hybrid cameras also refers to mirrorless or compact-system cameras. Those are generally compact like a point-and-shooter, just with a larger image sensor. However hybrid shooters don't always use hybrid (mirrorless) cameras.
Here are some of the most important considerations when choosing gear for hybrid shooters:
Photo and Video Resolution
It is undeniable that some gears are focused on having the best photo resolution while neglecting its video capabilities. It is quite clear that these kinds of products target shooters that are only concerned about taking stills. While there is totally nothing wrong with this, it wouldn't be so bad to step up its video capabilities as well.
So if you are a hybrid shooter, you should always check whether the gear is also good for videography. Right now, having the ability to record at 4K is the dream of many, but having a full HD 1080p is not so bad as well.
Imaging sensors are the heart of any compact, mirrorless, or DSLR. It is mainly responsible for the quality of your stills and videos. So, it is only right to pay close attention to the kind of sensor a gear has before making that buying decision.
Right now, most hybrid cameras either have APS-C or Micro Four Thirds sensors. The former is found in bulkier models but they are known to be more superior in quality than that of the latter. But if you can compromise a little bit of quality for portability (especially for vloggers on the go), then by all means go for those with micro sensors.
Lens and compatibility (for those with interchangeable capabilities)
If you want an item that allows for interchangeable lenses, then you got yourself another important thing to consider.
Before going for that camera, make sure it has several lens options for you to choose from. This will help you have the chance to explore more about a variety of genres that you haven't even thought of venturing into. You are not restricted to a lens with limited zoom capabilities and artistic effects, so you might as well take advantage of that while you can.
Of course, if you have a mirrorless or DSLR, you will need accessories at one point or another. And mind you, these optional et necessary items can sometimes (collectively) cost a fortune. That of course depends on factors like your cam's brand and model.
Now, if you have time, do some research about the different accessories you will need and check whether they fit your budget. Don't use up your entire budget to buy a great camera alone. You should also consider the things you will need to make your shooting easier and more convenient.
Even if money may not be an issue for you, it is always smart to check the price of the gear you want to buy. You should ask yourself if that certain product is worthy of its price. Otherwise, you will be wasting your resources in mediocre products when there are other options that have more price-quality ratio than your first choice.
Remember, price isn't always a reliable measure of quality.
---
Hybrid Shooting Photography: Conclusion
---
Truth is…
While we understand the word "hybrid" which means a combination of two or more things, people have different understandings of what being a hybrid shooter means.
Hybrid photography is a term used to describe the combination of two or more photographic processes. This can be done by combining film and digital, black-and-white and color, infrared with ultraviolet, etc. The possibilities are endless!
Or you can be a hybrid photographer who focuses on digital and film cameras to capture life's precious moments.
But more commonly a hybrid shooter is understood as someone who likes to stitch stills and video together to create something unique.
Now, I'd like to hear from YOU:
What are your thoughts on hybrid photography? Your interpretation of the term? Let us know your thoughts in the comments below!
Sharing is caring!
About Author
Zarina
Founder & content creator at Digital World Beauty. My main objective here is to create a valuable resource for photography enthusiasts with honest tech reviews, course recommendations, and how-to tutorials.