Please note: As an Amazon Associate I earn from qualifying purchases. I also work with other affiliate partners and may be compensated from the links below. Details here.
January 1, 2022
GoPro vs. iPhone: Which One's a Better Travel Companion? (Comparison Review)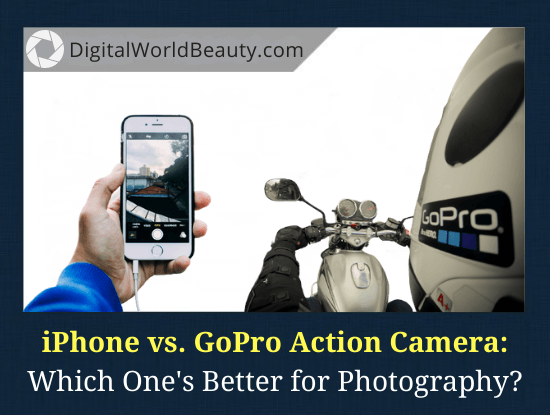 ---
This is an honest comparison between iPhone vs GoPro action cameras as the best gear for travel and lifestyle photography purposes. 
Both GoPro and iPhone are popular in their own accords. They do serve different functions in general, so choosing the best between these two is a matter of personal preference. But still, it's good to know the main features that set them apart to help you decide which one to bring along on various trips.
In this review, you will learn:
what an iPhone can do

which is the best gadget to invest in

what should you bring during long trips and vacations
…and so many more interesting things about these two most popular devices.
Let's dig deeper, shall we?
GoPro: What Is It and What Does It Do?
---
---
GoPro is a brand that manufactures action cameras. A lot of people have this misconception that it is in itself a product, when in fact, it is the name of the company owning several product lines.
But over the years, the brand has become a synonymous term for action cameras, and there are a number of good reasons for that. (I'll share some below.)
So, these action cameras are primarily focused on capturing sports and action shots. It's a piece of photography equipment that has features similar to that of high-end compacts. It's known to be one of the most popular travels and lifestyle gear that many people fancy.
Below are the most popular models so far:
| | | | |
| --- | --- | --- | --- |
| | | | |
| One of the latest & greatest models | | dual screens (front & rear) | |
| Best cheapest model to buy now | | robust build (land & water) | |
| The 360º camera that vloggers love | | unbreakable stabilization | |
==> The Ultimate Guide to Your GoPro: Beginner to Expert (Video)
The thing that sets it apart from the regular cameras is that it's very small and highly portable. If a normal point and shooter can fit your pocket, this one can fit your palm very easily. You can easily spot these devices when you see one – it has the typical cuboid design. 
Sometimes, I often wonder how it is possible to fit so many powerful features into that tiny build. But then again, thanks to the brilliant innovators, we can now enjoy such luxury literally in the palm of our hands. 
Additionally, it's a wearable device. You can mount it wherever you feel like it – your body, helmets, bike handles, skateboards, etc. This makes it a favorite among people who have an active lifestyle and those who simply love adventures.
(Whether it's for running, biking, snowboarding, skiing and so forth.)

However, there's a catch. It's way more pricey compared to your regular point and shooters or even some beginner DSLRs. Actually, why don't we look at some of the pros and cons of GoPro? 
✓

Reasons to Buy:
Very portable and easy to carry around

High-resolution camera for stills

4k and 5k capabilities

Can create incredible

time lapse videos with GoPro

Waterproof without a case

Very durable and rugged

Easy to operate

Wearable and can easily be mounted
✕

Reasons to Avoid:
Short battery life

Fairly expensive

Sometimes it

can overheat

Fixed lenses (no optical zoom)

Might be too small for people with large hands

You only get to view shots on a very small screen
---
iPhone: Is iOS Camera Good Enough?
---
---
Now, it's about time we talk about the other gadget in this post. Just what is an iPhone, and what can it do? 
We all know that it's a very well-know brand of a smartphone. In the early days of the mobile phone era they were used mainly for communication purposes, but today, they have much more functionality than that.
(Hence why they are called SMARTphones.)
But before we dig deeper into that, let's have a quick review of this device's history.
iPhone is developed by Apple, a world-renowned electronics manufacturer. Its story can be traced back to early 2007 when the first-ever model was launched.
Since then, many modifications were made and now we have the all-new iPhone 13, which is by far the hottest smartphone right now (at least for avid Apple fanatics). It was released in the 3rd quarter of 2021, having 4 variations – iPhone 13, 13 Mini, 13 Pro, and 13 Pro Max. 
And by the way, I highly recommend you check out the following courses to step up your iPhoneography game: 
The thing about these mobile units is that they are considered powerhouses. Really, it's like putting a computer, a camera, and an iPad all in one place – inside this small and sleek device. 
Also, it sports the typical smartphone 6″ (more or less) interactive touchscreen display that allows you to do so many things. It's not surprising why it's very popular these days. 
If we talked about the pros and cons of GoPro, how about we check out some for iPhone as well? 
✓ 
Reasons to Buy:
Multifunctional/multipurpose

More than just a photography equipment

High-resolution camera

Longer battery life 

Equipped with so many features for work, entertainment, lifestyle, and more.

Can be used for communication
✕

Reasons to Avoid:
Generally very expensive

Not quite fitting as a primary photography gear

Not built for extreme conditions
---
GoPro vs. iPhone: Specs and Features
---
---
Size, design, portability
One of the main concerns when choosing the right gear to bring when traveling is its size. Now, if you were to decide between an iPhone and a GoPro, there's really not much difference. Both can fit just right in your pocket. 
But the thing is, action cameras are much smaller and more compact compared to the smartphone rival. But to be fair, the mobile device is sleeker, so it will not feel too bulky inside your pocket. 
In terms of portability, both can very well pass the standard. These two devices can be carried around anywhere, anytime. However, it's no secret that an action camera has shorter battery life compared to a phone. And if you're taking the gears to record your trip, you might as well choose the one that gives you more runtime.
Don't get me wrong, you can use a GoPro while running its power through a portable power bank, just like you would on a cellular device. 
Waterproofing and toughness
If you are planning to go on a trip near the waters, then you're probably wondering what's the best device to bring. Well, spoiler alert! It should be a GoPro. 
From Hero 5 to 10, these devices already include waterproofing capabilities, even without a dedicated case/housing. You can safely submerge these little monsters into a maximum depth of 10m and they will still function perfectly well thereafter.
READ ALSO: Are GoPros Waterproof Without a Case?
On the other hand, Apple phones are given IP67 and IP68 ratings, which tell you that the units are water, splash, and dust resistant.
But here's the catch: there is a 30-minute water exposure limit for these devices. If you don't want to end up with a broken phone, then you must not submerge it underwater for more than that time limit. 
But hey, not all iPhones have these IP ratings. Only iPhone 7 up to the XR model has a rating of IP67, which means it is generally safe to use underwater with a depth of 1 meter and not more than 30 minutes. For the later models up to 13 Pro Max, Apple says it's safe up to 4m deep for the same time limit.
However, the manufacturer is transparent enough to declare that the IP ratings might decrease over time and constant exposure to water can decrease the phone's performance and capabilities. So if you want your mobile to last longer, you better keep it away from water. 
Clearly, an action camera is better for these water activities – it is actually built for that. 
One of the main selling points of GoPro is its ability to record smooth videos and flawless stills despite movements. Hero 9 and 10 Black have a feature called Hypersmooth. It is an electronic image stabilization that helps produce seamless videos when shooting fast-paced actions like sports and adventures. 
Because of this feature, camera shakes are not really that obvious in the footage, and if there are indeed movements, they transition smoothly. This is one of the main reasons why many athletes prefer using the gear when recording their activities. 
Apple also stepped up their game by including a sensor-shift IS on iPhone 12 and 13 units (all variations). What makes it different from other IS is that this technology stabilizes the sensor, rather than the lens itself. This is innovation is also used in most DSLRs today. 
However, it's still safe to say that GoPro wins in this department despite Apple's efforts in including an IS on the mobile setup. HyperSmooth allows you to record 4K videos at 60fps without so much camera shake. 
Check out this video I found on iPhone 13 Pro vs. GoPro Hero 10 Stabilization:
It's always a bummer to not have a camera to capture the sweetest moments in low light conditions. I mean, the ambiance in dim lighting scenarios kinda sets up a mood and it's a waste not to be able to capture it properly. 
The good news is that these two gears perform really well in low light, better than older versions, to say the least. But do they produce the same night image quality? Definitely not. 
A lot of tests (non-scientific, though) show that iPhone 13 Pro Max wins in this department. It produces brighter videos and images compared to the action camera. Also, the resulting images are a lot sharper and more detailed when captured from the smartphone. 
Also, check out my post on how to take night photos with GoPro here ==> Does GoPro Have Night Vision? Low Light Shooting Tips (Guide)
You may also want to check out a video below, comparing these two devices in terms of lowlight performance:
Gone are the days when you have to physically interact with your gadgets to operate them. In this day and age, voice command/control is something staple among the newest devices, and that's true for both products compared here. 
When we talk about timelines, Apple was earlier in adapting voice command features for their mobile units. The iPhone 3 in 2009 already included this feature which has earned them a title as the "phone for the blind". They have opened a world of opportunities for people with visual disabilities to use phones for convenience. 
GoPro, on the other hand, launched the first-ever Hero model with voice control features in 2016 with the release of Hero 5. Since then, all the successor units have had this as well. It's really pretty helpful to remotely control the device. Check out the list of GoPro voice commands here.
Now, this aspect is a bit subjective. While GoPro is way cheaper at around $500 compared to an iPhone that can cost as much as $1,000, but then again, they have different functions. An action camera is a piece of dedicated photography equipment, while a smartphone will let you do so much more.
---
GoPro: Who Is It Best For?
---
---
Is a GoPro worth it? Who is it best for?
I'll be upfront honest with you.
Action cameras are perfect for people who do extreme adventures and physical activities. Given its superb stabilization feature, amazing sound input, and excellent photo and video resolution, it can definitely keep up with your active lifestyle.
Additionally, if you love doing water sports and other outdoor activities near a body of water, a GoPro is so much better than a smartphone. It's rugged and built to last these extreme conditions.
Plus, it wouldn't be practical to drop a $1,000-worth device into that murky water just so you could film, would it? 
---
iPhone: Who Is It Best For?
---
Now, this one is for those who would love to have an all-around gadget – a phone, a great camera, awesome audio output, longer battery life. Actually, I might have to say it's best for casual shooters. Like, it's your quick go-to photography tool in case you see something that sparks your interest.
And by the way, if that's what you decide to choose for photography, I highly recommend you check out the following courses to step up your iPhoneography game: 
Its photographic capabilities are more than enough to give you great stills and videos – good enough to share with your social media accounts. 
---
iPhone or GoPro? Final Thoughts
---
Both GoPro and iPhone are great gadgets to have. Given that fact, do you really still need to invest in a separate camera when your smartphone can basically do it as well? 
Truth is, it still boils down to your personal preference and the kind of activities you want to do. Although iPhone is great, there are some things that it cannot do but a GoPro can easily accomplish. 
If you are more focused on photography and daily vlogging thing, then a GoPro might be your best shot. If you just want a casual tool to let you take photos for the "gram", then an iPhone would definitely serve you well. 
Now, I'd like to hear from YOU:
Are there other iPhone or GoPro features you want to compare?

Would you rather spend $1000 on a phone as your main photography equipment?

Or would you still like to use a dedicated camera for your needs?
Share your thoughts in the comments section below!