Please note: As an Amazon Associate I earn from qualifying purchases. I also work with other affiliate partners and may be compensated from the links below. Details here.
August 20, 2018
9 Tips on How to Shoot Night Photography (Get Instagram-Worthy Images Today)
---
Ask any photographer and they will tell you how difficult it is to get a good photo at night or in a low-light setting. This is even more difficult with a phone camera or with a point-and-shoot camera.
Then again:
There are tips and tricks on how to shoot night photography images.
Don't you want to have those Instagram-worthy photos?
Here's the thing:
Shooting night images is considered to be one of the most dramatic kinds of images to capture.
But…
With the help of the right kind of photography equipment combined with enough night photography skills, you can also be successful at it.
In here, allow me to share with you the basics.
---
#PhotographyTips: How to Shoot Night Photography
---
Night photography is nothing like your regular day photography.
A night setting lacks those bright and natural lights that help make an image look attractive.
Under the right lighting, even a camera phone can offer you an image that looks like it was shot from a DSLR.
Clicking images in low-light conditions requires you to change your settings on your camera completely.
It also requires you to use additional equipment and accessories that aid in achieving an attractive photo.
Below, I'll list some of the most useful and effective tips that will allow you to get some of the best images at night.
This may be difficult, especially for amateur photographers, but you will have to put your camera on manual mode.
You will not be able to get those brilliant night shots if your camera is set on Auto mode.
(I'll discuss how to tweak the settings on the manual mode further in this article.)
As I mentioned earlier, clicking images in the night is very different from clicking images during the day.
It takes the camera about 10 seconds or more in order to record a night photograph, which means that the shutter speed on the camera must be at least a minimum of 10 seconds as well.
The reason why the shutter speed needs to be slower is to allow more light into the image sensor.
If you would just hold the camera this long, it is very unlikely for your hand to be stable enough to capture an image.
What you will end up with is a blurry image. Using a tripod for night photography will ensure that the camera is steady every time.
Speaking of tripods and other photography accessories:
Here are my photography gear recommendations for this year.
---
---
In case you find yourself in a situation where you don't have a tripod, then you can simply increase the shutter speed.
If you use your camera in Auto mode, it will select a very slow shutter speed for the night image.
So, ensure you manually increase the speed.
You might also want to check out multiple speeds to see which setting offers the best image without it being too blurry.
Alternatively, you can choose to place your camera on a steady surface too.
If you are outdoors, you can place the camera on top of a wall. Nevertheless, a tripod is always the best solution.
Largest Possible Aperture
For those beautiful night shots, it is essential to keep your aperture as wide (large) as you possibly can. How large the aperture can go entirely depends on what lens you are using.
High-quality and expensive lenses have a large aperture, even f/2.8.
Regular lenses would have the moderate aperture of f/5.6.
Now:
Having a large aperture will allow the camera to gather more light.
Here's a great image created by PhotographyLife website to help you understand better: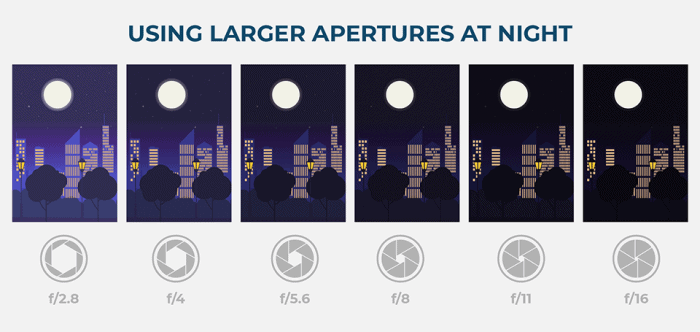 ---
To further reduce the possibility of any camera shake that would leave you with a photo that is blurry, you can opt to use a remote shutter in addition to the tripod.
You could also opt to use the timer in the camera in order to shoot the image.
Since the shutter speed is set at its lowest setting, when you click the shutter button to shoot the image, there is a possibility of there being a slight movement (which will result in a blurred image).
When shooting images outdoors during the night, the overpowering street lights can completely ruin your image.
So, if you plan on shooting images in a well-lit city, you might want to carry your lens hood along with you too.
Use the Blur to Your Advantage
Sometimes you can use the blur that occurs in images to your advantage and make your image look more attractive.
When you shoot images at night, you will end up with unique reflection and angles, which, if you know what to do with it, can be very advantageous.
For instance, when you shoot at an upward angle that is steep enough, it could create an interesting look for the image.
Shooting images at night near or around water will give the image beautiful reflections and effects too.
If you own external lights or are planning on buying one, they can also be of great advantage for night photography.
External lights can enhance your image.
Using a focused and bright light beam will allow you to highlight the subject in the dark in a very unusual manner.
Play Around with the Settings
As mentioned earlier, you can only get fantastic images in low light when you put the camera in manual mode.
It is a given that when a camera is on manual mode, you have to either be extremely knowledgeable about every single setting and how they all work together or use a variety of settings in order to increase the chances of getting the perfect image with the right look.
Unfortunately, even by using the best equipment and techniques, capturing images at night could be a hit and miss.
So, don't be afraid to play around with the camera settings and click multiple images to know what works best for you and the environment you are shooting in.
Additional Resources:
Jim Hamel is one of the best photographers out there who specializes on night photography. And he's the official teacher at Digital Photography School (review).
Check him out, his work really is awesome!
---
Conclusion on How to Shoot Night Photography
---
Learning how to shoot night photography does take a lot of time and practice.
However, the tips we have offered here will surely be of great advantage to you the next time you step out at night to capture its unique beauty.
In time and with enough practice, we are sure that you will master this craft too.