Please note: As an Amazon Associate I earn from qualifying purchases. I also work with other affiliate partners and may be compensated from the links below. Details here.
September 21, 2022
What Camera Does Peter McKinnon Use? (His Favorite Photography Gear Revealed!)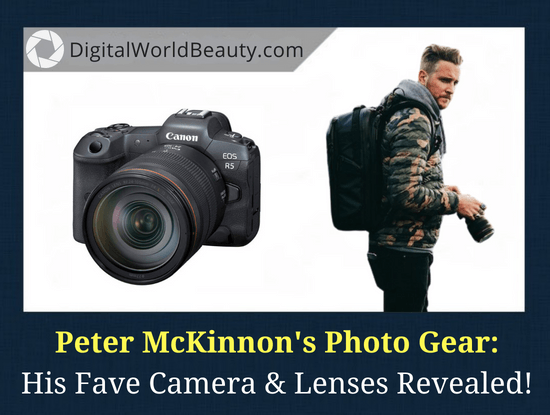 ---
Look:
Many aspiring photographers and filmmakers likely have heard and learned from Peter McKinnon, and pretty much everyone wonders:
What are his favorite lenses?

Why does he love his current Canon companion so much?
And that's exactly what we're going to cover today.
Peter McKinnon, a popular photographer and vlogger, uses different equipment depending on the occasion. During his earlier part of his career, Canon 1DX II was the creator's companion. As of 2022, the Canon EOS R5 is McKinnon's go-to camera, but he also loves the Leica Q2 specifically for photography purposes.
Here's an overview of his favorite cameras and lenses:
What Peter had used for the most part of his career

top quality up to ISO 6400

Full HD video up to 120 fps

Peter McKinnon's go-to camera now

The brand new camera Peter uses for photography

ISO sensitivity up to 50000

has that unique Leica vibe

Top choice ultra wide zoom angle among the pros

sweet optics & ergonomics

highly popular among pros

The lens Peter uses for portraits

Peter's choice as a telephoto lens

very good tracking system

effective image stabilizer

versatile (for all scenes)

McKinnon's drone for aerial shots

ultra light & foldable drone

3-axis gimbal with 4K cam

Popular mic choice among YouTubers
Without further ado, let's get started.
---
Peter McKinnon: Who Is He?
---
First things first. Just who is Peter McKinnon and how did he get so famous?
Peter is a creative best known for his fun and engaging YouTube content for photography tutorials. He is a Toronto-based professional photographer, filmmaker, and entrepreneur who has a global fanbase and clientele.
READ ALSO: Peter McKinnon: Frequently Asked Questions (Answered!)
READ ALSO: Meaning Behind Peter McKinnon's Tattoos
This guy has gained popularity on YouTube for a rather short period of time, something most vloggers only dream of achieving. He even got awarded a "Breakout YouTuber of the Year" recognition during the Shorty Awards in 2019.
This is all because of his unique mentoring capability that has captured the interest of people all over the world.
McKinnon aims to inspire people to chase their dream of becoming the photographer they want to be. He uses his social media presence as a tool to let more people discover the beauty of this craft.
Peter always loved photography, to the point that he even completed a diploma course in it from a popular Canadian school.
==> READ ALSO: Best Film Schools in Canada (Colleges & Universities)
Though a certification or degree isn't required to become a pro photographer, it helped him build connections which he was probably able to use when he decided to go full-time with YouTube.
---
What Camera Does McKinnon Use in 2022?
---
---
Now, for the most awaited part…
What camera does Peter McKinnon shoot with? Does he use the latest models? Why are his photos so amazing? 
For the bigger part of his professional photography and YouTube career, Peter McKinnon used the Canon 1DX Mark II. Now his "go-to" camera is the Canon EOS R5. And specifically for photography, Peter decided to get out of his comfort "Canon" zone and try something new – the Leica Q2. (All 3 cameras are brilliant!)
Let's check out what the R5 has to offer and figure out why this has become Peter's go-to gear lately!
---
Canon EOS R5: Short Review
---
Canon is undoubtedly one of the biggest camera brands out there, so seeing popular professionals use it is somewhat expected.
However McKinnon is actually Canon's ambassador, has years of experience with this brand's products, and he's confident in his photography gear choices.
==> READ ALSO: Peter McKinnon Bio and Net Worth (Updated)
Here are the reasons why Peter loves Canon R5.
Quick Specs
Type: SLR-style mirrorless
Weight: 738 g
Resolution: 45MP
LCD: 3.2″ Fully articulated
Touchscreen: Yes
Weather-sealed: Yes
ISO: Auto, 100-51200 (expandable to 102400)
This model was released in 2020, but many vloggers and content creators still prefer this over newer counterparts because of its highly-capable specs.
It's a great camera since it's not as bulky as other pro-grade DSLRs but has enough power to produce equally stunning videos with its full frame sensor. 
Let's check out some of its most amazing features below.
Key Features
Probably one of its best features is the full-frame sensor. You don't see mirrorless cameras sporting large-sized sensors often. As a result, this model is highly coveted by so many professionals. 
Having this much resolution in a very compact body is the dream of any photographer. It enables you to capture so much detail with sharp and crisp results. 
Now, we often hear people boast about having cameras with 4K resolution. But have you heard about 8K videos yet? If you haven't, then you probably haven't gotten your hands on an R5 yet. 
It uses the full 35mm sensor to capture ultra high-quality 8K videos without cropping them. That means you'll have as much detail in the footage as you want.
Plus, you can shoot it in RAW format so you have all the flexibility in the post-processing.
==> READ ALSO: Best Cameras for Hybrid Shooters (Photos & Videos)
Extremely reliable AF system
Every camera has an autofocus system, but not all of them are equally reliable.
When you are shooting outside the studio, you will mostly need a superb AF system to help you get stunning images. With Canon's R5, you never have to worry about not being able to focus on the subject. 
It has insanely accurate eye-detection sensors plus the subject tracking is on point too! So, wherever your subject goes, the focus follows through.
There's only so much a camera can do without a built-in image stabilizer.
Though you can make up for it by buying lenses with standalone IS, it hits different to have an in-body image stabilization system. Your stills will look sharper and clearer, thanks to this technology.
You don't have to worry about camera shakes and blurs since R5's 8-stops IS will do the trick for you (of course, paired with the right lenses).
More lightweight than DSLRs
Since it is a mirrorless gear, you'd expect it to be lightweight. This makes it perfect for vlogging since it's easier to carry around when shooting videos outdoors. It's great for lifestyle and street photography as well.
The bottom line is…
Canon EOS R5 is a real powerhouse.
A decent-sized gear packed with lots of features every professional camera must have. It's not surprising why Peter McKinnon would choose this any day over other devices.
==> Click here for further details.
---
Peter McKinnon's Lenses (And Accessories)
---
---
Now that we've talked about the main camera, it's time to know what other accessories and lenses this popular vlogger use. Check them out below!
This is an ultra wide angle glass for all-around use. It's perfect for studio sessions, outdoors, and general lifestyle photography.
Truth is, it's one of the top 3 "universal" lenses used by the top professionals, which offers great results thanks to its Nano USM motor mechanism and incredible stabilization system.
You can get most of the details in the background while still being able to make sure your subject stands out. Plus, it is perfect for low light setting since it has a wide aperture.
(I mean we are talking about an L-series quality.)
Pete uses this lens a lot since it gives so much flexibility in terms of vlogs, videos, and photography projects. 
When he does portraits, McKinnon prefers this 50mm lens. It's a staple for many professionals plus it gives that beautiful and effortless bokeh effect to make the headshot more stunning.
==> READ ALSO: 35mm vs 50mm vs 85mm Lenses (Explained)
If you've followed Peter's journey in YouTube, you'll notice that he's a fan of the outdoors as well. He loves taking photos of mountain tops enveloped in snow during winter, or create dramatic shots.
And for shoots like this, he uses the Canon 70-200mm telephoto lens to accomplish the task at hand. 
Yes, that's right! Peter McKinnon also uses a DJI Mini 2 drone for aerial shots.
This is very essential when filming hard to reach places. Instead, the drone lets you get a good shot of the view you wish to photograph without having the need to go up there yourself.
Not to mention having amazing and unique footage you can achieve with the drones.
NOTE: If you'd like to become a drone pilot, check out Drone Pilot Ground School, the #1 online test prep and training course.
Now, if you are vlogging, it's important to pick one good microphone.
Although most cameras have built-in microphones, external mics like this one from Rode will make your sound clearer and less noisy. It's one of the most popular brands known to YouTubers and vloggers.
The sound quality is beyond excellent.
---
Final Thoughts
---
Professional photography is not a walk in the park, even for experts. Investing in great-quality cameras is a must. But don't get me wrong. It doesn't have to be the most expensive gear on the market. Rather, it should be the most practical option that will meet your needs.
Pros are known to have various "kits" for different kinds of occasions.
It's good to have an all-around camera laying around (and they have favorites too), but nothing beats using tailor-made gear for a specific event, like sports or wildlife. That easily gets the job done.
What matters is choosing the right tools that will help you achieve the goals you have in mind. 
You're up for vlogging? Choose a camera that can put up with the demands of doing long videos. You'd prefer stills? Choose a device which has great specs for that purpose.
All in all, what matters is how well you use those gears to produce great results. Just like Peter McKinnon, you too can reach greater lengths with constant practice and learning!
Now, I'd like to hear from YOU:
Have you ever test drove a Canon EOS R5?

Is there a better camera for photographers and filmmakers?

What is your skill level?
Share your thoughts in the comments section below!