Please note: As an Amazon Associate I earn from qualifying purchases. I also work with other affiliate partners and may be compensated from the links below. Details here.
August 10, 2022
Peter McKinnon Net Worth: How Rich Is This Canadian Photographer & Vlogger in 2022?
---
This is a post on Peter McKinnon's bio and net worth in 2022.
---
Photography is often seen as a luxurious and expensive hobby or activity.
But do you ever wonder how much money professionals make just by taking photos? Do you need a degree to succeed? More specifically, how much money does Peter McKinnon make?
Peter McKinnon is one of the most famous content creators in the photography and videography niche. Today, his YouTube channel has over 5.5M subscribers and he is estimated to have a net worth of around $3+ million via various sources of income.
Peter is from Canada and he started his journey as a photographer.
Now he is not only known for amazing photos, but has also become a popular YouTuber sharing tips and techniques about his craft. And he's amazing at what he does.
Let's find out more about Pete below!
---
Peter McKinnon Net Worth: Overview
---
Full Name:

Peter McKinnon

DOB: October 28, 1985
Birthplace: Toronto, Canada
Wife: Janice McKinnon
Profession: Pro photographer, vlogger, educator
Type of business: Photography, YouTube channel
Website: https://www.petermckinnon.com/
Net Worth: $3,000,000+
---
---
How Did Peter McKinnon Start? (Bio)
---
Now, what does Peter McKinnon do and how did he start his journey?
McKinnon hails from Toronto, Canada. He is currently 36 years old and is of Caucasian descent. Despite being a middle-class family, they lived comfortable lives. His mother was a housewife, while his father made musical instruments.
He went to a local high school institution. And he went to college to take a photography course. However, many are confused if Peter McKinnon has a degree.
Quick answer: No.
It's true that he attended college to study his passion – taking photos. However, with only one credit left, he decided to drop out of school. But, he didn't regret this decision.
For Pete, a college degree or certification isn't the basis for success. To him, this didn't really matter. It's a good thing he has a natural talent for the craft.
READ ALSO: Is a Film Degree Worth It, Or Is It a Total Waste of Time?
So, when did he realize he was good at photography?
McKinnon attended his sister's wedding and took some photos. He then experimented on macros by taking a shot of a grass blade. It was at this moment that he knew it was his passion.
So, he began doing it for fun, as a hobby per se. But because Pete has natural talents in this craft, it wasn't long enough before he decided to pursue the career professionally.
---
Career As a Photographer
---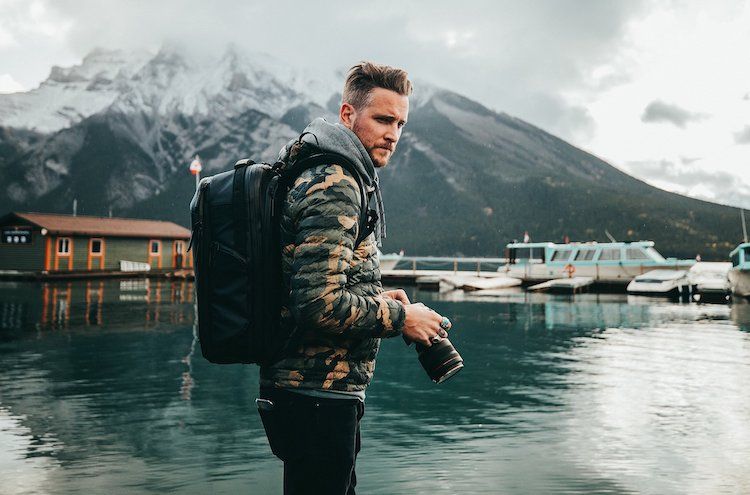 Peter McKinnon's photography is now known not only in Canada but also in other parts of the world. This didn't happen overnight and his success story was built over several years.
His love for this craft doesn't end with pictures. He also studied more about filmmaking, and that's how he spent most of his early years in the industry.
READ ALSO: How to Start a Career in Photography?
He worked with a company that handles magicians. They go to events together and Pete would take images and videos of them while performing.
The main reason for this is that later on, the company asks him to create a video tutorial for viewers to learn their magic tricks. He would soon find out that this was his preparation for becoming a YouTube superstar himself. McKinnon was doing that for the company for 15 years.

READ ALSO: Peter McKinnon's Tattoos
---
What Camera Does Peter McKinnon Use?
---
---
As a pro shooter, you are expected to use various cameras for different occasions. But, let's face it. There will always be that one device you consider as your all-around solution.
For McKinnon, it's none other than the Canon EOS 1DX Mark II. This is his favorite gear and has been used in both vlogging and photography works.
However, it was mentioned that he also recently enjoys using the Canon EOS R5, as well as Leica Q2 specifically for photography purposes.
See the full list of his equipment:
What Peter had used for the most part of his career

top quality up to ISO 6400

Full HD video up to 120 fps

Peter McKinnon's go-to camera now

The brand new camera Peter uses for photography

ISO sensitivity up to 50000

has that unique Leica vibe

Top choice ultra wide zoom angle among the pros

sweet optics & ergonomics

highly popular among pros

The lens Peter uses for portraits

Peter's choice as a telephoto lens

very good tracking system

effective image stabilizer

versatile (for all scenes)

McKinnon's drone  for aerial shots

ultra light & foldable drone

3-axis gimbal with 4K cam

Popular mic choice among YouTubers
==> READ ALSO: What Camera Does Peter McKinnon Use in 2022?
Oh and if you're curious about Peter McKinnon photography portfolio, then check out the video below with his thoughts how social media is not supposed to be your porfolio: https://youtu.be/qhh-AhI7rro
Without a doubt, you should focus on building a WEBSITE to showcase your work for everyone to see.
As Pete said, not everyone will have Instagram to check out your work. It's best to make it easy for everyone to access and assess your level of skills.
==> Peter McKinnon Recommends Squarespace for Photographers
---
Life as a YouTuber
---
So, why is Peter McKinnon so popular these days? Are his works that amazing?
Well, he gained fame by having a strong presence on YouTube and on social media. Not only are his works extraordinary, but he has a way of teaching people how to do stuff without breaking a sweat.
Pete is very passionate about films and photography in general.
This prompted him to create a YouTube channel dedicated to sharing his expertise on topics that he is best at. His first ever video content was about a step-by-step guide to doing a photoshoot.
At that point, it was not clear whether the channel will take off on a positive route, but after just 9 months, he was able to gain his first ever million subscribers.
==> My #1 Recommendation for Aspiring Video Content Creators
If you're a vlogger/YouTuber yourself, then you'd know how much of a feat this is. Not many start-up channels can gain that much traction in a span of a few months.
Probably one of the main reasons why his videos are well received by his target audience is that he puts his heart out into every content he creates. The tutorials are high-quality and informational.
Yes, there are many free resources online about this niche, but Peter speaks from personal experience and doesn't hesitate to share it with his subscribers.
In the beginning, the goal was to share his knowledge about the craft.
But as the channel grew, he decided to discuss the business aspect of photography, video editing tips, and many other interesting things a creative like you wouldn't dare miss.
---
Pete as a Coach: Does He Have a Course?
---
---
Since he does YouTube tutorials, it's not surprising why many people ask this question: does Peter McKinnon have a course?
Answer: YES.
He has an in-depth photography course called Canon Coach. This training is perfect for beginners. Why? Simply because it contains the basic stuff.
But, don't get me wrong. This lesson is far from boring. If you don't know the guy yet, you'll be amazed at how well he handles online courses like these. He is very entertaining and knowledgeable.
The main focus of this lesson is to teach you how to manually use your camera and not solely rely on auto-settings. This is the best way to start learning and appreciating the craft more. Once you go manual, you'll never want to rely on Auto mode next time, that's guaranteed.
By the way, this training is produced by Canon, and it's absolutely free!
You can also gain enormous value on photography and filmography from his free YouTube videos.
---
Peter McKinnon Net Worth & Career Earnings
---
---
How much money does Peter McKinnon make?
For a guy like Peter, you can only imagine how much money he makes on YouTube alone (ads, plus affiliate marketing earnings).
And guess what? That's not the only income-generating activity he has. He still does photography sessions and he also has sponsorships and deals with various brands, magazines, and even television networks.
(It's very much likely that he also has real estate and stock investments as well.)
Though his exact net worth wasn't revealed in public, many believe Peter McKinnon is worth around $3 million (or more), which is really not that far from the truth judging by his large social media following.
How awesome is that?
---
Final Thoughts
---
It's true that photography as a hobby is expensive. However, if you pursue it professionally as McKinnon did, you'll have a lot of potential earnings just by simply doing the thing you love – taking photos.
You don't have to be super-talented to begin the journey.
All you need is the proper guidance and mentor to help you jumpstart your career. If you're still unsure how to become a pro, just watch Pete's videos and soon enough you'll be on track.
Remember, his training videos are free!
Also, if you really want to grow a success YouTube channel in ANY niche, then I HIGHLY recommend Sean Cannell's Video Ranking Academy course.
Now, I'd like to hear from YOU:
Do you have your own guesses on Peter McKinnon's net worth in 2022?

Do you know of any other sources of income he may have?
Feel free to share your thoughts in the comments section below!
---